The Loop
Cheyenne meets Drake, Tiger meets 85, a bachelor party in Myrtle, and an ex-WAG releases a single
Welcome to another edition of The Grind, where we are happy to report that having your bachelor party in Myrtle Beach is as fun as it's cracked up to be. The golf (Caledonia!). The group dinners (Hibachi!). The . . . shenanigans. And the best part was I didn't get left and forgotten on top of a roof! Guess that's more of a Vegas thing. If I could do it all over, I'd do everything exactly the same. Well, except the part about drinking enough Fireball that I was convinced I was a dragon from "Game of Thrones." That didn't end so well. . .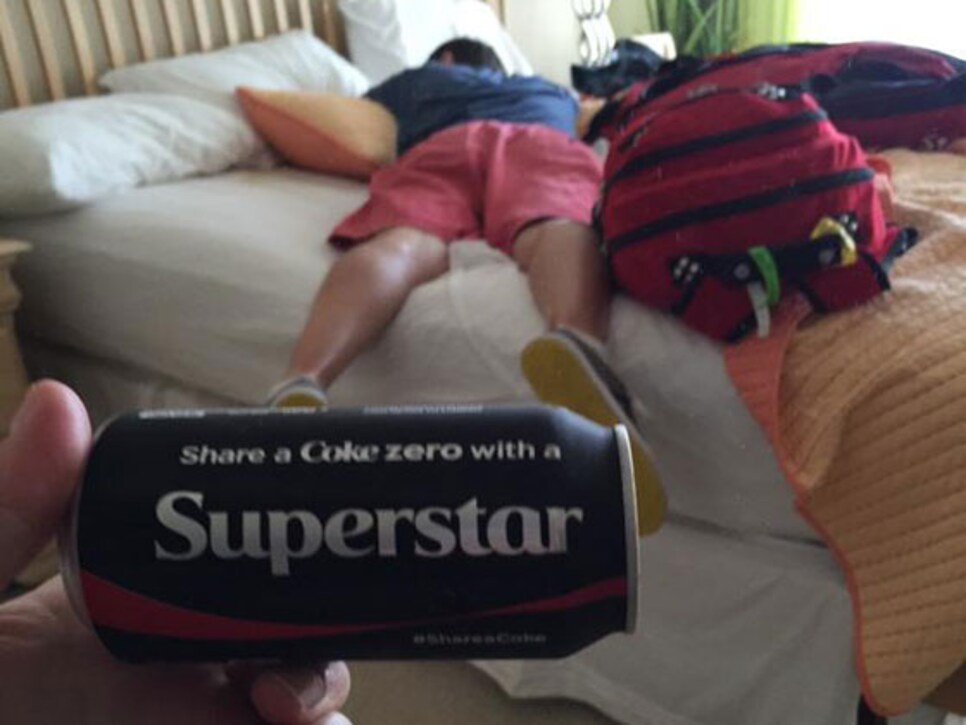 Meanwhile, in pro golf, we witnessed an actual superstar crash like we've never seen before, and we saw a Swedish upstart win a stunner in a playoff. Let's fire things up and talk about it all.
David Lingmerth: Where did that come from? For a second straight week, someone with zero top 10s this year won on the PGA Tour. This, following a Jordan Spieth-Jim Furyk-Justin Rose-Rory McIlroy-Rickie Fowler-Rory McIlroy-Chris Kirk stretch of winners. Congrats to Lingmerth and all of Sweden, which took credit for their coutryman's playoff stunner over Rose. And introducing Megan Lingmerth, who gave her hubby a victory kiss and then got tournament host Jack Nicklaus to wish her dad a happy birthday on a Facetime chat. Not a bad day.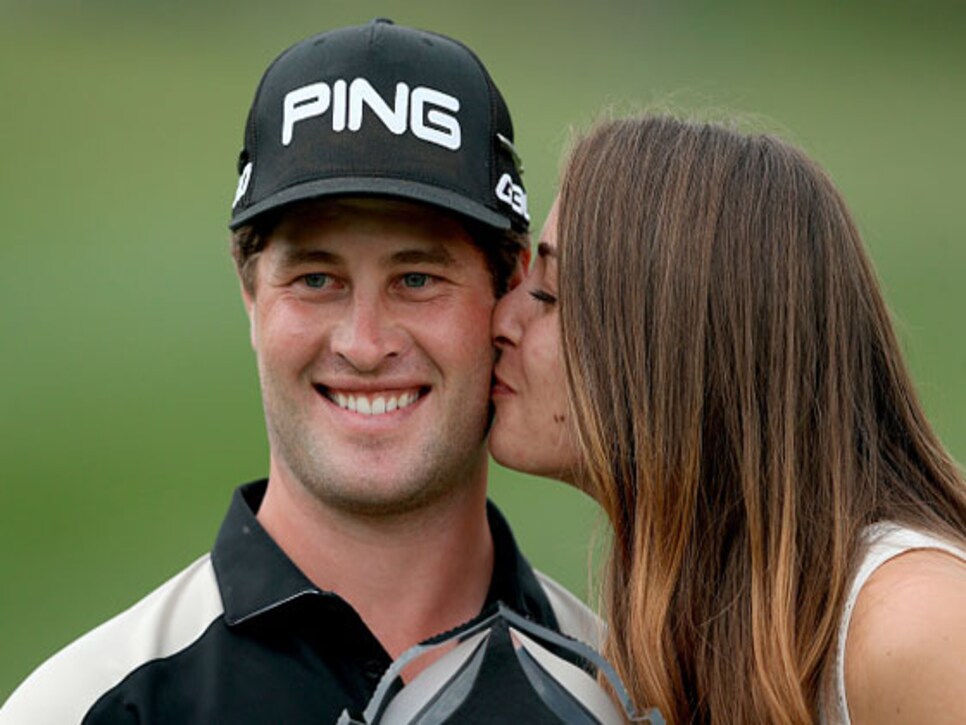 Bryson DeChambeau: What a couple weeks it's been for the SMU junior. First, DeChambeau won the NCAA individual championship. Then, he finished T-3 at the Columbus sectional qualifier against a bunch of tour pros to earn a spot in the U.S. Open. Speaking of qualifiers, we're also buying all the other great stories, from a 50-year-old Lee Janzen punching a ticket to Chambers Bay 16 years after winning his second U.S. Open to a 15-year-old Cole Hammer (great name) getting in.
Mark Calcavecchia: Even factoring in DeChambeau's Hogan cap, no one played with more style last week than Calcavecchia. The 13-time PGA Tour winner became the first golfer on any tour to pick up a victory while wearing bacon-themed pants. These things are amazing.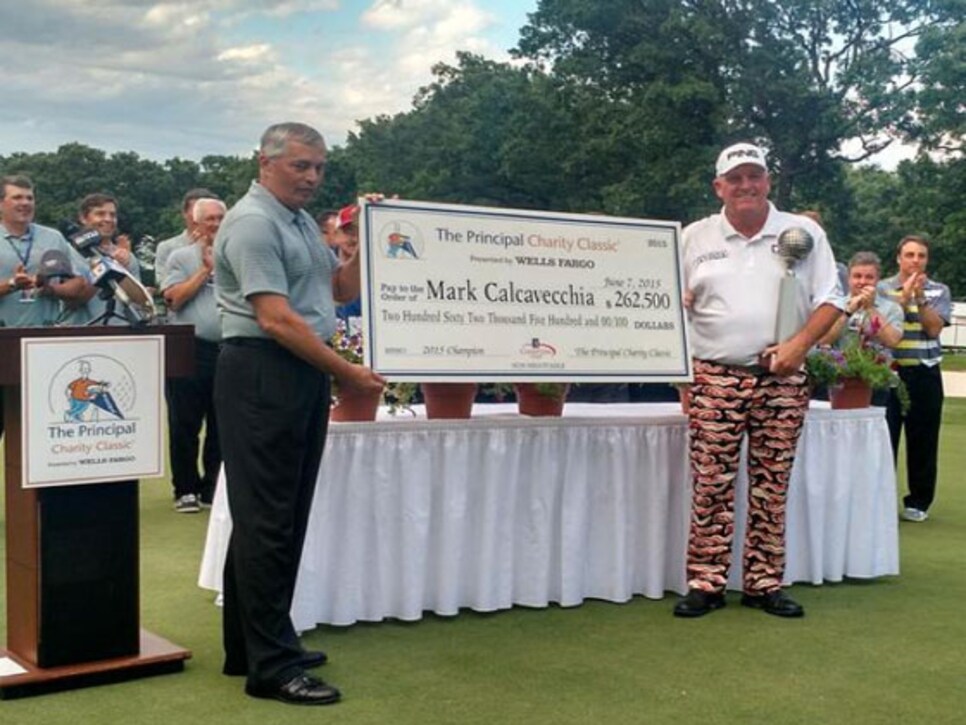 The PGA Tour heads to Memphis for the FedEx St. Jude Classic, aka that event that takes place a week before the U.S. Open.
Random tournament fact: Jerry Pate jumped into a lake next to the 18th green after winning in 1981 (at the event's previous course in nearby Cordova). This was a year before he famously jumped into the lake (after throwing Pete Dye and Deane Beman in) at TPC Sawgrass when he won the Players. Apparently, no pro golfer loved jumping into lakes more than Jerry Pate.
RANDOM PROP BETS OF THE WEEK
-- This week's winner in Memphis will wear bacon pants AND jump in a lake: 1 MILLION-to-1 odds
-- I will NOT have another shot of Fireball this year: LOCK
VIRAL VIDEO(S) OF THE WEEK
A young kid tried to hit a golf ball teed up in his dad's mouth. It did not go well:
You know your golf game is pretty bad when you go ahead and just drop an entire sleeve of golf balls before attempting a shot.
SHOT(S) OF THE WEEK YOU DEFINITELY DIDN'T SEE
Andres Romero chipped in for eagle on his final hole of sectional qualifying in Memphis to make it to Chambers Bay on the number. Well done. And then there was my nine-for-nine greens in regulation performance on the back nine at True Blue on Saturday. Sorry, no highlights. And yes, this was pre those other shots. . .
THIS WEEK IN RICKIE FOWLER-ALEXIS RANDOCK KEEGAN BRADLEY-JILLIAN STACEY PUBLIC DISPLAYS OF AFFECTION
A photo posted by Jillian Stacey (@jillianfstacey) on Jun 7, 2015 at 9:16pm PDT
Seriously, when are these two going to get engaged? Keegan, you can have your bachelor party in Myrtle Beach! I'll show you the ropes.
THIS WEEK IN CHEYENNE WOODS-DRAKE PUBLIC DISPLAYS OF AFFECTION
A photo posted by Cheyenne Woods (@cheyenne_woods) on Jun 3, 2015 at 4:22am PDT
Cheyenne went to a Drake concert in Ontario on Tuesday and promptly opened with a 63 on Thursday in the Manulife LPGA Classic. Unfortunately, she couldn't keep it going with rounds of 73-74-73 to finish T-54. Still, she fared better than a certain famous family member. . .
"It's about getting reps, and I got a lot of reps this weekend." -- Tiger Woods. Tiger's got jokes!
THIS WEEK IN FORMER PGA TOUR WAGS
Before there was Alexis, there was Alexandra in Rickie's life. Now Fowler's ex, Alexandra Browne, has released a new single titled "Shady." Actually, let's go with "dropped a new single." That's what the cool kids say.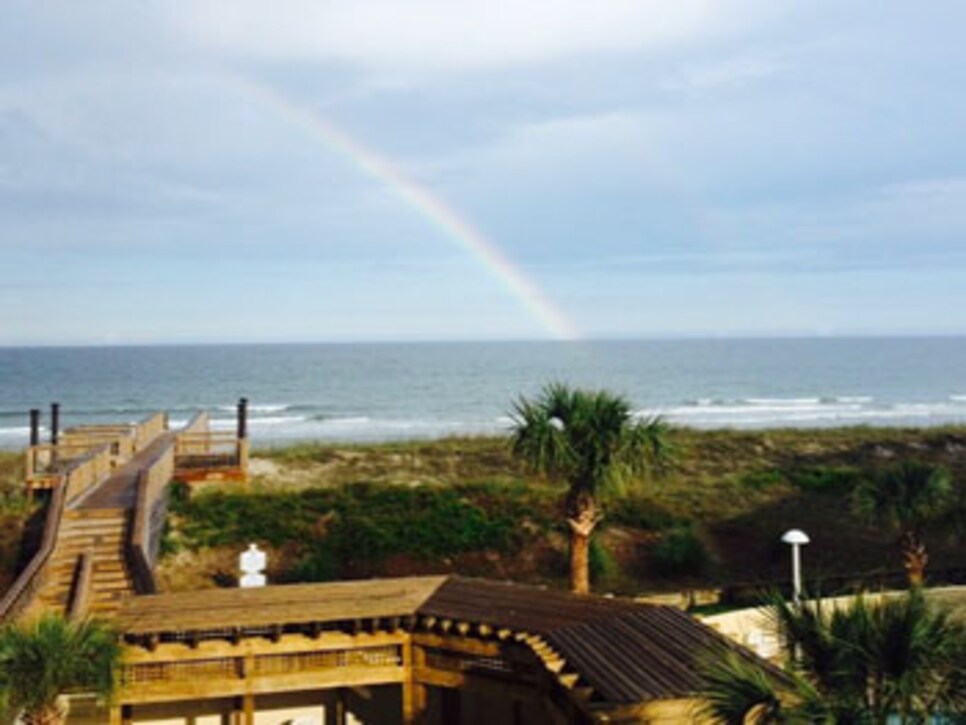 Patrick Rodgers birdied his final two holes at the Memorial to finish T-40 and earn the nine FedEx Cup points he needed to secure conditional PGA Tour status for the rest of the year. We're more impressed with the video of him dunking a basketball. . . . Suzann Pettersen won the Manulife Classic for her 15th LPGA Tour title and her first with Butch Harmon as an instructor. That guy seems to know what he's talking about. . . . Another Butch client, Phil Mickelson, visited a lemonade stand and gave a $99 tip. This is definitely the least surprising news of the week. . . . In much more surprising news, fellow golfers, did you know there was an actual beach in Myrtle Beach? I've been to this golf mecca a half dozen times and the only sand I'd ever seen there is in bunkers. To each his own, I guess.
RANDOM QUESTIONS TO PONDER
Does Phil carry anything other than $100 bills in his wallet?
How does Butch find the time to coach all these players?
Can I have another bachelor party before the wedding?