The Loop
Champagne Rickie, Sweet Tea Daly, "Jilligan" gets engaged, and a potential "Big 2" you haven't thought of
Welcome to another edition of The Grind, where we're digging this whole golfers-sending-gifts-to-the-press-room thing. Rickie Fowler sent champagne after his win on Monday at the Deutsche Bank Championship. Brian Harman sent beer and liquor after his pair of holes-in-one at the Barclays two weeks ago. Keep it coming, guys. Unfortunately for sportswriters on deadline, though, properly enjoying such presents is a bit tricky. Maybe next week's winner can send chocolate milkshakes instead?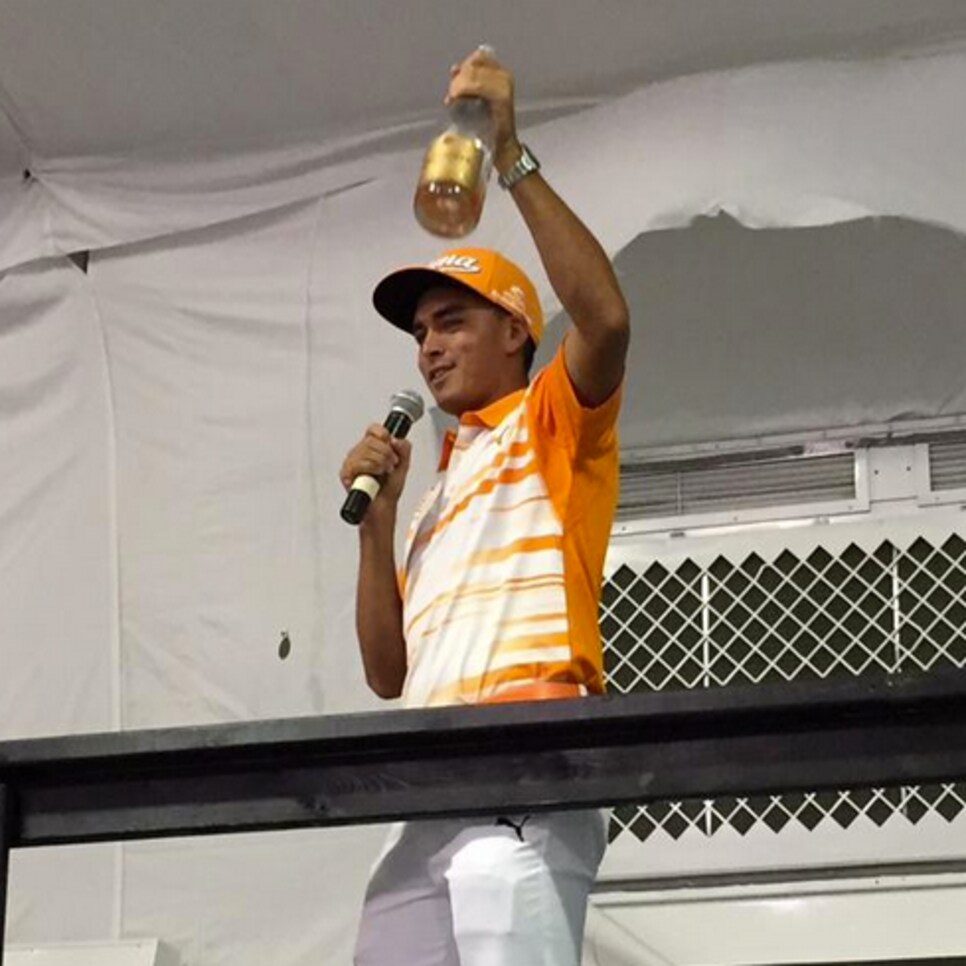 Aside from generous tour pros, there's plenty of golf news to digest. This next round's on us.
Rickie Fowler: Release a poll of his peers calling him overrated, and he goes out and wins the Players. Create a "Big 3" that doesn't include him, and he'll go out and win a FedEx Cup Playoff event. Apparently, Rickie Fowler responds well to feeling slighted. He also responds well in big spots as evidenced by that mammoth drive on the 72nd hole, which looked awfully similar to the one he hit on the 72nd hole during his win at the Players. With his second PGA Tour victory of the season (plus a Scottish Open title), Fowler moved to No. 5 in the Official World Golf Ranking. In other words, the legion of orange at future tournaments is only going to keep growing.
Henrik Stenson: No, he didn't get the job done with a late final-round lead, but the man is still a lean, mean, FedEx Cup Playoffs machine. For a second straight week, the Swede finished in second place, which is no small accomplishment. It also kept him No. 4 in the FedEx Cup standings, which could set him up for another big payday if he can win the Tour Championship for a second time in three years in a couple weeks.
"Jilligan": After two-plus years of dating, Keegan Bradley finally popped the question to Jillian Stacey, and she said yes -- even knowing his status as an elite golfer now that he uses a regular-length putter is very shaky! Congrats to these two lovebirds. And guys, please ask me if you have any questions or need any advice about setting up a New York-area wedding. Well, ask my wife.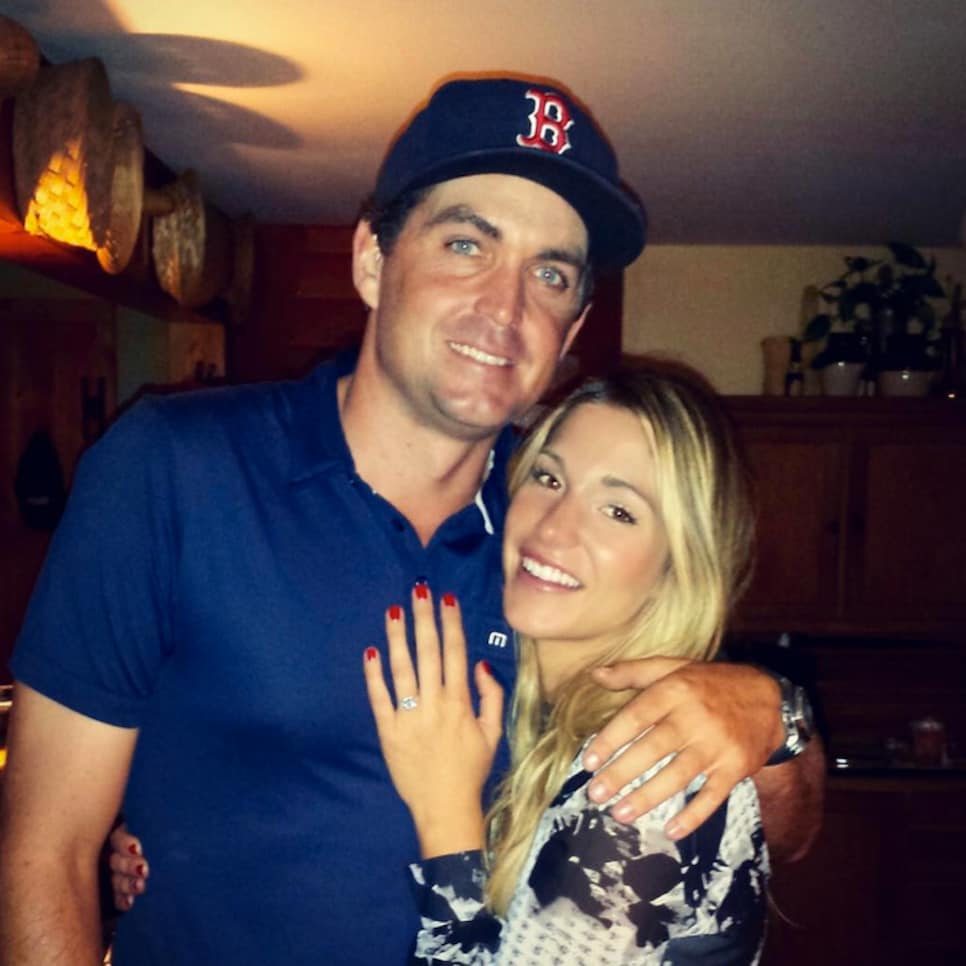 The Big 3's week: It wasn't the best performance for golf's new top trio. Jason Day led the way with a T-12, Rory McIlroy rallied with a closing 66 to finish T-29, and Jordan Spieth threw out a bad first pitch at Fenway Park and missed a second consecutive cut (What the heck is going on?!). Plus, with Rickie winning -- and buttering up the press with booze and by giving a toast -- the Big 3 is already in danger of becoming a Big 4.
Donald Trump: Much has been made of Trump taking four business mulligans through the years with his bankruptcy filings, but now his ethics on the golf course have been called into question. A Washington Post article detailed numerous golf cheating allegations for the Presidential candidate. Trump has denied the claims, but we're under the belief that where there's smoke, there's fire for Mr. "You're fired!"
Golf on CBS: The best part of the network's coverage of golf tournaments, David Feherty, is leaving after 19 years. Aside from the loss of golf's funniest on-air personality, this means even more air time for Ian Baker-Finch. Not good. On the bright side, if Feherty switches over to NBC, he and Roger Maltbie will create the greatest on-course reporting tandem in history. Just call them the Big 2.
The PGA Tour takes a rare week off before next week's third leg of the FedEx Cup, the BMW Championship. However, the LPGA Tour has its fifth and final (we think) major of the season, the Evian Championship. That's a nice piece of scheduling there.
Random tournament fact: Despite missing a second straight cut, Jordan Spieth took back the No. 1 spot in the Official World Golf Ranking from Rory McIlroy. But the fun doesn't stop there! McIlroy's T-29 in Boston was enough to guarantee that he'll move back into the top spot during this off week.
RANDOM PROP BETS OF THE WEEK
-- Vijay Singh would have sent champagne to the media had he won: 1 MILLION-to-1 odds
-- You'll hear a lot of complaining no matter who makes the U.S. Presidents Cup team: LOCK
-- You'll hear even more complaining about the OWGR: LOCK
Tiger Woods took his daughter, Sam Alexis, to tennis' U.S. Open and there were plenty of cute pics.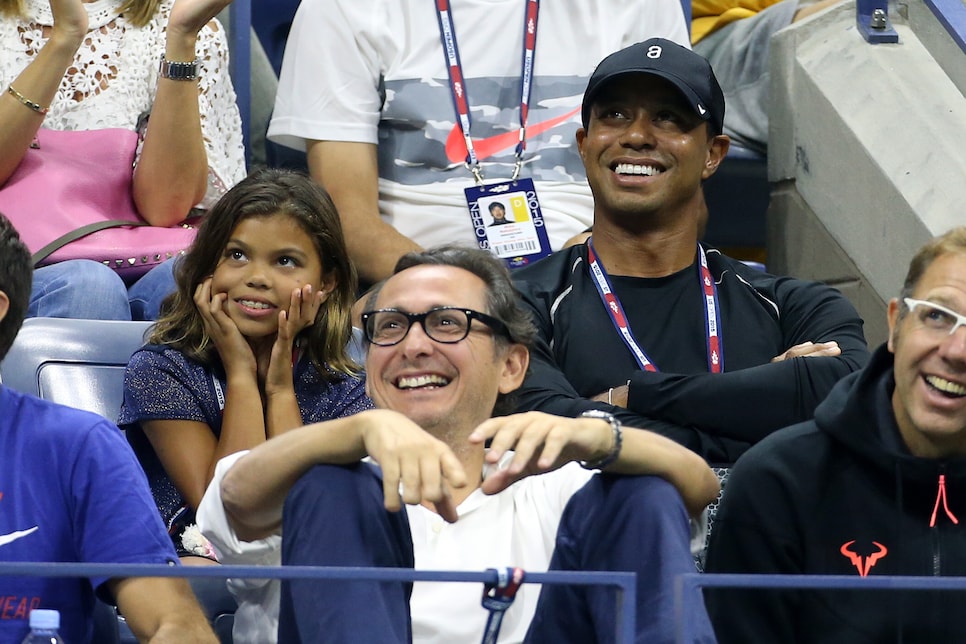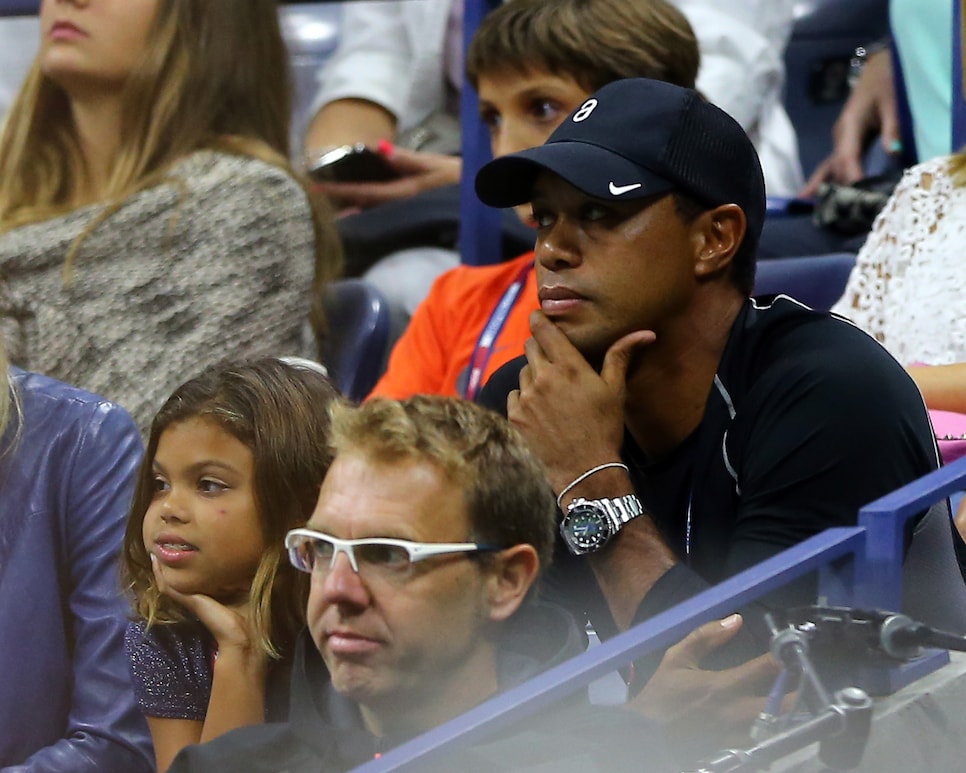 Of course, since Tiger is now cursed when it comes to sports, he watched his buddy Rafael Nadal win the first two sets, but lose the match to someone named Fabio Fognini. Nadal had been 151-0 in his career when winning the first two sets.
We're starting to lose enthusiasm each time a new trick shot surfaces, but this one is worth your time:
VIRAL VIDEO OF THE WEEK (NON-TRICK SHOT DIVISION)
John Daly successfully testing out that collapsed lung by belting out his go-to song, "Knockin' On Heaven's Door," just days after he looked like he was knockin' on heaven's door:
"They thought I had a heart attack. But I only smoke two packs of cigarettes a day, not three, so I'll be all right." -- John Daly
And a bonus quote from Dallas Cowboys owner Jerry Jones about JD: "I like the way he does life."
THIS WEEK IN PAIGE SPIRANAC BEING PAIGE SPIRANAC
Not only did Paige post a pretty picture, she posted a pretty message as well:
THIS WEEK IN DUSTIN JOHNSON-PAULINA GRETZKY JIMMY WALKER-ERIN WALKER PUBLIC DISPLAYS OF AFFECTION
THIS WEEK IN JOHN DALY-WIN MCMURRY PUBLIC DISPLAYS OF AFFECTION
JD and Win drinking John Daly Sweet Tea.
OK, so this probably should have been the photo of the week.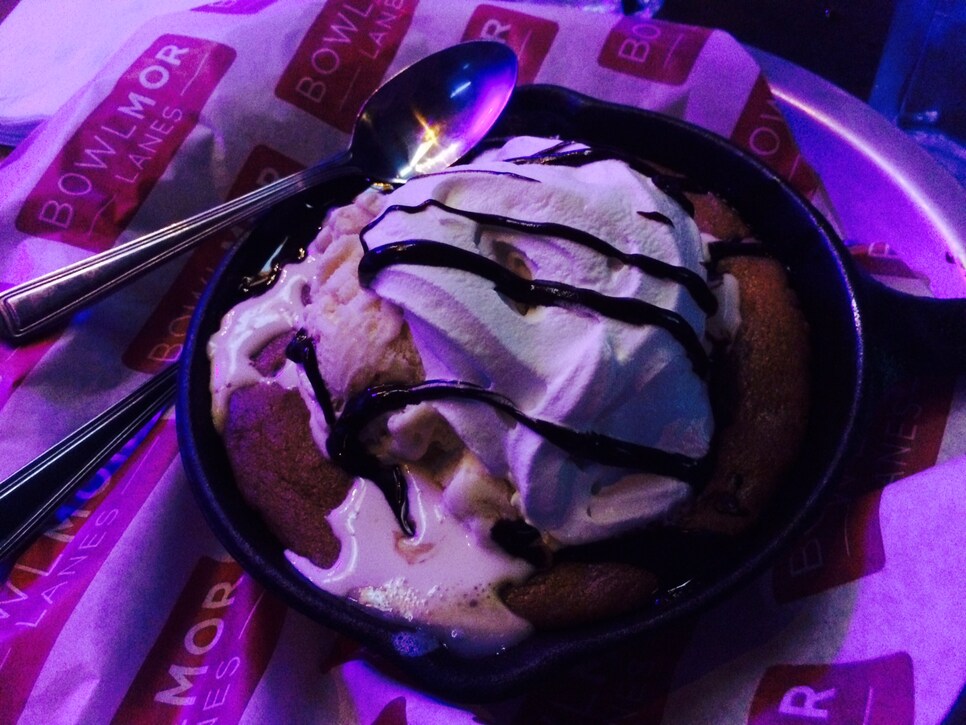 This year's PGA Grand Slam of Golf has been cancelled. Too bad. We'll never know if an alternate could have won the event for the fourth time in eight years. . . . Apparently, Tiger Woods uses big words when texting Jason Day. Tiger's professors at Stanford should be proud. . . . Rory McIlroy said even he's sick of his OMEGA "Hall of Fame" ad and that he might shoot a new commercial with the watchmaker soon. PLEASE be true. . . . And this chocolate chip cookie skillet creation (pictured above) with vanilla ice cream, chocolate syrup and whipped cream was the highlight of my random bowling session at Bowlmor Lanes over the weekend. In fact, it was so good that, dare I say, um, it was Chili's-esque.
RANDOM QUESTIONS TO PONDER
Who is the best bowler on the PGA Tour?
Who will be the next young star to crash the "Big ___" party?
Does John Daly perform any other songs?