The Loop
Chambers Bay takes the spotlight, Leo dates a golfer, the U.S. Open's new theme music, and a pretty coed's pretty swing
Welcome to another edition of The Grind, where we think we're the only ones in the world who didn't see "Jurassic World"** over the weekend. We did see the "Game of Thrones"** finale, though, so we know what widespread carnage looks like. Which brings us to the U.S. Open. For the first time, our national championship will be contested at Chambers Bay. And for the first time, the tournament will be broadcast on Fox, which took over after two decades of coverage by NBC. TV viewers could be in for quite a week of watching people struggle -- but isn't that the beauty of the U.S. Open? Its grueling nature certainly makes it the official favorite event of The Grind. But while we're giddy to watch the best players in the world labor to make pars, there's plenty else to talk about. Let's do it.
Inbee Park: WINBEE took back the top spot in the Rolex Rankings with a dominant victory at the KPMG Women's PGA Championship. Park claimed this event for the third consecutive year (on a third different golf course) and has now won five of the past 12 LPGA major championships. She also didn't make a bogey for a Joe DiMaggio-esque 56 straight holes at Westchester Country Club to close things out. The one disappointing part of her week? She only got sprayed with water:
Lydia Ko's other streak ending: For the first time in 54 events, Ko missed a cut on the LPGA Tour. It also meant she is still without a major. What are you waiting for, Lydia?! You're already 18! Of course, we kid. But it does make us wonder when the Skip Baylesses of the world will start shouting similar hot takes. It's sad to see this other streak -- and her consecutive sub-par rounds streak -- come to an end, but they also make you appreciate how amazing Ko is.
Actually, we're impressed Pavlov's caddie packed more than the two sleeves of balls his golfer lost on that disastrous hole. And we're also impressed that Pavlov not only finished the round, but shot a back-nine 37 to salvage a 90. Something tells us John Daly would have handled the situation a little differently. . .
Tiger Woods and Adam Scott: Linked by their similar (at one point) swings and Steve Williams, these two stars now have another connection: Neither were selected in Golf Digest's U.S. Open fantasy draft. Out of 24 picks. Imagine the odds you could have gotten on that happening a couple years ago when Scott was winning the Masters and Woods was No. 1 and winning five times on the PGA Tour? On the flip side, I'm buying my squad (it helps to get the top pick) of Rory McIlroy, Henrik Stenson, Jim Furyk and Sergio Garcia.
The PGA Tour heads to Chambers Bay for the year's second major, the U.S. Open. A unique links layout built on an old sand and gravel pit, as Golf Digest's Ron Whitten said, "It's the first U.S. Open to be contested in a sand box." Sounds fun!
Random tournament fact: Fifteen years ago, Tiger Woods won the U.S. Open by 15 shots at Pebble Beach. There's been a lot of murky "Era" talk lately, but that was definitely in the heart of the Tiger Woods Era.
RANDOM PROP BETS OF THE WEEK
-- Tiger will win this U.S. Open by 15 shots: 1 MILLION-to-1 odds
-- A player will be picked up by a mic using Mike Davis' name in vain: 4-to-1 odds
-- If ESPN still covered early rounds, Chris Berman would have made a David Hasselehoff-beach joke: LOCK
Billy Goat Bradley! Love it. And while we're coining nicknames, is it Chambers Bay or Carnage Bay? Carnage Bay! Can't wait.
VIRAL VIDEO(S) OF THE WEEK
And if you want to get even more prepared/pumped up for the U.S. Open, check out GolfDigest.com's series of preview videos featuring yours truly. Oh, and a lot of other editors/writers:
OK, so Leo probably isn't dating her for her well-rounded short game.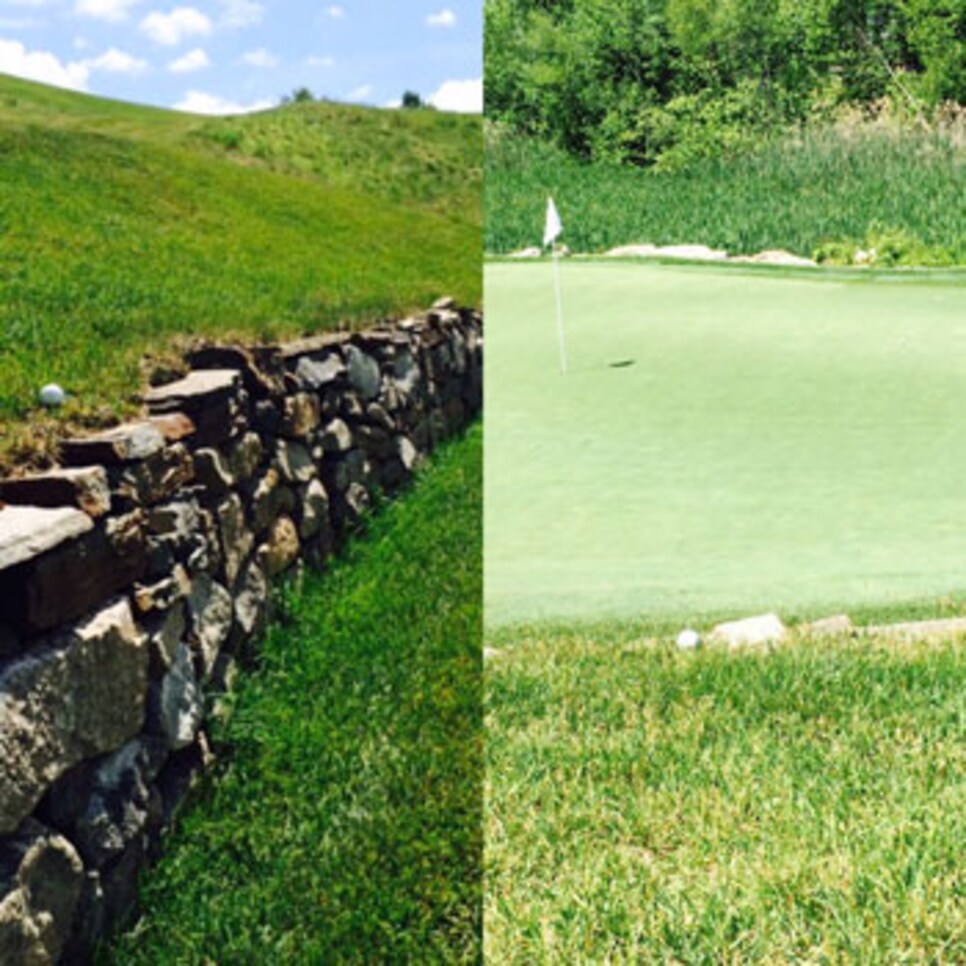 According to Forbes, Tiger Woods has been passed by Phil Mickelson as the world's highest-paid golfer for the first time since turning pro in 1996. These are dark days for Tiger, although it's tough to have sympathy for someone who only makes $50 million these days. . . . Chris Wood rallied from five shots down to win the Lyoness Open and claim his second career European Tour title. That's almost as impressive as Andrey Pavlov rallying to shoot 90 after opening with a 17. . . . Colin Montgomerie went to the hospital for chest pains on Sunday morning, but still shot 68 at the Senior Players later that day. Monty finished a million shots behind Bernhard, but the ol' hospital to third-place trick is impressive. . . . Speaking of impressive feats, how about the miracle up-and-down I made at Pound Ridge Golf Club from just above a rock ledge behind the 15th green? We've heard so much about the short-game creativity needed to contend at Chambers Bay, but let's see someone try to top that this week.
RANDOM QUESTIONS TO PONDER
Was Adam Sandler actually good at the Happy Gilmore swing?
Has anyone checked on Johnny Miller lately?