The Loop
The Grind: Bubba Golf is back, Mother Nature torments, and more golf romance blossoms
Welcome to another edition of The Grind, where we always give a gold medal effort -- even when we've reached that point of winter when it's almost become too painful to even watch golf on TV. Oh, the PGA Tour got perfect weather at Riviera? That's just swell!"* (**Zips up another layer of clothing.) The forecast looks even better this week? Fantastic! (**Sloshes through the latest layer of snow and ice.) Enjoy it, guys! (**Sobs into a golf towel at our desk.*) Yep, we're really keeping it together.
Bubba Watson: Two weeks after a close call in Phoenix and nearly two years after his last win, Watson returned to the winner's circle with a brilliant weekend of golf at the Northern Trust Open. Bubba fired back-to-back 64s at Riviera to win by two strokes and vault to No. 14 in the Official World Golf Ranking. Hmm. Maybe we need to start practicing our body English more . . .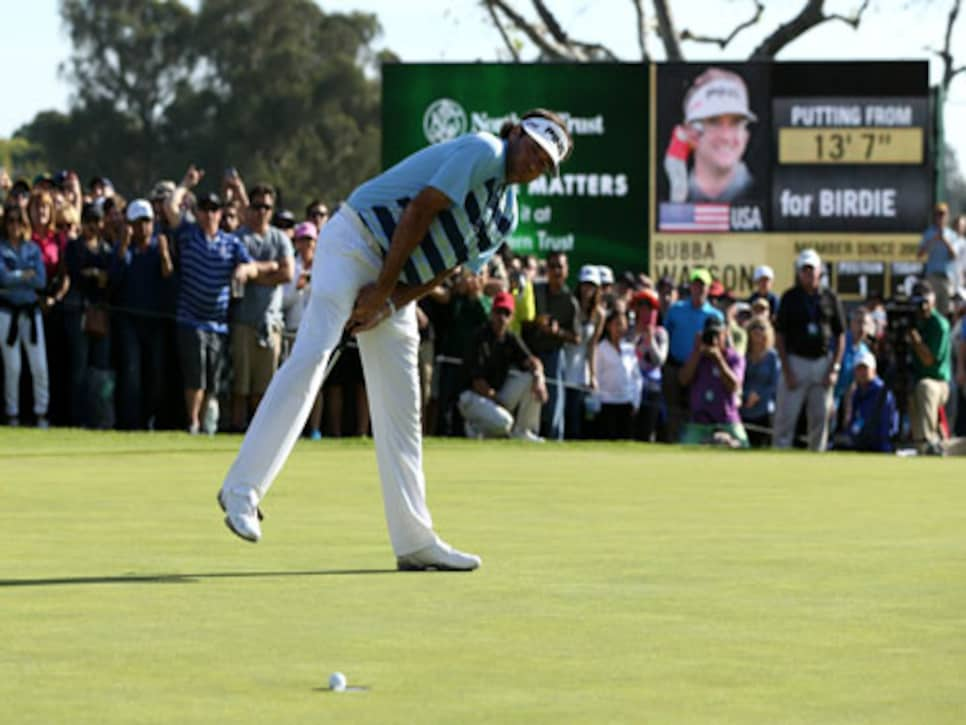 Jason Allred: While Watson took home the trophy, the week's biggest winner was probably this guy, who had golf writers scrambling to find their PGA Tour media guides when he flirted with a 59 on Friday. Just being in the tournament was an accomplishment for Allred, who got in via a Monday qualifier for his first tour start since the 2010 U.S. Open. But he took advantage, finishing T-3 to more than double his career earnings and earn a spot in next week's Honda Classic. Good timing. His wife is due with the couple's third child in a few weeks.
Dustin Johnson: We wondered if this would be the year DJ really breaks out, and it seems like it will be. With a second straight runner-up finish, Johnson has already collected nearly $3 million in just four starts this season. Apparently, paying for a huge diamond can be a big motivator. Speaking of which . . .
Engagement rings: As in, we bought one. Literally. What is it with The Grind's link to true romance? Since this column started last year, three of our favorite subjects (Paulina Gretzky, Paula Creamer and Natalie Gulbis) have gotten engaged. And now even I have followed suit.  Sorry, Cheyenne.
Mother Nature: As if this brutal winter wasn't bad enough in the Northeast, now historic golf landmarks in the South are under fire? Augusta National announced an ice storm took down the famed Eisenhower Tree on the 17th hole. And how about the timing of this news breaking on the eve of Presidents Day? Just cruel.
Jimmy Walker: Take this as a compliment, Jimmy The Great. We are legitimately surprised you didn't win yet again, especially after being in contention through three rounds. A couple good things came out of this week for Walker, though, despite only finishing T-20. Co-worker Luke Kerr-Dineen put together a collection of Jimmy Walker propaganda posters and Celestron telescopes announced an endorsement deal with Walker, an astrophotographer, on Friday. We included a link so you'd know we weren't joking.
Emiliano Grillo: In position for his first European Tour win, the 21-year-old Argentinian made a quintuple-bogey 9 on his opening hole Sunday at the Africa Open. Ouch. On the bright side, Emiliano, you're in The Grind, which means you'll probably get engaged soon. So you've got that to look forward to!
The PGA Tour heads to Tucson for the WGC-Accenture Match Play Championship, aka that big tournament that a lot of big names are skipping this year.
Random tournament fact: Last year's event was interrupted by a legit snowstorm in the desert. On the bright side, it led to a snowball fight between Golf Channel's Roger Maltbie and Steve Sands. As much fun as that was, we hope it doesn't happen again this week. We just can't take anymore snow. Anywhere.
RANDOM PROP BETS OF THE WEEK
-- Bubba Watson will go another 22 months before his next win: 20-to-1 odds
-- You will hear a lot of comparisons between Dove Mountain and Riviera this week: 1 million-to-1 odds
-- Jim Nantz and Nick Faldo will not have a snowball fight: LOCK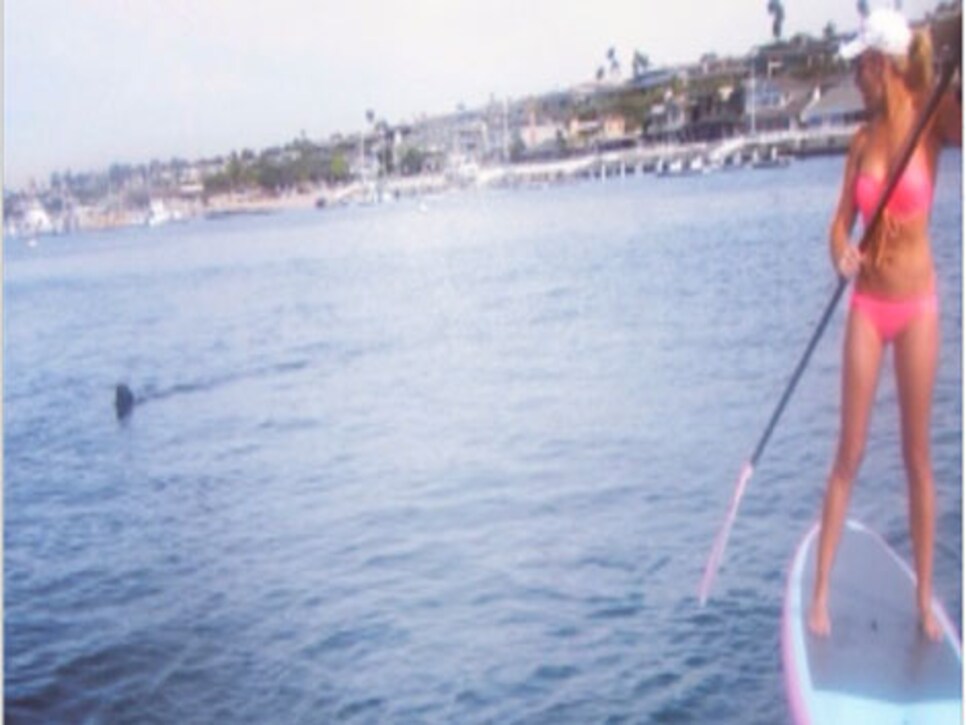 "Look who wanted to paddle with me this morning!!" Gulbis wrote on Instagram. Looking good, Nata... Wait, is that a shark?! Yikes! If so, then Natalie handled the horrifying situation a lot better than we would have.
PICTURE OF THE WEEK (NOT INVOLVING NATALIE GULBIS IN A BIKINI)
This young fan was really into the action at Riviera. Good stuff.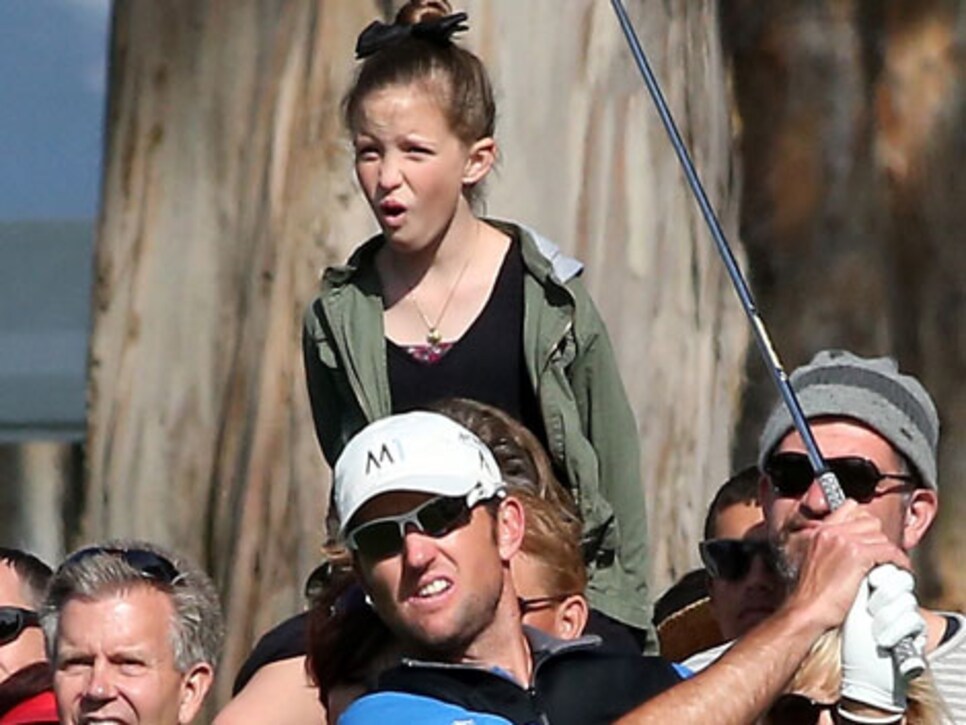 This might also be the shot of the week. Heck, it might be the shot of the year. Patrick Burch, who says he doesn't play golf, holed a 95-foot putt across a basketball court at halftime of the Auburn-Mississippi State men's basketball game Saturday to win a new car. Just a guess, but that Toyota dealership probably wasn't counting on him sinking the putt.
Karrie Webb went from a DQ at the Australian Masters for signing an incorrect scorecard to a win in the Australian Open for her 40th LPGA title. Now that's a bounce back! . . . Kirk Triplett won his third Champions Tour event. He has a long way to go to catch Jim Colbert for most senior tour wins while wearing a bucket hat. . . . A Tiger Woods impersonator was arrested in NYC last week. Authorities knew it wasn't the real Tiger because this guy can actually hit a driver straight. . . . Speaking of TW, check out the cool customized golf-themed M&Ms my lovely girlfriend Michelle got me as part of a Valentine's Day cake she made for me. The next day, I gave her a diamond ring and asked her to marry me. Coincidence?
RANDOM QUESTIONS TO PONDER
Who knew Tiger Woods had an endorsement deal with M&Ms?
Would Tiger like to be in my wedding party?
Is now a good time to ask for a raise?