The Loop
The Grind: Billy's millions, Lindsey's extreme workouts, chainsaws, and trips to outer space
Welcome to another edition of The Grind, where we will listen to Billy Horschel the next time he offers gambling advice. A week after saying he'd put a little money on himself at the Tour Championship, Horschel won golf's biggest payout. There's never a bad time to win $10 million, but Horschel's timing was particularly good with a daughter on the way. That money ought to cover a diaper fund/college fund/Sweet 16 party fund/first car fund/wedding fund/first house fund/etc. And after an eventful week, we've got a lot to cover as well. Let's get to it.
Billy Horschel: Sorry, Steve Stricker, there's a new Mr. September in golf. Horschel finished the PGA Tour season by going T-2-Win-Win to earn about $13.5 million this month. His win at East Lake came while playing head-to-head with Rory McIlroy the final two days and wearing pants on Sunday that even Doug Sanders would have thought were loud. Impressive. Horschel's ball-striking has always been his calling card, but in the FedEx Cup Playoffs, it was his putting that became his meal ticket. The only negative is that he won't be representing the U.S. at the Ryder Cup. Good thing the captain's picks were made two weeks before the season was actually over!
The apple didn't fall far in the Horschel family tree when it comes to pants/shorts fashion.
Felipe Aguilar and Ricardo Gonzalez: How about these two guys? Their friend, Fabrizio Zanotti, got clocked in the head at the KLM Open with a golf ball and these two withdrew from the European Tour event to accompany him to the hospital. Now those are the type of golf buddies you want in your life.
Justin Thomas: The former University of Alabama star won the third leg of the Web.com Tour's Final Series to improve his PGA Tour status for next season. If you were following on Twitter, his victory also ushered in the largest collection of "Remember this name" tweets in history. You probably will. It's a pretty easy one to remember.
Hyo-Joo Kim: Not only did this 19-year-old South Korean win her first major at the Evian Championship, she did it by birdieing the final hole to take down Hall of Famer Karrie Webb. Oh yeah, Kim also shot the lowest round in major championship history with her Thursday 61. Perhaps, we should remember her name as well.
Rory McIlroy: Just like in 2012, McIlroy entered the Playoffs as the unquestioned best player in golf and just like that year, he had a chance to win the Tour Championship on Sunday and claim the FedEx Cup . . . only to come up short. After winning three tournaments in a row, McIlroy is now mired in a four-week losing streak. The horror! OK, so obviously, we're being a little harsh here, but McIlroy has to be disappointed he didn't come away with the $10 million bonus and that in two of the events, he lost head-to-head to the winner over the weekend.
Jordan Spieth: A year ago, Spieth shot a final-round 64 at East Lake to finish T-2 and wrap up a remarkable season. On Saturday, he shot 80 at the same course to finish up a year that seemed to fizzle after such a promising start. (*Googles Spieth to see he turned 21 less than two months ago) Like with McIlroy, perhaps we're expecting a bit too much.
Space trips: Andy Sullivan's hole-in-one on the 15th hole on Sunday at the KLM Open helped him to a third-place finish and earned him a trip to outer space, courtesy of XCOR Space Expeditions. For a guy who describes himself as being "not great with heights or flying" and who was recently treated for altitude sickness, this doesn't seem like a great fit. We don't blame you if you don't do it, Andy. Did you see "Gravity"?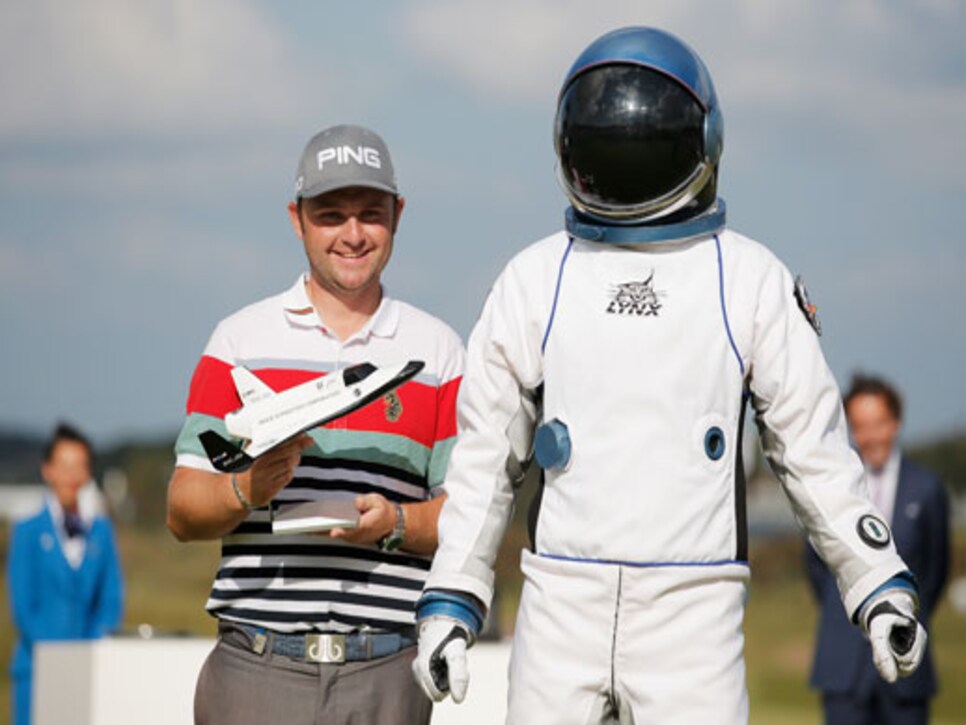 The PGA Tour takes a rare week off, but its developmental tour, the Web.com, has its Tour Championship this week at TPC Sawgrass.
Random tournament fact: Chesson Hadley is the defending champ, but he won't be in the field this week. That's a good thing for him. Hadley ensured he'll be on the PGA Tour for at least the next two seasons after winning the Puerto Rico Open in March.
RANDOM PROP BETS OF THE WEEK
-- Billy Horschel would trade his FedEx Cup for a spot in the Ryder Cup: 10 million-to-1 odds
-- Jim Furyk will apply for a "Jimmy Runner-up" trademark: 10-to-1 odds
-- Andy Sullivan would rather have won a sports car than a trip into space: LOCK
Getting an email with the subject "Greg Norman chainsaw accident" had to rank as one of the most random messages I've ever received in my life. Fortunately, the self-inflicted damage could have been much worse (there won't be a "Florida Chainsaw Massacre" trilogy) and Norman described himself as "one lucky man." He's also one fit 59-year-old.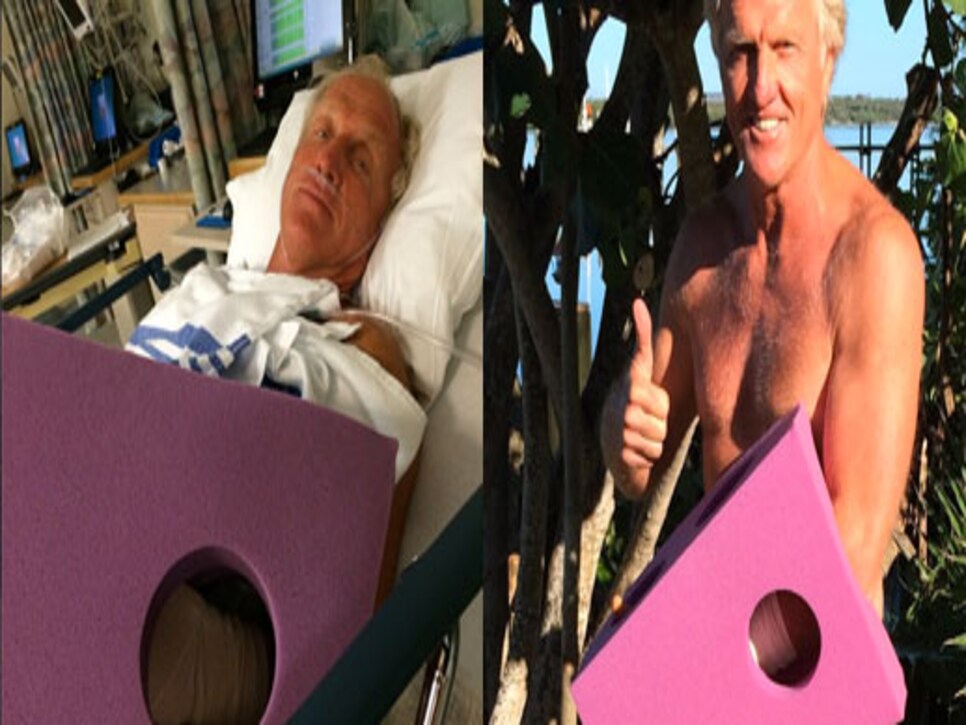 "From what I've heard, kids are very expensive, so the more money I can make, the better." -- Billy Horschel.
A baby bear played with a flagstick on a golf course in British Columbia and people absolutely ATE IT UP.
Maybe describing this as PDA is a bit strong, but they're both smiling in the pic, at least. The couple had quite a date night with an advanced screening of "The Equalizer," starring Denzel Washington. How romantic! "It's definitely not one for the kids," warns Lindsey. Thanks, but I think we got that from the title and the 'R' rating.
THIS WEEK IN LINDSEY VONN MAKING US LOOK BAD WITH HER TRAINING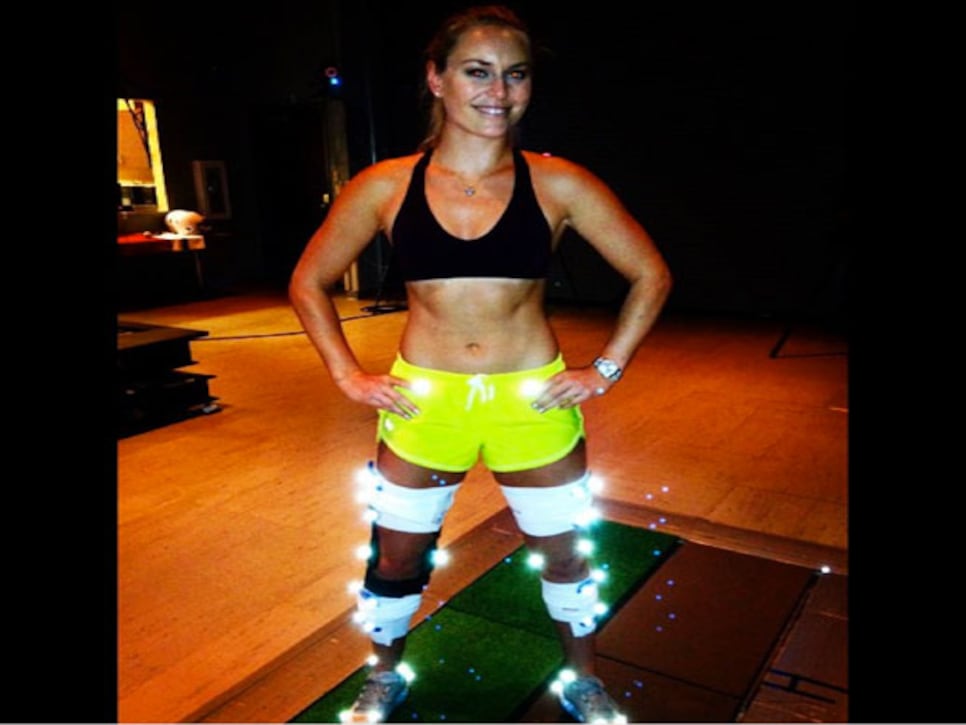 We don't even understand what's going on here, but we know this much: Lindsey does not mess around in the gym. Maybe she's hoping for a part if there's a "The Equalizer" sequel.
[#image: /photos/55ad7b10b01eefe207f6feba]|||blog-alex-dumpster-0916.jpg|||Rory McIlroy started a "controversy" by saying Tiger Woods and Phil Mickelson are "getting older." In other obvious news, the sun will rise in the East tomorrow. . . . Attention, Rory, old man Tiger Woods said he's been "busting my butt in the gym pretty hard." Hey, he's got to at least try to keep up with Lindsey. . . . Paul Casey won the KLM Open for his first win as a dad. Kids must be very expensive, indeed. . . . The U.S. won the World Amateur Team Championship in Japan. At some point, all these American amateur team wins will translate into Ryder Cup success, right? . . . That's me finding my keys at the bottom of a dumpster after a frantic search all over my building. If -- and I stress, only if -- you are going to accidentally toss your keys into a dumpster, make sure it's one that is only filled with cardboard.
RANDOM QUESTIONS TO PONDER
Does Tiger Woods ever not wear Nike?
Could Boo Weekley make 55 tap-ins in a row?
Who does Billy Horschel like to win the Super Bowl?