The Loop
The Grind: Back to school memories, Peyton Manning's golf love & BMW picks
Welcome to another edition of The Grind, where we're happy to not be going back to school. The homework. The tests. The fear that the teacher is going to mispronounce your name on the first day. Yeah, we'll take cramming for our weekly exam by pouring over golf news and stats instead. Speaking of which, we've got a huge final two-week stretch on the PGA Tour to prepare for. Let's get started.
The Walker Cup: By all accounts, it was a glorious week at National Golf Links. Well, if you weren't rooting for Great Britain and Ireland's squad. The historic golf course took center stage as the U.S. put forth a dominant performance, taking back the trophy with a 17-9 win. Maybe there's some hope for the red, white and blue at future Ryder Cups after all.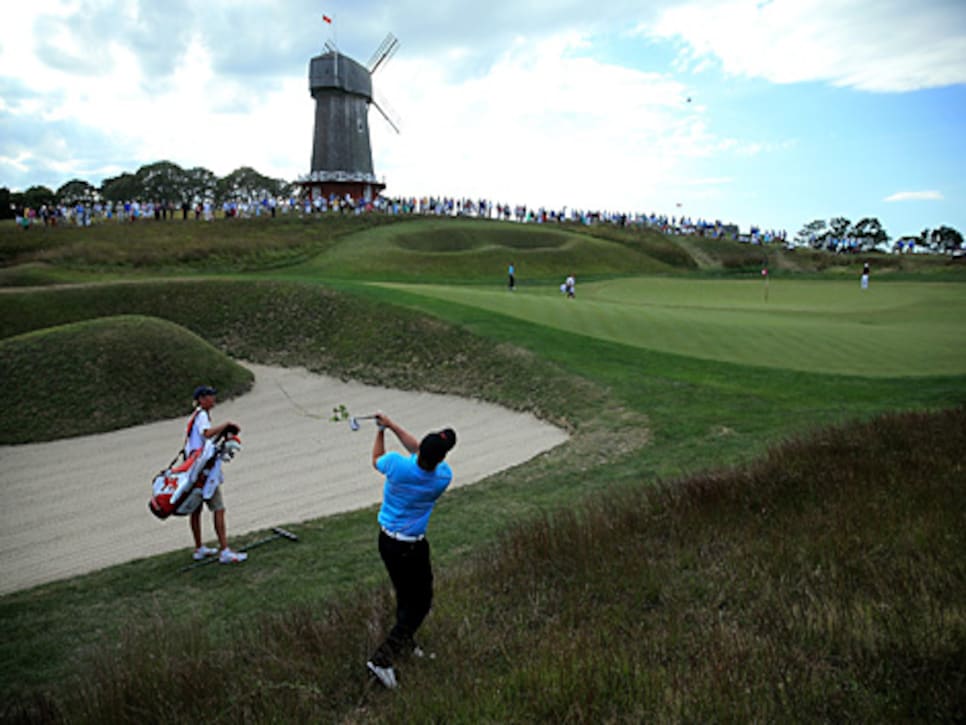 National Golf Links looks like a DECENT track.
Esteban Toledo: We don't give the Champions Tour its proper due, but when a former Mexican boxer beats the senior circuit's current best player, Kenny Perry, in a playoff by chipping in, it deserves mentioning.
Andrew Svoboda: Like a pro baseball prospect who can't quite cut it in the majors, Svoboda seems destined to stay in limbo between the big leagues and Triple A. His win at the Chiquita Classic further solidified his status on the PGA Tour next season, but perhaps he should just keep playing on the Web.com Tour. In nine 2013 events he's won twice and made nearly FIVE times as much money as he's made in 18 PGA Tour events this year.
The LPGA's schedule: With a rare chance to not have to share the spotlight with the PGA Tour, what does the LPGA do? It takes an off week as well. Instead, the LPGA's fifth major, the Evian Championship, will be this week instead. Wow, does that seem like a missed opportunity for a tour that has been struggling to draw a big audience.
Presidents Cup hype: We're sorry, but it's tough to get too excited about any event for which Brendon de Jonge is picked. On the other hand, we were happy Fred Couples made Jordan Spieth a captain's pick even if it was the most obvious choice since Kelly Clarkson topped Justin Guarini in Season 1 of "American Idol."
"Half" birthdays: What's worse than your birthday as you get older? Your half birthday. It's just another reminder that you're getting old and you don't get any presents to cheer you up. Just awful. The only bright side is that I discovered I share my "halfie" with Arnold Palmer's birthday. Congrats, Mr. Palmer. You're still the King at 84.
The BMW Championship, the third of four FedEx Cup Playoff events, will be played at Conway Farms Golf Club in Lake Forest, Ill., for the first time. Rory McIlroy won this event at Crooked Stick last year. It certainly seems like it was longer ago than that.
Random tournament fact: Speaking of going back to school, the course hosted the 1997 NCAA Championship, where amazingly Matt Kuchar, Zach Johnson, and Jason Dufner all missed the cut. Man, we would have loved to chill with Dufner in college.
WEEKLY YAHOO! FANTASY LINEUP
Starters -- (A-List): Tiger Woods: He can't lose three straight non-majors, right?
(B-List): Zach Johnson: He can't go an entire season without winning a tournament, right?
(B-List): Webb Simpson: See above.
(C-List): Henrik Stenson: Have you been watching this guy lately?
Bench: Phil Mickelson, Steve Stricker, Justin Rose and Adam Scott.
On Thursday, Denver Broncos quarterback Peyton Manning threw SEVEN touchdowns in an NFL Opening Night win over the defending Super Bowl champion Baltimore Ravens. On Friday, we got a glimpse of his latest commercial, which happens to be for next year's BMW Championship:
That's pretty standard attire for a sister to wear to a brother's birthday party, right?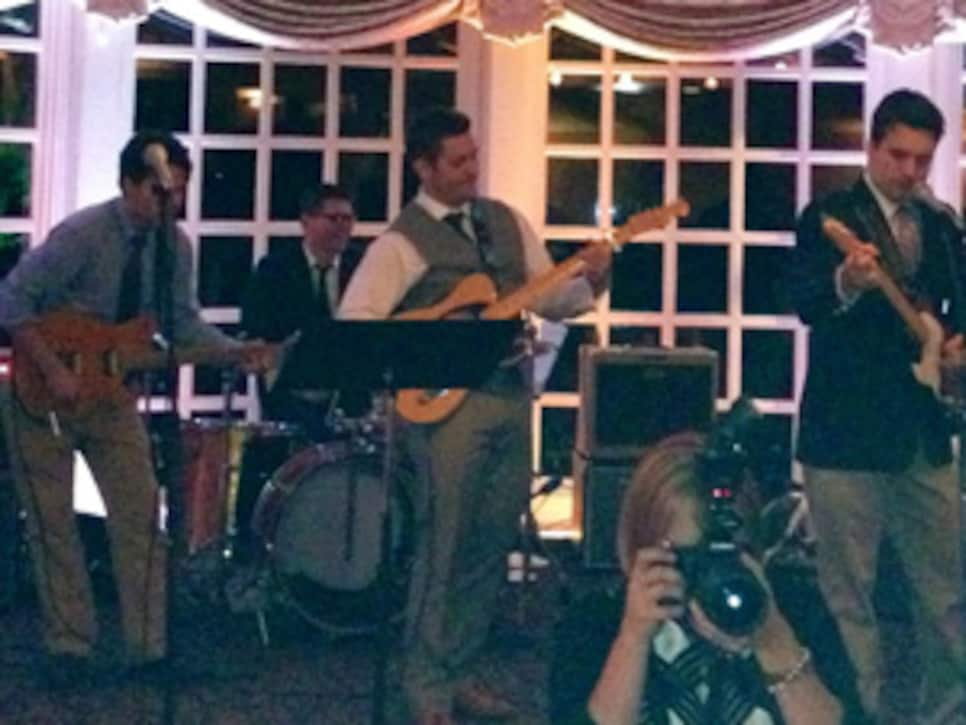 Brandel Chamblee said he believes Tiger Woods is "overcoached." Coincidentally, there are a lot of people who believe Chamblee is "overexposed." . . . Johnny Miller sounded very sad when discussing NBC losing TV rights for the U.S. Open. Poor guy. . . . My buddy Steve got married over the weekend and played guitar (he's the guy in the middle) on a couple songs with the band -- the "Playboys of the Western World" -- at the reception. That sentence is just chock full of AWESOME.
RANDOM QUESTIONS TO PONDER
Will the Players ever become an actual fifth men's major?
Does Esteban Toledo teach boxing lessons?
Do rock stars hire wedding bands?