The Loop
Animals attack, WAGs to the rescue, Beer Golf, and chatting with my all-time favorite athlete
Welcome to another edition of The Grind, where we're especially proud to be a WAG-friendly forum this week. Sure, Russell Knox shot the scores necessary to win a WGC, but his WAG was the MVP. If not for Andrea Knox's work behind the scenes to secure a visa to China for her husband, Russell wouldn't have even gotten to Shanghai. Andrea then filled in for Knox's caddie in practice until he was able to get there. "My wife was a superstar," Knox said. That's right, Russell.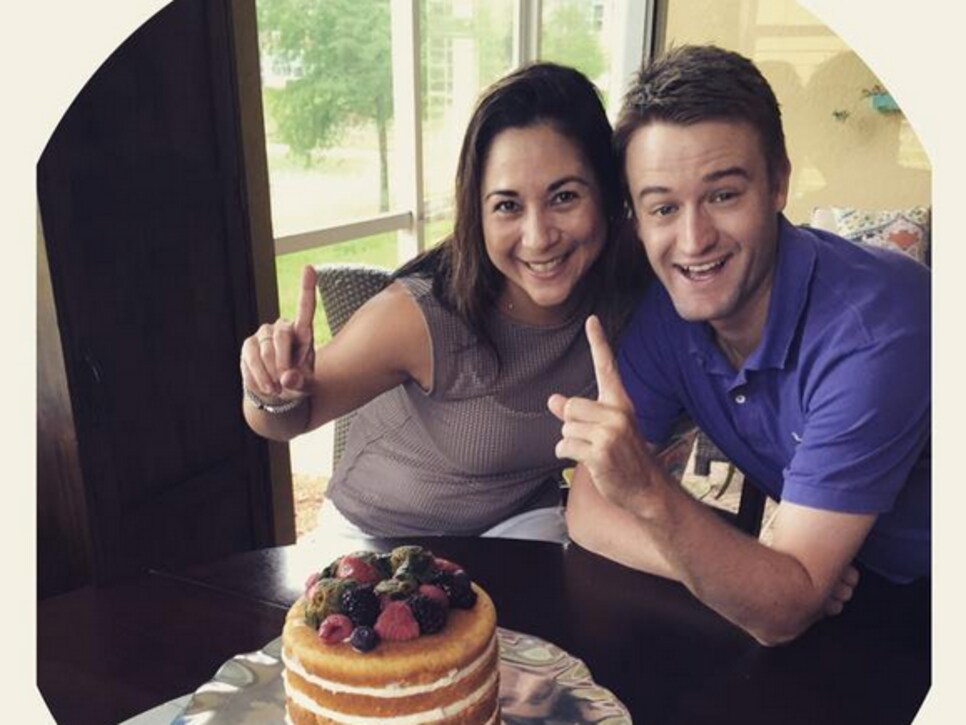 And yep, you get to say you're No. 1 this week. Enjoy. Now let's all grab a piece of cake and talk about what else is going on in golf.
Russell Knox: Wait a minute, this guy is 30? What is he doing winning on the PGA Tour? He's ancient. In all seriousness, congrats to the Scot for making his first PGA Tour title a World Golf Championship -- even if it didn't really have the feel of a big-time event. Many of the big names in the field said they hadn't touched their clubs in a few weeks and the guy who finished runner-up, Kevin Kisner, said he wished he was home watching football and drinking beer. Nevertheless, Knox beat the likes of Dustin Johnson and Jordan Spieth on Sunday. Well played, old man.
Peter Malnati: Even a Monday finish can't stop the wave of first-time winners on the PGA Tour. Malnati won the Sanderson Farms Championship for his maiden victory, making that five new winners in five tournaments to start the 2015-16 season. And how about that putting stroke giving him an astonishing 11.85 strokes gained/putting total for the week? This guy can roll it, and he's on a serious roll with his Kansas City Royals having just won the World Series. Yep, he's come a long way in a short time. Until Monday, he was probably best known for this:
Butch/Phil's breakup: As surprising as this was, it seems like the right move. Like Tiger Woods, Phil Mickelson is constantly looking to tinker and if he thinks his time with Butch Harmon had run its course, then it's time to move on and search for something that's going to re-energize him for the stretch run of his career. And the in-person breakup -- especially after an eight-year relationship -- is always the way to go. Both will be fine moving forward, and they'll always have Muirfield.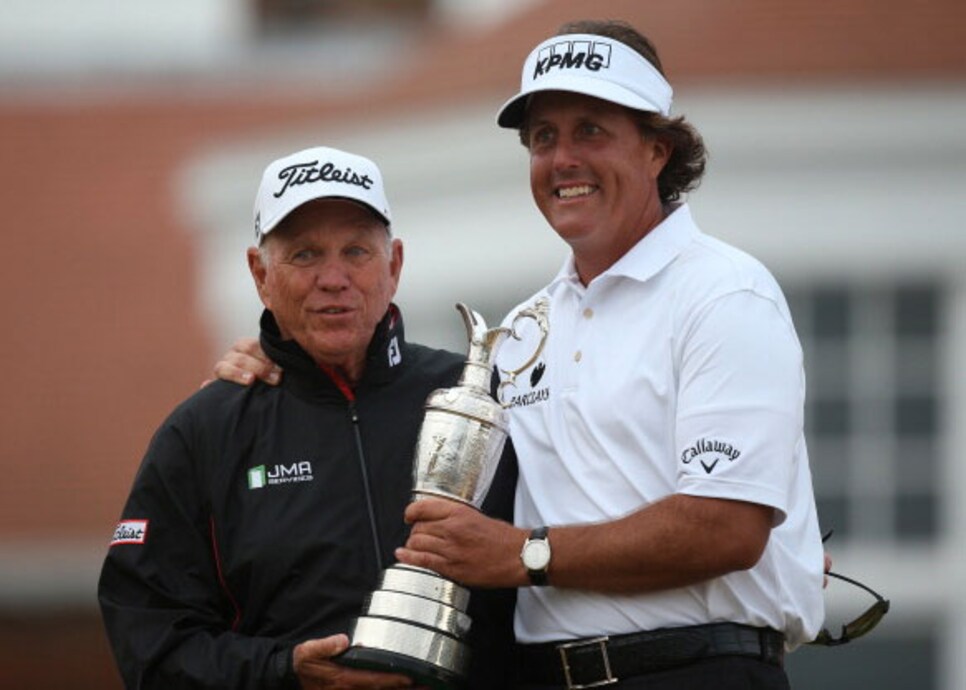 Beer Golf: So simple, yet so brilliant, this game combines golf and beer pong as demonstrated by Mark Willard and Brian Baumgartner, aka Kevin from "The Office":
Looks fun, but also potentially dangerous at particularly wild parties -- or with particularly bad golfers.
Aggressive animals on the course: Sorry to be an alarmist, but golf isn't getting any safer. Check out this persistent fox trying to steal one man's headcover three times before chasing after him and causing him to fall.
Then there was this terrifying kangaroo chase, which looked more like a scene out of Jurrassic Park:
Bernhad Langer's long putter: As in, sorry, Bernhard, but it's time to sell this thing or enshrine it in your man cave. A brilliant 17-year run with this flatstick came to an end with a runner-up finish that locked up Langer's record third Schwab Cup Title. With the Champions Tour season all wrapped up, that means it's time for Langer to find a new/old putter/putting method with the anchoring ban about to go into effect.
Haggis: Call me an ugly American, but the more I see photos of this stuff, the more I get grossed out: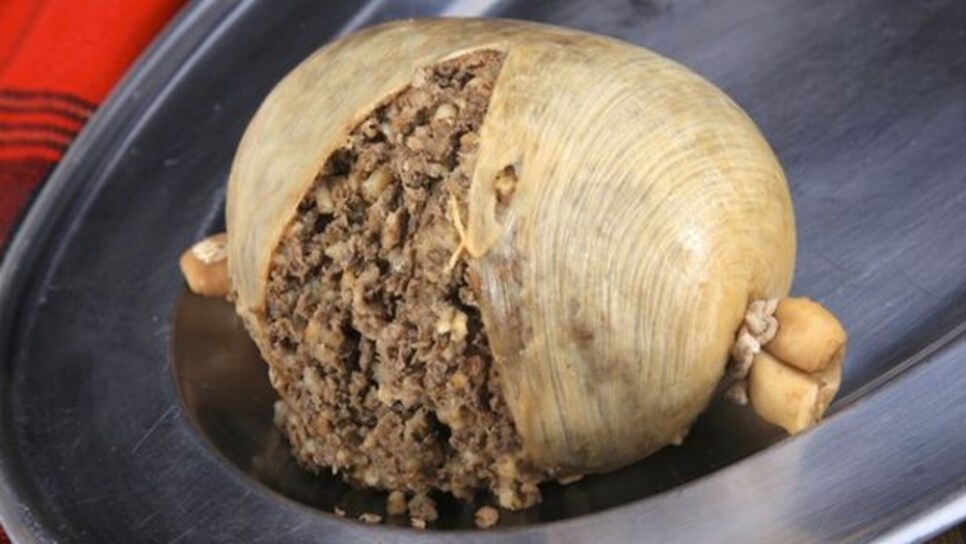 Little did I know, but the Scottish delicacy has actually been banned in the U.S. for 44 years because it contains sheep's lung as an ingredient. Haggis lovers, rejoice, because this ban could soon get overturned. Haggis haters, you've been warned.
The PGA Tour heads to Mexico for the OHL Classic at Mayakoba, aka the event that might just offer the best perks to its players. Besides from the usual gifts, players can swim with the dolphins, take cooking classes from executive chefs and go on excursions to Rio Secreto, an underground river. Here's a photo of Mark Wilson taking part in the excursion: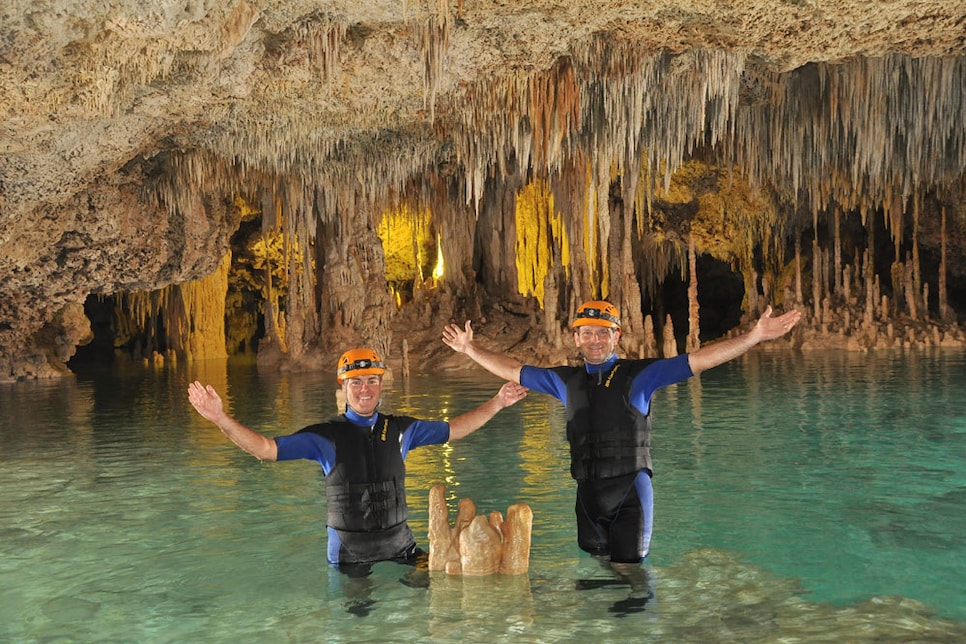 Random tournament fact: No tour players have been lost in underground caves . . . that we know of.
RANDOM PROP BETS OF THE WEEK
-- Peter Malnati will putt like that two weeks in a row: 1 MILLION-to-1 odds
-- Peter Malnati will swim with the dolphins: 10-to-1 odds
-- Kevin Kisner would love Beer Golf: LOCK
PHOTO OF THE WEEK (STUNNING BEAUTY DIVISION)
PHOTO OF THE WEEK (TOURNAMENT DIVISION)
Translation: Shane Lowry had a really, really bad day on the greens.
PHOTO OF THE WEEK (TERRIFYING DIVISION)
A giant gator. A large python. Yikes.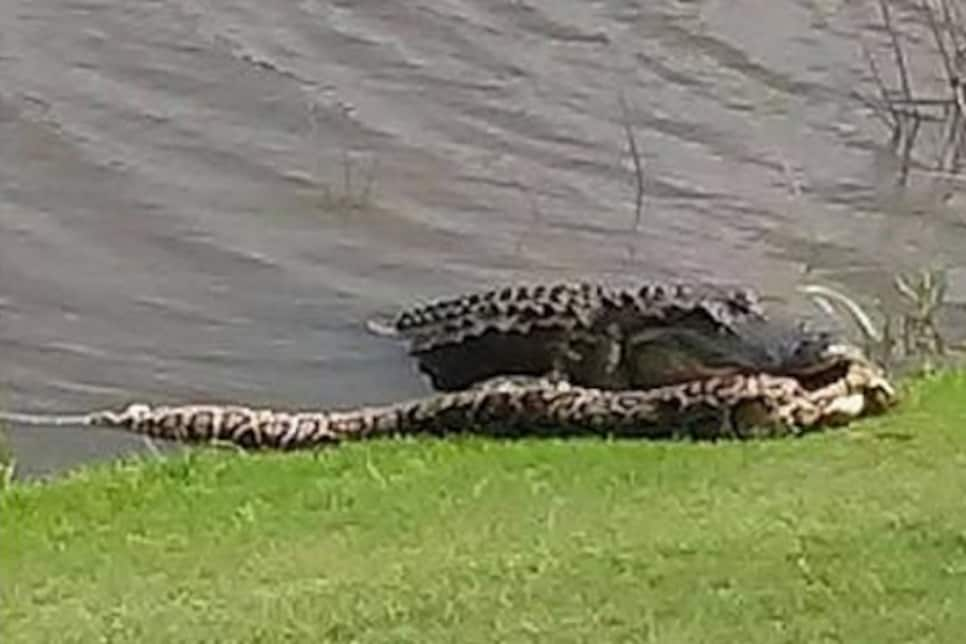 Remind me never to go play Fiddler's Creek Golf Course in Naples, Fla.
VIRAL VIDEO OF THE WEEK (NOT INVOLVING WILD ANIMALS)
One college golfer showed off her swing -- and her balance -- at the Golden Gate Bridge:
THIS WEEK IN NATALIE GULBIS MAKING US FEEL BAD WITH HER TRAINING
Aww. Now that's a supportive HAB.
THIS WEEK IN PAIGE SPIRANAC BEING PAIGE SPIRANAC
Paige showed off her swing at the sweet-looking Links at Petco Park -- a joint venture between the San Diego Padres and Callaway:
And then she showed off a new, um, outfit:
THIS WEEK IN DUSTIN JOHNSON-PAULINA GRETZKY PUBLIC DISPLAYS OF AFFECTION
For all the times we've joked about this couple sharing their love of each other, this takes the cake. Paulina, playing the, um, supportive WAG role, posted this to Instagram shortly after Dustin's bad break cost him a shot at winning in Shanghai:
Then there was DJ's response: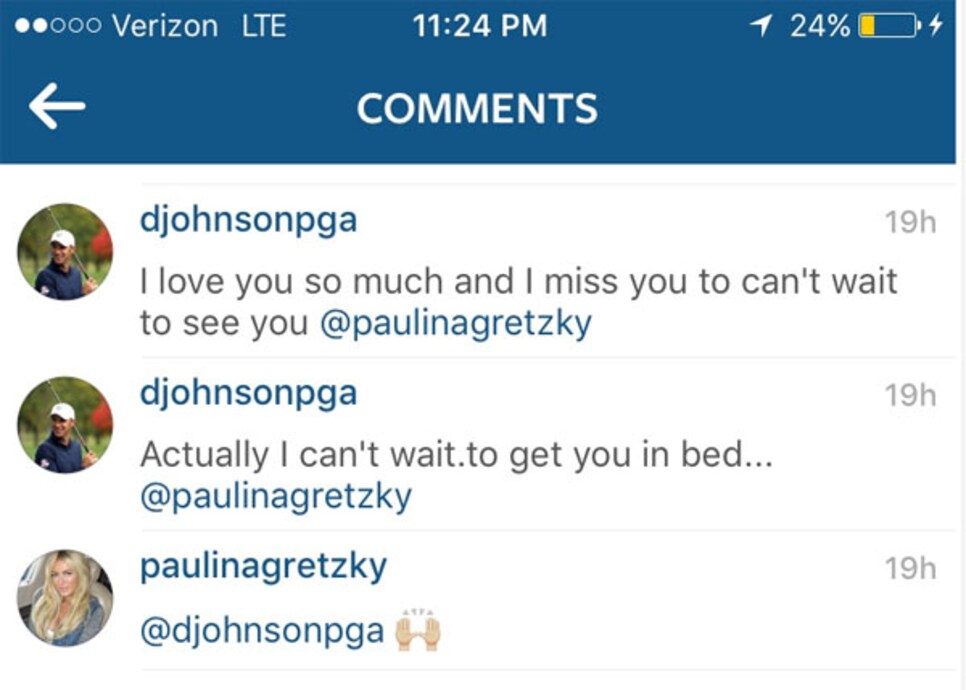 Oh my. Let's try to keep this PG-13, guys, OK?
"I'm going to be on my best behavior so there isn't one." -- Adam Scott on whether Steve Williams will write another book. Good strategy, Adam.
A group of LPGA Tour pros were stuck in Bali for a few extra days because of a nearby volcano eruption. These tour pros can never catch a break. . . . Billy Andrade won the Champions Tour season finale, beating Bernhard Langer in a playoff. Watch out fellow seniors, the Wake Forest product isn't an anchorer. . . . Golf Digest's annual Seitz Cup is scheduled for this Thursday and will feature a new twist: Old versus young. Considering the youth movement that's sweeping pro golf, I like our (Yes, I'm on the young team) chances. . . . And speaking of being young, I had the thrill of hanging out with a childhood idol of mine, John Starks. You can hear my interview with the former New York Knicks All-star and current golf fanatic in an upcoming Golf Digest podcast.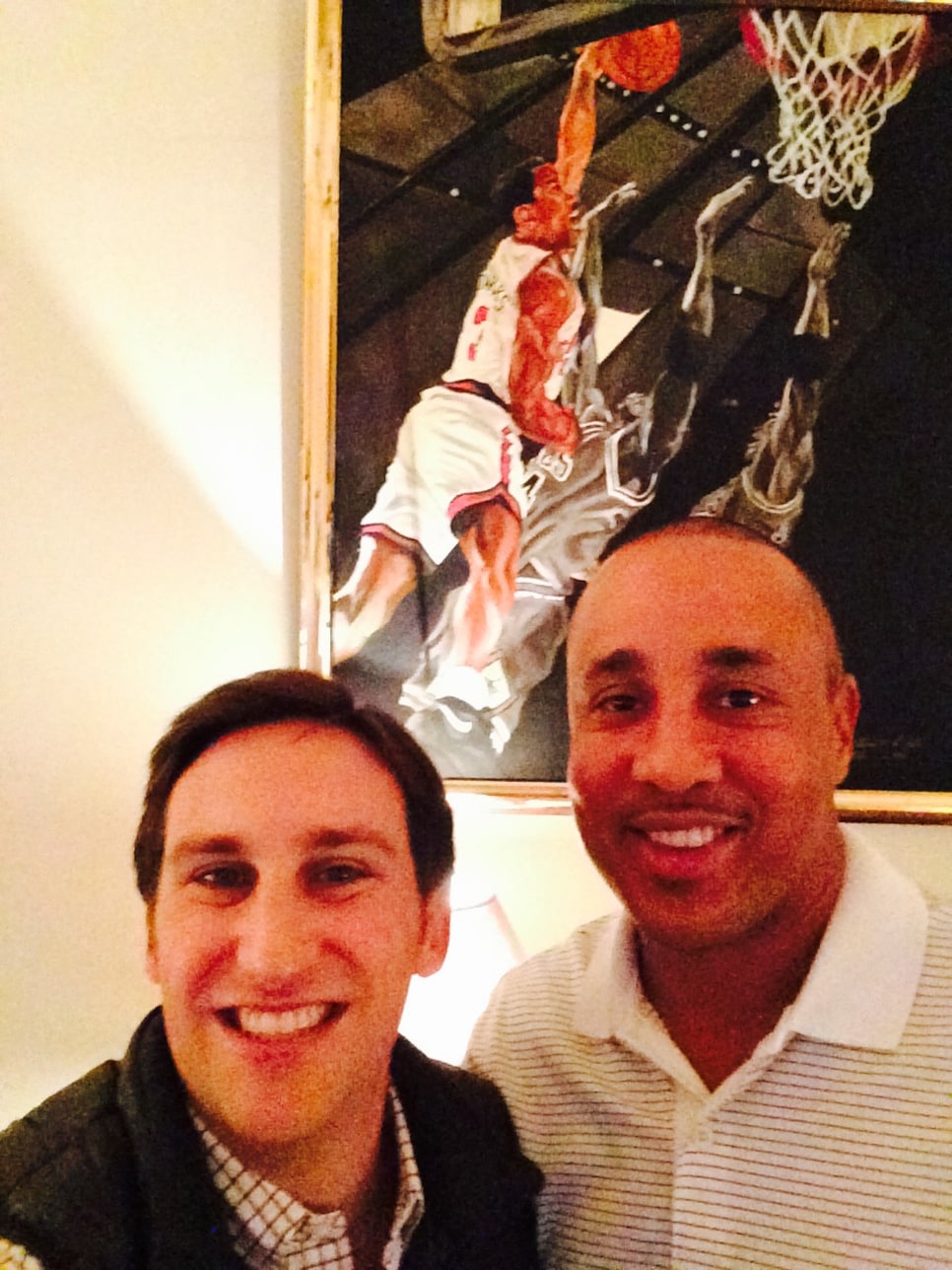 So in the past couple months, this '90s kid has gotten to hang out with John Starks and play golf with Chris Barron, the lead singer of the Spin Doctors. What a special year 2015 has been! (Oh yeah. . . I also got married. . . And moved into my first house. . . Details, details.)
RANDOM QUESTIONS TO PONDER
Am I the only 33-year-old golf writer who still owns a Johns Starks jersey?
How many different guys will win on the PGA Tour this season?
Does Butch Harmon have any open slots this week?