The Loop
The Grind: Adam Scott shines, hotel beds wreak havoc & golfers get creative
Welcome to another edition of The Grind, where we're very concerned. For a second straight year, a bad night's sleep at a New York metropolitan area hotel gave Tiger Woods a bad back. Don't worry, Tiger, we've got your, um, back on this one. As residents of the area and as proponents of firmer mattresses ourselves, we're calling on local politicians to address this issue. It's a matter of public safety!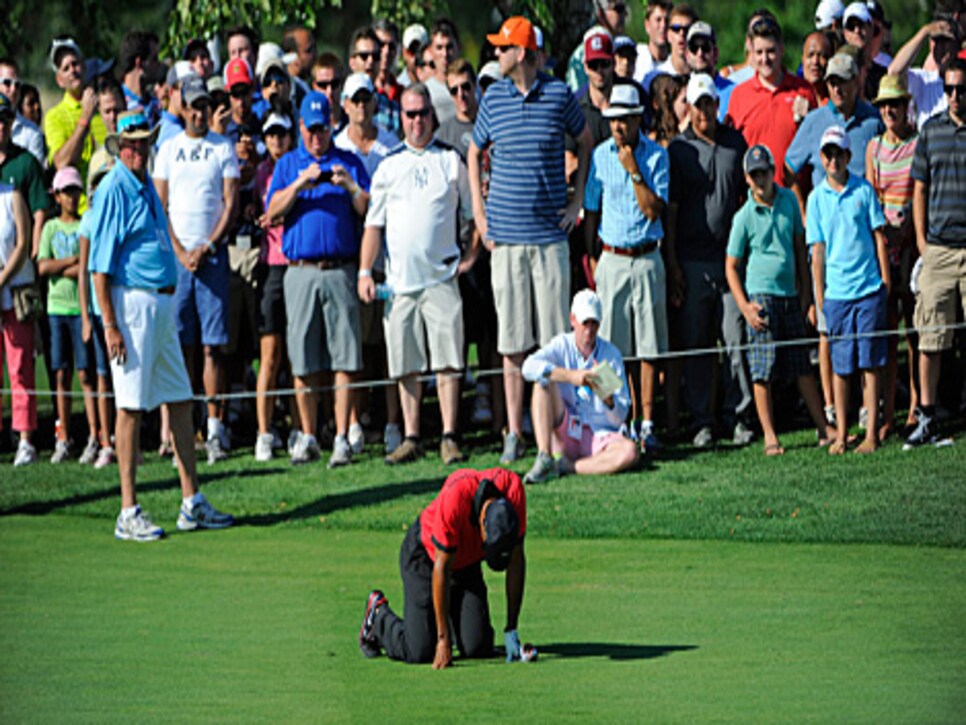 I knew I shouldn't have skimped on that hotel. . .
Adam Scott: A first major championship win at the Masters ensured 2013 would be a special year for the Aussie. But not winning at least a second event would have been a letdown. Not only did Scott do that at the Barclays, but he did it on a big stage and in dramatic fashion. He narrowly edged four players, including Woods, whose birdie-birdie-almost birdie finish was pretty amazing considering his physical state. Sure, Scott dodged more bullets than Keanu Reeves in "The Matrix," but he also shot a Sunday 66. Speaking of Scott and Woods. . .
The Player-of-the-Year race: The FedEx Cup wins when we get fantastic leader boards like the one at Liberty National. But more than that, the PGA Tour seems to have more drama than usual when it comes to its annual award. When Woods won the Players in May it appeared he had locked up his 11th award, but now, as many as six players still have a shot at the Jack Nicklaus Trophy. Game on!
Lydia Ko: Unfortunately for Ko, Adam Scott's win stole Sunday's headlines, but that doesn't make a second LPGA win by the SIXTEEN-year-old amateur any less impressive. Ko defended her title at the Canadian Women's Open and it wasn't even close, as the New Zealander won by five shots. Can you imagine the hype surrounding MIchelle Wie if she had actually won anything as a teenager?
Matt Kuchar: With a chance to seize control of the FedEx Cup Playoffs (at least, until this week when someone else seizes control) and throw his name into the Player-of-the-Year discussion, the 54-hole co-leader crumbled on Sunday with a 78 to fall to T-19. Two weeks before, it was a Saturday 76 by Kuchar that ended his hopes of a first major championship. The man has had a great year, but it could have been even greater.
Kevin Chappell: The UCLA product was outplaying Tiger Woods, with whom he was paired, and had a first tour title in his sights on Sunday before shooting seven over for his last eight holes. Chappell shot a course-record 62 the day before. Maybe he was another victim of a soft hotel bed Saturday night. . .
The 'Wozzilroy' "split": Rumors swirled that Rory McIlroy and Caroline Wozniacki had broken up thanks to an anonymous source and the couple changing their Twitter profile pictures. McIlroy denied it and then a picture surfaced of the two of them eating breakfast together. Whoa, whoa, whoa! Speculating on relationships of public figures? Who would do such a thing?!
The PGA Tour heads to TPC Boston for the Deutsche Bank Championship, the second of four events that make up the FedEx Cup Playoffs. This one will feature far fewer shots of the Statue of Liberty, we promise.
Random tournament fact: This event features the only planned Monday finish of the year, with the tournament wrapping up on Labor Day. Set your DVRs accordingly.
WEEKLY YAHOO! FANTASY LINEUP
Starters -- (A-List): Jason Dufner: The recent PGA champ wasn't at his best at the Barclays, but we think he'll get back on track this week on a track where he finished runner-up in 2009.
(B-List): Webb Simpson: A winner here in 2011, Simpson has 13 top 25s in 2013, but no wins. We think that changes here.
(B-List): Jim Furyk: With four top 10s in the past month, including a runner-up at the PGA Championship, it's easy to lean on a guy with three top 10s in this event the past five years.
(C-List): Adam Scott: Is there any reason not to play this guy on a weekly basis anymore?
Bench: Phil Mickelson, Steve Stricker, Dustin Johnson and Jason Day.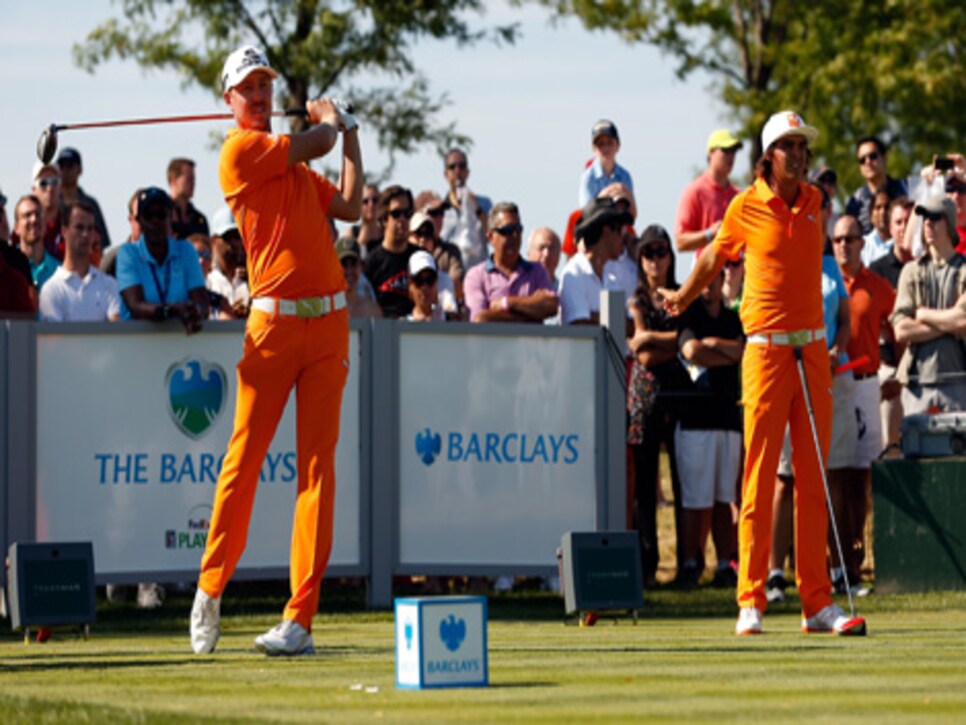 In case you missed it, the cutest golf rapper in the world is back. Here's five-year-old Caleb C's (You may remember him from "I Love Golf") second release, "It's Humpday!":
We're getting to the point where MTV's Video Music Awards might have to add a golf category.
RANDOM PROP BETS OF THE WEEK
-- This week's bubble boy, Camilo Villegas, will make a music video about his situation: 1,000-to-1 odds
-- Whoever plays with Tiger next on a Sunday will dress up like him: 1 MILLION-to-1 odds
-- If Tiger plays this week, he'll find a way to get his luxury yacht and its luxury bed(s) up to Boston: LOCK
THIS WEEK IN DUSTIN JOHNSON-PAULINA GRETZKY PUBLIC DISPLAYS OF AFFECTION
Austin Johnson reappears in two photos of himself and brother DJ's new fiance: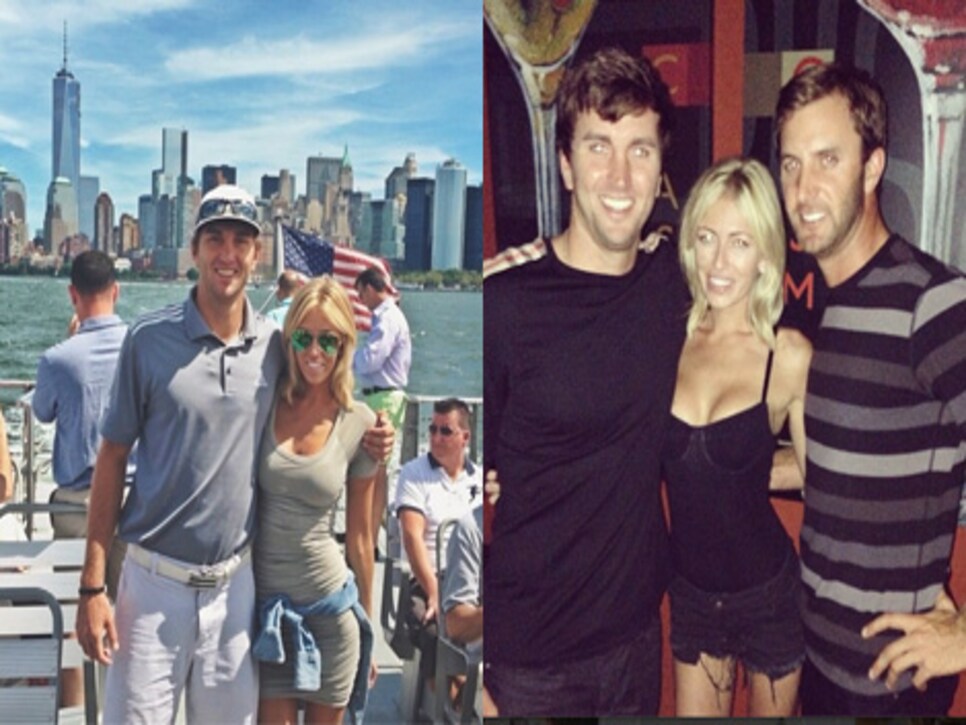 It's nice to see that Dustin is sharing his adidas apparel.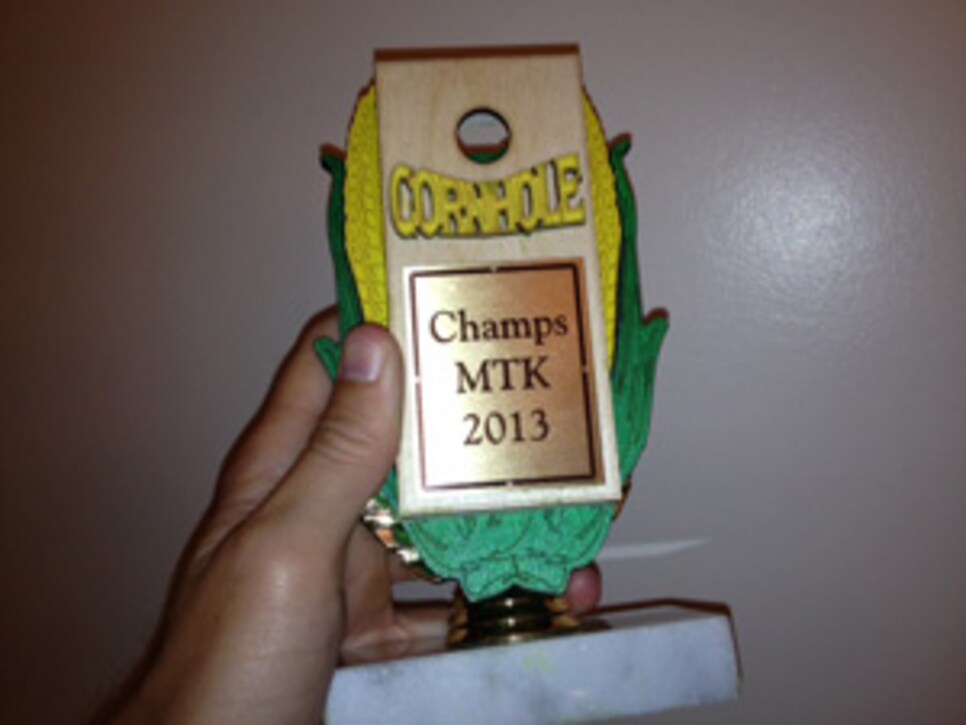 Tiger Woods withdrew from friend Notah Begay's Wednesday charity event. It's tough to get a luxury yacht to central New York. . . . My friend, Ed, and I cleaned up in a corn hole (the game where you toss the bean bags into holes on a board) tournament over the weekend while on a bachelor party trip to Montauk. Yep, I have a trophy to prove it. Be proud, mom and dad. Be very proud.
RANDOM QUESTIONS TO PONDER
Will we still be talking about 'Wozzilroy' next year?
When should Lydia Ko turn pro?
Should I turn pro at corn hole?