The Loop
A Russian model turns heads with her play, Rory McIlroy parties with Conor McGregor, and an epic battle of bad golf tans
Welcome to another edition of The Grind, where we discovered the perils of taking your parents on a tour of your office. With my folks in town for the week, I thought why not give them a tour of Golf Digest's sparkling digs at 1 World Trade Center, aka where the magic happens. It was going great until my boss saw my mom take this embarrassing photo of me at my desk looking like I'm still a kid working on my homework.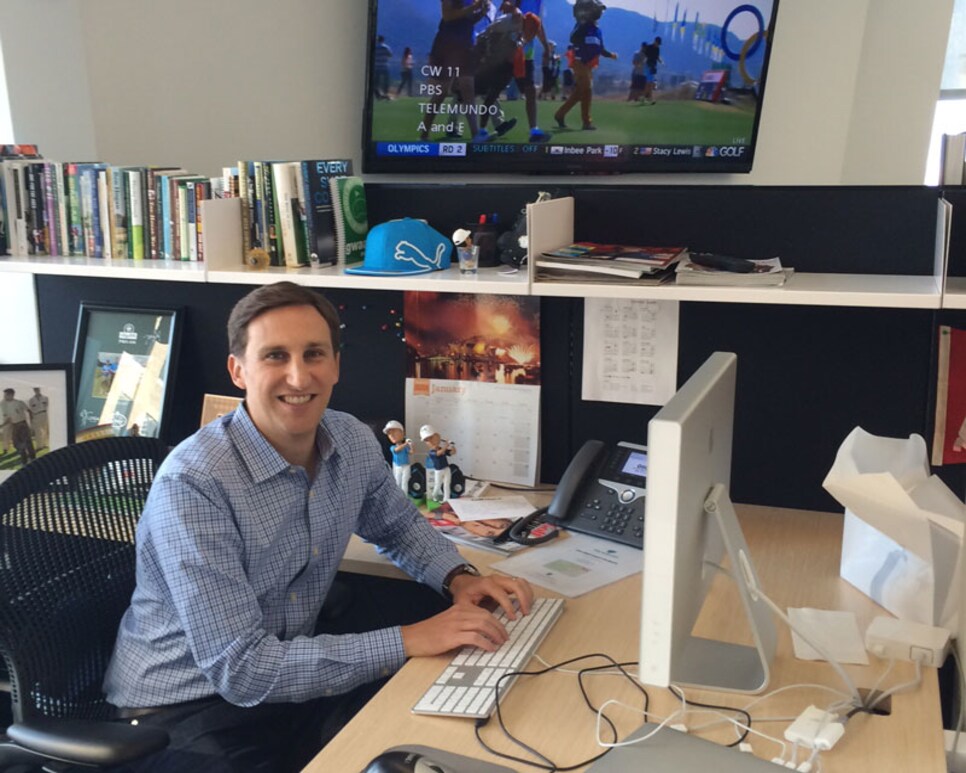 And now I'm NEVER going to hear the end of it. But fortunately, there's a lot of other stuff from the world of golf to discuss. Let's focus on that. Please.
Inbee Park: The South Korean joined Justin Rose as the first golf gold medalists in more than a century. After a few injury-plagued months -- which had some people saying she should give up her spot in the Olympics -- Park was back to her old tricks, draining everything in sight during her five-shot romp in Rio. In other words, Inbee was back to being WINBEE.
Maria Verchenova: Speaking of draining everything, how about Verchenova, who shot a final-round 62 in Rio to set a new Olympics record, all while wearing a very stylish hat. Now when you Google this Russian golfer you'll get more than just a bunch of "hottest golfers" lists. Some of which, I may have had a hand in ...
Si Woo Kim: The South Korean became the only 21-year-old other than Tiger Woods to win a PGA Tour event by at least five shots in the past 30 years. He's also the youngest international player to win on the PGA Tour since Seve Ballesteros in 1978 and the first golfer to win a PGA Tour event by five shots or more since Jordan Spieth in the year's first tournament. I'm also buying this post I wrote about him. In January.

The Disastrous Web.com Tour group: The stars really aligned for this pairing of unfortunate golf last names. Hack, Schenk and Yip? Really? That's just too much bad mojo.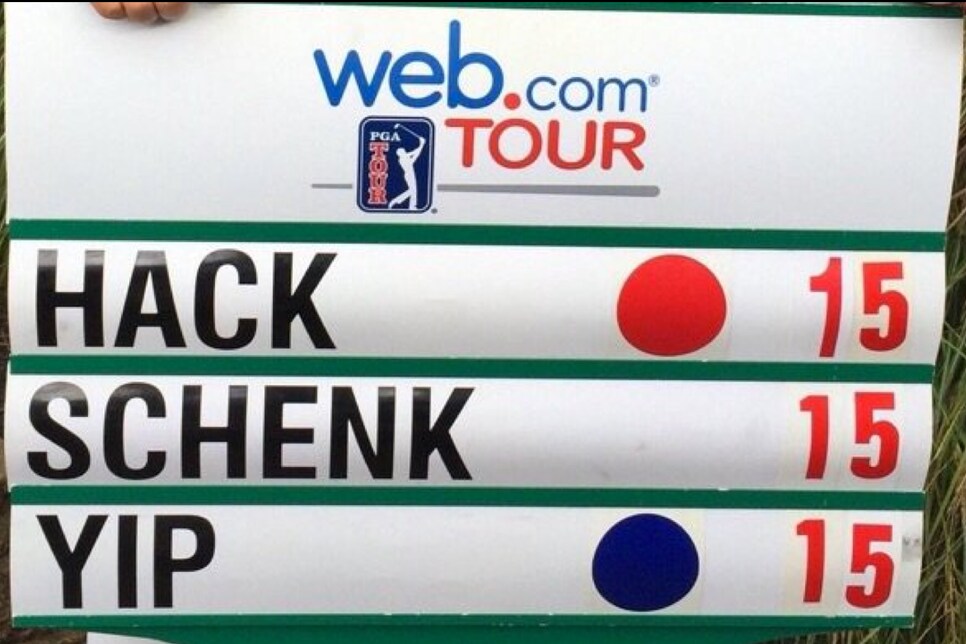 I'm available as a fourth, though. I'm thinking about changing my name to "Slice."
Stabbing golfers on the course: Even if the slow group in front isn't letting you play through, this is a no-no. Reportedly, a Utah man took matters into his own hands on Saturday when he and his wife were twice told no when asking to play through to speed up their round. Fortunately, no one was seriously hurt, but be careful out there.
Stacy Lewis' golfer's tan: Unfortunately for the American star, her Olympics 63 was overshadowed by her frightening golfer's tan. Afterward, a laughing Lewis said, "I never wear sleeveless. And I won't wear sleeveless again."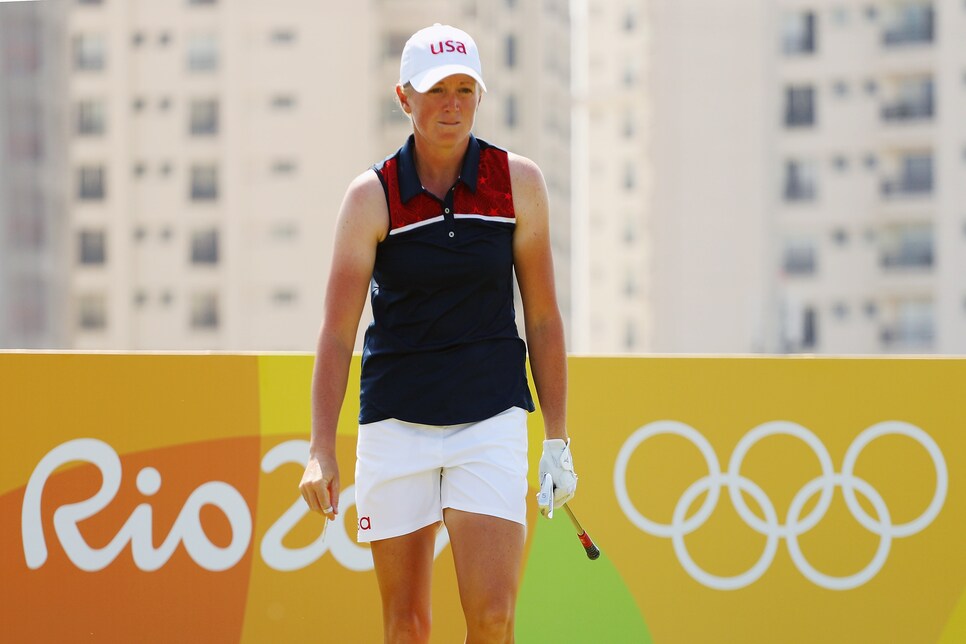 Probably a good call, Stacy. Then again, I shouldn't talk. . .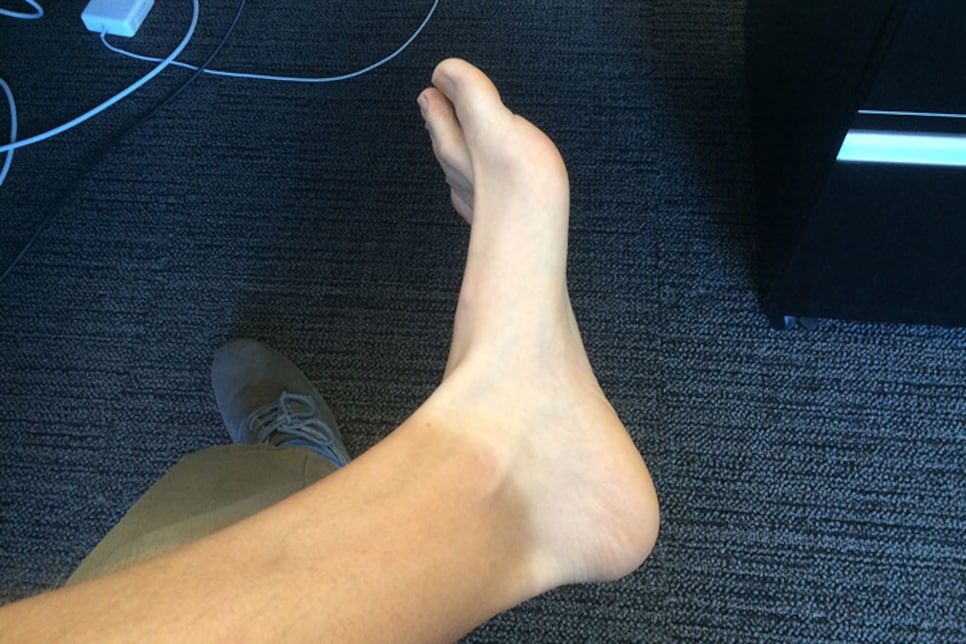 The PGA Tour heads to Bethpage Black for the Barclays and the start of the FedEx Cup Playoffs. At stake are Ryder Cup points (this is the last week to automatically qualify for the U.S. team), postseason survival and, of course, a whole lot of cash.
Random tournament fact: Jason Day is the event's defending champ. Nick Watney (2012) is the event's defending champ at Bethpage Black.
RANDOM PROP BETS OF THE WEEK
-- Jason Day will still be upset he didn't win a 2016 major if he wins the FedEx Cup: 10 MILLION-to-1 odds
-- Jason Day will win the FedEx Cup: 7-to-2 odds (Actual odds)
-- Nick Watney will not win the FedEx Cup: LOCK
Check out Rory McIlroy hanging with buddy Niall Horan and Conor McGregor in Vegas immediately after the fighter's big UFC win.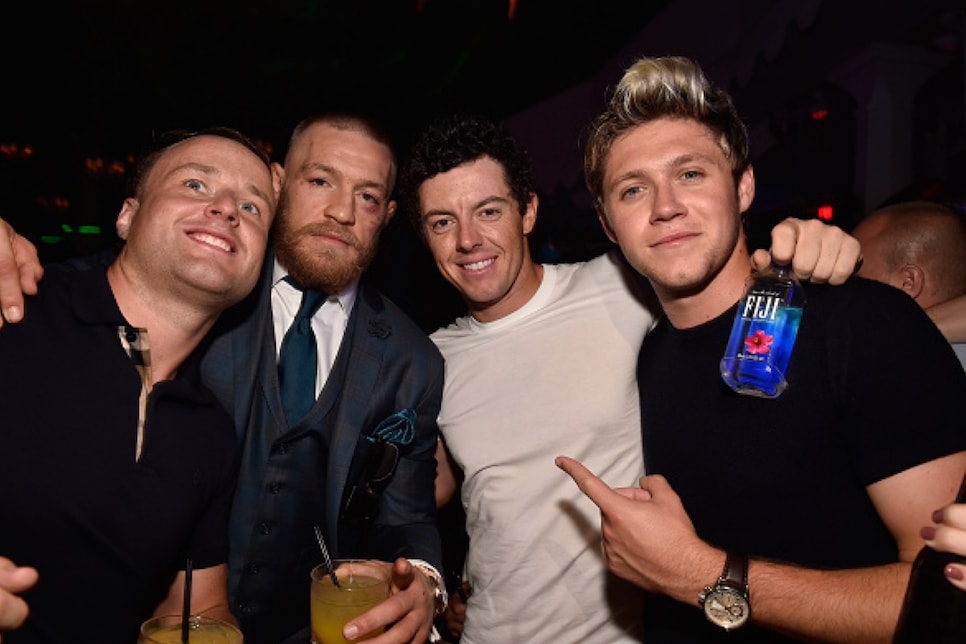 Pretty cool. And look at Rory staying properly hydrated! Always smart when you're visiting a desert climate.
How about the week Brad Dalke had? The Oklahoma sophomore finished runner-up in the U.S. Amateur and arm wrestled with Holly Sonders:
Talk about a big man on campus.
This video of a suspected golf club thief being held at gunpoint is more than a month old, but it was really buzzing last week.
Let's add this to "stabbing golfers on the course" on the list of things golfers should NOT do.
VIRAL (CELEBRITY) VIDEO OF THE WEEK
Jordan Spieth went on "The Tonight Show With Jimmy Fallon" and discussed what it's like to play golf with Bill Murray. He also nearly took out the host's eye by chipping a marshmallow:
"There is no plan for retirement at the moment." – Inbee Park, 28. In other words, let Winbee be Winbee. For now.
THIS WEEK IN DUSTIN JOHNSON-PAULINA GRETZKY DANIEL BERGER/TORI SLATER PUBLIC DISPLAYS OF AFFECTION
Aww. Looks like Tori celebrated turning 22 in style:
And found the time to do some modeling:
THIS WEEK IN GOLFERS IN BIKINIS
Since she didn't qualify for the Olympics, Belen Mozo went home to Spain to work on a different type of bronze:
Curtis Luck won the 116th U.S. Amateur at Oakland Hills. He's the third Australian to win the tournament, but the first to do so with that cool of a name. . . . RIP Jules Alexander, 90. His iconic photos of Ben Hogan will live forever. . . . In addition to making his first Ryder Cup team, Matt Fitzpatrick also won a year's supply of beer in a long-drive contest. To a 21-year-old, we're going to call those accomplishments a tie. . . . Galen Rupp won bronze in the Olympic marathon and then credited "Happy Gilmore" in his post-race interview, comparing himself switching events to Happy switching sports.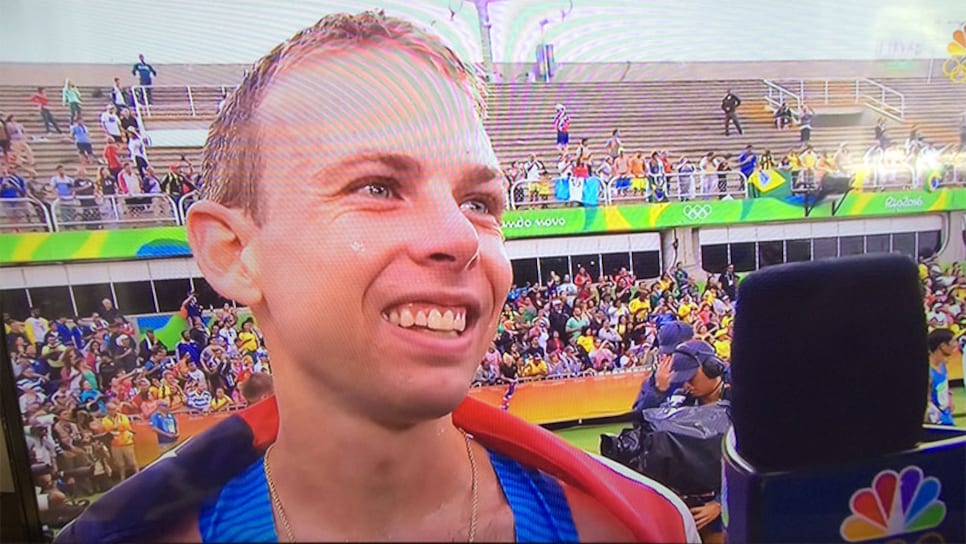 Galen Rupp is officially The Grind's favorite marathoner. . . . And Jim Furyk, aka Mr. 58, became the first guest to make a second appearance on the Golf Digest Podcast. If that doesn't clinch his spot in the World Golf Hall of Fame, I don't know what will.
RANDOM QUESTIONS TO PONDER
Does Maria Verchenova have a hat deal?
Who has a worse golfer's tan: Stacy Lewis or me?