The Loop
A golfer loses on "The Bachelor," a pro's first win, an amateur's busy week, and Paige meets LeBron
Welcome to another edition of The Grind, where we're still reeling from the fact that Ben didn't pick JoJo to propose to in the finale of "The Bachelor." No, I don't watch the show (swear!), but that's all people were talking about on Twitter on Monday night, and I had been made aware previously that she's a golfer. Did Ben not know this when he made his choice?!?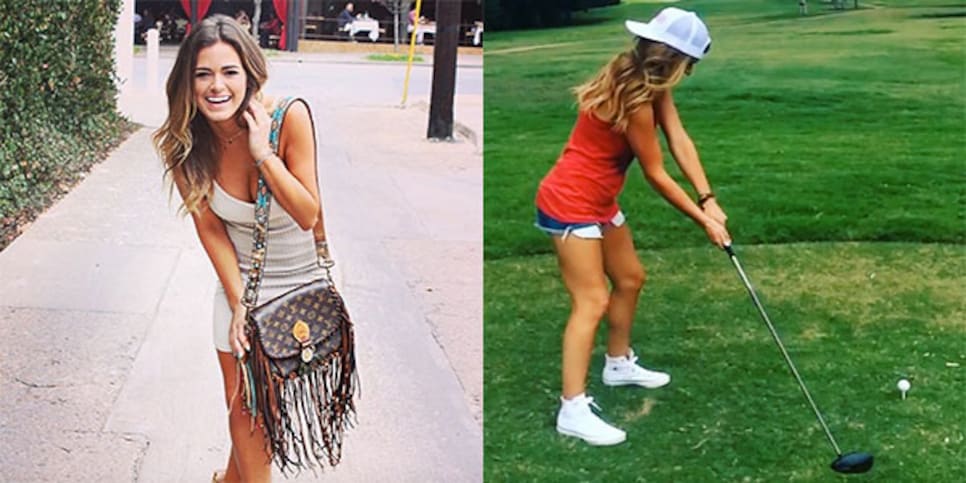 In related news, with JoJo remaining on the market, a couple of my coworkers are already filling out applications to be contestants on "The Bachelorette." Before we lose any more good men, let's jump into what else has us talking this week.
__Charl Schwartzel: __ It's crazy to think that a Masters champ could go nearly five years before picking up his second PGA Tour title, but that's what Schwartzel did before a brilliant final-round 67 to claim the Valspar Championship. The South African posted the low round of the day and made the largest comeback in the tournament's history. Congrats, Charl, but it's about time.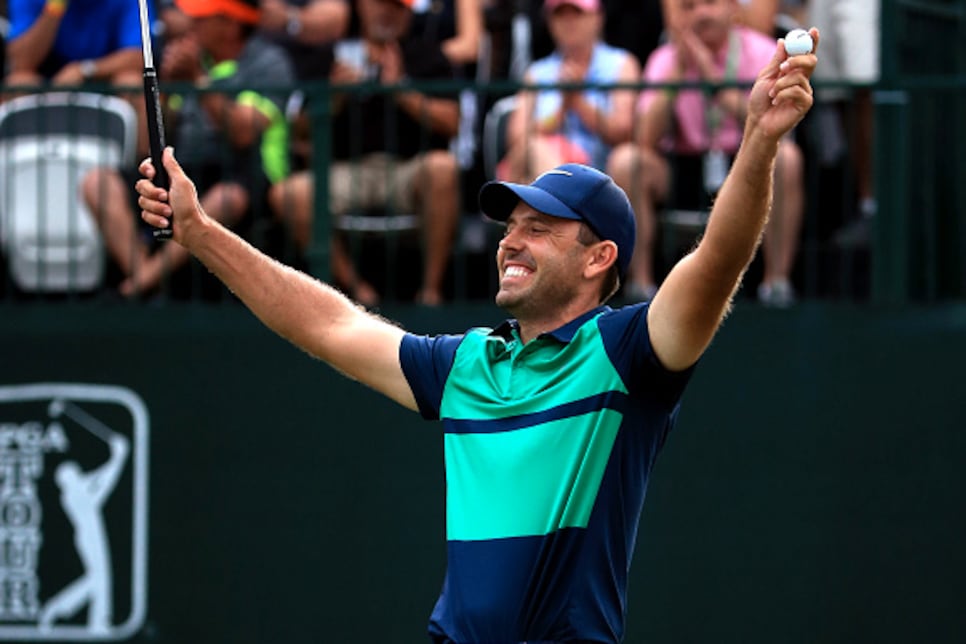 Lee McCoy: What a week for the University of Georgia senior. McCoy finished fourth at the Valspar Championship (the best finish by an amateur in a PGA Tour event that wasn't opposite a major since 1998), outplaying Jordan Spieth head-to-head on Sunday. Then the amateur drove 7½ hours back to Athens and finished T-7 in a 36-hole(!) college event the following day. Oh, to be 22 again.
Steve Stricker's putting: Stricker is rolling it as well as ever as evidenced by his last two tournaments—a T-7 at Innisbrook and a T-11 at Riviera. Need more proof? He leads the PGA Tour with a career-best 1.273 strokes gained/putting, comfortably ahead of No. 2 Adam Hadwin (.932) and No. 3 Jason Day (.820). Oh, to be. . . 49?
Tiger in Tennessee: Tiger Woods is reportedly checking out a piece of property near Nashville for an upcoming design project. Based on the raves he's received for his Bluejack National outside of Houston, this is good news for golf. Also, the potential name, Two Farms at Thompson's Station, is fantastic. My friends and I enjoy making up/exaggerating names of golf courses (The Course at Yale, for example, becomes "The Old Course at the Links at Yale Golf Club and Preserve"), but this one might be the best one yet. And it's real!
__ Bill Haas: __ It was tough to watch my Wake Forest classmate lose this one. Schwartzel played brilliantly; of course, it helps when you make a 64-foot putt down the stretch. The longest putt he's made in FIVE years. But it's always a wasted opportunity when you lose a tournament in which you just needed to shoot even par on Sunday to win. Making the loss even more difficult to swallow was the fact Haas was never even tied until the 16th hole and he never trailed until losing in the playoff.
The Snake Pit: Innisbrook's Copperhead Course is a formidable test, but its ballyhooed stretch of holes is a bit overrated. The par-4 16th hole is a beast, but the par-3 17th and par-4 18th don't draw nearly the same amount of fear and don't even feature any water hazards. In other words, The Bear Trap eats The Snake Pit for breakfast.
Hecklers: It's bad enough to heckle a golfer at a tournament, but to then brag about it on social media? That's just dumb. Someone did just that, though, picking on Ian Poulter and then looking for credit. Instead, he got Poulter informing his bosses about how their employee was acting. That might make playing hooky from work to watch the NCAA Tournament this week a little tougher.
The PGA Tour's Florida Swing continues with a trip to see The King at Bay Hill with the Arnold Palmer Invitational, aka that event Matt Every wins every year.
Random tournament fact: Every has two career PGA Tour titles. Both have come at Bay Hill the past two years. His middle name is also King. Coincidence?
RANDOM PROP BETS OF THE WEEK
-- We'll see another $1 million ace for charity: 1 MILLION-to-1 odds
-- Another former Masters champ will win: 2-to-1 odds
-- My NCAA bracket will be blown up by Friday: LOCK
Here's Mark Wahlberg showing off a Rory McIlroy-gifted ball after he made a hole-in-one at Pelican Hill on Friday: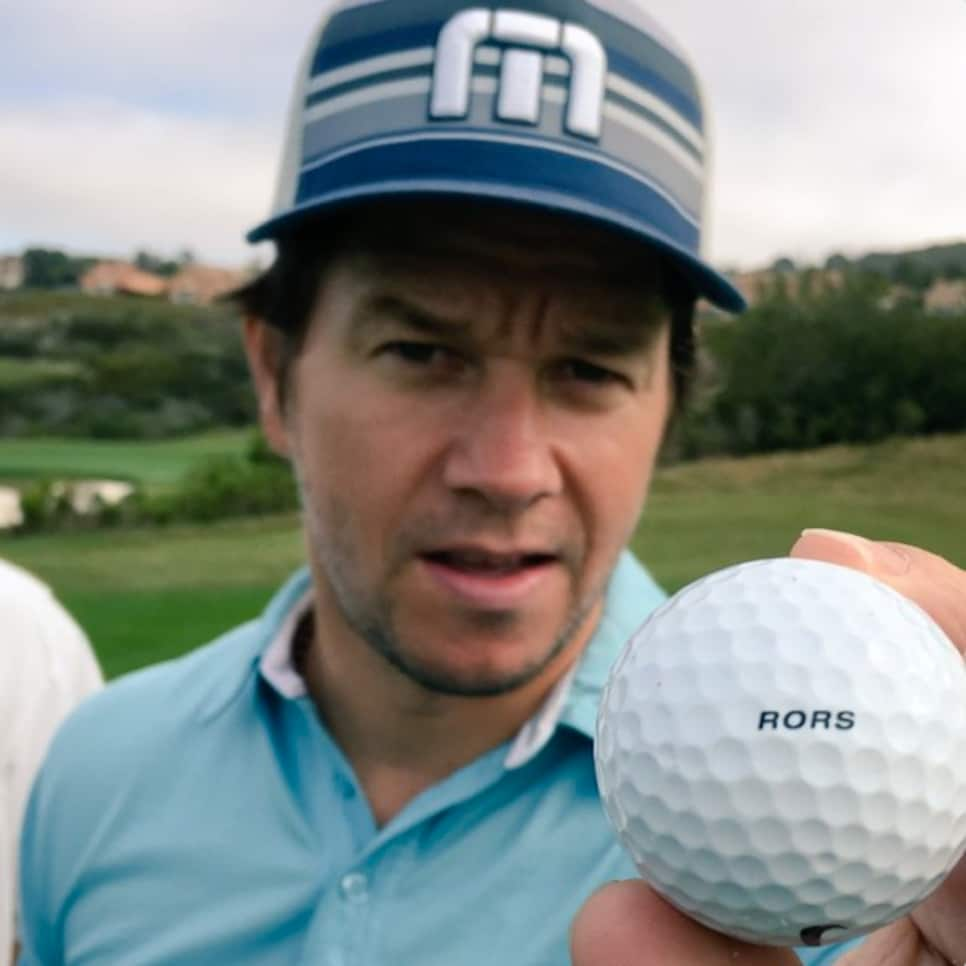 It was the third ace of Wahlberg's life on a regular course, but his seventh if you count the four he's made on a practice hole he has in his backyard (the actor does). We're not arguing with anyone strong enough to hit a 9-iron 163 yards.
This is Jason Dufner taking batting practice at Toronto Blue Jays spring training:
Glad to see Duf's vaunted hand-eye coordination—not to mention the waggle—carries over to baseball.
"We were sitting in the scoring tent and there was a sheet with the winnings there. [Spieth] told me not to look. I looked. I shouldn't have looked. Lot of money. Lot of money." -- Lee McCoy missing out on a $293,000 payday due to his amateur status. Just think of the parties you could have thrown with that kind of cash in your final semester of college!
THIS WEEK IN PAIGE SPIRANAC BEING PAIGE SPIRANAC
Figured I'd see the usual selfies and golf swing video's on Paige's Instagram feed, but nope. That's Paige chilling with LeBron. NO BIG DEAL.
THIS WEEK IN OTHER PRO GOLFERS WHO ALSO DOUBLE AS MODELS
Introducing Tisha Alyn Abrea, a 2015 grad of Cal State Fullerton who is apparently very kind to fish: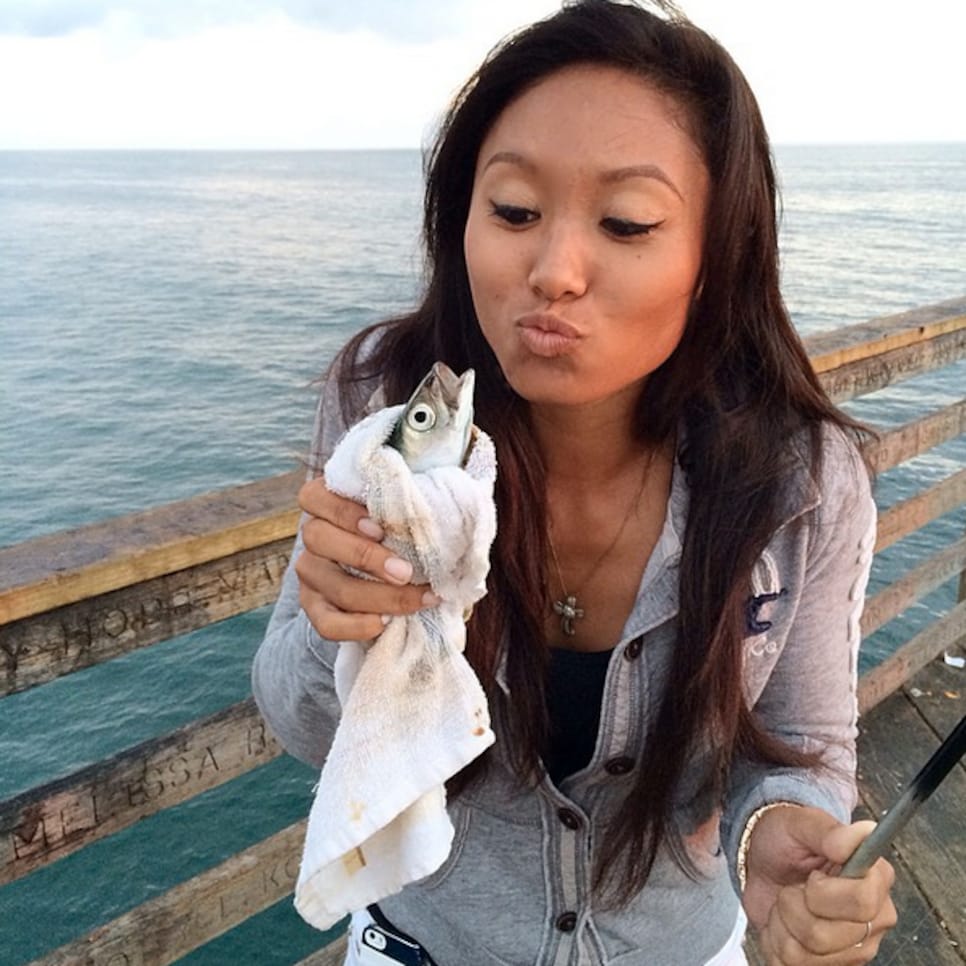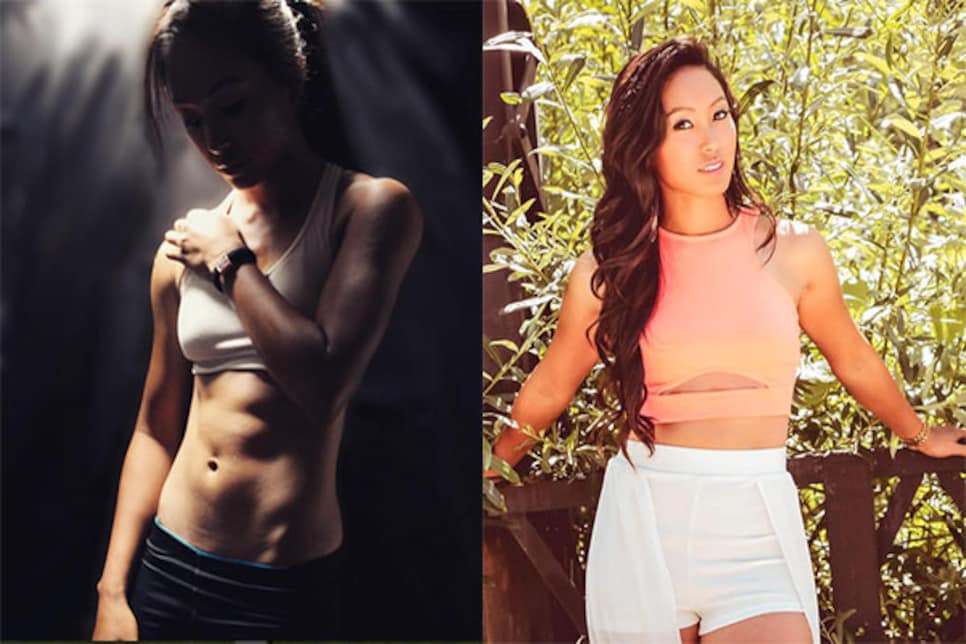 THIS WEEK IN NATALIE GULBIS LINDSEY VONN MAKING US FEEL BAD WITH HER TRAINING
The ex-golf WAG is on the comeback trail after her latest knee injury. Don't try this at home:
__THIS WEEK IN DUSTIN JOHNSON-PAULINA GRETZKY AUSTIN JOHNSON-SAM MADDOX PUBLIC DISPLAYS OF AFFECTION __
DJ and Paulina better watch out or these guys are going to take the title of steamiest tour couple right out from under them.
Ted Bishop said legal counsel for the PGA of America has threatened him with action over his upcoming book. Something tells us that's not going to hurt sales. . . . Lexi Thompson braved the observatory deck of the Empire State Building on Monday while it was sleeting to promote the Drive, Chip and Putt Championship: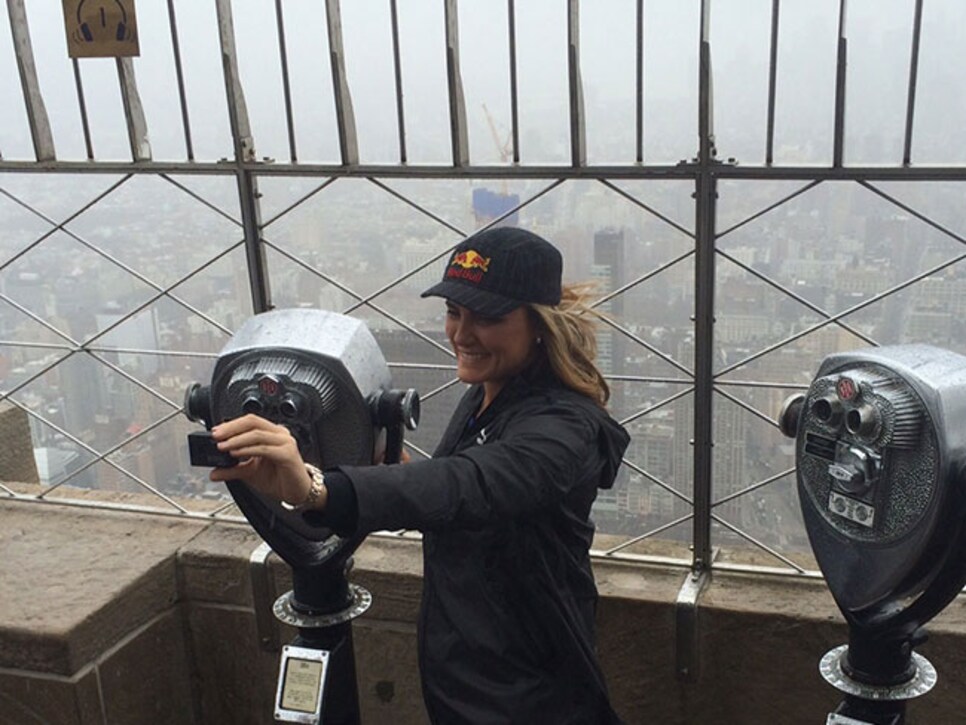 Not surprisingly, I stayed inside. . . . Arnold Palmer will not hit the ceremonial tee shot at the Masters this year. We all hope Arnie feels better soon and are glad to hear he'll still be at the tournament. . . . And finally, some guy's wife said she wouldn't let him play Kapalua's Plantation Course when they're in Hawaii because it's too expensive, so a buddy set up a GoFundMe page for him. I wrote about it on Monday when $50 had been raised for Dave and less than 24 hours later, that total was up to $410. You're welcome, Dave!
RANDOM QUESTIONS TO PONDER
Will my alma mater, Wake Forest, ever make March Madness again?
How much would Steve Stricker charge for a putting lesson?
Should I set up a GoFundMe for a lesson with Stricker?