The Loop
The greatest club toss of all time, the dumbest golf bet ever, and a PGA Championship curse continues
It won't be long before Big Cat is blocking my cell number like he does with Bubba! In any event, these are exciting times for Golf Digest—and Discovery, which now oversees The Grind in addition to everything else. That's a heck of a portfolio. So good times all around. Hit it, Brian McKnight!
Love that song. And the best part of this new partnership is that none of my cracks at my boss or any other co-workers were enough to keep me from coming along for the ride! At least, that's what I've been told so far. Anyway, let's discuss everything else happening in the golf world before someone confiscates my computer. . .
Sung Kang's game: The South Korean won his first PGA Tour title by pulling away down the stretch with four consecutive birdies. Considering he was embroiled in a cheating allegation less than a year ago, this isn't exactly the feel-good story of the year. HOWEVAH, there's no denying he's a talented player (how about that 61 on Friday), and we're not going rain on the parade of someone's big day. Mother Nature is raining on everyone enough these days.
Steve Stricker: At long last Stricker is a major champion! He just had to wait until he was on the PGA Tour Champions. Still, the Strick Show was in full force with a six-shot romp at the Regions Tradition. And yes, he cried. Obviously.
A week after being in headlines for some scam artist using his name for some bogus charity event, Stricker is a major champ. And the rabid Wisconsin Badgers fan won on the same day John Beilein left as Michigan's head basketball coach. It's good to be Steve Stricker these days.
Scott Piercy: I know Trinity Forest looked like a giant cow pasture on TV and was playing easier than Jim Boeheim's typical pre-conference schedule, but this guy made no bogeys at the AT&T Byron Nelson in his runner-up performance. That's right, ZERO bogeys. For an entire PGA Tour event. Piercy became the first player to do that and since Charles Howell III at the 2010 Greenbrier Classic. Howell also didn't win. Of course.
Sung Kang's pace: If an alleged cheating incident kept the Kang love to a minimum on Golf Twitter, the excessive amount of time he took between hitting shots didn't help. Neither did CBS for that matter. Like with Jim Furyk, you have to adjust and not show the guy's entire pre-shot routine. It's brutal.
Yeah, Sung, that's exactly how viewers felt, too. . .
Justin Thomas' wrist: After skipping Quail Hollow, where Thomas won his lone major, he withdrew from the PGA Championship, the event where he won his lone major. This doesn't seem to be a huge deal, but it's still a bummer not to see one of the game's best player in action. It also ruined this little fact:
Or you could say people talking about this jinxed it. In any event, something always happens to prevent this from happening. It's a major (really, PGA) championship curse. Not that it matters much. Anyway, feel better, JT, and fear not. Brooks Koepka missed a major last year with a wrist injury and he's done pretty well since then.
James Adducci: Remember the guy who won $1.2 million on Tiger Woods winning the Masters? Then the feel-good story was ruined when we found out about his checkered legal past? Well, now he's in the news again for another Tiger bet, this time plunking $100,000 down on Woods to win the calendar Grand Slam in 2019 at 100-to-1 odds. "[William Hill] told me it's a bet that's never been seen before." Adducci told Golf Digest's Stephen Hennessey. "To make $1 million is a step. To make $10 million is jumping to a new level." Dude, just quit while you're ahead.
It's time for Glory's Last Shot This is Major This is MAY! The PGA Championship—in its new spot on the calendar—is here! And it's at Bethpage Black, AKA that place that has this iconic (and played out) sign: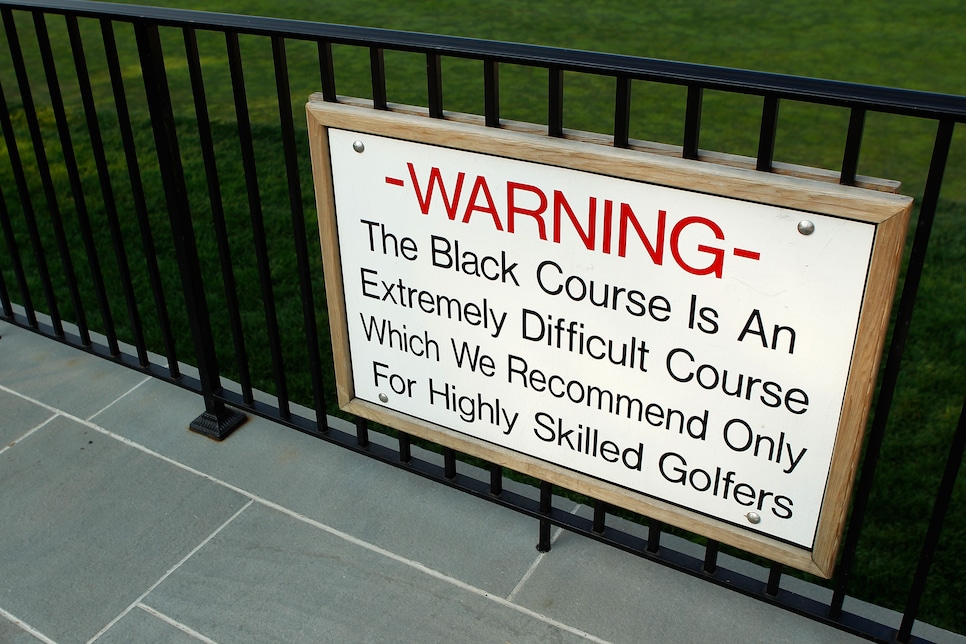 Fortunately, everyone playing this week is highly skilled.
RANDOM PROP BETS OF THE WEEK
— James Adducci will walk away ahead in sports bets for his life: 1 MILLION-to-1 odds
— Brooks Koepka will win the PGA: 10-to-1 odds (Actual odds, co-favorite with Tiger and Dustin Johnson)
— CBS will show Bethpage Black's sign more than your favorite non-Tiger golfer: LOCK
Matt Every had his best finish of the season with a T-2 at the AT&T Byron Nelson. He also broke the record for longest club toss in PGA Tour history: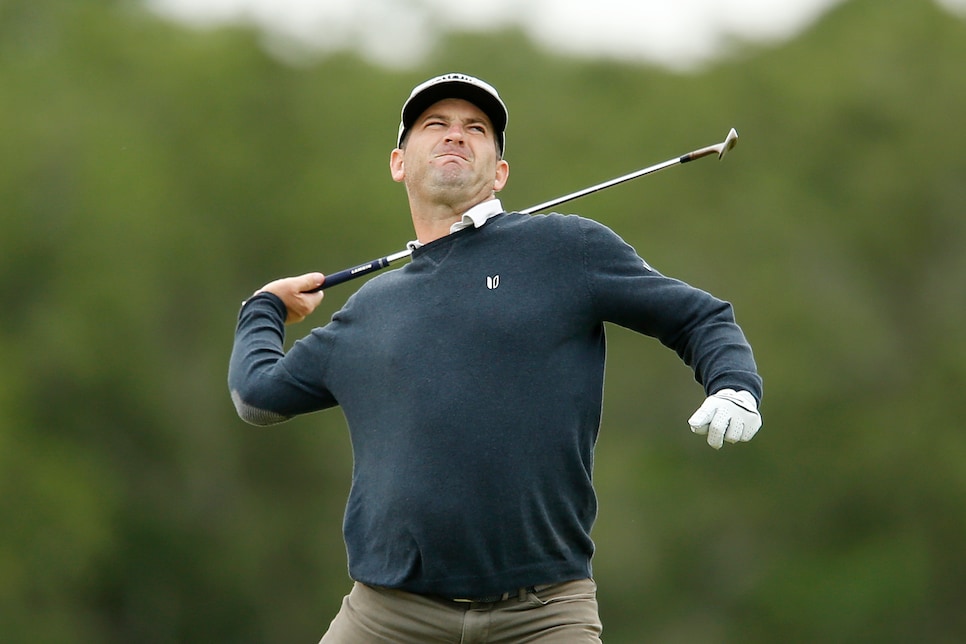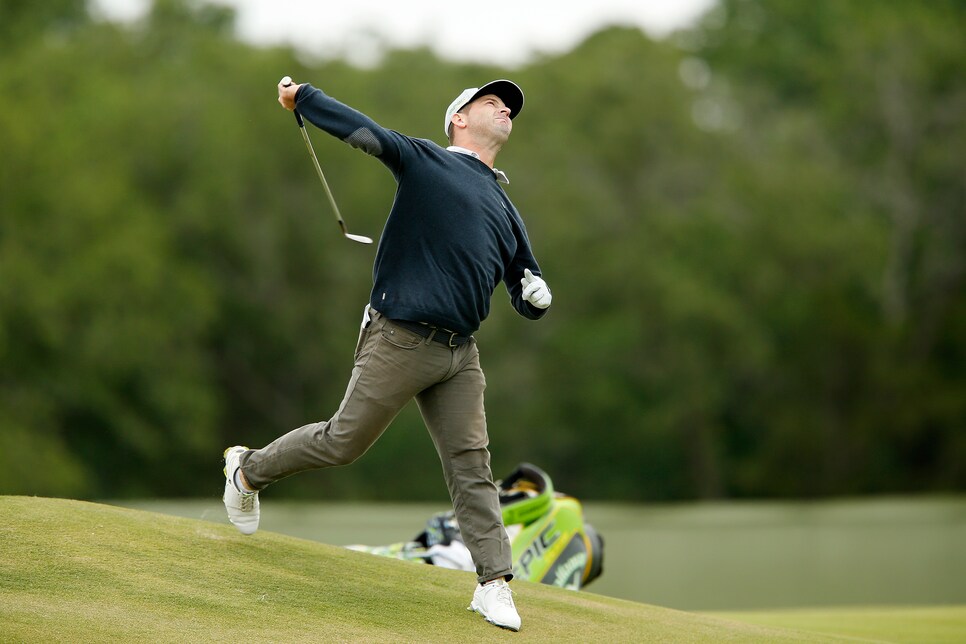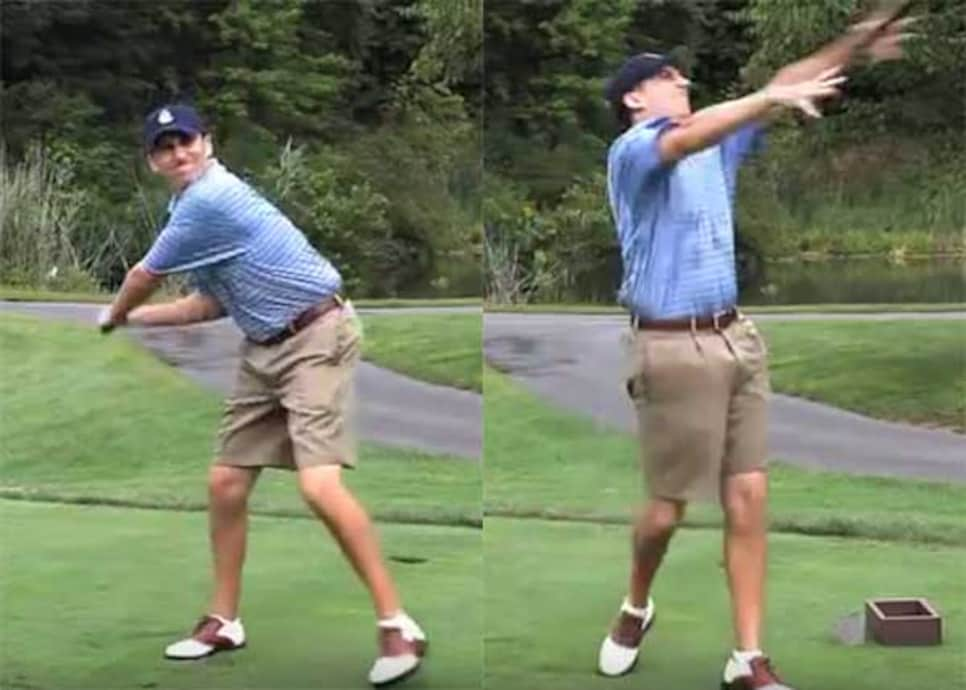 I bet Discovery didn't even know about that classic clip before the purchase. That's how much great CONTENT they're getting.
Speaking of great video content, the European Tour (and Eddie Pepperell) did it again, this time pranking Matt Wallace good at BMW International Open media day:
Well done, everyone. Ashton Kuchar couldn't punk someone any better than that.
THIS WEEK IN CELEBRITY GOLFERS
There was a lot going on last week with Tony Romo shooting a very respectable 76-74 at the AT&T Byron Nelson. Sure, it was his home course and he only beat four guys, but. . . he BEAT four PGA Tour pros!
And for a tournament lacking some juice, the ex-Cowboys QB provided some. I'm not sure this needs to become an annual tradition, but well played, Tony.
Moving on. . . How about Odell Beckham's golf swing?
Pretty good! Man, I miss that guy in New York already. . . And how about Ja Morant's golf swing?
Pretty terrible! But I could get used to him playing point guard for the New York Knicks. Of course, the Knicks, despite having the NBA's worst record, will manage to fall out of the top two in Tuesday's NBA Draft Lottery thus robbing them of Morant and Zion Williamson. Sorry, but this rain has me in a funk.
THIS WEEK IN TOUR PRO PUBLIC DISPLAYS OF AFFECTION
Brandt Snedeker caddied for his son—and called a penalty on him:
Now that's some tough love.
"I figured out there's not a lot to do in South Florida if you don't play golf." — Justin Thomas. Hey, JT, if you get bored during rehab, I'm sure my grandma would let you play in her weekly bridge game.
Tyler Duncan hit his wife, Maria, with an errant shot during the second round of the AT&T Byron Nelson. Tyler, just ask her not to follow you if you really don't want her out there. Jeez. . . . Congrats to my good friend Niall Horan for launching a new joint men's and women's pro tournament in Northern Ireland. I went to a Masters party at his rental house in Augusta so we're now good friends. . . . Fox announcer Shane Bacon made it through U.S. Open local qualifying. That's going to give him even more "street" cred when he interviews tour pros at Pebble Beach. . . . And finally, thanks to Bubba Watson for providing some tasty sweets from his candy store at Travelers Championship media day:
Those sour belts. . . wow. If you're ever in Pensacola, Bubba's Sweet Spot sounds like a great spot THE spot to be.
RANDOM QUESTIONS TO PONDER
Who will claim the Wanamaker Trophy?
Who will claim the Iron Throne?
Could a dragon dry out Bethpage Black?