News
It takes a special determination to play the game in New York City. But for residents who love golf, that seems to make it all the more satisfying.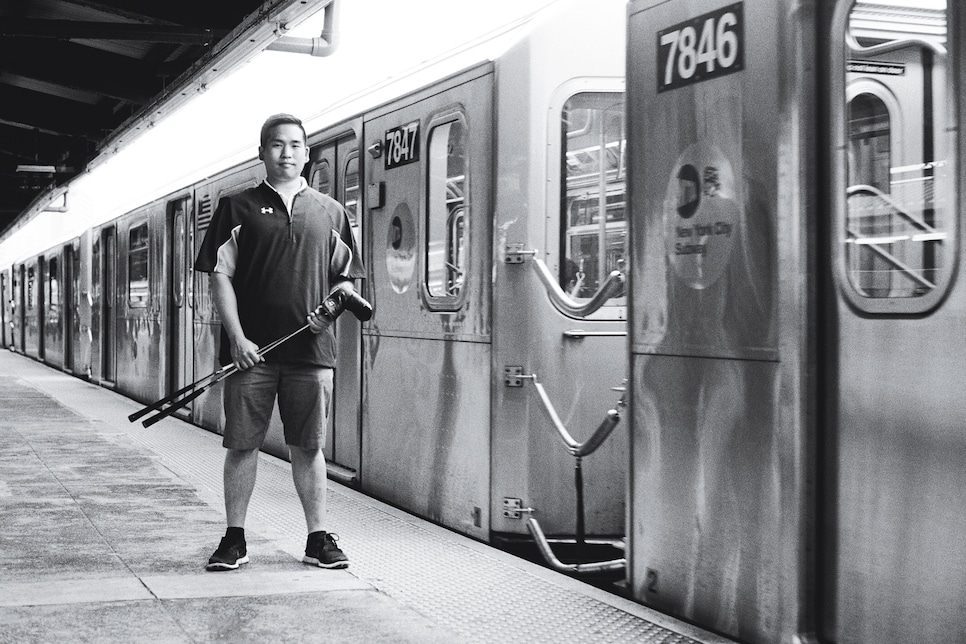 Photo By: Photo by Alan P. Pittman
In the borough of Queens, in the shadow of Citi Field, home of the New York Mets, and Arthur Ashe Stadium, where the U.S. Open tennis championship is played, sits Flushing Meadows Pitch & Putt, a fun, gritty little 18-hole par-3 course that exemplifies the unique urban appeal of public golf in New York City.
Queens has one of the most ethnically diverse populations in the world, with nearly 50 percent of its 2.3 million residents foreign-born. In my visits to make the photographs that accompany this story, I played with immigrants from Haiti, Jamaica, Ireland, Mexico and South Korea.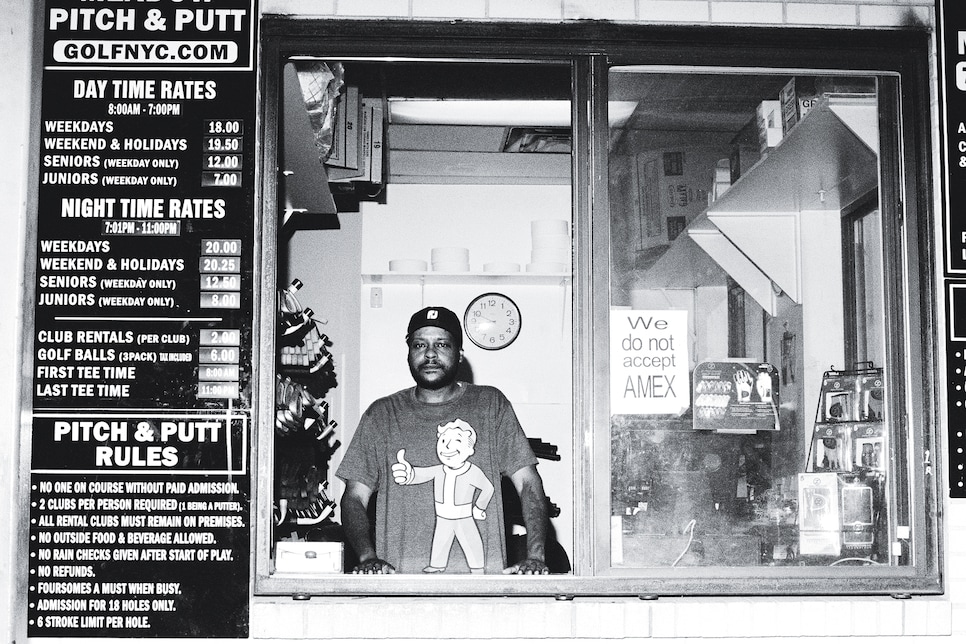 Whatever cultural differences there might be, golfers everywhere share in the joys and frustrations of the game. A round at Flushing can also be a shock to the senses. The tranquility that many associate with a round of golf is replaced with the sounds of a city of eight million people.
The best time to experience this is late on a warm summer night. The city's only lighted course stays open until 1 a.m. and is typically bustling with a spirited young crowd as subway cars rumble by and jets buzz overhead. If the Mets are in town, the distant roars of the crowd let you know how the home team is doing. Including Flushing, there are a dozen 18-hole public courses and four par-3 and short courses scattered among four of New York City's five boroughs. (Manhattan has none.)
Five New Yorkers offer insight into what it takes to be an avid golfer in the one of the greatest cities on earth.
A New York Golf Odyssey
By Mark Whitaker
When I took up golf 25 years ago, in my mid-30s, the first stop of my odyssey as a novice duffer dwelling in New York City was Van Cortlandt Park, the public course in the Bronx that prides itself on being the oldest of its kind in America. Because it's the closest city course to a subway stop (on the No. 1 line), it gets crazy crowded on the weekends, but I was able to play on Mondays, which I had off because I worked on Saturdays at the magazine where I was an editor. Van Cortlandt was pretty scruffy back then, and I was a double-bogey golfer at best, but it was always fun to see who I would get paired with when I turned up as a single. Over the years, I played with cops, doormen and medical interns coming off night shifts, still dressed in hospital scrubs. Once I walked up to the first tee to find a talkative gray-haired gentleman who identified himself as the father of a rock musician. It turned out to be Israel Horovitz, the acclaimed playwright and father of Adam (Ad-Roc) Horovitz of the Beastie Boys.
For variety I sometimes played the nearby nine-hole Mosholu Golf Course in the Bronx, but when that was closed for renovation I began venturing outside the city. Through a Golf Digest ranking of state public courses I discovered Spook Rock, a pleasant layout in northern Rockland County smack in the middle of one of the largest communities of Orthodox Jews in America outside of New York City. The Monday regulars there were mostly retirees enjoying a triple discount as local seniors playing on a weekday, and the only celebrity I ever saw was Lawrence Taylor, the retired New York Giants linebacker. Later it emerged that L.T. had come to the area for more than golf: In 2010, Taylor was busted for having sex with an underage prostitute at a nearby Holiday Inn the night before he was scheduled to play at Spook Rock.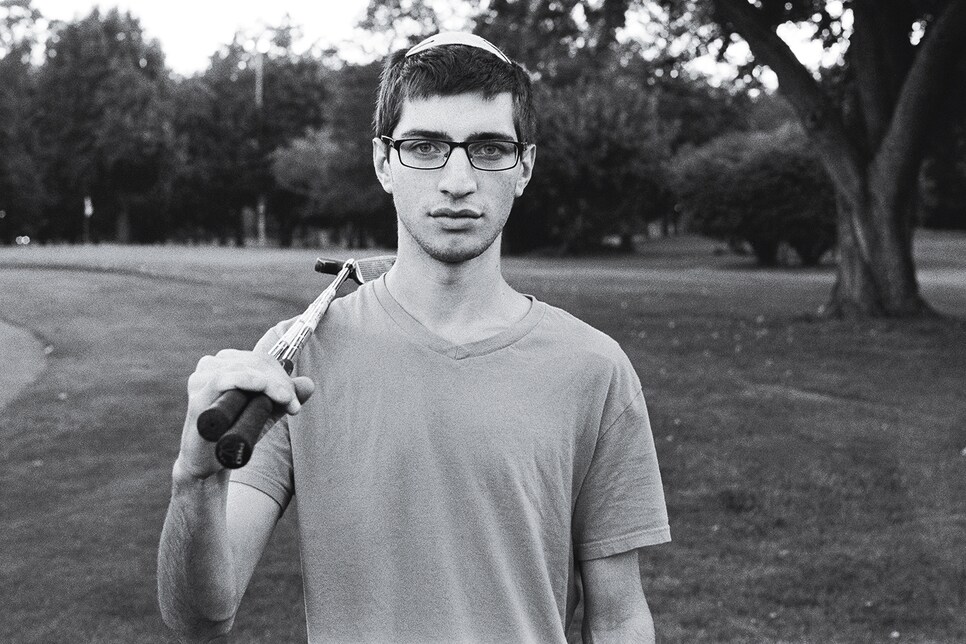 Because getting to a golf course is such a production for New York City residents, we often settle for going to a range, and I was no exception. On weekends I used to frequent Chelsea Piers, the mammoth sports, TV production and bar-mitzvah-party mecca where golf addicts wait hours for the privilege of hitting balls served up from automated mats into an enormous net suspended over the Hudson River. When that ritual became too time-consuming, I located a range across the river in the New Jersey town of Edgewater that sold jumbo buckets for half price before 8 a.m. on weekends. Yet even at that hour I was lucky to get a stall, in no small part because Edgewater is home to a huge population of golf-obsessed Korean immigrants.
In the late 1990s I got a promotion at my magazine, and a few years later a friend offered to sponsor me for membership at a private club—Quaker Ridge, in the town of Scarsdale north of the city. It's a delightful, demanding A.W. Tillinghast-designed course across the street from Winged Foot, Tillie's U.S. Open-hosting masterpiece, and playing there has finally turned me into a single-bogey golfer, along with being exposed to first-rate instruction for the first time. Still, for all the joys of a home course like Quaker Ridge, the pleasure of serendipity isn't the same. On my weekend-morning drives up the Major Deegan Expressway to Scarsdale, I still pass by Van Cortlandt Park and get a little wistful. One of these days I'm going to go back there on a Monday and see who I find on the first tee.
Mark Whitaker, a resident of Manhattan, is the former editor of Newsweek. His book Smoketown: The Untold Story of the Other Great Black Renaissance will be available in February.
Oh, The People I Meet
By James Yang
Golf in New York City has its own unwritten rule book. Having lived and enjoyed the game here for 22 years, I'd like to share my six most important city golf rules.
1. Don't limit your yelling to "Fore!" I once played at Van Cortlandt with a man who'd moved here from Brazil years earlier. He told great stories about Brazil and the Bronx and gave me advice about dating Brazilian women, which I'll never use because I'm happily married. The 16th hole at Van Cortlandt is next to the street, and kids from the neighborhood love to run onto the fairway and steal your ball. After my drive, a boy ran onto the fairway. My partner yelled: "You better leave that ball alone—you know I know your mom!" The boy promptly did a 180 and ran off without the ball.
2. If you're Korean-American, as I am, it's better to pretend you're Chinese than admit you don't speak Korean. One Korean gentleman in his 70s accused me of having an American wife because I didn't speak Korean. I said my wife is from Hong Kong, which didn't help. He said I'd never learn my mother tongue, told me to start hitting the ball like a grown man and focus on my putting. His wife punched him in the arm and told him to knock it off.
3. Korean moms will outscore you—and remind you of your mom. I can't count the times I've played with Korean moms. They like to drive carts, hit the ball about 100 yards down the middle and play fast. I'm usually looking for my drive in the woods while they patiently wait at the green. There is also a good chance they have packed the perfect lunch with sushi rolls and side dishes and will share it with you if you remind them of their kids. I'm actually disappointed when a Korean mom doesn't feed me.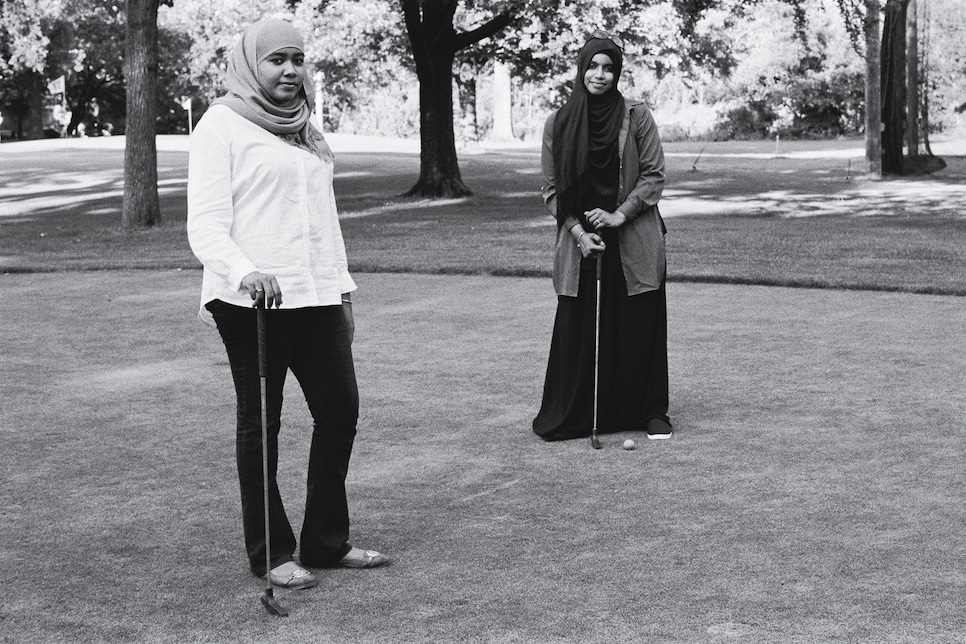 4. Chefs can be wonderful playing partners. Or not. Van Cortlandt is where I run into the most chefs. I'm a walking stomach and love talking to chefs, hoping to learn tips and their favorite places to eat. Chefs usually pull out nice snacks they've made, and I'll drop hints like, "Can I try your snack?" There's no shame because every time I've played with a chef, my snack is an energy bar, which is weird because I don't even like them. One chef made a beautiful sandwich, big enough for two. Because I was conditioned by Korean moms, I was waiting for him to share. Everything turned to slow motion as he ate the whole thing. It was one of the worst golf days I've ever had.
'Korean moms like to drive carts, hit the ball 100 yards down the middle and play fast. There's a good chance they've packed the perfect lunch and will share it with you if you remind them of their kids.'
5. You'll meet a lot of players who are new to the game—and better than you. I once got paired with a squash player from India who had played for only two years. He hit it 280 off the tee and shot in the mid-80s. Another guy from Germany was a former field-hockey player. His average drive was 300 yards, and the only time he shot above 100 was the first time he played. Both became friends, even though I'm filled with resentment every time we play. On the bright side, German friend brings apple slices or grapes in a plastic bag to share with me because he knows how I am. This season I met a British player who outdrove me. He just picked up the game three years ago. Naturally we exchanged numbers, and it'll be fun watching him get better than me.
6. Michael Bloomberg will ruin your Bloomberg joke. My friend Steve and I had a running joke. Back when Bloomberg was mayor, we would see a random person on the course, and Steve would whisper, "It's Mayor Bloomberg." Usually it was someone wearing black socks with street shoes and shorts hiked up to his nipples. We always cracked up like 10-year-olds. One time at the range on Randall's Island, we saw Bloomberg hitting balls. We've stopped using the joke because it's no longer funny once you've actually seen Bloomberg.
James Yang is an award-winning illustrator living in Brooklyn.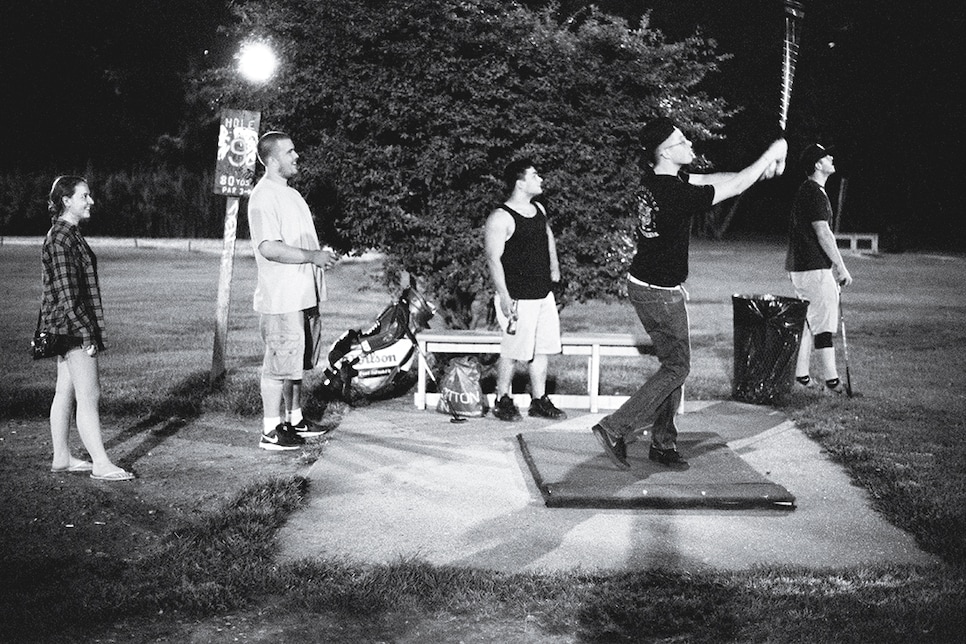 A Day For Father And Son
By Willie Geist
There's a scene in the movie "I Am Legend" where Will Smith is hitting balls off the wing of an old spy plane that sits on the deck of The Intrepid, a real-life decommissioned aircraft-carrier-turned-museum in New York's Hudson River. Will's character is alone in the city after a virus has wiped out most of mankind. His shots land and bounce eerily through the quiet, empty streets of Manhattan.
When you live on this tight little island of a million-and-a-half people, a humanity-erasing epidemic is about what it would take to find the space to really open up your driver like Will did that day. It turns out the parks department frowns upon you strolling out into Sheep Meadow in Central Park among the sunbathers, checking the yardage book to see how far you have to hit the front door of The Plaza, and then letting it rip. So to get our swings, we New Yorkers are left to grab the bag we keep in the corner of the living room behind the armchair (or in an expensive storage unit somewhere along the West Side Highway where we keep the sticks and our old CD collections) and schlep to the range at Chelsea Piers.
The sprawling sports complex sits on the Hudson about 30 blocks south of the Intrepid. It's the only place I know where you can hit golf balls, bowl, ice skate, play pickup basketball, have a laser-tag fight and attend a wedding under the same roof. I'm proud to say I've done all six. Not in the same day, though.
'The image of a Manhattan golfer is a man or woman with a bag slung over the shoulder wading into oncoming traffic trying to flag a cab for the ride to Chelsea Piers. We do what it takes to get in a few swings.'
When I say getting to Chelsea Piers is "half the battle," I mean getting there is "98 percent of the battle." The iconic image of a Manhattan golfer is a man or woman with a bag slung over the shoulder wading into oncoming traffic trying to flag a cab for the ride to Chelsea Piers, or to catch a boat over to play in Bayonne. You'll see them on the subway, too—dressed like Jordan Spieth, holding a bag, and because it's New York, raising exactly zero eyebrows. We do what it takes to get in a few swings.
I took my 7-year-old son, George, down to Chelsea Piers on a beautiful day a few months ago. We're not huge golfers, so in hindsight I'm pretty sure he thought we were going to play laser tag. I might have mentioned the possibility, but let's not get hung up on my parenting. Chelsea Piers has a great facility and a range where we experience golf the way we live in this town: stacked on top of each other in tiny rooms. In fact, the stalls at Chelsea Piers have better river views, and more space, than many New York apartments.
Once we got our pre-paid card and found our spot, George was fascinated immediately with the automatic system that puts a new ball on the tee after every shot. It was enough to make him forget the laser-tag thing for a minute. Without regard for his form, accuracy, or distance, he knocked the balls off as fast as the Computee RC20000 could set them up. I realized quickly that my son was ignoring all that "Slow down. Check your grip ... put the hot dog in the bun" advice, so I said simply, "Aim for New Jersey!"
With cruise ships, sailboats, yachts, water taxis and barges crossing his line of sight in the sparkling water on a warm day, George reached back and unloaded like John Daly at an unsanctioned long-drive competition. George didn't quite reach New Jersey, but I sure as hell told him he did. He hit balls until he complained about that first blister on his hand. We stopped by the putting green on the way out ("Look, Dad! Mini-golf!"), grabbed an ice cream, and then stepped back into oncoming traffic with our clubs to go home.
Willie Geist is host of NBC's "Sunday Today" and co-host of MSNBC's "Morning Joe."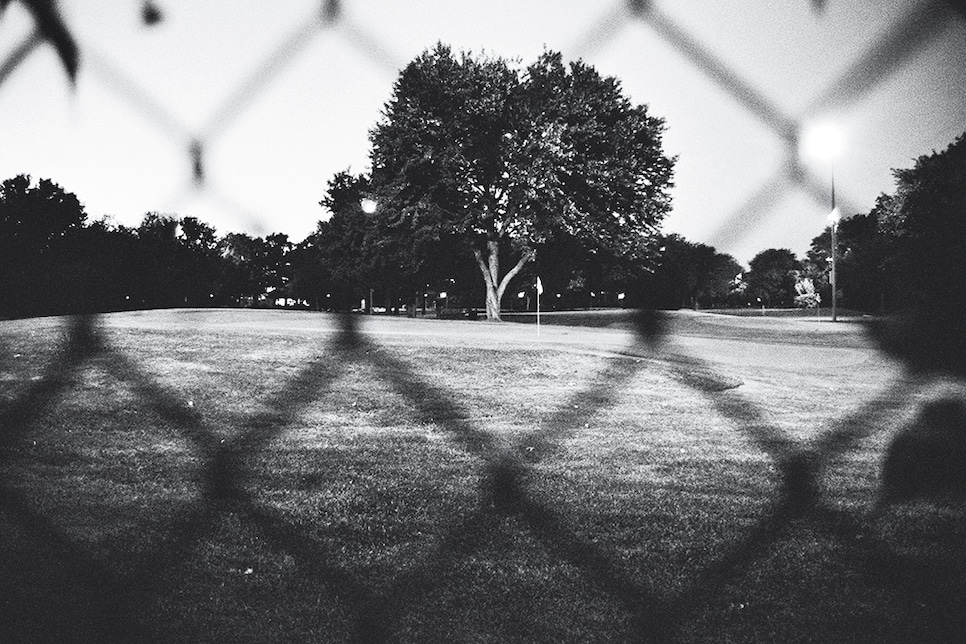 A Green Oasis In The Bronx
By John Feinstein
It has been more than 40 years since I last played Van Cortlandt Park in the Bronx. I've heard and read about the renovations to the place, and there's a part of me that wants to go back and see what it has become.
But there's another part of me that just wants to hang on to the memories—even if they're undoubtedly a bit faded. I vividly remember finding it difficult to believe we were in the Bronx because the course was so pretty. I also remember loving the greens because you could hit any putt as hard as you wanted and never go more than a foot or two past the hole. The greens on the Van C—as we called it—couldn't have been faster than eight.
I played the Van C once a week in the spring for two years, playing for the golf team at the long-extinct McBurney School—best known for being mentioned early in The Catcher in the Rye. I played on the high school team in eighth grade because of a lack of players. I thought getting a varsity letter in eighth grade was pretty cool.
McBurney was at 63rd Street between Broadway and Central Park West. Six players and our coach, Tom Monaco, would walk out the front door at 2:30, usually on Tuesdays, carrying our golf bags and walk to the subway station at Lincoln Center, two blocks away.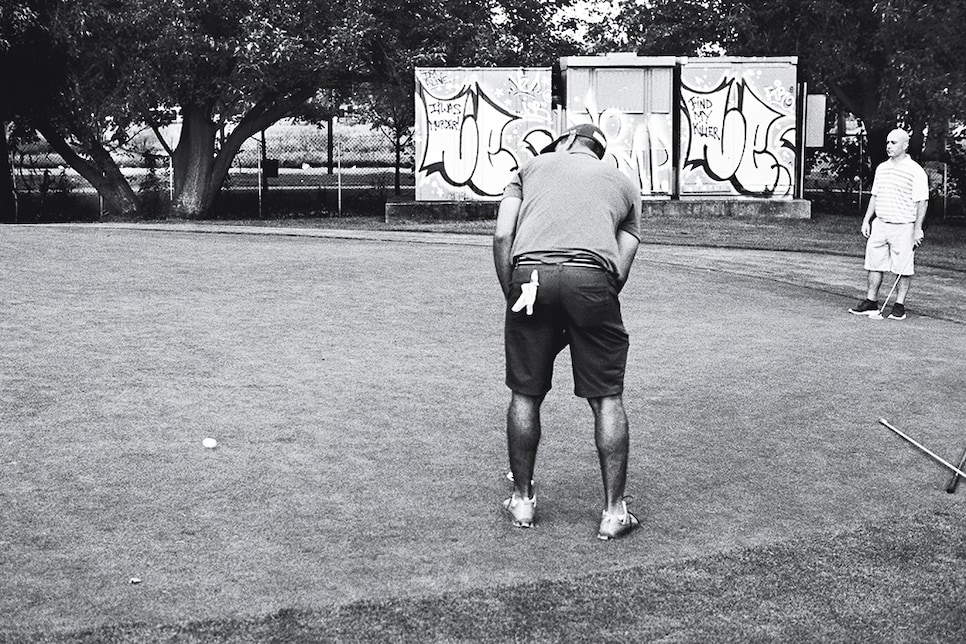 Crossing Broadway one afternoon, I almost got sideswiped by a cab. Being a New Yorker, I turned to yell at the cabbie. Seeing the golf clubs over my shoulder he yelled at me: "Where do you think you are, kid, Pebble f---ing Beach?"
Once we reached the subway, we'd take the 1 train to the end of the line—242nd Street. If memory serves, the train stopped 22 times along the way.
Needless to say, the cabbie wasn't the only one who noticed our leather carry bags. Often people would ask where we were going to play. When we told them, they frequently expressed surprise that there was a city golf course reachable by subway. Once, a very polite gentleman asked me in a distinct Scottish brogue if we were from Scotland. When I said no in a very distinct New York accent, he smiled and asked if I'd ever played St. Andrews. I hadn't. "You must!" he insisted. "You haven't played golf until you've played the Old Course."
'Crossing Broadway, I almost got sideswiped by a cab. being a New Yorker, I turned to yell at the cabbie. Seeing my golf clubs, the cabbie yelled at me: "Where do you think you are, kid, Pebble f---ing Beach?"
The first time I played the Old Course, I thought about the Scotsman on the subway. Somewhere, I thought, he was happy.
Upon arriving at 242nd Street, we'd come down the steps—the subway was elevated at the end of the line—and make the 15-minute walk to the clubhouse. There, we'd meet the other team and usually tee it up by about 3:30.
The matches were nine holes, match play. I remember winning my first match as an eighth-grader, 5 and 4, and thinking this was easy. My next match was also 5 and 4—except I lost. Not so easy.
Because we all had to get home and do homework, the lost-ball rule was two minutes, not five. Guess we were ahead of our time on that one. I honestly don't think it ever rained those two springs, and I always looked forward to leaving the noise and traffic of Manhattan to ride the subway to a place that felt pastoral. I thought it was miraculous.
The best thing about playing golf in the Bronx was that I almost felt like I was stealing, the way snowbirds feel when playing golf in Florida in the winter. For me, golf was supposed to be played in the summer, when school was out and my family was on vacation. Not when I had homework to do. Not when the way home was on the subway, not my bicycle.
My other memory—maybe the most vivid one of all—is our post-match stop at a hole-in-the wall burger joint at the bottom of the subway steps. McDonald's hadn't yet come to New York in those days (seriously), and a grilled burger with thin-cut greasy French fries was as amazing to us as the aesthetics of Van C. I always had seconds—on the burger and the fries.
Now that I think of it, maybe I should go back. I wonder if the burger place is still there.
John Feinstein is the author of A Good Walk Spoiled. His book about the 2016 Ryder Cup, The First Major, will appear in October.
Golf By Subway
By Ashley Mayo
I've lived in Manhattan as an avid golfer for more than 11 years and have never owned a car. Boarding a subway with my clubs feels weirdly natural, and I prefer it over driving. My journey to a course begins as soon as I sling my bag over my right shoulder and walk down Lexington Avenue to the subway station. From there, I can take a subway to any number of courses throughout New York City, or I can take it to a railroad station en route to a variety of nearby Westchester County-area layouts or Long Island gems. I once commuted 3½ hours by subway, train and taxi to get to a course, then another 3½ hours back. The views of the Atlantic from Sebonack were worth it.
But car-less golf travel isn't the only thing I know. I competed on the women's golf team at the University of Virginia and lived in Charlottesville for nearly four years, so I know what it's like to play golf the "normal" way. I'd leave my clubs in the trunk of my car, drive from my parking spot to the course, play 18 holes as fast as I could, throw my clubs back in my trunk and drive home. It was convenient, sure, but uninspiring. Nobody asked me where I was playing, like they do on the subway. Or tell me to "Hit 'em straight" like they do while I walk down a sidewalk. Or yell "Tiger Woods!" like they do in Spanish Harlem.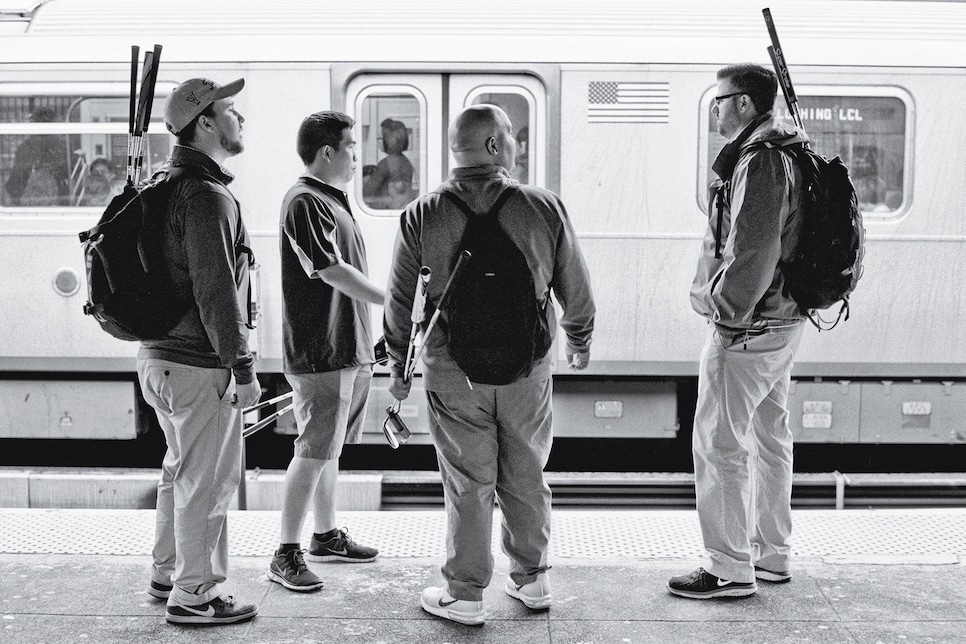 Accessing courses from Manhattan without a car isn't too difficult. I can get to a handful of tracks in less than 90 minutes. Van Cortlandt Park and Split Rock, both in the Bronx, are an hour away, and Dyker Beach, in Brooklyn, is 80 minutes door to door. But playing at most New York City courses means being OK with five-hour rounds and greens that look (and perform) more like fairways. For an experience that feels slightly less rough and moves slightly quicker, Staten Island's La Tourette and Silver Lake are great options. A bonus: I get to take a scenic ferry ride on the way.
There's an art to being an urban golfer. A single-strap bag is ideal because there's no way to navigate a crowded New York street or subway car wearing a backpack-style golf bag. If I'm fortunate enough to find a seat on the subway, I place my bag between my legs to get it out of people's way. If I stand, I place it on the floor as close to me as possible. Also, because I can only afford to bring with me the things I can carry during my round, sneaker-style golf shoes are a must—I can't remember the last time I traveled to a course by subway without wearing my golf shoes.
'Golf by car is convenient but uninspiring. Nobody asks me where I'm playing, like they do on the subway. Or tell me to "hit 'em straight" ... or yell "Tiger Woods!" like they do in Spanish Harlem.'
Some of my most memorable golf moments have happened under the streets of Manhattan. One guy was fascinated by the sport—he hadn't known much about golf before he sat next to me on the uptown 4 train—he couldn't believe the amount of equipment necessary to play. Another guy gave me his number because his "dream is to date someone who loves golf." And one woman wrote down the names of all the clothing labels I was wearing because she'd "never thought golfers could look so trendy."
I can also thank my clubs for helping me meet Rob, who'd eventually become one of my closest friends. When he and I worked in Connecticut, we'd see each other almost every day on the 6:58 a.m. Metro North train that traveled from Grand Central to South Norwalk. One morning, I boarded the train with my clubs, and we finally struck up a conversation. We became quick friends, eventually playing memorable rounds at Shinnecock and Maidstone. If I'd owned a car, I would never have met Rob. Nor would I appreciate the unique experience of being an urban golfer.
Ashley Mayo is Brand Editor for Golf Digest.