The Golfers of Gotham: Golf By Subway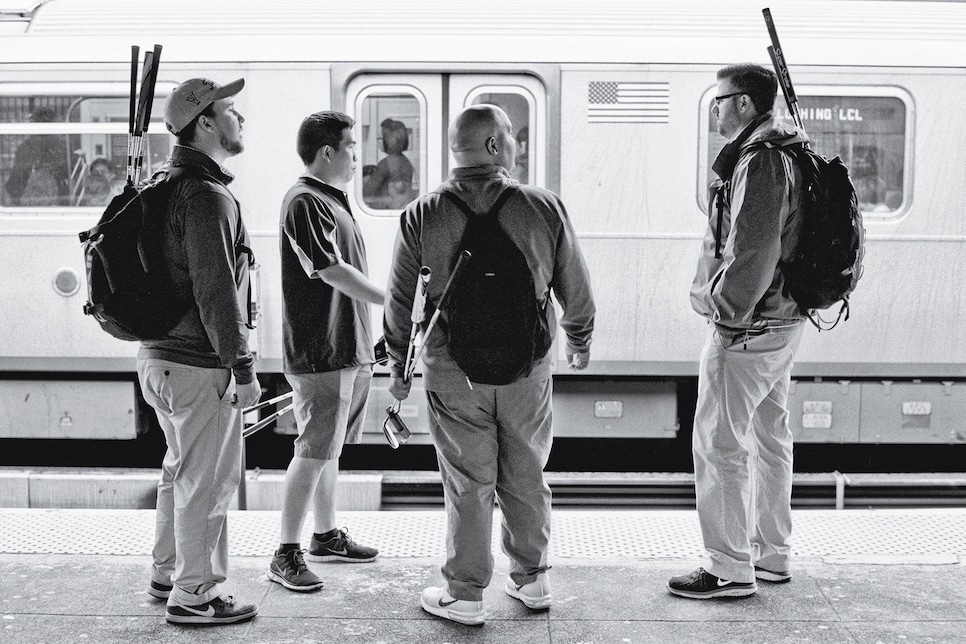 I've lived in Manhattan as an avid golfer for more than 11 years and have never owned a car. Boarding a subway with my clubs feels weirdly natural, and I prefer it over driving. My journey to a course begins as soon as I sling my bag over my right shoulder and walk down Lexington Avenue to the subway station. From there, I can take a subway to any number of courses throughout New York City, or I can take it to a railroad station en route to a variety of nearby Westchester County-area layouts or Long Island gems. I once commuted 3½ hours by subway, train and taxi to get to a course, then another 3½ hours back. The views of the Atlantic from Sebonack were worth it.
But car-less golf travel isn't the only thing I know. I competed on the women's golf team at the University of Virginia and lived in Charlottesville for nearly four years, so I know what it's like to play golf the "normal" way. I'd leave my clubs in the trunk of my car, drive from my parking spot to the course, play 18 holes as fast as I could, throw my clubs back in my trunk and drive home. It was convenient, sure, but uninspiring. Nobody asked me where I was playing, like they do on the subway. Or tell me to "Hit 'em straight" like they do while I walk down a sidewalk. Or yell "Tiger Woods!" like they do in Spanish Harlem.
Accessing courses from Manhattan without a car isn't too difficult. I can get to a handful of tracks in less than 90 minutes. Van Cortlandt Park and Split Rock, both in the Bronx, are an hour away, and Dyker Beach, in Brooklyn, is 80 minutes door to door. But playing at most New York City courses means being OK with five-hour rounds and greens that look (and perform) more like fairways. For an experience that feels slightly less rough and moves slightly quicker, Staten Island's La Tourette and Silver Lake are great options. A bonus: I get to take a scenic ferry ride on the way.
There's an art to being an urban golfer. A single-strap bag is ideal because there's no way to navigate a crowded New York street or subway car wearing a backpack-style golf bag. If I'm fortunate enough to find a seat on the subway, I place my bag between my legs to get it out of people's way. If I stand, I place it on the floor as close to me as possible. Also, because I can only afford to bring with me the things I can carry during my round, sneaker-style golf shoes are a must—I can't remember the last time I traveled to a course by subway without wearing my golf shoes.
'Golf by car is convenient but uninspiring. Nobody asks me where I'm playing, like they do on the subway. Or tell me to "hit 'em straight" ... or yell "Tiger Woods!" like they do in Spanish Harlem.'
Some of my most memorable golf moments have happened under the streets of Manhattan. One guy was fascinated by the sport—he hadn't known much about golf before he sat next to me on the uptown 4 train—he couldn't believe the amount of equipment necessary to play. Another guy gave me his number because his "dream is to date someone who loves golf." And one woman wrote down the names of all the clothing labels I was wearing because she'd "never thought golfers could look so trendy."
I can also thank my clubs for helping me meet Rob, who'd eventually become one of my closest friends. When he and I worked in Connecticut, we'd see each other almost every day on the 6:58 a.m. Metro North train that traveled from Grand Central to South Norwalk. One morning, I boarded the train with my clubs, and we finally struck up a conversation. We became quick friends, eventually playing memorable rounds at Shinnecock and Maidstone. If I'd owned a car, I would never have met Rob. Nor would I appreciate the unique experience of being an urban golfer.
Ashley Mayo is Brand Editor for Golf Digest.