News
The golf world reacts to Blasberg's passing
As news spread Monday of the death of 25-year-old LPGA Tour player Erica Blasberg, shocked friends and colleagues took to the Internet to express their sorrow. Via Twitter, Christina Kim said "She was a beautiful human and I will miss her." Sophie Gustafson added "Got the horrible news about Erica Blasberg. My thoughts are with her family," and Suzann Pettersen followed with "RIP Erica, life is way to unfair, and it is way to early to go away at a age of 25 [sic]. We will pray for you and your family..." Paula Creamer also chimed in: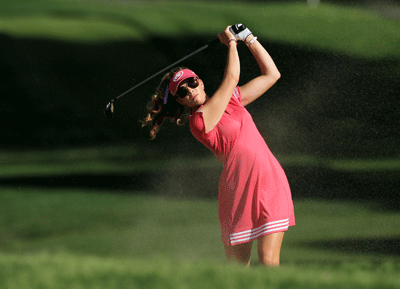 *"Erica was a beautiful person, and that has nothing to do with her always talked-about looks. She loved to smile, laugh and poke fun at the friends around her. It was good natured, and making Erica laugh meant you accomplished something. *
As everyone has encountered with the passing of a friend, there are moments you go back to; moments you regret. During the final round of the Masters, I was in Nevada around her stomping grounds, catching the end of the tournament. One of Erica's rules to golf viewing was 'the tournament has to include Tiger (Woods) or I'm not watching,' and lucky for me, he was in the field. We texted back and forth, and she offered me and my buddies a spot up at her house to catch the rest of the round. We ended up staying put. I sure wish now I would have flagged a cab.
*I once asked Erica what she'd do if she stopped playing golf for a living. In typical Erica fashion, she pondered for a few moments, and then said with a big grin, 'Maybe a weather girl?' It was her being silly, something she always did incredibly well. She also did her job; she got me chuckling." *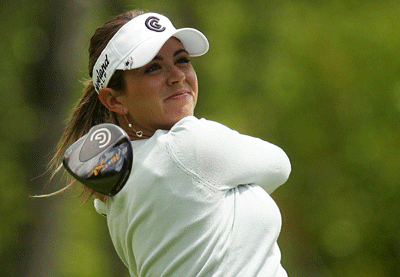 (Photo by Kyle Auclair, Getty Images)*
*Meanwhile, speculation is running high over the cause Blasberg's death. No official details have been released pending the result of an investigation, but several news outlets have confirmed with the Henderson, Nev., police office that a 911 call from an unidentified person alerted them to trouble around 3 p.m. Sunday. Shortly thereafter, police arrived at Blasberg's three-bedroom Henderson home and found her dead body.
In a phone interview with Riverside, Calif., newspaper The Press-Enterprise Monday night, Blasberg's father Mel shed some light on what the authorities found at the scene: "At first glance it looks like she might have taken her own life, but at second glance, something is very, very strange about it. We're waiting for the police to make an investigation, it's a pending investigation. Either way, I lost her and it's impossible to deal with."
Blasberg, a two-time All American while at ASU 2003-2004 (and the top-ranked college player in the country in 2003), turned pro in June 2004, won once on the Futures Tour and then joined the LPGA Tour in 2005. After reaching the top tour, her game seemed to stall and her best finish in five years was a T-8 at the SBS open in Hawaii in 2008. In 2009, Blasberg was forced to return to Q School and failed to earn back exempt status. Two weeks ago, she had to Monday qualify for the Tres Marias Championship in Mexico, her only event in 2010, but she made the cut and finished T-44.
Mel Blasberg said to The Press-Enterprise that his daughter's spirits were high in preparation for the 2010 season, and she was "ready to find" her form again: "She went all the way to Mexico to Monday qualify in an area where they just had a killing, that's how motivated she was. And she had a nice weekend. She made a little money, she felt good. She knew this year was going to be a tough year, but she was motivated. She didn't seem down."
Even to the untrained eye, suicide seems far-fetched for a girl reportedly as fun-loving and upbeat as Blasberg. Known for her good looks and flirty Puma ads with PGA Tour player Geoff Ogilvy, she was one of the LPGA Tour's most visible faces, despite her sometimes mediocre scoring.
Blasberg was an only child and is survived by her father and mother, Debra Blasberg.