News
The GOAT: Ballesteros and Snead vie for a final semifinal spot
Two shotmaking virtuosos duel at Augusta National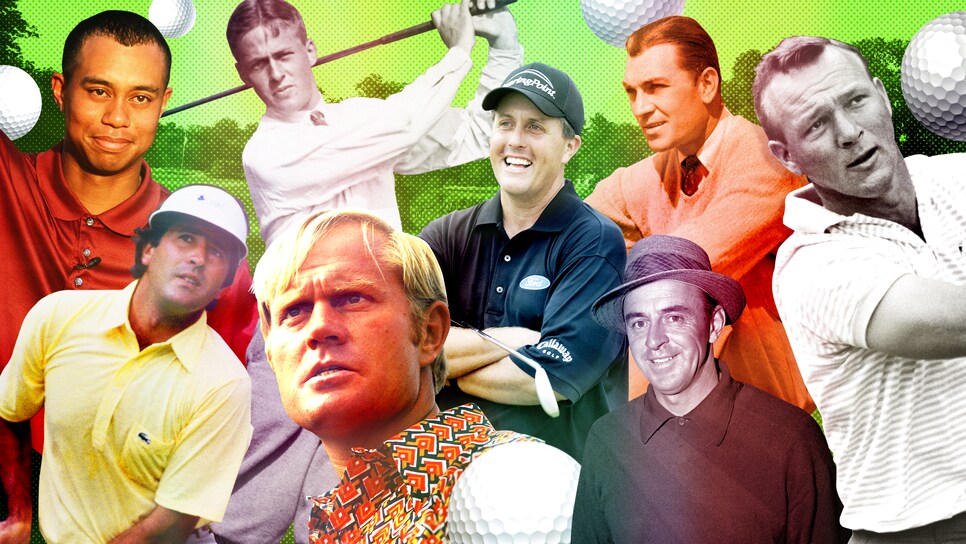 Editor's note: In the April issue, in the last story Dan Jenkins did for Golf Digest before his death at 90, he introduced our Greatest of All Time Invitational—The GOAT. The top 32 in the mythical event advanced from stroke-play qualifying at Augusta National to match play at venues around the world. In the May issue and online daily from March 20 through April 3, Senior Writer Guy Yocom is documenting the 30 match-play results leading to the final at Pebble Beach. Who will become the champion? The winner will be revealed online April 4 and in the June issue. Screenwriter Mark Frost, whose books have included The Greatest Game Ever Played and The Match: The Day the Game of Golf Changed Forever, will write two versions of the final with different winners.
Seve Ballesteros vs. Sam Snead
Augusta National (Ga.) Golf Club>
Officials slotted Augusta National in this part of The GOAT secretly praying it would be Seve and Sam who wound up there. Augusta's generous fairways, reachable par 5s and opportunities for recoveries played directly into their respective wheelhouses. Combined, the two players won five Masters and contended in many others. Bobby Jones, in attendance after his loss to Jack Nicklaus, posted in their lockers a mimeographed copy of the telegram he'd once received from his teacher, Stewart Maiden. Underlined was the phrase, Hit 'em hard. They'll land somewhere.
Seve struck first, birdieing the second and third holes to go 2 up. Snead, whose tragic experiences in U.S. Opens sometimes led him to feel cursed, expressed annoyance when Ballesteros' drive at the seventh clattered off a pine tree and back into play, enabling him to halve the hole. But on the tee at the par-5 eighth, Sam muttered defiantly, "The sun doesn't shine on the same dog all the time" and swung so fully that he tore the back of his broadcloth shirt, a phenomenon that happened to him from time to time. His drive gamboled to within 200 yards of the green, and a 4-iron and 10-foot putt later, Sam had narrowed the gap to 1 down.
Sam roasted a booming draw at the par-4 10th, leaving him only a pitching wedge to the green, but moments later watched helplessly as another Seve hook ricocheted off a pine and into the fairway. Ballesteros, sensing this was his day, stretched the lead to 2 up with a brilliant eagle at the par-5 13th. A pitch and par save at the 14th maintained the margin.
Then came the decisive moment of the match. At the par-5 15th, with Snead on the green in two, Ballesteros confronted a treacherous lie similar to the one he faced for his second shot in the final round of the 1986 Masters. On that occasion Seve feebly dunked a 4-iron into the water. This time he chose a 5-iron, and with a swing so aggressive it unseated his visor from his head, he struck a magnificent shot to within five feet of the hole. When the eagle putt fell, he was 3 up with three to play.
Snead attempted a diversionary tactic at the 16th tee, inviting Seve to join him for a refreshing drink of water at the fountain there. The ploy had worked when he tried it on Ben Hogan at the 14th hole during their famous 1954 Masters playoff, but Seve steamed past him like a bull charging through a matador's cape. He swiftly struck a 7-iron to 10 feet and closed out the Slammer, 3 and 2.
Ballesteros def. Snead 3 and 2
That set up the semifinals for the ages: Arnold Palmer vs. Tiger Woods, and Seve Ballesteros vs. Jack Nicklaus.
Jack Nicklaus vs. Bobby Jones
Winged Foot Golf Club (West), Mamaroneck, N.Y.>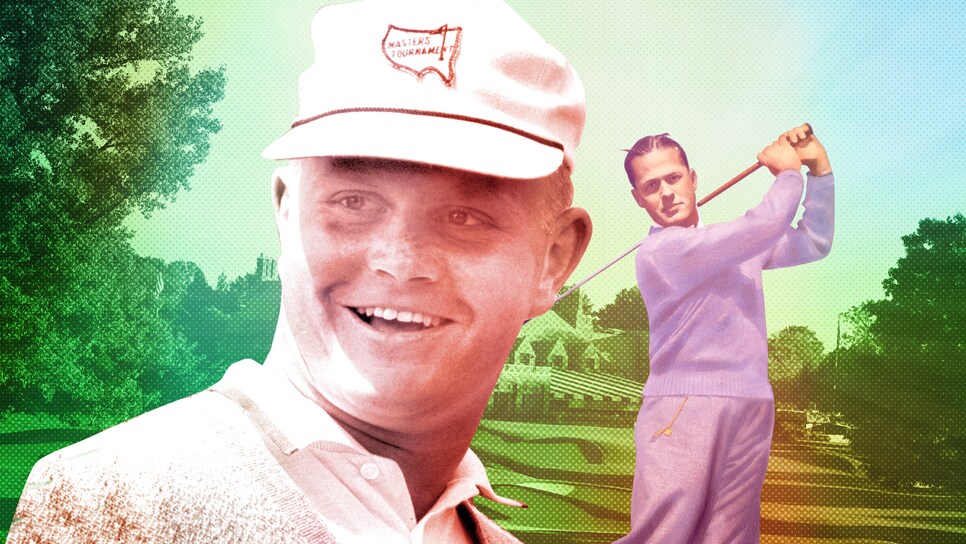 His entire career, Jack Nicklaus idolized only one golfer: Bobby Jones. Even after Nicklaus surpassed Jones' majors count of 13, Jack's reverence for him never abated. Thus it was no surprise when Jack, at Winged Foot, appeared slightly diminished in another golfer's presence. Jack's high-pitched voice went up a full register when the two players exchanged greetings, and his hands trembled to the point he appeared to have difficulty teeing his ball. Jones, nervous on the inside but a portrait of reserved calm on the exterior, jumped to a 2-up lead through six holes. Bobby's swing never seemed more fluid, his ball-striking more pure or his flowing putting stroke more rhythmic.
After nine holes, the margin was 3 up in the Emperor Jones' favor. But Jack was longer than Jones, hit the ball higher and more softly, and had a putting stroke even more immune to pressure. Slowly he cut into Jones' lead. A birdie at the short 10th, another birdie at the par-4 11th and another birdie at the par-5 12th—Nicklaus incredibly reached the green in two— squared the match. Jack conceded the 16th after he inadvertently caused his ball to move in the rough while picking away a leaf just behind it. No one else saw it happen. "That was sporting of you, Jack," Jones said on the way to the 17th tee. Replied Jack: "Bob, it's like you said—you might as well praise a man for not robbing a bank."
Jack, 1 down now, put the might of his 29-inch thighs into his drive at the difficult par-4 17th and made a birdie to even the match. At the par-4 18th, both players were on in two, Jones 12 feet from the hole, Nicklaus 10 feet. Jones' putt incredibly was the same distance and on the same line as the putt he faced to tie Al Espinosa for the 1929 U.S. Open. Jones had holed that one, then won the 36-hole playoff the next day.
After reading the putt carefully from his familiar kneeling position, Jones hefted his Calamity Jane putter with confident aplomb but missed the putt on the high side. It now was left to Nicklaus. As Jack stalked the putt from all angles, Jones whispered to his friend, the great golf writer, O.B. Keeler, "I hope you have our train tickets back to Atlanta ready, because this putt is as good as in." Jack, assuming his low crouch and as always putting with his golf glove on, drilled the putt dead center. He had defeated his idol, 1 up.
"There's a new emperor in town, and his name is Nicklaus," said Jones, loosening his necktie and accepting a cocktail. "I don't think two of me could have handled Jack today."
Tiger Woods vs. Phil Mickelson
Torrey Pines (South), La Jolla, Calif.>
The chumminess that oozed throughout their made-for-TV "The Match" was a distant memory when the Southern Cal heroes made their way over to Torrey. Phil told reporters beforehand he'd gladly refund the $9 million he won that day for a victory now, and Tiger confided that he wouldn't hesitate to scuttle his yacht, "Privacy," in exchange for a win over his archrival. The sharp-edged banter that was noticeably absent in "The Match" was in full force now. When Phil chunked a pitch during their pre-round warm-up, Tiger giggled and said, "I've got a tip that can cure that." Retorted Phil, "I've heard about your tipping habits—no thanks." Tiger was duly irritated, and the mood when they teed off was chilly, as in days of yesteryear.
Mickelson birdied the first and third holes to take a 2 up lead, and he responded to cheers from his supporters by touching the bill of his cap and offering his trademark thumbs up. Tiger rolled his eyes, took a deep breath and responded with birdies at the sixth, seventh and eighth to grab a 1-up lead.
On the tee of the par-5 ninth, Phil tried to regain a psychological edge with a series of verbal needles. "Tiger, has your driver been wipey lately?" he asked. "A little," said Tiger. "How about you—perfected that carvey slice yet?" Phil understood the dig at his final-hole meltdown at Winged Foot in 2006 perfectly and lacked a retort. The showdown was in grim earnest now.
Phil evened the match with a hole-out from sand for birdie at the par-4 14th, but Tiger regained the lead with a fist- pumping 30-footer for birdie at the 16th. His 1-up margin held through the 17th. At the par-5 18th, Tiger unleashed a gargantuan tee shot to put the green easily within reach, but Phil, his drive bunkered, was forced to lay up. After Tiger found the green with his second, Phil duplicated what he'd done on the 72nd hole of the Farmers Insurance Open in 2011: He instructed his caddie, Bones Mackay, to go forward and attend the flagstick. Alas for Phil, a miracle was not to be. His wedge approach skidded and stopped 20 feet above the hole. When Tiger rolled his eagle putt to within inches of the cup, Phil conceded the hole and the match, 2 up.
At that moment, all animosity, real and imagined, between the two best players of their era, disappeared. Said Tiger to Phil, "You're the best I ever played against."
Woods def. Mickelson 2 up
Arnold Palmer vs. Ben Hogan
Cherry Hills (COLO.) C.C>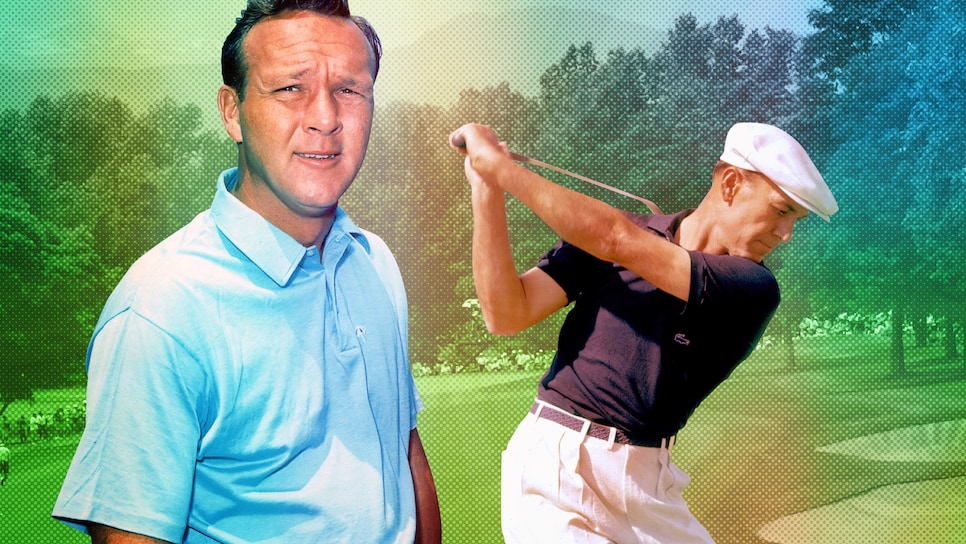 Hogan's style was to express graciousness on the first tee and then proceed to coldly tear his opponent apart. At Cherry Hills, site of Hogan's heartbreaking loss at the 1960 U.S. Open—and the venue where Arnold won his only U.S. Open title— Hogan showed no deference whatsoever to Palmer. "Good luck, fella," the Hawk said, knowing full well Arnold loathed being addressed by anything other than his name. "Same to you," said Palmer, gripping Hogan's hand in a grasp so firm the blood drained from Ben's fingernails.
Never friends to begin with, the two men focused their games on the course and each other. The tees on the first hole were moved forward slightly, an invitation for Arnie to drive the first green, as he had in the final round of the 1960 U.S. Open. But Arnold lost the hole with a par to Hogan's birdie. Hogan also birdied the par-4 fourth, nipping his Equalizer wedge to two feet, to go 2 up. A massive Palmer tee shot at the par-5 fifth—he used the same Hogan model driver he'd used at the 1962 U.S. Open—set up a birdie, and at the turn it was Hogan by 1 up.
They traded pars through the 13th hole, but at the 14th, a 520-yard par 4, Palmer blasted his longest drive of the day into the thin Rocky Mountain air, outdriving Hogan by 35 yards. "I think you're away," Arnold said to Ben as he strode by Hogan's ball. The Hawk bore down and hit a 5-iron to 10 feet, but Arnold had only a 9-iron left, and another birdie drew the match to even.
Three gritty pars followed by each player, and they came to the 18th all square. With water down the left side, an accurate tee shot was crucial. Palmer, holding the honor, creased the fairway with his driver yet again. Hogan, attempting to hit a draw, curved the ball too much, his ball stopping just inches from the water. Some swore his right foot had slipped, as happened when he lost the 1955 U.S. Open to Jack Fleck at Olympic. In any case, the Hawk had to pitch left-handed back to the fairway, and when Palmer won the hole, Arnold scaled his visor into the air, just as he did in 1960. Hogan not surprisingly was disappointed. Of his fateful tee shot on 18, he reiterated his comment from 1955: "I hate a hook. It nauseates me. I could vomit when I see one. It's like having a rattlesnake in your pocket."
Round of 16
Sam Snead vs. Tom Watson
The Greenbrier (Old White TPC) Sulphur Springs, W. Va.
Returning to the haunt where he'd played countless rounds, Snead carelessly fell victim to The Greenbrier's vast number of non-golf activities. At the gun club, he entered an impromptu trap-shooting contest—which he won—then, rather than practice, spent two more days engaged in falconry, bowling (where he rolled a 262), fly-fishing and even pickleball. Watson, meanwhile, was all business. Fresh from a game tune-up with teacher Stan Thirsk back in Kansas City, Watson arrived for the match glint-eyed and eager.
Snead won the first hole, but Watson concluded the front nine with three consecutive birdies to take a 2-up lead. But this was the course where Sam had shot 60 an incredible six times, three-putting the 18th hole on each occasion.
Beginning at the 11th hole, the Slammer made four consecutive birdies to go 2 up. At the tee of the 229-yard, par-3 15th, Sam noted that over the years he had made holes-in-one with every club in the bag except the putter. Using a 2-hybrid he'd acquired only a week earlier, his shot caromed off the agstick and stopped a foot from the hole. As the crowd roared, Snead doffed his Stetson straw hat and said, "I reckon I pulled that one a bit." Watson birdied the 16th hole to return the margin to 2 up, but another Snead birdie at the 17th completed a 3-and-1 victory.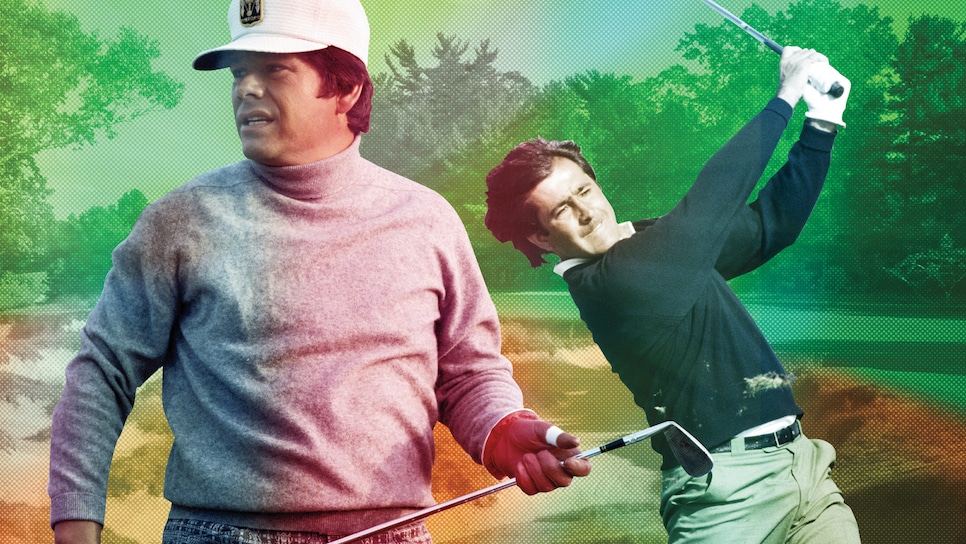 Seve Ballesteros vs. Lee Trevino
Pine Valley (N.J.) G.C.
At the conclusion of his practice round, Seve looked tight-lipped and worried. In a brief press interview, he informed reporters he was removing the driver from his bag and replacing it with the 1-iron he'd used at Oakmont at the 1983 U.S. Open. Pine Valley's fairways, he said, were expansive enough, but a big miss off the tee meant an automatic bogey or worse. Trevino, meanwhile, was a portrait of relaxed confidence, his cap tipped back on his head as he spewed one-liners to anyone who would listen. "If I were driving it any straighter, I'd put the laser companies out of business," he said. "If I lose, the snapper soup's on me."
Trevino led by 1 up after nine holes, not missing a fairway and making three birdies, the best coming when he carved a 3-wood to six feet at the 238-yard, par-3 fifth. At the short, par-3 10th, Ballesteros went 2 down when he failed to escape from the tiny pot bunker fronting the green. "Odio el gilipollas del diablo," Seve hissed when his ball trickled back into his footprint. Trevino translated for onlookers at the back of the green: "That's Spanish for, 'I hate the Devil's A-hole.' "
Seve hung tough, winning the short par-4 12th after a beautiful pitch. Trevino drew a poor lie for his second at the par-4 17th, and a bogey there squared the match. At the par-4 18th, with the flagstick positioned at the front of the green, Seve played a towering 6-iron to four feet. Trevino, out of his element when he tried to hit the ball high, thinned his 6-iron into a front bunker. Lee Buck exploded to 20 feet, but after he missed his 20-footer for par, he conceded the hole and the match to Seve.
Ballesteros def. Trevino 1 up
Bobby Jones vs. Gary Player
Royal Lytham & St. Annes, England
Royal Lytham was the site of great accomplishment for Jones and Player, and a return there was cause for celebration. To commemorate Player's 1974 Open Championship victory there, local golfers, for a $500 donation to charity, were invited to re-create Player's famous left-handed shot with a putter near the clubhouse at the 18th green. To honor Jones' 1926 Open conquest, amateurs were challenged to copy Bobby's incredible mashie shot at the 17th hole, near the plaque planted there in his honor.
The preliminaries over, the golfers began the match determined to put their best games on display. Jones, aware of Player's astounding record, nevertheless appeared disarmed by Player's skill, around the greens especially. Twice on the front nine, Player splashed bunker shots stone dead for halves. Two other scrambling pars—both on 10-foot putts with a jabby stroke that was the opposite of Jones' free-flowing motion—sobered Jones' attitude even further.
Jones birdied the par-4 10th hole to take his first lead in the match, but Player got back to even with a whistling 4-iron to five feet at the par-3 12th.
The match remained level as they played the par-4 17th hole, site of Jones' heroic shot in 1926. There a critical incident occurred. With Jones safely aboard the green in two, Player hit his second shot into deep rough near the green, precisely as he'd done in 1974. In the '74 Open, Player's ball was found only seconds before the five-minute time limit for search had expired. This time, the ball was found more quickly, inside four minutes. Player's caddie, Alfred (Rabbit) Dyer, exclaimed excitedly, "Found it, Boss!" But the walking officials, Joseph C. Dey of the USGA and Sir Michael Bonallack of the R&A, conferred for only seconds before informing Player that the time limit, reduced to only three minutes under the updated rules, had been surpassed. Player conceded the hole, and a halve at the 18th meant Jones had prevailed, 1 up.
Said Jones afterward, "I'm sorry for Gary. He truly was a dogged victim of inexorable fate."
Jack Nicklaus vs. Rory McIlroy
Scioto C.C., Columbus, Ohio
McIlroy's camp howled in protest when informed he would play Nicklaus on the course where Jack grew up. Rory silenced them, announcing he was capable of beating anyone, anywhere. McIlroy, of course, would need his best performance, one like he'd played at Congressional in winning the 2011 U.S. Open by eight strokes.
Right away, Rory ran into problems. The early holes at Scioto are difficult and require local knowledge, and Nicklaus, utilizing his memory, won three of the first five holes. Jack appeared as confident as he had early in his Sunday duel against Tom Watson at the 1977 Open Championship at Turnberry, where he'd led early, smiling as he went. But Rory fought back, nipping away gradually to trim Nicklaus' lead to 1 up after 11 holes.
Rory's ball-striking—he hit it high, long and accurately with the whisper of a fade— drew Nicklaus' full attention, and when Jack arrived at the tee of the par-5 12th, his smile was gone, replaced by a scowl of concentration. Nicklaus birdied the hole to win, then drained a 35-footer at the 13th to go 3 up. McIlroy missed the green with a 100-yard wedge approach to the 14th and fluffed a pitch to bogey and fall 4 down. A routine par from Nicklaus at the next hole, settled the matter, 4 and 3.
"If that were a football game and I was Woody Hayes, I'd tell you it was closer than the final score indicated," Nicklaus said back at the clubhouse. "If that young man gets it together, he has 10 majors in him."
Nicklaus def. McIlroy 4 & 3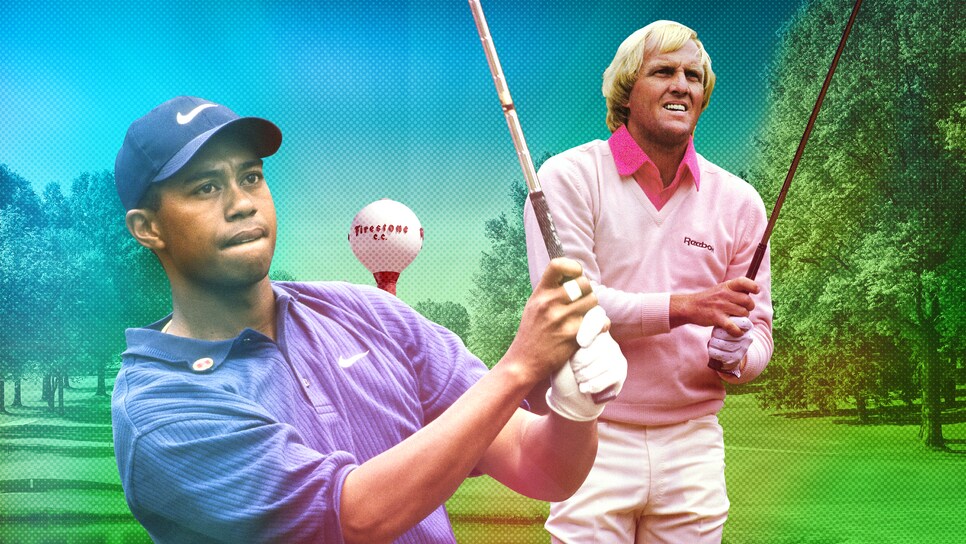 Greg Norman vs. Tiger Woods
Firestone C.C., Akron, Ohio
Norman's handling of Nick Faldo in the Round of 32 put Woods on notice that the Shark wouldn't go quietly, and Tiger arrived looking tense. He had won at Firestone a staggering eight times, but it wasn't lost on him that Norman had won there twice. On a sweltering day, Tiger's warm-up was so long and intense he sweated through his royal-blue shirt and retired briefly to the club- house to switch to one that was the reddest of reds. Norman, his shoulders back and chin jutting forward, appeared as sturdy as Firestone's brick clubhouse.
The no-nonsense, par-4-heavy, mostly straightaway layout beckoned them to blast away with their drivers. Norman won two of the first five holes, his putting sharper than Tiger's. Woods rebounded by birdieing three of the next six to lead, 1 up, after 11. Norman squared the match with a 5-iron to four feet and birdie at the difficult par-4 13th.
There was brief, comedic relief on the 14th, when two overserved spectators—one dressed in a shark costume, the other in a tiger suit—engaged in a hapless brawl. As Akron police hauled the miscreants away, Norman, smiling broadly, pointed at Woods from across the fairway and playfully put his dukes up, but Tiger was having none of it. He grimly made par at the 14th to keep the match even, then stiffed a 2-iron at the par-3 15th to earn back the lead.
Tiger then swung all-out on the 667-yard 16th, an incredible drive catching the downslope. An equally stupendous second put him on the green, and the two-putt birdie made him dormie. A halve at the 17th—Norman lipped out a long birdie try—gave Tiger a 2-and-1 decision.
Phil Mickelson vs. Walter Hagen
Muirfield, Scotland
The fact that both players had won an Open Championship at Muirfield was only the first of their commonalities. Both were free-swinging geniuses, wildly creative, aggressive, prone to erratic driving and masterful on and around the greens. Off the course, they were somewhat the same as well. Both had dabbled in pro baseball and shared a zest for wagering.
Hagen arrived for the match 10 minutes late in an Austro-Daimler limousine, hoping it would unsettle his opponent. But Mickelson one-upped Hagen by buzzing the course in his Gulfstream G650 and out-Haiged him further by showing up 15 minutes late. Officials on loan from the R&A grumbled indignantly—as did local aviation administrators—but the match proceeded close to schedule.
Only two holes on the front nine were halved, with Hagen holding a 1-up lead. Spectators seemed almost disappointed when the pair tied the next four holes, each hitting every green in regulation. Mickelson, carrying two drivers as he had in winning the 2006 Masters, drove daringly at the par-4 15th with his "draw" driver and won the hole with a birdie. Always an underrated middle-iron player, Phil flagged a 6-iron to three feet at the difficult par-3 16th for another birdie to take a 1-up lead.
On the 17th tee, Hagen, in a mild display of gamesmanship, asked Phil for his thoughts on advances in deep-space exploration, but Mickelson responded with silence and blistered a 320-yard drive with his "fade" driver. With the par-5 hole easily within Mickelson's reach, Hagen gambled with his second and hit his ball against the lip of a greenside bunker. The wonders of the 64-degree sand wedge unknown to Hagen—he later gasped when Phil showed him his—Sir Walter took two shots to escape, handing the match to Phil, 2 and 1.
While enjoying flutes of champagne together post-round, Mickelson, in a typical display of generosity, offered Sir Walter a ride home on his jet, but Hagen demurred, noting he preferred to go by luxury cruise line. Said Hagen: "Don't hurry, don't worry, and don't forget to smell the flowers along the way."
Mickelson def. Hagen, 2 and 1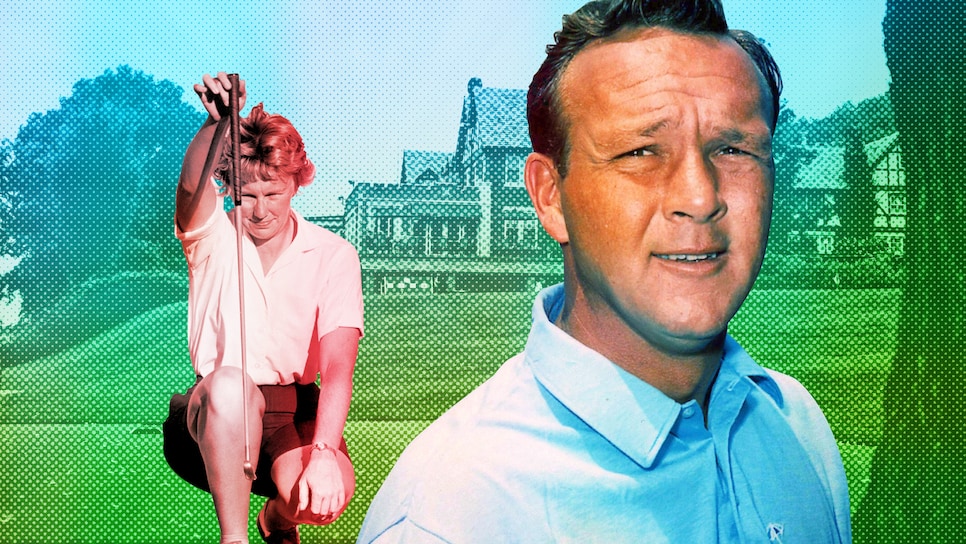 Arnold Palmer vs. Mickey Wright
Baltusrol (Lower) G.C. Springfield, N.J.
After Wright dispatched Bobby Locke, she no longer was considered a curiosity in the male-dominated field. The specter of her defeating Palmer prompted the media's battle-of-the-sexes story line to accelerate in earnest. Wright handled the hype with experienced aplomb, declaring, "The golf ball doesn't know who's hitting it." Palmer chose the all-praise route, assessing Wright's game by saying, "If I had Mickey's swing, I would have climbed off that tractor three years sooner." Herbert Warren Wind declared in his New Yorker advance piece that Wright actually had the advantage: She had won the third of her four U.S. Women's Open titles at Baltusrol in 1961, and Palmer's loss to Jack Nicklaus at the 1967 U.S. Open there left scars that never fully healed.
Playing from a shorter set of tees—terms Wright reluctantly agreed to—she hit several of her tee shots 20 yards past Palmer's and took a 2-up lead through 10 holes. The possibility of her defeating The King seemed not only plausible, but likely.
On the 11th tee, the tension building, a Bronx-accented voice from the gallery yelled, "Time to loosen your girdle, Arnie!" Palmer's face flushed at the remark, and he tore into his tee shot, outdriving Wright this time by 10 yards. Thus began a patented Palmer charge, with birdies at the 11th, 12th and 13th giving him a 1-up lead. Wright didn't flinch, making solid pars for halves at the next two holes, but Palmer birdies from long range at the 16th and 17th ended the match, 3 and 1.
"If I felt pressure like that every time I played golf," Palmer said, "I'd climb right back on that tractor for good."
Palmer def. Wright, 3 and 1
Ben Hogan vs. Byron Nelson
Whiskey Ranch, Fort Worth
The plan had been for the old Fort Worth rivals to play at Glen Garden Country Club, where they had caddied and learned to play as youngsters. But when they arrived and found some of the 112 acres had been transformed into an outstanding whiskey distillery, teetotaling Byron blanched. Hogan noted skeptically that the course had been altered, its par shortened to 68. But with half of Fort Worth in attendance to see the showdown, Nelson said, "Ben, seeing as you're here and I'm here, let's just play." The Hawk, hungry to avenge his loss to Nelson in a long-ago Glen Garden caddie championship, agreed.
The ball-striking exhibition that ensued was spectacular, even on a course that measured just over 5,000 yards. They each birdied six of the first nine holes, and Nelson provided the match highlight with a hole-in-one at the par-3 seventh. At the turn it was Nelson by 1 up. The small, push-up greens continued to offer little defense on the back nine. On the 12th tee, while waiting for the gallery to clear the fairway, Hogan pointed to a piece of sloped ground in the distance and said, "The older kids used to roll me down that hill in a barrel." Nelson's reply—"You won nine majors and 64 tournaments, so apparently it didn't hurt you much"—seemed to irritate Hogan slightly. He won the 12th to square the match, and a short time later birdied the 15th to take a 1-up lead.
Hogan missed a three-footer for birdie at the 16th, and his supporters swore they noticed the slightest bit of yip in his stroke, but there was no need to worry. Hogan never relinquished his 1-up advantage, matching Nelson's birdie on the 18th for one of the most satisfying match-play victories of his career. After spending a few minutes with reporters, Hogan declined a celebratory sip of whiskey and instead limped toward the ninth fairway, caddie and shag bag in tow. "Where you going, Ben?" Nelson asked.
"There's still daylight and time for some practice," Hogan answered. "I hear that Palmer fella doesn't lie down for anybody."