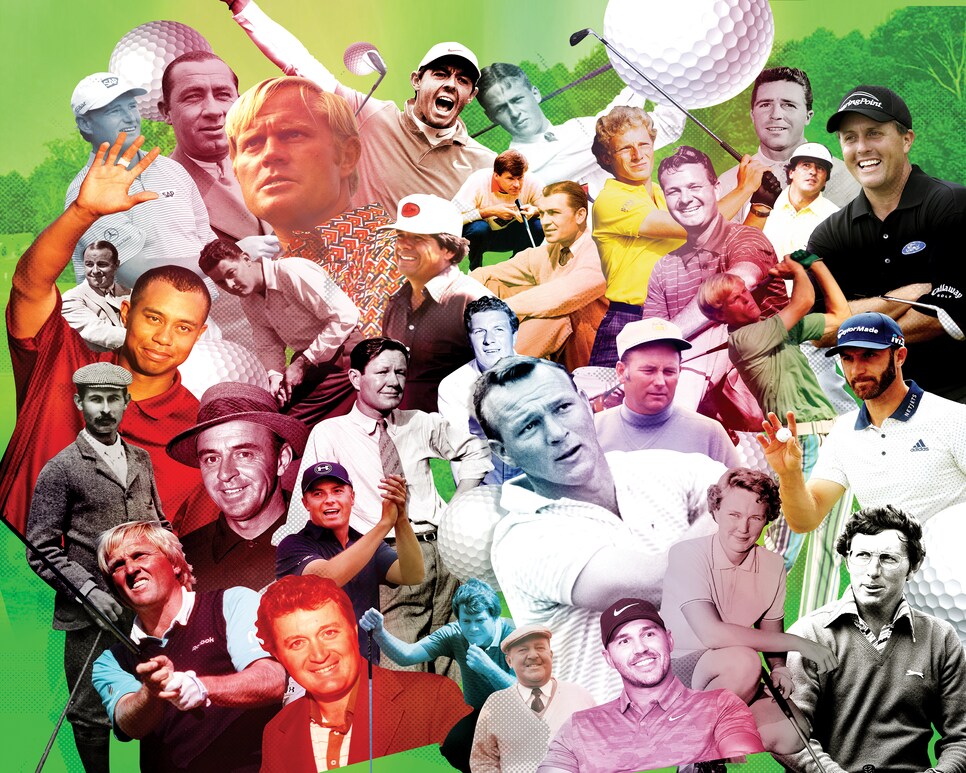 GOLF DIGEST'S ★ GREATEST OF ALL TIME ★ INVITATIONAL
In the April issue, Dan Jenkins introduced Golf Digest's Greatest of All Time Invitational—The GOAT—with the top 32 in the mythical event advancing from stroke-play qualifying at Augusta National to match play at venues around the world. In this month's issue (and expanded online daily from March 20 through April 3), Guy Yocom documents the 30 match-play results leading to the final at Pebble Beach. The winner will be revealed online April 4 and in the June issue. Screenwriter Mark Frost, whose books have included The Greatest Game Ever Played and The Match: The Day the Game of Golf Changed Forever, will write two versions of the final with different winners. For more details and to follow the event, go to GOLFDIGEST.COM/GO/GOAT.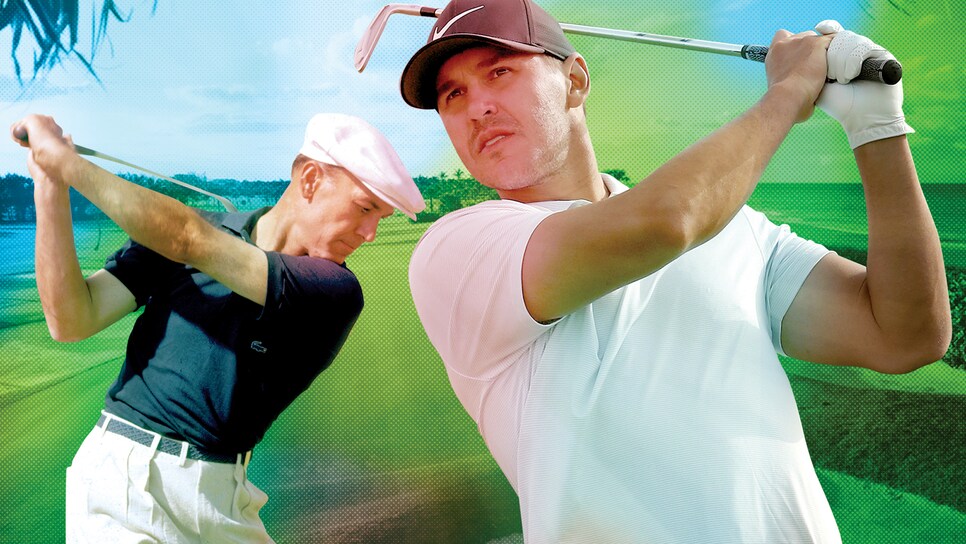 Hogan: The Life Picture Collection; Koepka: Getty Images; Seminole: Stephen Szurlej
BEN HOGAN VS. BROOKS KOEPKA
SEMINOLE G.C. JUNO BEACH, FLA.
To the surprise of no one, Hogan's first act upon arriving at the tee was to fix his withering glare upon Koepka, hoping—expecting—Koepka to slink away, intimi-dated. But Koepka offered a handshake and the words, "If you wouldn't mind keep-ing your cigarette smoke downwind, I'd appreciate it." Hogan, indignant, bogeyed two of the first five holes, giving Koepka a 2-up lead. But Hogan being Hogan, and Seminole being his favorite course in the world, the Hawk rallied. At the par-5 ninth, playing into a strong wind coming off the Atlantic Ocean, Hogan played his best shot of the day, a 3-wood second to 15 feet that drew oohs from the Palm Beach cognoscenti. He holed the eagle putt, and as he fetched the ball out of the cup, Koepka leaned close and whispered, "Mr. Hogan, a guy who hits it that good can smoke anywhere he wants."
Koepka rallied to even the match, but Hogan carved a 5-iron stiff for birdie at the par-4 16th, then followed with another 5-iron to six feet at the par-3 17th. When Hogan's birdie putt fell for a 2-and-1 victory, he removed his hat and offered his hand to Koepka. "To heck with that," said Koepka, and he wrapped Hogan in a bro hug for the ages.
BERNHARD LANGER VS. BYRON NELSON
INVERNESS CLUB TOLEDO, OHIO
Wise bettors noted that this was a home game for Nelson: He'd served as head pro at Inverness from 1940-'44. Despite being 5 down through 12, Langer made three consecutive birdies with his long putter to get to 2 down. On the tee of the 16th, a reporter overheard Nelson murmur to his caddie, "I'm glad Bernhard likes putting with that thing, but I'd sooner sell my whole coop of chickens than use something like that." In the end, Nelson prevailed, 3 and 1. His Inverness supporters were ecstatic—and so were Toledo bettors, who made their biggest killing since Jack Dempsey whipped Jess Willard in their heavyweight fight near Maumee Bay in 1919.
BILLY CASPER VS. ARNOLD PALMER
THE OLYMPIC CLUB (LAKE) SAN FRANCISCO
palmer's irritability before the match—he'd bristled when a reporter asked if it would be a repeat of the 1966 U.S. Open at Olympic, in which Casper made up seven strokes on Palmer with only nine holes to play in regulation, then beat him in an 18-hole playoff—subsided when they teed off.
Casper holed putts of 15, 12 and 25 feet to begin the back nine for a 1-up lead. When Billy holed a downhill, left-to-right curler from 10 feet for par and a halve at the 15th, Arnold was overheard muttering to his caddie, Creamy Carolan, "I've had about enough of Bill making every putt he looks at." Palmer's manager and friend, IMG legend Mark McCormack, overheard the remark. "Hey, Arnold," he said, "did they pass a law in San Francisco saying you can't hole a couple yourself?" Palmer glared, then responded.
He hammered his drive at the par-5 17th and bombed a 3-wood onto the green, 20 feet away. Casper holed for birdie from 25 feet, but Arnold, assuming his pigeon-toed putt-ing stance, drilled the eagle putt to square the match.
At the short, uphill, par-4 18th, Palmer slammed in a 20-footer for birdie, and sudden death appeared imminent. But then fate—and perhaps providence—intervened. Casper's four-foot putt for a halve started on line and true, but the ball slid by the edge. Palmer fell to his knees in relief, redemption earned by a 1-up margin.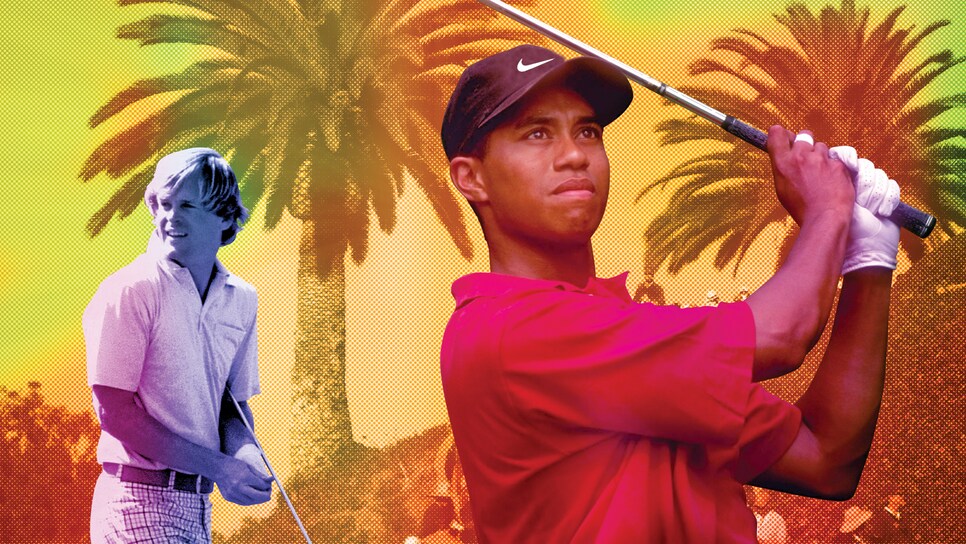 Miller: Augusta National Golf Club/Getty Images; Woods: J.D. Cuban/Allsport; Riviera: Paul Mounce/Corbis/Corbis via Getty Images
MICKEY WRIGHT VS. BOBBY LOCKE
SEA ISLAND G.C. ST. SIMONS ISLAND GA.
When the participation of a female golfer was an-nounced, one old-timer in the field huffed, "A woman has no place here." Ben Hogan gave the man a bemused look and said, "Really? She hits it better than you ever did."
Wright had insisted on playing the same tees as Locke, and on a blustery day, she hit the first 12 greens in regulation for a 1-up lead.
From the 13th hole on, it was putting that perversely did in Locke, the jowly legend from South Africa nicknamed Muffin Face. A par for Wright at the 17th gave her a 2-and-1 victory.
Before repairing to the bar, Locke took Wright by the hand, bowed deeply and said, "Miss Wright, if you decided to play with we men full-time, I would leave the profession and seek an easier way to make a living."
JIMMY DEMARET vs. PHIL MICKELSON
CHAMPIONS G.C. HOUSTON
The two three-time Masters champions elicited a large turnout, and the fans not surprisingly shaded toward Demaret, their hometown hero. One of the few Mickelson supporters was host pro Jackie Burke, a Hall of Famer who recalled that Demaret had baby-sat him when he was a toddler.
Demaret grabbed a 2-up lead after seven holes. Mickelson had three-putted twice, then blew a three-footer for birdie at the par-3 eighth and laughed about it. Burke trotted onto the green and swatted Mickelson upside the head. "I want you to feel pain when you miss a putt," he said.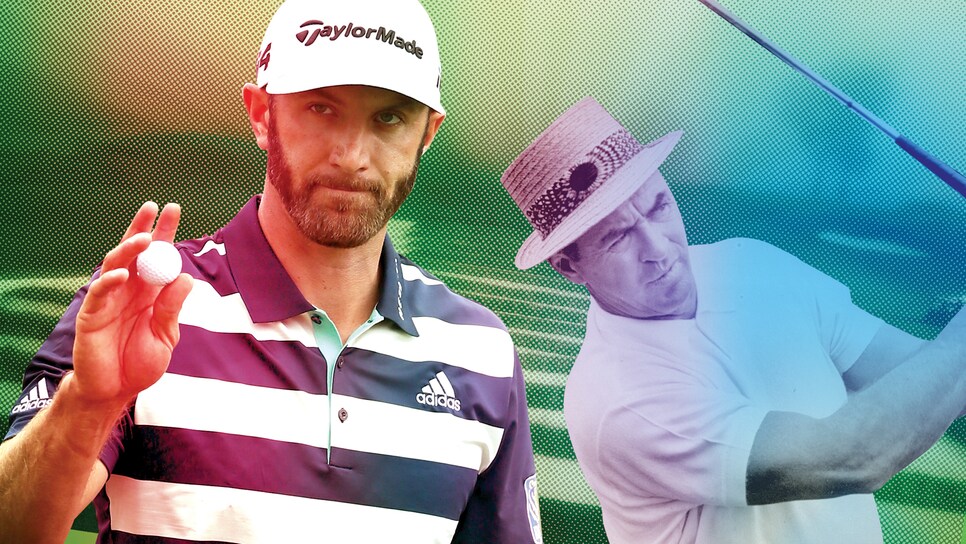 Johnson: Getty Images; Snead: Time Life Pictures; Oakmont: Dom Furore
A thunderstorm interrupted play on the 17th tee after Mickelson had taken a 2-up lead, and the two legends repaired to the locker room, Mickelson performing card tricks while Demaret crooned 1940s ballads. When play resumed, a Mickelson drive led to a bogey, but a mammoth tee shot at the 18th, followed by a 9-iron to four feet, gave him a 2-up victory.
WALTER HAGEN VS. CARY MIDDLECOFF
OAK HILL C.C. ROCHESTER, N.Y.
When reminded that Hagen had won 45 PGA Tour events, including 11 majors, Dr. Cary Middlecoff replied drolly, "Beating Sir Walter is going to be like pulling teeth." Middlecoff, an erstwhile Memphis dentist, was accustomed to dispensing pain in other ways, having won 40 tour events, including two U.S. Opens and a Masters. He also knew every dip and swale at Oak Hill, having won the 1956 U.S. Open there.
Hagen showed up four minutes late for their starting time, which meant an automatic loss-of-hole penalty. The rumor was that Sir Walter did it on purpose to get in Middlecoff's head, but it didn't work. Middlecoff, whom golf writer Herbert Warren Wind referred to as "a happy refugee from subgingival curettage," won the first four holes. Hagen rallied and took the lead at the 13th. Doc, a notoriously poor sand player, left his ball in the bunker at the 16th to go 2 down. From there, Hagen coasted, 2 and 1. "Dentists used to administer whiskey to their patients," Hagen said, "but all Doc gave me was grief."
NICK FALDO VS. GREG NORMAN
TURNBERRY (AILSA) SCOTLAND
Norman's past included a devastating loss to Faldo at the 1996 Masters and being overtaken by Sir Nick after sharing the lead of the 1990 Open Championship at St. Andrews. But Norman saw himself as the man who had blitzed Faldo at the 1986 Open on this course and who got the better of him at the 1993 Open at Royal St. George's.
Norman was 1 up as they arrived at the par-4 18th. He hit driver and blocked it to the right, into precisely the difficult spot where Jack Nicklaus' drive had come to rest during his Duel in the Sun against Tom Watson in 1977. Faldo was straight down the middle and followed with a commanding 7-iron to eight feet. The pressure now was on Norman, and with his ball in a poor lie near the edge of a gorse bush, he made a ferocious swing that launched the ball to within two feet of the flagstick. When Faldo's putt for birdie burned the edge, he conceded the hole and the match. Norman removed his hat, delivered a handshake and with sincerity uttered the same remark Faldo made to him after the 1996 Masters: "Don't let the bastards get you down."
TIGER WOODS VS. JOHNNY MILLER
RIVIERA C.C. PACIFIC PALISADES, CALIF.
Miller's occasional TV criticisms of Tiger clearly overshadowed the frequent praise, and Woods arrived at the first tee determined to not merely defeat Miller, but humiliate him. It didn't go as planned. Miller's 1-up lead disappeared when he three-putted the 12th hole, but the real turning point occurred at the par-3 14th. After stiffing a 5-iron to 18 inches, Miller blithely asked Woods, "Is this putt good?" Woods replied with an icy "No." Miller, taken aback, promptly missed. Although Miller made nice putts for halves at the next two holes—he putted with his eyes closed at the 15th and while looking at the hole on the 16th—Woods kept a 1-up lead. Tiger nearly reached the par-5 17th in two, but Miller uncharacteristically thinned his third over the green, and when Woods chipped his third to within a foot, Miller conceded the hole and the match, 2 and 1.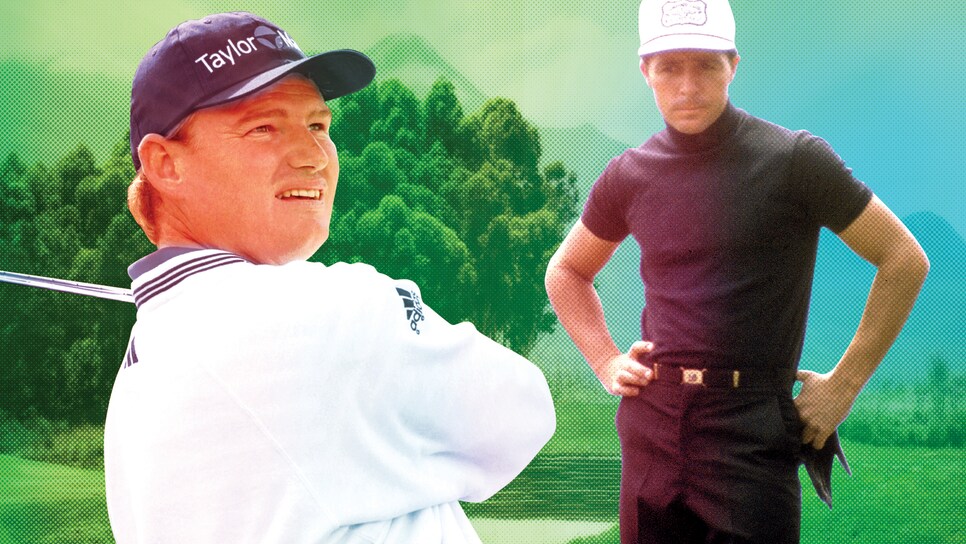 Els, Player, Fancourt: Getty Images
"Tiger was just too good," Miller said. "If he and Jack Nicklaus wind up in the final, I'll come out of retirement to call it on TV."
JACK NICKLAUS VS. HARRY VARDON
ROYAL ST. GEORGE'S SANDWICH, ENGLAND
The two immortals exchanged gifts on the first tee, Vardon presenting Nicklaus with a dozen Vardon Flyer gutta percha golf balls, Jack pressing into Vardon's hand three Ohio buckeye nuts. "Starting today," Nicklaus said, "they'll never fail to bring you luck."
But Nicklaus outdrove Vardon by 30 yards at the par-4 15th for a birdie that gave him the lead for the first time. After matching par 3s at the 16th, Nicklaus had only a short iron to the 17th green. Vardon dramatically removed his suit jacket to free up his swing but flared his drive to the right into the deepest rough on the course. The bogey that resulted gave Nicklaus the match, 2 and 1.
RORY MCILROY VS. GENE SARAZEN
PORTMARNOCK G.C. DUBLIN, IRELAND
Portmarnock's firm fairways matched Sarazen's low-trajectory style perfectly, and the Irish galleries loved his wit. When Sarazen lofted a bunker shot close to the flagstick on the sixth hole, McIlroy said, "You're pretty good with that sand wedge." Retorted the Squire: "I ought to be—I invented it." McIlroy regained the lead with a 6-iron to five feet and birdie at the 204-yard 15th.
Then came the telling point of the match. At the par-5 16th, McIlroy went on the offensive again, hitting a 2-iron second to four feet. Sarazen said, "Looks like a good time to make a double eagle, like I did at the 1935 Masters." Replied McIlroy, "You mean, 'albatross.' " Sarazen replied, "I hate the word 'albatross' and never used it, but thanks just the same." The Squire's caddie, Skip Daniels, nodded in agreement and then handed Sarazen his Turf Rider 4-wood, which he spanked onto the green. McIlroy made eagle and Sarazen didn't, leaving Rory dormie. And when the Northern Irishman won the 17th, he advanced, 3 and 1.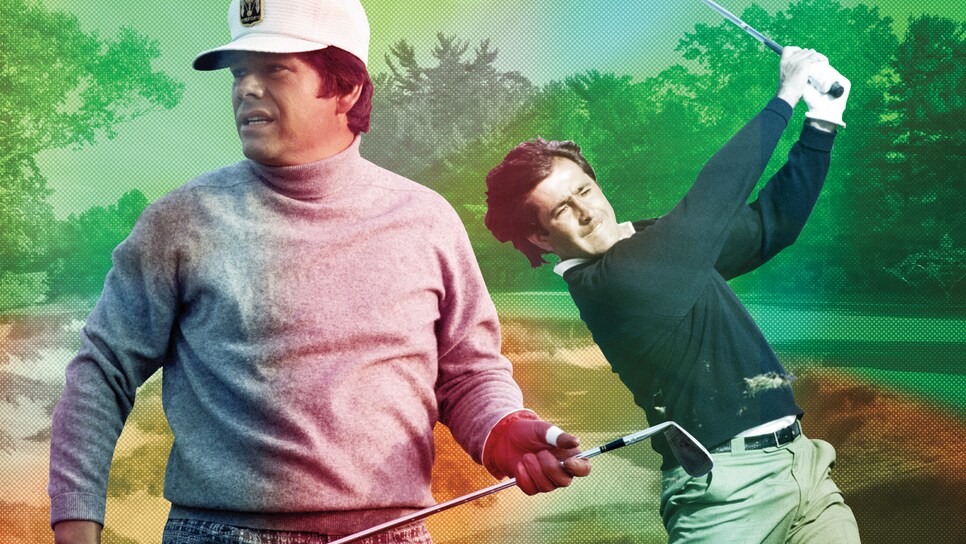 Trevino: Getty Images;Ballesteros: Dave Cannon/Allsport; Pine Valley: Christian Iooss
JORDAN SPIETH VS. BOBBY JONES
MERION (EAST) ARDMORE, PA.
The immortal Bobby had seen good short games before, but nothing compared with the wizardry Spieth brought at Merion. On a short, tight course made even more confining with 20-yard-wide fairways and juicy, four-inch rough—not the setup Jones experienced in his U.S. Amateur victories there in 1924 and 1930—Spieth repeatedly performed up-and-downs but was still 3 down after 15. Jones drove perfectly at the 16th, the famous Quarry Hole, and after drilling his approach shot over the chasm to 30 feet, banged home the putt for a 4-and-2 victory—the widest margin of victory in The GOAT so far. Spieth's disappointment was palpable, but Jones, ever the sportsman, consoled him with a parting gift of corn whiskey and a suggestion that Jordan sip it while soaking in a warm bath.
GARY PLAYER VS. ERNIE ELS
THE LINKS AT FANCOURT GEORGE, SOUTH AFRICA
Player never was one to conduct psychological warfare, but at a media conference the week before the match, he performed 100 sit-ups, drank a 20-ounce protein shake and said to Els, "Let's see you match that." Els, expressionless, lifted the table off the floor with one hand, guzzled a 32-ounce beer with the other and said to his countryman, "Match that."
They arrived at the par-5 18th level. A glorious third shot to five feet from Player and an even better third from Els to four feet reduced the matter to a putting contest. Player, using the blade putter he'd retrieved from a golf-shop barrel in Japan for $5, rapped his putt home. Els matched him, as he had against Tiger Woods on the same green of their sudden-death playoff at the 2003 Presidents Cup. After Els two-putted for par from 30 feet on the first playoff hole, Player made yet another five-footer for the victory. After the gallery swarmed the green and sang the South African national anthem, "Nkosi Sikelel'iAfrika," Player and Els recounted it as one of the most moving moments of their lives in golf.
SEVE BALLESTEROS VS. HALE IRWIN
OCEAN COURSE KIAWAH ISLAND, S.C.
It appeared that Irwin's calculating style might wear Seve down, but an incident at the par-3 14th hole turned the match in the Spaniard's favor. Irwin, after making a hole-tying par, was asked by Ballesteros if he hadn't inadvertently whiffed his tap-in putt before knocking it in. Irwin took it as a reference to his carelessly whiffing a six-inch putt during the third round of the 1983 Open at Birkdale, where he lost by a stroke to Tom Watson. Irwin replied emphatically, "I did not make a stroke," and Seve accepted him at his word. Still, the query—and the motive behind it—appeared to rattle Irwin. Hale bogeyed the 15th to return the match to all square, and at the 221-yard, par-3 17th, he dunked a 3-iron shot into the water.
At the 18th, Irwin made a gutsy 10-footer for par, and it was up to Seve to hole his par putt to secure victory. The putt was six feet and on the same line that Seve's former Ryder Cup teammate Bernhard Langer faced in 1991. Ballesteros' caddie, Billy Foster, whispered to Seve a reminder that Langer's putt had broken ever so slightly to the right and that this putt would do the same. Seve trusted Foster's read, and he stroked the ball into the center of the cup to advance.
LEE TREVINO VS. RAYMOND FLOYD
HORIZON CITY (TEXAS) G.C.
Floyd popped the trunk of his courtesy SUV outside El Paso and was about to retrieve his clubs, only to find Trevino with them already on his shoulder. "You playing today, mister?" cackled Trevino, who'd done this exact thing in the exact place when Floyd arrived to play their famous money match in 1965. "Not you again," laughed Floyd, who financially had barely survived the showdown with the then-unknown Trevino.
The two Hall of Famers tore into Horizon—one of the easiest tracks in The GOAT lineup—as if it were a pitch-and-putt, combining for 13 birdies and two eagles in the first 12 holes.
Everything rode on the outcome of the par-5 18th. As they each selected fairway woods to have a go at the green, they engaged in brief conversation, only one fragment of which was discernible, Trevino saying, "Let's make that $50,000." An enormous side bet apparently had been riding all along.
Floyd's persimmon 5-wood, which he'd used to devastating effect in winning the 1976 Masters, proved useful again, delivering a shot 35 feet from the hole. Trevino, using his prized Bert Dargie model fairway wood, bounded his shot a mere four feet from the flagstick. Moments later, Raymond's long eagle putt grazed the edge, and it was left to Trevino. As he settled over the ball, he said, "I'm not gonna give myself time to choke," and without hesitation, he rapped the four-footer home.
As the two shook hands, Trevino said, "Raymond, if I had to play you every day, I'd quit golf and rejoin the Marines."
DUSTIN JOHNSON VS. SAM SNEAD
OAKMONT (PA.) C.C.
Sam rarely looked across the first tee and saw an opponent who was his athletic equal, but in Johnson he saw an extension of himself. When Sam, loosening up, pressed his palms on the ground while standing upright—without bending at the knees—Johnson smiled and did the same. Sam, who won the 1951 PGA Championship on this course, was rolling the ball beautifully and took a 2-up lead.
Johnson, who won the 2016 U.S. Open at Oakmont, battled back, but Snead displayed his killer instinct at the par-4 17th. On one of the great drivable par 4s in golf—and one of the most dangerous—Snead hit a towering cut driver to six feet, and the birdie that followed gave him a 2-and-1 victory.
PETER THOMSON VS. TOM WATSON
ROYAL BIRKDALE G.C. SOUTHPORT, ENGLAND
Thomson and watson won five Open Championship titles apiece, second only to Harry Vardon's six. They both had captured a claret jug at Royal Birkdale, a test as honest and straightforward as the players. It was anybody's game until the par-4 16th. There, Watson did a very Watson thing, chipping in for birdie and a 1-up lead. Two excellent shots from Thomson at the par-5 17th set up a simple third shot and a birdie, but Watson matched him. At the 18th, Thomson received a terrible break, his drive coming to rest in the bottom of a deep, unrepaired divot hole. "Tommo" played a masterful recovery to 20 feet, but the par that resulted only matched Watson's.
Thomson was asked if he had immediate plans going forward. Tapping his wristwatch, he said, "Tom and I are going in for a late breakfast, which is possible because we played 18 holes in under three hours."
BEN HOGAN VS. BYRON NELSON
WHISKEY RANCH FORT WORTH
The plan had been for the Fort Worth rivals to play at Glen Garden Country Club, where they had caddied as youngsters. But when they arrived and found some of the 112 acres had been transformed into a whiskey distillery, teetotaling Byron blanched. Hogan noted that the course had been altered to a par of 68. But Nelson said, "Ben, seeing as you're here and I'm here, let's just play." The Hawk, eager to avenge his loss to Nelson in a long-ago Glen Garden caddie championship, agreed. Hogan birdied the 15th to take the lead, then matched Nelson's birdie on the 18th for a 1-up win. "There's still time for some practice," Hogan said. "I hear that Palmer fella doesn't lie down for anybody."
ARNOLD PALMER VS. MICKEY WRIGHT
BALTUSROL (LOWER) G.C. SPRINGFIELD, N.J.
After wright had dispatched Bobby Locke in the Round of 32, the specter of her defeating Palmer prompted the media's battle-of-the-sexes story line to accelerate. In 1961, Wright had won the third of her four U.S. Women's Open titles at Baltusrol, and Palmer's loss to Jack Nicklaus at the 1967 U.S. Open there left scars that never fully healed.
Playing from a shorter set of tees—terms Wright reluctantly agreed to—she took a 2-up lead through 10 holes. But birdies at the 11th, 12th and 13th gave Palmer a 1-up lead, and birdies from long range at the 16th and 17th ended the match, 3 and 1.
"If I felt pressure like that every time I played golf," Palmer said, "I'd climb right back on that tractor for good."
PHIL MICKELSON VS. WALTER HAGEN
MUIRFIELD SCOTLAND
On the 17th tee, Hagen, in a mild display of gamesmanship at 1 down, asked Phil for his thoughts on advances in deep-space exploration, but Mickelson responded with silence and blistered a 320-yard drive. With the par-5 hole easily within Mickelson's reach, Hagen gambled with his second and hit his ball against the lip of a greenside bunker. The wonders of the 64-degree sand wedge unknown to Hagen—he later gasped when Phil showed him his—Sir Walter took two shots to escape, handing the match to Phil, 2 and 1.
Mickelson, in a typical display of generosity, offered Sir Walter a ride home on his jet, but Hagen demurred, noting he preferred to go by luxury cruise line. Said Hagen: "Don't hurry, don't worry, and don't forget to smell the flowers along the way."
GREG NORMAN VS. TIGER WOODS
FIRESTONE C.C. AKRON, OHIO
Tiger arrived looking tense. He had won at Firestone a staggering eight times, but it wasn't lost on him that Norman had won there twice.
There was brief, comedic relief on the 14th, when two overserved spectators—one dressed in a shark costume, the other in a tiger suit—engaged in a hapless brawl. As Akron police hauled the miscreants away, Norman, smiling broadly, pointed at Woods from across the fairway and playfully put his dukes up, but Tiger was having none of it. He grimly made par at the 14th to keep it even, then stiffed a 2-iron at the par-3 15th to take the lead. Tiger then swung all-out on the 667-yard 16th, an incredible drive catching the downslope. An equally stupendous second put him on the green, and the two-putt birdie made him dormie. A halve at the 17th—Norman lipped out a long birdie try—gave Tiger a 2-and-1 decision.
JACK NICKLAUS VS. RORY MCILROY
SCIOTO C.C. COLUMBUS, OHIO
Mcilroy's camp howled in protest when informed he would play Nicklaus on the course where Jack grew up. Rory silenced them, announcing he was capable of beating anyone, anywhere. But right away, Rory ran into problems, and Nicklaus won three of the first five holes and went on to win, 4 and 3.
"If that were a football game and I was Woody Hayes, I'd tell you it was closer than the final score indicated," Nicklaus said back at the clubhouse. "If that young man gets it together, he has 10 majors in him."
BOBBY JONES VS. GARY PLAYER
ROYAL LYTHAM & ST. ANNES ENGLAND
To commemorate Player's 1974 Open victory at Lytham, local golfers, for a $500 donation to charity, were invited to re-create Player's famous left-handed shot with a putter near the clubhouse at the 18th green. To honor Jones' 1926 Open conquest, amateurs were challenged to copy Bobby's incredible mashie shot at Lytham's 17th hole, near the plaque planted there in his honor.
The match was level as they played the par-4 17th hole. With Jones safely on the green in two, Player hit his second shot into deep rough near the green, precisely as he'd done in 1974. In that Open, Player's ball was found only seconds before the five-minute time limit for search had expired. This time, the ball was found inside four minutes. Player's caddie, Alfred (Rabbit) Dyer, said, "Found it, Boss!" But the walking officials, Joseph C. Dey of the USGA and Sir Michael Bonallack of the R&A, informed Player that the time limit, reduced to only three minutes under the updated rules, had been surpassed. Player conceded the hole, and a halve at the 18th meant Jones had prevailed, 1 up. "I'm sorry for Gary," Jones said. "He truly was a dogged victim of inexorable fate."
SEVE BALLESTEROS VS. LEE TREVINO
PINE VALLEY (N.J.) G.C.
At the conclusion of his practice round, Seve looked tight-lipped and worried. In a brief interview, he informed reporters he was removing the driver from his bag and replacing it with the 1-iron he'd used at Oakmont at the 1983 U.S. Open. Pine Valley's fairways, he said, were expansive enough, but a big miss off the tee meant an automatic bogey or worse.
Trevino, meanwhile, was a portrait of relaxed confidence, his cap tipped back on his head as he spewed one-liners to anyone who would listen. "If I were driving it any straighter, I'd put the laser companies out of business," he said. "If I lose, the snapper soup's on me."
Trevino led 1 up after nine holes, not missing a fairway. At the par-3 10th, Ballesteros went 2 down when he failed to escape from the tiny pot bunker fronting the green. "Odio el gilipollas del diablo," Seve hissed. Trevino translated for onlookers: "That's Spanish for, 'I hate the Devil's A-hole.' "
Seve hung tough and squared the match at 17. At the par-4 18th, with the flagstick positioned at the front of the green, Seve played a towering 6-iron to four feet. Trevino, out of his element when he tried to hit the ball high, thinned his 6-iron into a front bunker. Lee Buck exploded out to 20 feet, but after he missed his 20-footer for par, he conceded the hole and the match to Seve.
SAM SNEAD VS. TOM WATSON
THE GREENBRIER (OLD WHITE TPC) WHITE SULPHUR SPRINGS, W.VA.
Returning to the haunt where he'd played countless rounds, Snead carelessly fell victim to The Greenbrier's vast number of nongolf activities. At the gun club, he entered an impromptu trap-shooting contest—which he won—then, rather than practice, spent two more days engaged in falconry, bowling (where he rolled a 262), fly-fishing and even pickleball.
Watson, meanwhile, was all business. But this was the course where Sam had shot 60 an incredible six times, three-putting the 18th hole on each occasion. Beginning at the 11th hole, the Slammer made four consecutive birdies to go 2 up. At the tee of the 229-yard, par-3 15th, Sam noted that over the years he had made holes-in-one with every club in the bag except the putter. Using a 2-hybrid, his shot caromed off the flagstick and stopped a foot from the hole. Snead doffed his Stetson straw hat and said, "I reckon I pulled that one a bit." Watson birdied the 16th hole to return Snead's margin to 2 up, but another birdie by Sam at the 17th completed a 3-and-1 victory.
BEN HOGAN VS. ARNOLD PALMER
CHERRY HILLS (COLO). C.C.
Hogan's style was to express graciousness on the first tee and then proceed to coldly tear his opponent apart. At Cherry Hills, site of Hogan's heartbreaking loss at the 1960 U.S. Open—and the venue where Arnold won his only U.S. Open title—Hogan showed no deference to Palmer.
"Good luck, fella," the Hawk said, knowing Arnold loathed being addressed by anything other than his name. "Same to you," Palmer said, gripping Hogan's hand in a grasp so firm the blood drained from Ben's fingernails.
The tees on the first hole were moved forward slightly, an invitation for Arnie to drive the first green, as he had in the final round of the 1960 U.S. Open. But Arnold lost the hole with a par to Hogan's birdie.
With Hogan still 1 up after 13, Palmer blasted his longest drive of the day, outdriving Hogan by 35 yards. "I think you're away," Arnold said as he strode by Hogan's ball. The Hawk bore down and hit a 5-iron to 10 feet, but Arnold had only a 9-iron left, and another birdie drew the match to even. Three gritty pars followed by each player, and they came to the 18th all square. With water down the left side, an accurate tee shot was crucial. Palmer, holding the honor, creased the fairway with his driver yet again. Hogan, attempting to hit a draw, curved the ball too much, his ball stopping just inches from the water. Hogan had to pitch left-handed back to the fairway, and when Palmer won the hole, Arnold scaled his visor into the air, just as he did in 1960.
Of his fateful tee shot on 18, Hogan reiterated his comment from 1955: "I hate a hook. It nauseates me. I could vomit when I see one. It's like having a rattlesnake in your pocket."
PHIL MICKELSON VS. TIGER WOODS
TORREY PINES (SOUTH) LA JOLLA, CALIF.
The sharp-edged banter that was noticeably absent in the made-for-TV "The Match" was in full force. When Phil chunked a pitch during their warm-up, Tiger said, "I've got a tip that can cure that." Replied Phil, "I've heard about your tipping habits—no thanks." The mood when they teed off was chilly, as in days of yesteryear.
With a 1-up lead at the par-5 18th, Tiger unleashed a gargantuan tee shot, but Phil, his drive bunkered, was forced to lay up. After Tiger found the green with his second, Phil duplicated what he'd done on the 72nd hole of the Farmers Insurance Open in 2011: He instructed his caddie, Bones Mackay, to go forward and attend the flagstick. Alas for Phil, his wedge approach stopped 20 feet above the hole. When Tiger rolled his eagle putt to within inches of the cup, Phil conceded the hole and the match, 2 up.
At that moment, all animosity, real and imagined, between the two best players of their era, disappeared. Said Tiger to Phil, "You're the best I ever played against."
JACK NICKLAUS VS. BOBBY JONES
WINGED FOOT G.C. (WEST) MAMARONECK, N.Y.
His entire career, Jack Nicklaus idolized only one golfer: Bobby Jones. Even after Nicklaus surpassed Jones' majors count of 13, Jack's reverence for him never abated. Thus it was no surprise when Jack, at Winged Foot, appeared slightly diminished in another golfer's presence.
The Emperor Jones was 3 up after nine, but Nicklaus squared the match before conceding the 16th after he inadvertently caused his ball to move in the rough while picking away a leaf just behind it. No one else saw it happen. "That was sporting of you, Jack," Jones said on the way to the 17th tee. Replied Jack: "Bob, it's like you said—you might as well praise a man for not robbing a bank."
Nicklaus birdied the 17th to even the match. At the par-4 18th, both players were on in two, Jones 12 feet from the hole, Nicklaus 10 feet. Jones' putt was the same distance and on the same line as the putt he faced to tie Al Espinosa for the 1929 U.S. Open. Jones had holed that one, then won the 36-hole playoff the next day.
Jones missed the putt on the high side, and it was left to Nicklaus. As Jack stalked the putt from all angles, Jones whispered to his friend, the great golf writer, O.B. Keeler, "I hope you have our train tickets back to Atlanta ready, because this putt is as good as in." Jack, assuming his low crouch and as always putting with his golf glove on, drilled the putt dead center. He had defeated his idol, 1 up.
"There's a new emperor in town, and his name is Nicklaus," said Jones, loosening his necktie and accepting a cocktail. "I don't think two of me could have handled Jack today."
SEVE BALLESTEROS VS. SAM SNEAD
AUGUSTA (GA.) NATIONAL G.C.
The decisive moment of the match came with Seve 2 up at the par-5 15th. With Snead on the green in two, Ballesteros confronted a treacherous lie similar to the one he faced for his second shot in the final round of the 1986 Masters. On that occasion Seve feebly dunked a 4-iron into the water. This time he chose a 5-iron, and with a swing so aggressive it unseated his visor from his head, he struck a magnificent shot to within five feet of the hole. When the eagle putt fell, he was 3 up with three to play.
Snead attempted a diversionary tactic at the 16th tee, inviting Seve to join him for a drink of water at the fountain there. The ploy had worked on Ben Hogan at the 14th hole during their famous 1954 Masters playoff, but Seve steamed past him like a bull charging through a matador's cape. He swiftly struck a 7-iron to 10 feet and closed out the Slammer, 3 and 2.
ARNOLD PALMER VS. TIGER WOODS
BAY HILL CLUB & LODGE ORLANDO
The fact that Arnold Palmer owned Bay Hill, was royalty there, and even won there in 1971, was mitigated by one fact: Tiger Woods won eight times at Bay Hill, frequently with outrageous ease. Arnold liked Tiger and had worn his hand raw patting him on the back after his many victories, but when Arnie's Army greeted him with a thunderous ovation on the first tee, his competitiveness came out. "I hope you brought your 'A' game today," he said, "even if these people are hoping you bring something less."
"I'm humbled, Arnold," Tiger said. "Let's show them what we can do."
At the par-5 sixth, Tiger carried the menacing lake, then hit his approach to five feet for an eagle that gave him a 1-up lead. At the par-5 12th, Arnold threaded a low 3-wood onto the green, 20 feet from the hole. He rammed the eagle putt home with his rear-shafted blade putter to even the match, drawing a roar from his supporters.
Tiger, unfazed, knifed a wedge to three feet at the par-4 13th. There, a disruption occurred.
As Tiger stood over the birdie putt, a fan's camera clicked audibly. Tiger's caddie, Steve Williams, who was filling in for an injured Joe LaCava, seized the device and hurled it into the water near the green. Arnold frowned at the act, and so did Tiger. But Woods recovered, made the putt, and was back to 1 up.
Woods went 2 up with another birdie at the par-3 14th. The King had a 10-foot birdie putt for a win at the 15th and a 20-footer for eagle and a win at the par-5 16th, but neither putt fell. Arnold buckled at the knees in anguish after both misses. When Tiger hit a 4-iron to 25 feet at the 17th and executed a routine two-putt for a halve, the 2-and-1 victory sent Tiger to The GOAT final.
JACK NICKLAUS VS. SEVE BALLESTEROS
ST. ANDREWS (OLD) SCOTLAND
When jack appeared on the tee wearing a replica of the argyle sweater he wore during his 1978 Open Championship victory at St. Andrews, cheers erupted from the gallery and the florid-faced denizens inside the R&A clubhouse. Seve, making his plea for special mojo from the golf deities, arrived in the same navy-blue, V-neck sweater he'd worn when he won the Open at the Old Course in 1984. Such a din was unusual at the Home of Golf, and starter Ivor Robson had to raise his voice so the introductions could be heard.
Seve took a 2-up lead with a birdie at the first and a chip-in for birdie at the difficult fourth. Ballesteros sustained the margin through nine holes, his ball-striking far better than many anticipated. "He's out-Nicklausing Nicklaus!" said TV commentator Henry Longhurst, briefly setting down his martini.
Nicklaus bludgeoned a driver to the heart of the green at the par-4 10th, then evened the match with another birdie at the par-3 11th. Jack took his first lead at the 14th when Seve found Hell Bunker—his first serious tactical miscue—and took four to reach the green. That gave Nicklaus a 1-up lead going to the par-4 17th, the famous—and infamous—Road Hole. With Nicklaus on the green, Seve played a low, running hook that drew too much. His ball didn't merely find the Road Hole Bunker, it nestled close against its sod face. Seve's most lofted wedge was 56 degrees, and not even his imagination and gifted hands could save him. When Seve failed to escape on his second try, he emerged from the bunker and offered a congratulatory handshake to Jack. The St. Andrews townsfolk, awed by the drama of the match, hoisted both players on their shoulders, as they had Bobby Jones at the 1927 Open Championship at the Old Course. They carried them all the way to the clubhouse.
What would happen if Tiger Woods played Jack Nicklaus in their prime? Mark Frost will create the mythical final at Pebble Beach in the June issue and on April 4 at golfdigest.com. If you don't get the winner you prefer, not to worry: The first 1,000 respondents emailing us at goat@golfdigest.com will get the "right" winner of the print edition mailed to them, or you can email us at that address to get the digital version.