The Loop
The first-round resumed Friday—without spectators—at Oakmont
OAKMONT, Pa. – Suppose they held a U.S. Open and no one came? That's sort of the way it was Friday morning when the weather-delayed first round resumed at 7:30 a.m.—with no spectators.   Because of flooding in some spectator parking lots, the gates for the public were closed until 8 a.m. By 7, long lines snaked their way from the front the gates out onto the street outside Oakmont Country Club.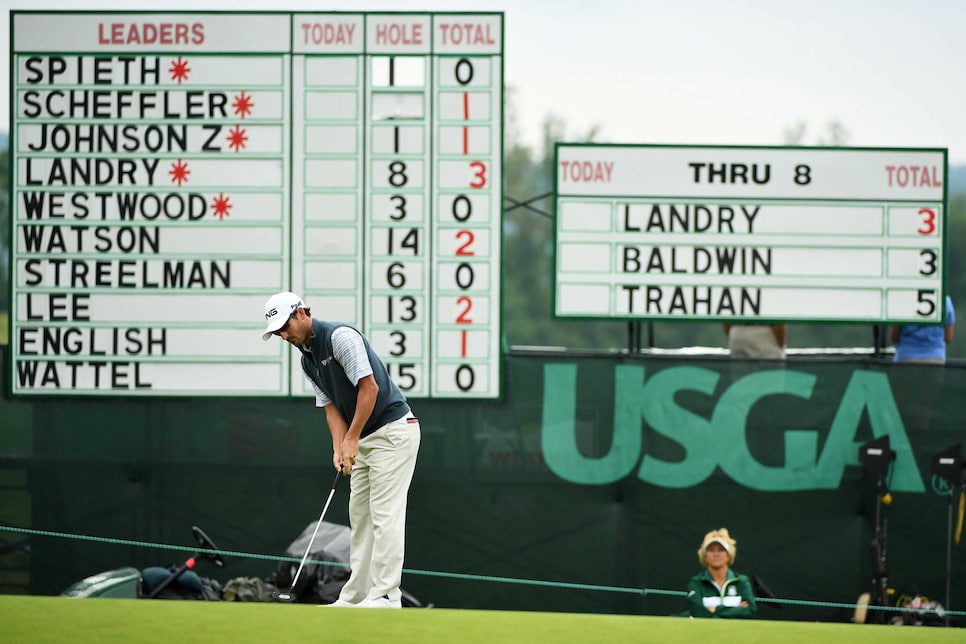 Here's what you need to know as play resumes:   Only nine players finished round 1 on Thursday, so the other 147 players either have to go back to where they were when the horn suspended play for the third and final time at 4:25 p.m., or begin their first round later.   The plan is for the afternoon wave of the first round to begin at 8 a.m. and, if things go well, the second round should start about 1:45 p.m. Friday. The second round resumes at 7:30 a.m. on Saturday and, after the cut to low 60 and ties, the third round will begin at 1:45 p.m. on Saturday in threesomes off he first and tenth tee.   All of this was made necessary by 1.2 inches of rain that fell during the daylight hours on Thursday and another 1.1 inches overnight.   Volunteer golf course superintendents were on hand from all over the area and began work at first light restoring bunkers and doing other maintenance work to get the course ready.
When played resumed Friday morning, overnight leader Andrew Landry (above) extended his advantage to two strokes when he rolled in his 10-foot birdie putt on the ninth hole, his final one of the first round. Landry's four-under 66 is the lowest first round score ever shot in an Open at Oakmont.
The good news for fans in all of this—at least for those not on property and watching at home—is that Fox Sports 1 (FS1) will go on the air at 8 a.m. ET and give continuous coverage until 5 p.m. and Fox will pick up the coverage until 9 p.m.   Sunset in this area is 8:55 on Friday with twilight lasting until 9:10 p.m. The forecast is mostly good: a 20-percent chance of rain until noon and then we are out of the woods—or rather the raindrops—for the rest of the tournament.