The Loop
The first golfer to use deer-antler spray from S.W.A.T.S? It's not who you think
The first golfer to use deer-antler spray provided by S.W.A.T.S. (Sports With Alternatives to Steroids) founder Mitch Ross wasn't looking to gain a competitive advantage or extend his career.
Ken Green instead was trying to find relief from the mind-numbing pain he dealt with daily after an RV crash in 2009 killed his brother and girlfriend and led to his lower-right leg being amputated.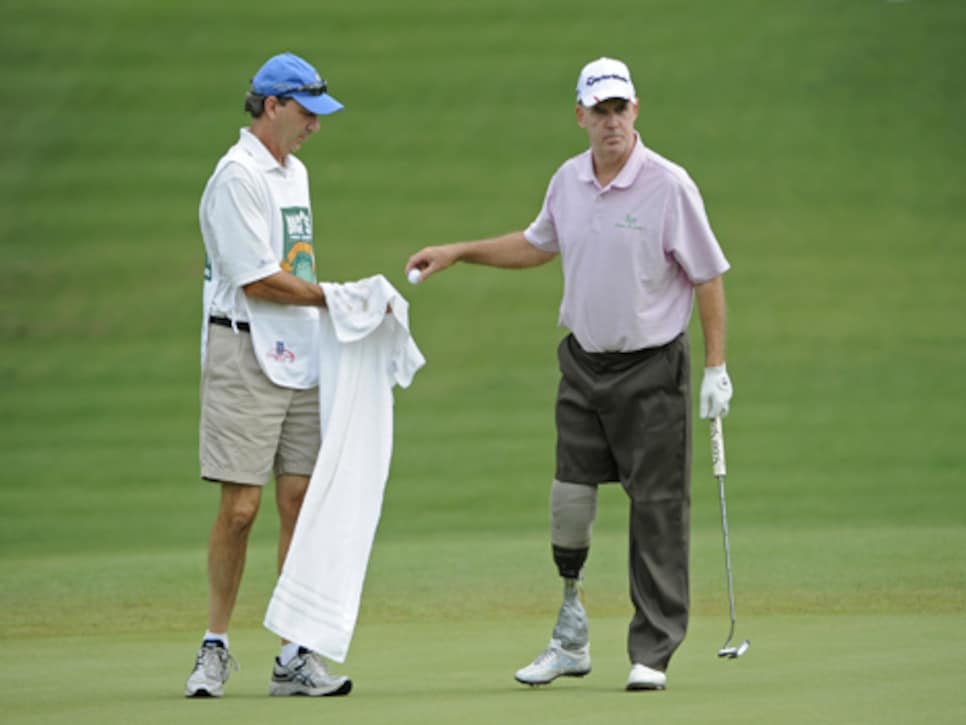 *Green tried using deer-antler spray after his 2009 accident. Photo by Getty Images.
"Mitch had read about my issues and the pain problems I was having, so he contacted me in December of 2009," Green said Thursday from his West Palm Beach home. "My feeling was I was willing to try anything to help with the pain."
Three years later, Vijay Singh said he tried Ross' product, which eventually led to him filing a lawsuit Wednesday against the PGA Tour, charging the Tour with violating its duty of care and good faith while it investigated his use of the deer-antler spray.
Green unwittingly provided Singh with some ammunition in his lawsuit when in early 2010 he told his buddy Mark Calcavecchia about the deer-antler spray to help with Calcavecchia's chronic back and wrist injuries. Calcavecchia said he used the product for six weeks -- a claim Singh's lawyers cite in his lawsuit -- before the PGA Tour told Calcavecchia to stop using the product because it was on the tour's list of banned substances.
Green, who has used a prosthetic leg to compete in seven Champions Tour events since the accident, said he regrets drawing Calcavecchia into the controversy.
"I wish it hadn't happened," Green said. "Anytime you put someone in a bad situation, you feel bad about it. I didn't know enough of the story when it comes to the Tour. I was never worried about what was in the product (because he had no idea he would play again)."
Asked what he thought about Singh's lawsuit and the timing of it -- coming the day before the PGA Tour's signature event, the Players -- Green didn't mince words.
"It's clearly personal for him to do it the Wednesday before the TPC. Vijay has had his issues with (PGA Tour commissioner Tim) Finchem before. They've butted heads before," said Green, who also had his share of head-butting with the tour's commissioners during his 20-year career that included five PGA Tour wins and a Ryder Cup appearance.
"It's clearly a way of sticking it in Finchem's face," Green continued. "The Golf Channel seems to be concerned about how the players will react. I can promise you Vijay doesn't care what the players think."
While Green admits he was skeptical about Ross' product -- "Did I honestly think spraying something in my mouth and putting little chips on my body would help? No." -- he says he did receive a level of relief with his left ankle that was shattered in the accident.
"Honestly, I can say my ankle was a little better," Green said. "It didn't relieve the problem totally, but I got a drop in the pain. After about two or three more months, I stopped using both products."
The pain is still there. That's why the 54-year-old Green underwent another surgery last week to "relocate" a pair of nerves in his upper right leg that were causing constant misery. Green said that was the 11th surgery since his accident, along with eight other "procedures."
"I'm not sure if this is going to work," Green said, "but I'm encouraged by what I'm feeling."