Editor's Note: This article first appeared in Fire Pit Collective, a Golf Digest content partner.
Christian Bartolacci stood over a 26-foot birdie putt on the 36th and final hole of the North Florida Section Championship at The Club at Hammock Beach. Make it, and he would punch his ticket to the National PGA Professional Championship with a chance to earn a spot into the PGA Championship. Miss it, and the wait to see if his score would hold up would be excruciating. Before he struck the putt, he did something he had never done. He said a prayer. As the ball left the putter, Bartolacci thought he had missed. But then the ball inexplicably broke right and fell into the hole. As the ball fell, he clenched his fist and tears started to fill his eyes. He had holed the biggest putt of his life. On the cart from the 18th green to the scoring area, he called home to his wife, Kimberly. "We are going to New Mexico (the site of the national tournament)," he said excitedly. Tears flowed on both ends of the call. Finally, the Bartolaccis had something to look forward to. Kim was in her bed when the call came in, unable to get up from the latest treatment in her battle with Stage 4 liver cancer.
The West Florida Tour is a staple in a world where mini-tours come and go. Bartolacci has owned the tour for 12 years. It was his way to stay connected to a game he loves after falling short of his dream of playing for a living. Erik Barnes and Adam Schenk are just a few of the countless players who have competed on the WFT on their way to the PGA Tour. The tour hosts one- and two-day events on excellent courses and offers reasonable entry fees. "The West Florida Tour extended my career by two years," says Chris Kennedy, a former pro. Adds Sean Jacklin, the son of two-time major champion Tony Jacklin, "When I qualify for something, Christian is always one of the first people to call me. He's always rooting for us." The West Florida Tour checks all the boxes.
Christian and Kimberly met on a cruise to the Bahamas in 2010 and were married two years later. Perry, whom Kim calls "the center of my universe," was born in 2018. They purchased a home on one of the many courses on which the West Florida Tour plays events. They were living the American dream. Kimberly worked in interior design, her passion since she was a child. But on Oct. 21, 2021, their world started to unravel.
Kimberly was at Hartsfield-Jackson Airport in Atlanta after an exhausting couple of weeks of work in North Carolina. By the time she boarded her flight home, the pain that had started as a stomach ache almost paralyzed her. "It took every ounce of strength to just get on the plane," Kimberly recalls. "I just concentrated on putting one foot in front of the other." She somehow made it through the 90-minute flight home. Christian met her at the airport, and as soon as she got in the car, Kimberly began vomiting profusely.
Despite the obvious concerns, the Bartaloccis headed home; at 39 years old and in good health, Kimberly chalked up the ailment to overworking at the trade shows she had attended the previous two weeks. But the pain only intensified, and after Christian took Perry to preschool, the couple headed to an emergency room in Sarasota.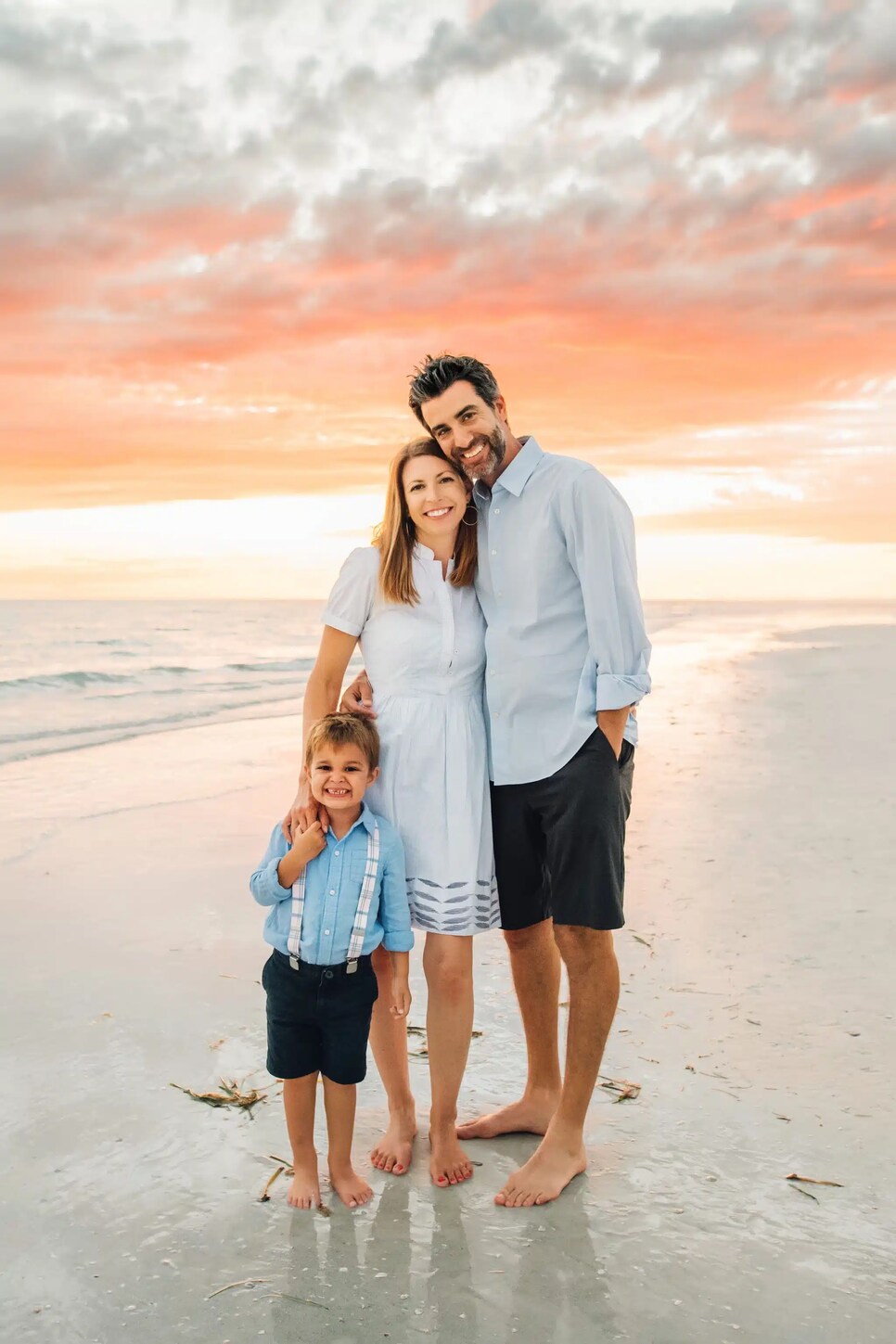 Kimberly with her husband, Christian, and son Perry.
Kimberly and Christian still believed she was suffering from exhaustion or dehydration. After a CT scan, however, doctors discovered what they believed was a non-cancerous tumor on Kimberly's liver. It had burst. She needed emergency surgery, but the hospital didn't perform such procedures. Doctors suggested a hospital in Largo, 52 miles away. Because of the urgency of the situation, arrangements were made for Kimberly to be airlifted.
The four-hour surgery went well, and surgeons believed the tumor was non-cancerous. Kimberly spent five nights in the hospital and went home with renewed hope that the nightmare was behind her. But when she returned to the hospital a week later for a follow-up visit, she saw a paper in her file that said "malignancy." "I didn't even know what that word meant a couple of weeks ago," she says, "but now I knew it was bad." In his office the following day, the doctor confirmed the Bartaloccis' concerns; the tumor was, in fact, cancerous. At the same time the doctor believed the entire tumor had been resected.
Then last Jan. 27, during a three-month followup visit, Kimberly and Christian received devastating news: "You have Stage 4 cancer. It has spread to your stomach. We don't know how many tumors there are. There are too many to count." The words hit like a brick. Kimberly and Christian sat in cold metal folding chairs, unable to speak. The rest of the meeting was a blur. Treatment options were discussed but not processed. Kimberly and Christian drove home in silence.
The ensuing 11 months have been filled with promising treatments, only to be followed by more devastating news. The first trip was to Moffitt Cancer Center in Tampa Bay, where Kimberly received a three-month immunotherapy treatment. It wasn't effective. The weeks that followed were spent exploring treatment options and navigating the medical insurance bureaucracy. Last May, Kimberly was approved for a clinical trial, but the side effects were so devastating she had to stop. Her weight dropped under 100 pounds. Another drug was effective for a short time, but blood tests revealed the tumor was growing again.
Christian made golf his escape. "For the first time in a long time, I enjoyed being on the golf course," he says. "I put too much pressure on myself, and now golf didn't matter. I made myself enjoy it." The players whom Christian was closest with knew he was struggling, but he continued to run the tour.
Throughout the dark times, the Bartolaccis have been overwhelmed by the outpouring of support. Countless players have rallied around them. Kimberly's boss has been more than supportive. Friends and family help with Perry and meals. When her health wouldn't allow Kimberly to fly commercially, the parent of a player who has competed on the West Florida Tour for years loaned his jet for a trip to Houston.
In December, Kimberly was cleared to receive a drug that was recently FDA-approved. Treatment will begin this week. She also is headed to Mexico for a full-body three-week holistic procedure. The medical bills have piled up, and the out-of-pocket cost for the holistic treatment alone will be $40,000.
Last August, the North Florida Section Championship rolled around as it always does. There on the 1st tee was Christian Bartolacci. He had played in the event four times previously, but this time would be different. Kimberly encouraged him to play. They longed for something to look forward to, and the opportunity to secure a trip to nationals offered just that. Christian opened with an even-par 72, leaving himself three strokes out of a qualifying spot. On the second day, he played nearly flawless golf. Heading to the final hole, he had made three birdies against just one bogey. The 18th hole at the Tom Watson-designed Conservatory course at The Club at Hammock Beach is a 603-yard dogleg-left par-5. The entire left side is lined by water. Bartolacci assumed he needed birdie (it turns out a par would have put him in a five-person playoff), and a good drive and layup left him a 80-yard wedge shot. He didn't hit his best shot, but he had a chance from 26 feet. "I don't fully believe in things like that," he says, "but all I can tell you is that it broke in a different direction than I thought, and it went in." For the third time in his career, Christian will go to the PGA Professional Championship in late April, with a chance to earn his place in the PGA Championship for the first time. Kimberly plans to be there.
"I was the 1 percent of my age group that contracted cancer," she says. "I plan to be the 1 percent that beat it."
Kimberly's friends have set up a GoFundMe to help with the mounting medical bills. The link is here.