News
The FedEx Cup will be better off conceding the fall to football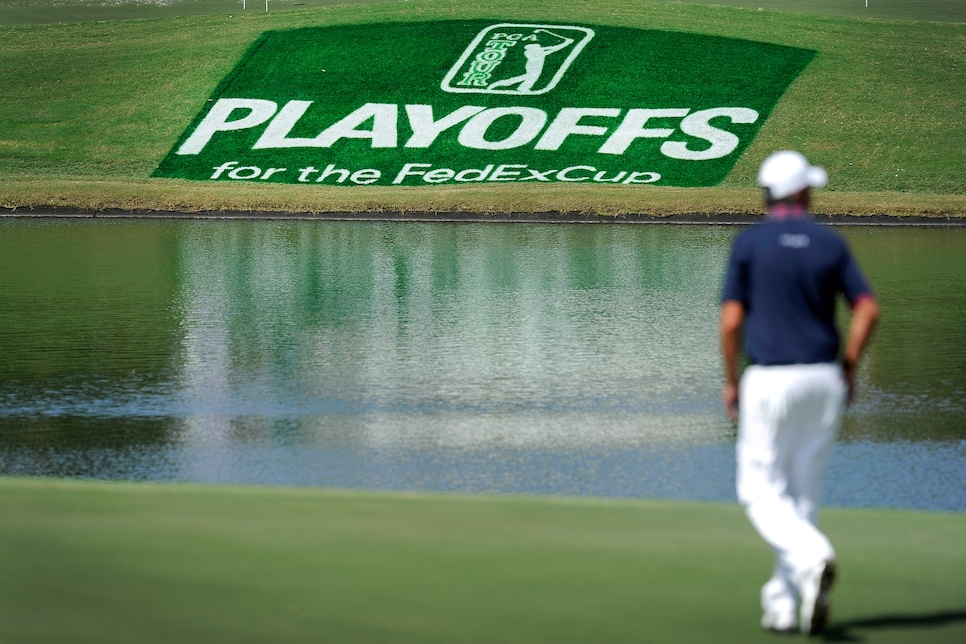 Photo By: Stan Badz/Getty Images
You can sense it. The refreshing chill that says fall is coming. Sports radio heavy on jargon like "the nickel", "cover two" and "back shoulder." Balding men wearing numbered jerseys. Bright and bombastic television promos. And, yeah, all that chatter on the driving range and in the grillroom.
Football is here. Pushing golf further into its corner of the sports world. Even though we are in the midst of the FedEx Cup.
Which is not an indictment of the PGA Tour's season finale. I would never say it's perfect. But it was decidedly more imperfect when it began in 2007. Since then, progressive and thoughtful tweaking has gotten it to where it's pretty darn good.
The right players qualify. They are pared down fairly. The game's stars, by and large show up. It's an impossibly subjective evaluation, but the "playoff" process ending with the Tour Championship affords those who have performed the best in the run-up and those who can seize the moment an equitable opportunity to win an extra $10 million.
Sure, the point system is complex and confusing. Basically, I trust the tour to make it as fair as it can. The decreasing number of player complaints is a validator, and history shows that the most deserving player usually wins.
I don't buy the idea that the FedEx Cup is not a "real" playoff because it allows for players to take a week – or theoretically even two – off and still win it. Sure, endurance is part of golf, but playing when hurt or tired can have serious repercussions in careers in which the long term is the priority. A little injury in golf is a big injury, and mental burnout is a real thing. A golfer's ability to peak for the right moments is a more important strength, so as long as a player believe he is giving himself his best chance to get to East Lake and win the thing, I'm good.
In short, the FedEx Cup is far from broken or in need of overhaul. It's the best way ever devised to end what would otherwise be an endless season. It works.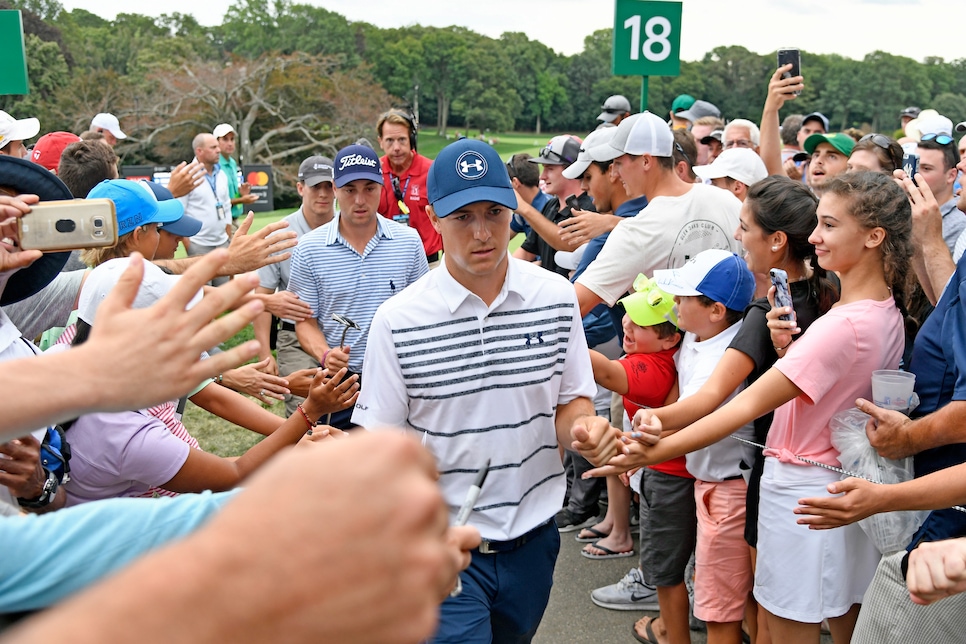 But now that we know the PGA Tour season will be different in 2019—when the PGA Championship will move to May and open up the month of August—it's very clear the biggest tweak the FedEx Cup needs, and has always needed: ending before the NFL regular season starts.
I love just about all sports, but especially golf. Playing it, of course. But watching it, trying to think and feel along with the best players, trying to figure out what it takes and what it's like to be so good—it all continues to fascinate me.
But medal-play tournament golf is just about the hardest game to watch as a live spectator. And it's definitely the hardest major sport to televise. The playing field is so vast, the minute but important details in terrain and lie and wind so hard to pick up, the ball so little and the distance it travels so far. And because there are so many competitors and a streak of poor play by a contender is so common, nothing except the cut is truly decided until the final day of competition. In golf, you wait—not just to determine the winner, but before just about every shot.
Which is not to say golf's coverage doesn't keep getting better. The announcers more insightful and personal, technical innovations like shot tracker, close-up slow motion, instant launch-monitor readings and Shotlink analytics allowing the viewer to better see and understand. And the increased post-game commentary—on Golf Channel and elsewhere—brings added depth.
But compared to the gladiatorial essence of football, golf is a cross-country foxhunt. There's no comparison between in the level of athleticism, desperate physical effort and, yes, violence. Football is spectacle, and absolutely made for TV. The time between plays allows for both anticipation and analysis, with replays seemingly available for every player on the field through what might be the world's most thorough surveillance system. Golf is about nuanced skills and execution that, very often, can only be observed and appreciated by the player and possibly his caddie.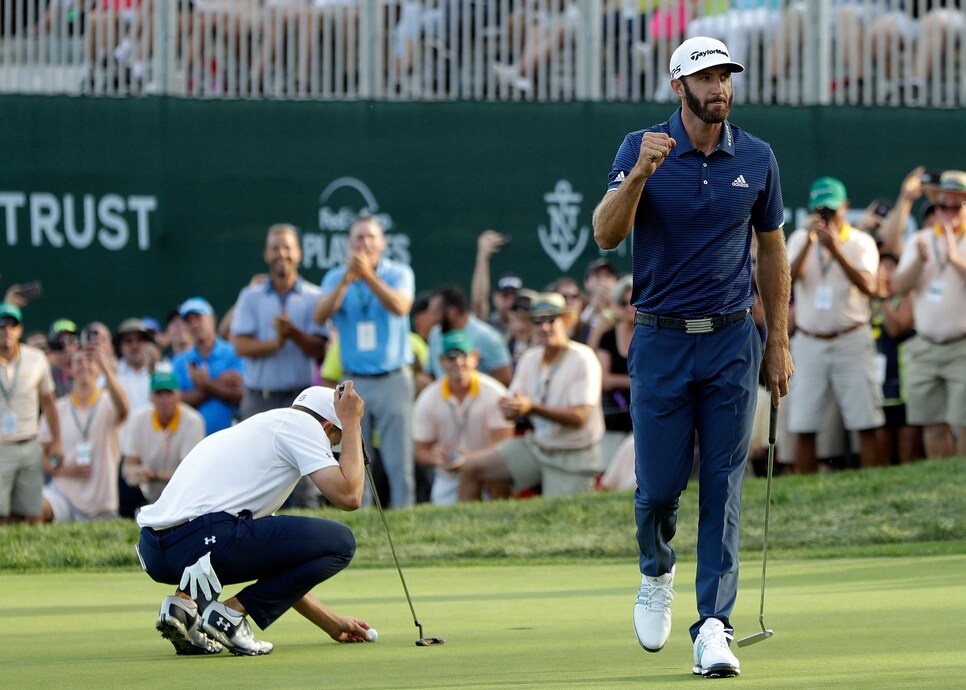 These distinctions are why the PGA Championship moved to May. By opening up August for the FedEx Cup playoffs, the Tour Championship can be completed before the NFL's opening day. Sure, there will still be tournaments played in September, which aficionados will watch. But nothing major except the Ryder Cup and the Presidents Cup, whose team format, mano-a-mano format and desperate stakes make those matches the closest golf gets to football.
If all his sounds blasphemous to golf readers, it shouldn't. College and pro football (followed by basketball and baseball), is the lingua franca of pro golfers, the sport they prefer to watch above their own. Many of them grew up aspiring to be a big-time team sport athletes before realizing they were best suited to golf, and an intense identification with their favorite teams remains. For his classic golf book, "A Good Walk Spoiled," author (and Golf Digest contributor) John Feinstein employed his vast knowledge of basketball, football and baseball to break the ice and get to know the tour pros he would spend many hours interviewing. And if golfers didn't love watching football, would The Loop on GolfDigest.com – devoted to the conversational topics of people who play golf – have so many stories about football?
I say all this after enjoying the first two FedEx Cup events in New York and Boston, and looking forward to this week's BMW Championship in Chicago.
The tournament will be up against a full slate of college football and Week 2 of the NFL, so the ratings probably won't go beyond the small but affluent niche audience that title sponsors know they can count on. But the FedEx Cup sponsors will like the product better in August, and so will a broader audience.
Before it became possible, golf was in denial about the value of getting away from football. Now that it's happening, there should be no shame. It's the right call.