The Family Issue: Parneviks Drive Ratings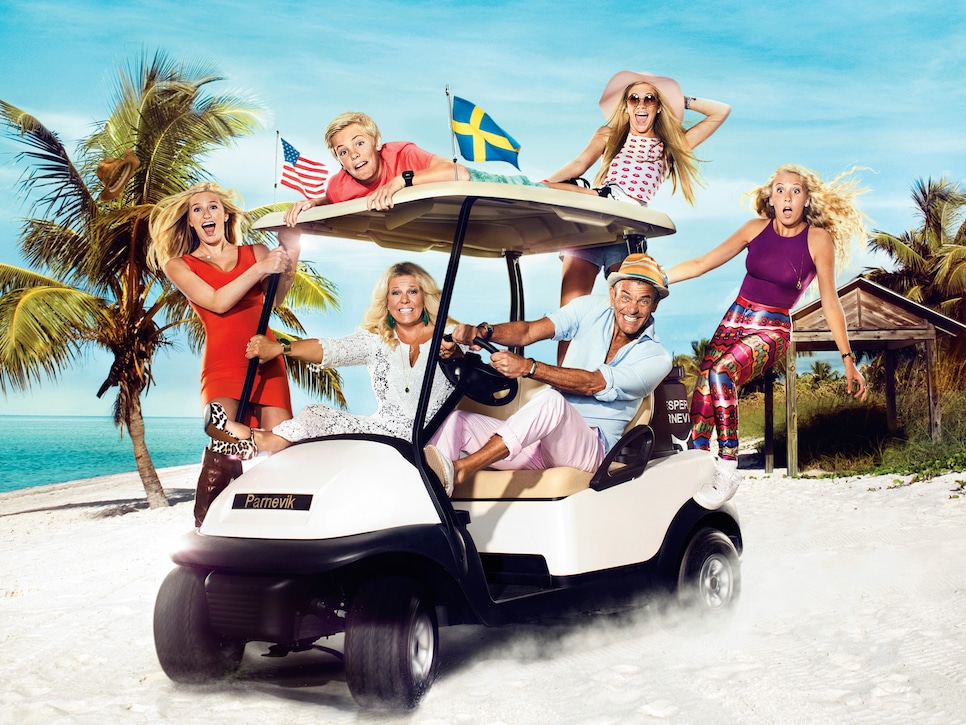 Jesper Parnevik has pulled his three oldest children from the dinner table and is calmly reprimanding them while his wife, Mia, and the family's guests continue to discuss travel dilemmas over plates of pasta. Moments earlier, Peg, 20; Penny, 18; and Philippa, 16, were taking selfies and ignoring Dad's request to put the phones away. And even though Jesper looks entirely absurd disciplining his squad while wearing a squirrel suit—it's Halloween, which means the Parneviks are in costumes—the verdict is firm: They're all grounded.
"You could call it a combination of 'The Osbournes,' 'Modern Family' and 'Feherty.' " —Jesper Parnevik
Scenes like this have turned this tight-knit brood of six (son Phoenix, 14, rounds out the clan) into Sweden's favorite new celebrities. Their squabbles and make-up sessions play out on a reality show called "The Parneviks," which debuted on Swedish television in 2015 and is filmed at the former PGA Tour star's home in Jupiter, Fla.
Each week, with zero scripting, the family welcomes two to six new Swedish celebrities from varying walks of life to their 18,000-square-foot beachfront compound. Recording artists and politicians mix with fashion bloggers, royalty and athletes, and at the center of all hilarity is the eccentric but loving host family.
"I guess you could call it a combination of 'The Osbournes,' 'Modern Family' and 'Feherty,' " says Jesper, who's still dumbfounded by the way the show has catapulted his family to Kardashian-like levels of stardom in his native land. The golfer thought he knew fame—he won five times on the PGA Tour from 1998-2001, and his father, Bosse, is Sweden's most-worshiped comedian.
"It's to the level now where little girls in Sweden start to cry when they meet Phoenix," Jesper chuckles.
Mia is the surprise star. She earned the Swedish equivalent of an Emmy for TV Personality of the Year at the 2015 Kristallen Gala, where "The Parneviks" was named Reality Show of the Year.
"We love having a full house, and meeting all these new people has been great," Mia says. Because of her candor and warm personality, episodes often end with celebrity guests pledging to keep Mia in their lives forever. She also receives a steady number of adoption requests on social media. "People who spend time with her tend to let their guard down and tell her about their problems very quickly," Jesper says.
The Parneviks are more like an Italian family than the typically reserved Swedes. "We had 82 people for Christmas last year, for example," Jesper says. "It's a big house, but my sisters and their families had to sleep in the boat.
"We've always traveled together, even when I was playing full time. It was a little crazy, but the kids learned a lot. It taught them to roll with the punches."
Parnevik has spent most of the past six years of his career on the disabled list as he has recovered from surgeries on both hips, an almost-severed finger and a fractured vertebra, plus cracked ribs from a spectacular Segway spill that he tweeted to his almost 26,000 followers @JesperParnevik.
"I'm the most accident-prone golfer in the world," he says. One benefit of the injuries: They have allowed him to be a stay-at-home dad and attend a lot of soccer games.
"He has a patience that's impossible to describe, and he turns everything into a teaching moment," Mia says. "He's incredibly childish himself, in the best possible sense. He's the guy who will think to bring magnifying glasses along to the cabin so that all the kids can explore while almost burning the house down, because he knows they will love it. He just sees children."
Jesper describes his parenting as more traditional: "I think as a dad you have to be loving and understanding, but you can't let go of your authority as a parent. You can't become too much of a buddy. It's a fine line to walk."
All the kids know communication is important in their household. "What brings me the most joy is hearing from so many teenagers and parents in Sweden that we've helped them open up to each other in a new way," Mia says.
Season 2 of "The Parneviks" debuts in February and is being scheduled around Jesper's new career as a Champions Tour player (he turned 50 last March). "I was terrified that my body wasn't going to hold up, but it has," Jesper says.
The catch on the show is, viewers must understand Swedish. At least until its popularity warrants translation.