The Loop
The fail-safe 2018 March Madness agnostic NCAA bracket guide
Forget experts' picks or prediction machines. The only advice you need for winning your office NCAA bracket resides below. Sure, we watched a total of three games this season, but fear not: These tips are time-tested and without bias. (And if they do bomb, well, March Madness, am I right?) Here is your fail-safe 2018 NCAA Agnostic Bracket Guide.
Fourteen of the last 15 NCAA champions had blue as one of their primary colors. The only exception? Louisville...which just had its title vacated for cheating.
Don't know where a school's located? Stay away
Looking at you, Murray State. Same goes for Iona and Radford. (In a related note, why are there zero schools from Ohio in the "Ohio Valley Conference"? That's like naming a league with 10 schools "the Big 12." OK, bad example.)
Picking a champion? Go chalk.
Everyone loves a Cinderella story, but 17 of the last 25 NCAA champions have been a No. 1 seed.
Ask your office secretary who they like
FACT: Secretaries win the office pool precisely 97 percent of the time. They may have picked Villanova to win it all because "Jay Wright looks so damn fine in those suits." But that reasoning has proven more prescient than "Virginia's play against Quadrant 1 teams has been impressive."
Tread lightly with your alma mater
Your old stomping grounds made it? Congrats! But don't get caught up in the school spirit. That's how you end up with the Penn Quakers becoming the first No. 16 to advance. Speaking of which...
Always be wary of Kansas...
No, we're not saying they're going to lose to an Ivy League member. But despite winning 14 straight Big 12 championships under Bill Self, the Jayhawks have reached the Final Four just twice in that span. Given they're usually a No. 1 or 2 seed, not the greatest of conversion rates.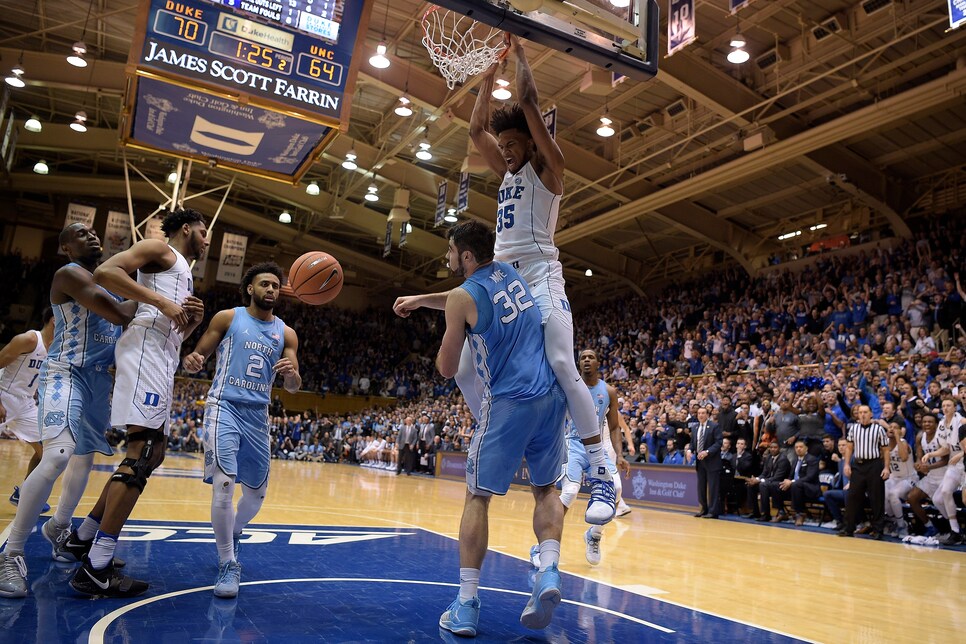 We get it. Every time the Blue Devils lose an angel gets its wings. But Duke has made 12 Final Fours since 1986, and the No. 1 seed in its region is...Kansas.
Easy on the 12s over the 5s
Everyone acts like this is a toss-up, but in the last 25 years, the No. 5 has still won 62 percent of the time. Odds are at least one No. 12 will advance to the Sweet 16, but be judicious in your pick.
When stuck, pick the team being investigated by the FBI
Which team is more likely to win: the team featuring gritty, hard-working kids who've made the most of their limited talent...or the one whose, ahem, "student-athletes" are so good they're getting paid to play?
Save for Duke, Syracuse is the only school whose mascot is not an animal to win the title since 2000. (Technically "Tar Heel" is a nickname for individuals in North Carolina, but the school's official mascot is a ram. And if you really want to boil it down, a "Blue Devil" is a horned deity.) Sorry, fans of the Xavier Musketeers.
Put your "Tom Izzo OWNS March" takes on ice. Though it has 14 teams under its umbrella, the conference has just one title since 1989. If you like the Spartans or Boilermakers or Buckeyes to make a Final Four run, good for you. Just don't expect them to be cutting down the nets to "One Shining Moment."