The Loop
The European Tour is beginning its crackdown on dawdlers ... by going after player wallets
ABU DHABI, United Arab Emirates -- The latest twist in the long fought but (as yet) never won war on slow play is set to be introduced on the European Tour. Starting with this week's Abu Dhabi Golf Championship, a group out of position will no longer be subject to a warning from an immediately departing rules official. Instead, said official will remain with the miscreants, "monitoring" them until they have re-established their proper position relative to the group in front.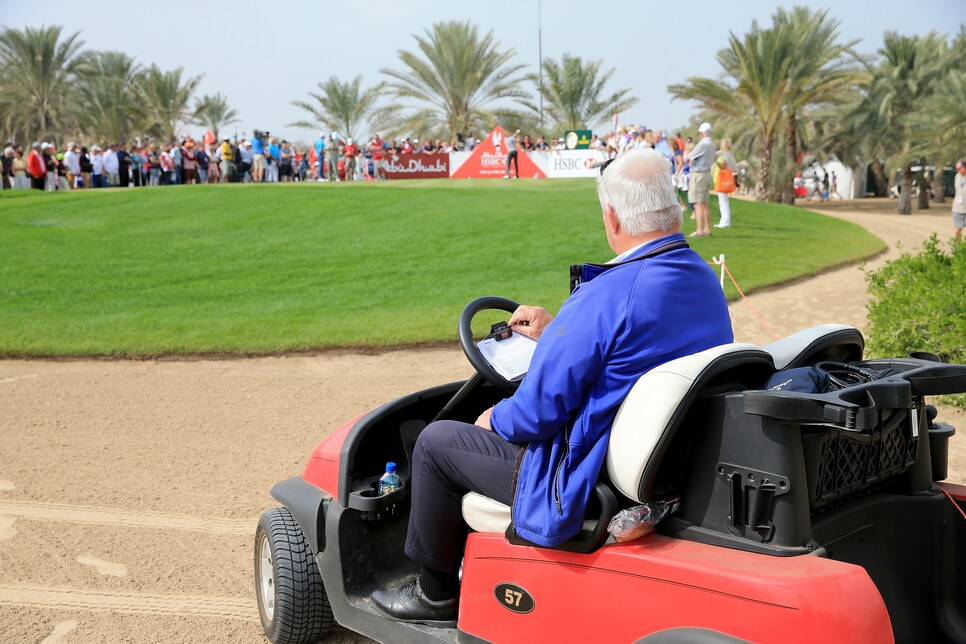 Any player exceeding the time permitted for a stroke—40 seconds, with an additional 10 seconds for the first man to play—while being "monitored" will be assessed a "monitoring penalty." That player will then be timed from the next tee unless the group has retained its position. If a "monitored" group loses further time, the group or those players within the group deemed to be the cause of the delay will be timed.
Hang in there, because here is where the players will need to be paying attention. A "monitoring penalty" will carry the same status on tour as a "bad time." A player who has either two "monitoring penalties" or "bad times" in turn will be fined €2,600, a fee that will rise by that amount for each successive "monitoring penalty" or "bad time." Additionally, any player who takes more than twice the time permitted for a stroke will be assessed a "monitoring penalty" whether the group is in position or not. (A monitoring penalty except it will not, however, count towards any golf penalty.)
"This is a positive first step," said Keith Pelley, European Tour chief executive, in outlining the plan. "Our aim is to make the game quicker and more appealing to consumers, broadcasters, stakeholders and players. Our target is to knock 15 minutes off each round. That is a significant amount of time."
In charge of applying the new system is John Paramor, the European Tour's chief referee.
"The big thing is that we will stay with the players after the initial warning," Paramor said. "Before, we would leave and only come back when the group failed to catch up. That happened 80-90 percent of the time. Now, the hope is that our presence will get the slow group back in position much quicker."
By the way, asked about the possibility of players wearing shorts during tournament rounds in the wake of that being allowed in the practice rounds and pro-am this week in Abu Dhabi, Pelley demurred. So, on the European Tour, rounds will be shorter but trousers will remain long, at least for now.