The Loop
What goes on in the mind of a Ryder Cupper? Golf's leading sports psychologist dishes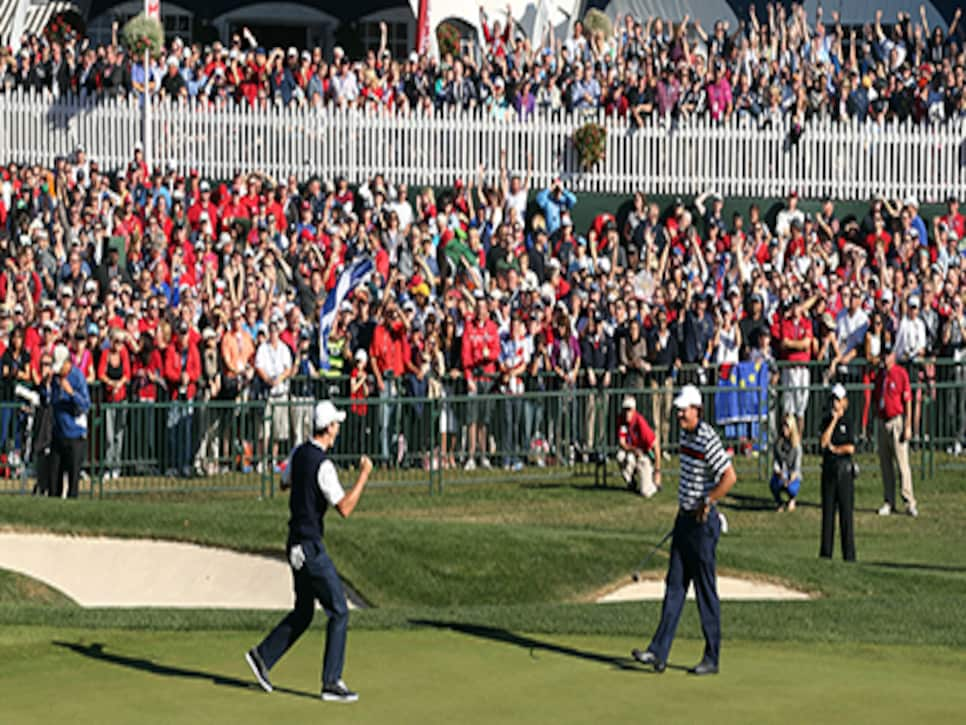 to the occasion when emotions escalate.
(Editor's Note: Ranked as the No. 1 golf psychologist by tour players, Golf Digest contributor Dr. Bob Rotella has worked with Keegan Bradley, Tom Watson, Padraig Harrington and a number of other Ryder Cup competitors, past and present. He gives his thoughts below on Ryder Cup preparation and execution.)
Making a Ryder Cup team is one of the biggest thrills of a pro golfer's career. Even for those who have played on numerous Ryder Cup teams, it's still a dream come true.
That's why it can be difficult to handle your emotions. There's tons of passion -- from the crowd and the competitors. The crowd is cheering against the opposing team loudly from the first tee on. And it means so much, from the most veteran players like Phil Mickelson and Jim Furyk down to Rickie Fowler and Jordan Spieth.
A common thing you'll hear from veterans on both teams who might've struggled is maybe they took playing well too seriously. And when they start off slow, it becomes personal.
Unselfishness is ultimately what the Ryder Cup comes down to. Whichever team has players who don't care about anything relative to themselves and instead will do anything to help the team win will do just that. That's ultimately what it comes down to.
We love to discuss players' individual records. And I can tell you: Even some of the top players in the world can struggle to ignore their personal performance. A short memory is a huge weapon. It's one thing to say you want to embrace the team mentality. But it's not easy to do it. Golf is an individual sport, so this event is different than anything else in golf. Everybody likes the idea of playing for your country and your teammates. But when things turn negative in your match, how do you respond?
Whichever team can fully embrace the team aspects of match play will have the advantage. The great match play players can just plod along, going shot to shot, finding some way to help their teammate on each shot.
The challenge, when you get off to a slow start in your match, is to really keep your attitude up. Great leaders in sport can keep their calm and rally a team, like a quarterback in the NFL.
In Europe, most of the focus is on Rory McIlroy. And rightfully so, he's their best player. But he has an advantage in that the real leaders in the European locker room will be Ian Poulter, Sergio Garcia and Lee Westwood. They'll be the ones in the team room making sure everyone's on the same page.
I've heard some folks talking about younger players on the U.S. side not being able to relate to Tom Watson as a captain because he's too old. But I'm not buying that generational argument. Everybody has the same goal. And Tom certainly knows how to win.
As I tell the players who I coach: You want to remember this experience as a winning one.
When you get home with all the Cup swag given to both teams, you want to show it to your friends and family and celebrate the win, not shove it in your garage after a loss.
We'll see who can see their dreams become fond memories.
Photo: Courtesy of Jamie Squire/Getty Images
*(with Stephen Hennessey) *