The Loop
The eight most popular graduation speech tropes in 2018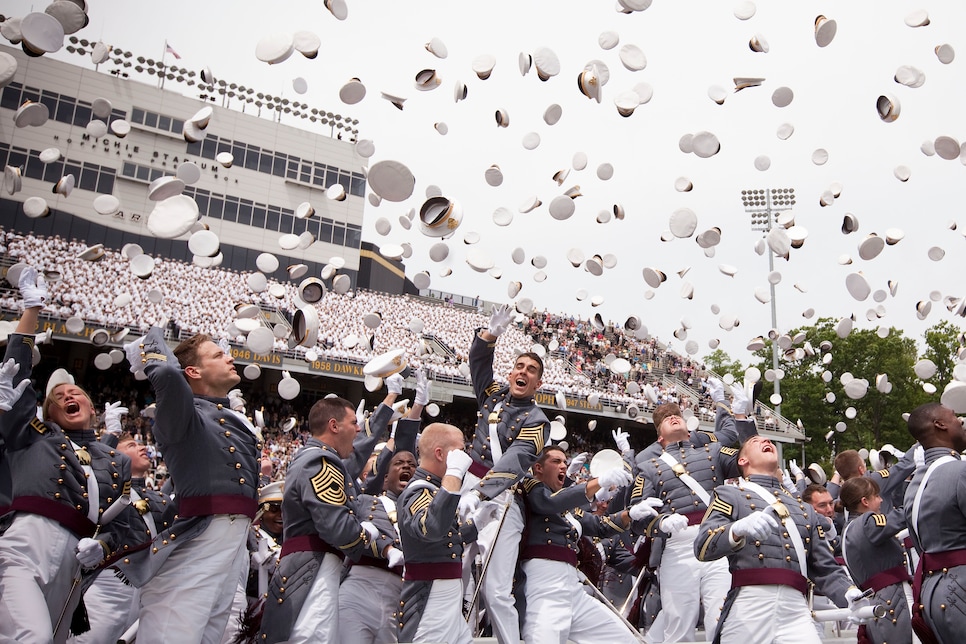 Tis the season for hungover 22-year-olds to drag themselves into a piercingly fluorescent stadium or sock-sopping dewy lawn and let the words of wisdom from a Notable Person roll into their skulls, phrases that there like bingo balls shall tumble, doomed never to be called out, to go unheard and unspoken for the listener's remaining years on this misunderstood planet that spins us always and unstoppably towards sunset.
I'm not a commencement speech enthusiast. But I know there are more than a few of them out there, and believe it or not I get it: It's a nice thing to have hope, to feel the thrill of inspiration even if only for a few moments. It's nice to put your cynicism aside for a while and appreciate the morning, appreciate what it's like to be young and hungry, and to encourage those young, hungry people to go out and devour the world. Because the truth is they will change it, maybe because of these speeches, maybe in spite of them.
This year, however, it's important to recognize that, even though the words themselves might not startle every soul out of its morning-after stupor, something sort of interesting is happening on campuses across the country: We're seeing some new themes. Of course we've got the oldies, and we'll hit those too, but this year's speeches are finally starting to reflect our times. Some have even been kind of wise. So without further ado, here's what's been rattling around in the heads of our best and brightest for the past year.
Theme One: Follow your dreams!
Let's start on familiar ground. Every commencement speech hits this note. It doesn't make it less true or important, though, so here are some interesting ways speakers have tackled it.
Matt Czuchry, who stars on The Good Wife, told the crowd at the College of Charleston about his own journey as an actor, saying, "I became fearless and focused in the present moment, focused on the pursuit rather than the unknown."
He also broke out into a performance from Hamilton, in character.
Another actor, Black Panther's leading man Chadwick Boseman, put it this way to grads of his alma mater, Howard University: "You should rather find purpose than a job or a career. Purpose crosses disciplines. Purpose is an essential element of you. It is the reason you are on the planet at this particular time in history. Your very existence is wrapped up in the things you need to fulfill."
John Leguizamo told Drew University students to "dream one size too big." Aw.
Finally, Tim Cook, CEO of Apple, reminded grads gathered at Duke University of Steve Jobs's credo—"Daring to think different." He added, "Every individual has the tools, potential, and reach to build a better world. That makes this the best time to be alive."
Hm. Is it really the best time to be alive? Let's ask Oprah.
Theme Two: This is not the best time to be alive.
That's true for a whole lot of Americans. Oprah, of all people, dropped the hammer at the University of Southern California, declaring "we have literally walked into traffic while staring at our phones," after opening by saying "in about an hour and a half you're going to be catapulted into a world that appears to have gone off its rocker."
Just to be clear, she then rattled off a whole bunch of rocker-tossers, from climate change to gun violence to about a thousand different types of inequality, adding: "This is your time to rise, even though you can't go anywhere. You can't stand in line at Starbucks, you can't go to a party, you can't go anywhere without everyone talking about how bad things are, how terrible it is. And this is what I know: The problem is everybody is meeting hysteria with more hysteria, and then we just are all becoming hysterical, and it's getting worse."
At Vanderbilt, Amal Clooney chimed in, recognizing this as "a time when women all over the world face physical abuse, restrictions on their ability to work, own property, travel, and even having custody over their children... when the LGBT community and every continent struggles for equal rights, freedom from imprisonment and even death."
Chadwick Boseman gazed out upon the same world, telling his audience at historically black Howard, "Many of you will leave Howard and enter systems and institutions that have a history of discrimination and marginalization."
And believe it or not, Rex Tillerson, who was recently fired from his position as Secretary of State, didn't exactly celebrate the times in his speech to the cadets at the Virginia Military Institute: "If we do not, as Americans, confront the crisis of ethics and integrity in our society," he said, "then American democracy, as we know it, is entering its twilight years."
Tillerson, it should be noted, spent the last year and a half of his life steering that American democracy.
Theme Three: Be the change!
This is the thesis statement of probably every commencement address ever given. So yeah, sure, you can be the change. Or, you can...
Chance the Rapper filled Dillard U grads in about the life significance of Beyonce's Coachella performance. Namely by saying this:
"Don't be afraid. Beyonce had Mike. Mike didn't have Mike. Mike had James Brown. James Brown had Cab Calloway. And so on and so on. Right now the greatest performer who ever lived might very well be in this audience. And that person has something Beyonce never had. They got Beyonce."
This comes in a couple of forms. First there's media bias, as pointed out by Oprah, who took the opportunity to encourage her audience at the Annenberg School of Journalism to"become the new editorial gatekeepers to strike out deceit."
We also had T-Rex chiming in about fake news and alternative facts. He asked his audience to "preserve and protect our freedom by recognizing what truth is and is not, what a fact is and is not," and urged them to "demand our pursuit of America's future be fact-based, not based on wishful thinking, not hoped-for outcomes made in shallow promises."
It's anyone's guess who Rexy was talking about. More on that soon.
Business mogul Michael Bloomberg, reminded his audience at Rice University not only that he's one-third the age of the United States, but that media bias is a two-way street: "The problem isn't just unreliable stories. It's also the public's willingness—even eagerness—to believe anything that paints the other side in a bad light. That's extreme partisanship, and that is what's fueling and excusing all this dishonesty. Extreme partisanship is like an infectious disease... It blinds us from seeing the strengths in [others'] ideas—and the weaknesses of our own."
FACT CHECK: Bloomberg isn't one-third (33%) the age of the United States. He's 31% the age of the U.S. Talk about "unreliable stories," amirite?
Media, for better or worse, includes social media. Tim Cook defended his company's privacy policy to Duke grads: "We reject the excuse that getting the most out of technology means trading away your right to privacy. So we choose a different path, collecting as little of your data as possible, [and] being thoughtful and respectful when it's in our care. Because we know that it belongs to you."
Theme Six: Follow the short skirts!
Only one person this year took on the challenging "follow the short skirts" theme. That lone soul was Nella Gray Barkley, who, speaking at women's-only Sweet Briar College, said, "It's only natural for men from Mars to follow the shortest skirt in the room."
Theme Seven: Donald Trump
Yeah, you just can't escape him. All the people I've mentioned here at one point or other subtweeted Trump in their speech. Rex Tillerson's seemed to feel particularly sweet, but Trump will no doubt fire back in his speech next week at the Naval Academy.
Mike Pence gave the commencement address there last year and a lot of people walked out.
Anyway, now on to the actual important advice.
Finally, Michael Keaton reminded the grads at Kent State University about the importance of being Batman. "I'm Batman," he said.