The Loop
The latest sign that college golf is finally being taken seriously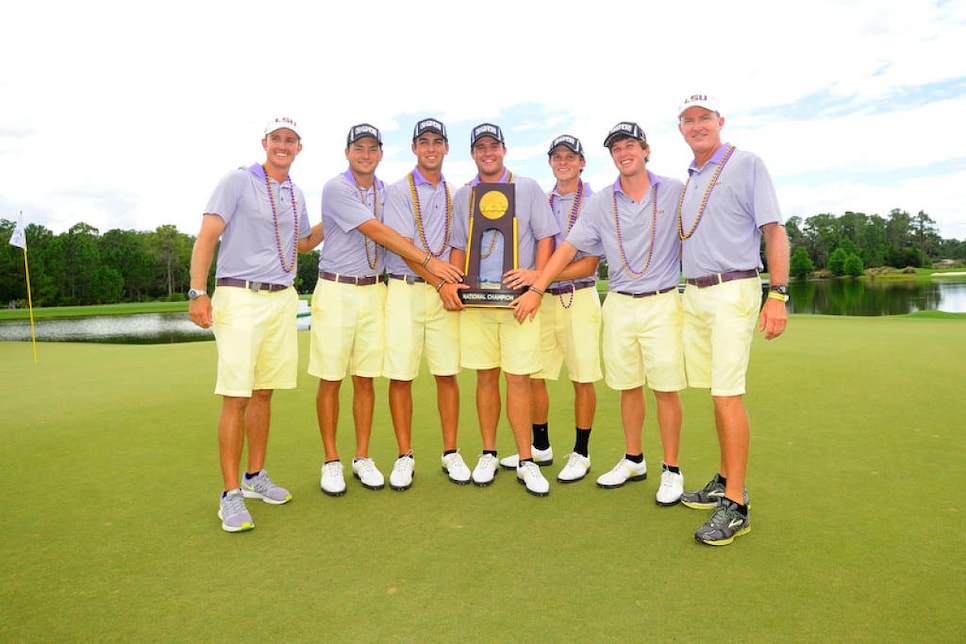 Next Monday and Tuesday, the Golf Channel will broadcast the inaugural East Lake Cup, a made-for-TV match-play college tournament at Atlanta's East Lake Golf Club pitting the four men's (LSU, USC, Illinois and Georgia) and women's (Stanford, Baylor, USC and Duke) schools that reached the semifinals of the NCAA Championships last spring.
Go ahead and read this first paragraph again if you like. Rest assured, though, there's no mis-print. We are talking about an honest-to-goodness made-for-TV college golf tournament. Will wonders never cease?!?
OK, so maybe Tom Knapp, senior VP, sponsorships and strategy for NBC Sports Group, wouldn't describe it exactly as such. Given how match play is now used to decide the team winner at both the men's and women's NCAA Championships, it stands to reason other match-play events would start to be held during the regular season to prepare schools when the national title is on the line. Golf Channel, then, just happened to step in televise one of these.
Yet the event's creation is largely due to Knapp and other officials at the Golf Channel doubling down on their belief in the untapped appeal of college golf. It was Golf Channel's idea to start the tournament, leaning on a long-standing relationship the network has with the East Lake Foundation to bring an event to the historic Georgia club that would be beneficial for all parties involved.
"When we did our deal with the NCAA to televise the championships [starting in 2014], we knew this was going to be exciting," said Knapp of viewers' potential interest in the college game. "And it exceeded our expectations. But really what it did was allow the opportunity that was in front of us to really start to crystalize."
That opportunity is to turn college golf into a sport that has traction beyond merely the friends and family of the players themselves, something those familiar with the college game thought was possible if only the sport could get a chance.
"Collegiate sports is so woven into the fabric of the United States, and unfortunately for years collegiate golf did not receive the exposure that it does today," Knapp said. "[But] the passion people feel for their alma mater is real and when you can attach the alma mater to the best players on the PGA Tour right now, it raises viewer awareness and it raises viewership, no question."
What's particularly impressive is the commitment Golf Channel has made to broadcasting the East Lake Cup. "Morning Drive" will run segments on the tournament before afternoon coverage begins. There will be a one-hour pre-game show (1 to 2 p.m. EST) setting up the competition followed by three hours of live action (2 to 5 p.m. EST) each day that will be re-aired during prime time. Three analysts and three on-course reporters will be working the broadcast, with three more Golf Channel commentators making up the news team reporting from Atlanta.
More importantly, perhaps, Knapp says that televising a regular-season college event isn't a one-off proposition, but part of a long-term bet for the Golf Channel. According to Knapp, the plan is to show another still-to-be determined event in 2016 and add two or three more a year in subsequent years.
"[College golf] is a very exciting place for us to be right now, and we really do intend to expand it," he said.
Yes, there's the potential for things to get a little to overdone; each of the eight schools in the field at East Lake is bringing its mascot to the event. That works in front of thousands of fans in a football stadium or basketball arena. On a golf course, however, it has the potential to come across as forced.
Even so, this tournament and the direction Golf Channel seems to be heading sends a clear message that college golf has turned a corner and is gaining respect. Tournaments used to have to beg to get any kind of TV exposure. Now TV is trying to figure out a way to get the product on the air.
Indeed, wonders really do never cease.