The Loop
The difference-making shot in Phil and Keegan's win over Rory and Sergio
GLENEAGLES, Scotland -- Keegan Bradley's eagle on the 16th might have been the momentum swing that put the U.S. on the path to stealing a full point in Friday morning four-ball, and in the process taking down Captain Tom Watson's No. 1 target of value, the world's best player, Rory McIlroy. But Bradley's third shot on the 18th was nearly as crucial in a intricate, match-play sort of way.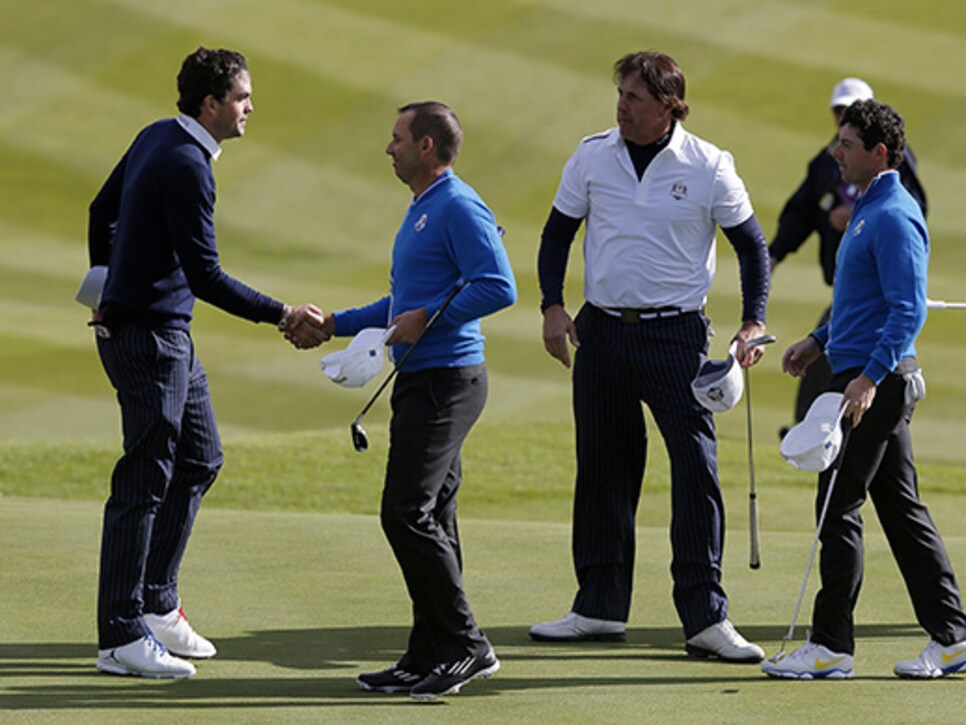 When it came time for Garcia and Mickelson to play, Garcia lost his approach right into the rough while Mickelson hit a low, boring 4-iron into the front bunker. McIlroy's third, then, found the bunker, too, while Bradley's pitch over the bunkers finished five feet right of the hole. Advantage U.S.
Because Bradley was already in tight for birdie, and Mickelson was lying 2 in the bunker, Garcia was forced to attempt a perfect shot from a difficult lie. It came up scarcely a foot short and fell diabolically back into the bunker. With the Europeans now struggling to make a par, Mickelson delivered a beautiful, high bunker shot to three feet. As it turned out, that was critical as well, as Bradley would miss his birdie but Mickelson would roll his in to secure the win and give  Americans the 2 1/2 to 1 1/2 edge in the opening day's morning session.
People like to talk about the vagaries of match play, but it's the nuances that are equally intriguing.