Jack Nicklaus was just six years into his professional playing career when he ventured into golf-course design in 1967. The course was Harbour Town Golf Links on Hilton Head Island where he consulted with then little-known architect Pete Dye. When it opened in 1969, its small greens, strict shot-shaping demands, long-strip bunkers and use of wood bulkheads represented a startling departure from the prevailing architectural style of the day. Dye and Nicklaus collaborated on four other courses before Nicklaus turned his attention to Muirfield Village with architect Desmond Muirhead in his hometown of Columbus, Ohio. Incorporated into an upscale real estate development, Muirfield Village earned immediate praise as an unabashed tribute to Augusta National with idyllic treelined fairways draped over natural grades, pristine turf conditions and risk-reward par 5s laced with creeks and ponds.
Nicklaus created his design firm in 1974, and the company made its first big marks with Glen Abbey in Ontario and Shoal Creek near Birmingham, Ala., another course conceived in the image of Augusta National that would eventually host two PGA Championships and a U.S. Women's Open (founder Hall Thompson was an Augusta National member). As his competitive playing schedule eased through the 1980s, Nicklaus became one of the profession's premier designers, scoring hits with Castle Pines in Colorado (1981), Desert Highlands in Scottsdale (1984), Loxahatchee in Jupiter, Fla. (1984), and Valhalla in Louisville (1986). A critique of this chapter of Nicklaus' portfolio was that he often built courses that only he could play. Nicklaus admits that early on he viewed course design with the same analytical outlook that had served his own game so well, often laying out holes that demanded extreme tactical and executorial skill and, frequently, high, left-to-right shaped shots.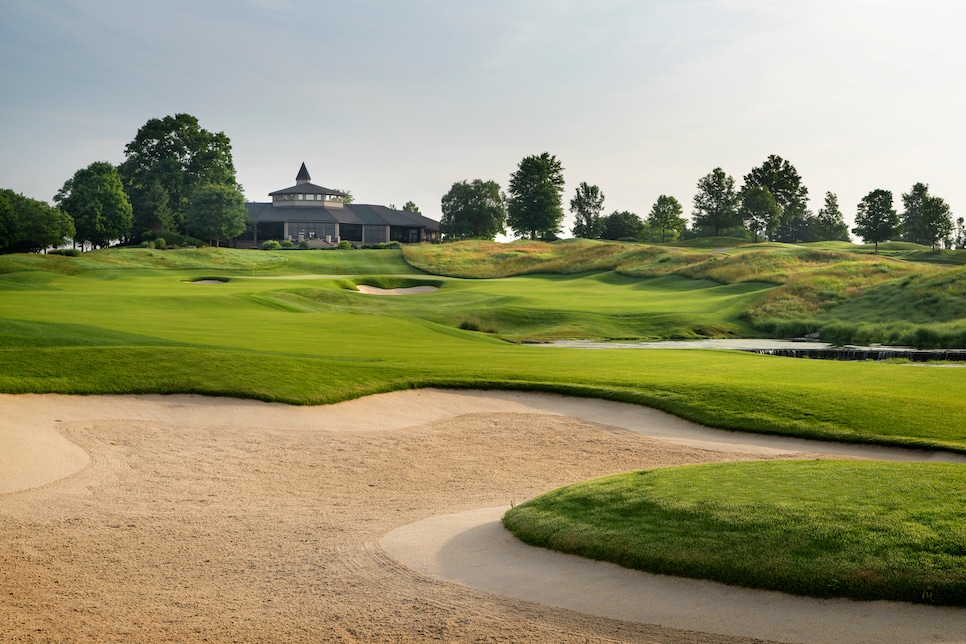 A view from the 18th hole at Valhalla Golf Club in Louisville, Kentucky
Gary Kellner
Nicklaus Design exploded during the construction boom of the 1990s. The company, working worldwide, offered clients different tiers of products priced around Nicklaus' level of design and promotional involvement, and he began commanding million-dollar design fees for his Signature level of service that included exclusive design oversight and up to 10 or more site visits. Though the immense output of the decade yielded few highly ranked courses, Nicklaus, along with Tom Fazio, became the most bankable name in course architecture in terms of product prestige and real estate demand.
A turn to a more sympathetic mode of design with an emphasis on aesthetics helped the company achieve new heights in the 2000s. Alluring settings combined with increasingly sensual, accessible greens and a wider variety of recovery options enabled courses like Mayacama in northern California, Pronghorn Club in Oregon, Moonlight Basin in Montana and Spring Creek Ranch in Tennessee to rise in the rankings.
Meanwhile, The Bear's Club and The Concession in Florida and Sebonack on Long Island (designed with Tom Doak) proved Nicklaus could still ramp up challenge without sacrificing attractiveness. Because of the ongoing lawsuit, Nicklaus does not currently participate in projects under the Nicklaus Design banner, but the company remains one of the largest and most active firms in the industry with more than 50 projects underway internationally, including the recently renovated BallenIsles East course in Palm Beach Gardens where Nicklaus won his second PGA Championship and the nearby Panther National, a new course designed with Justin Thomas, opening this fall.