The Loop
The definition of a golf nut: A man who charts every hole (41,967) of every round he's ever played
Denny Kovacs was 24 when he played his first round of golf, on July 4, 1971. He's 68 now and in those 44-plus years he has played 41,967 holes on 709 different courses, has taken 201,241 strokes, made 17 eagles, 1,586 birdies, 15,254 pars, 17,310 bogeys and 1,570 triple bogeys.
Kovacs, a former air traffic controller who now is a shop assistant at Indian Springs Golf Club in Indio, Calif., has charted every hole of every round he has ever played. Here is his latest spreadsheet entry: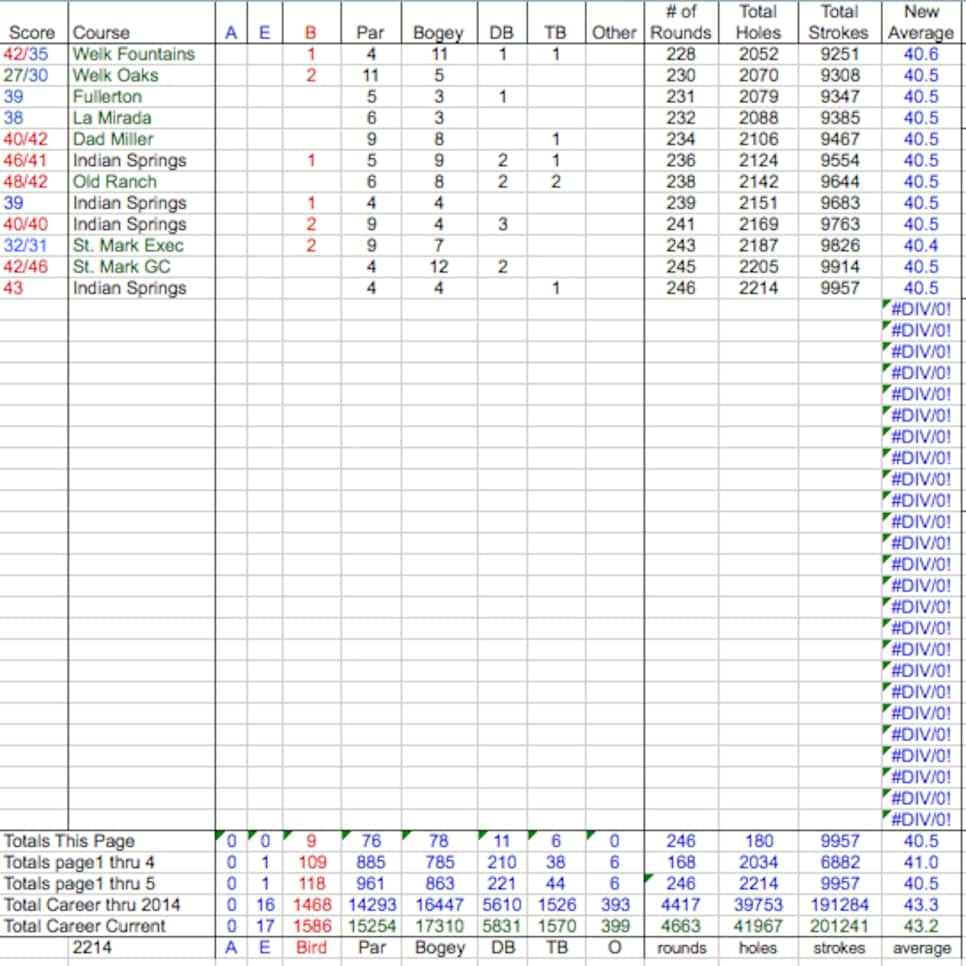 He's never made an ace or an albatross. but he has hit 19 shots inside 12 inches. He made his first birdie in 1972, his first eagle in 1985 and his 1,000th birdie in 2009 on the par-5 sixth hole at Indian Springs (driver, 3-wood off a house roof, wedge, 15-foot putt).
Anal-retentive is a phrase that comes to mind.
"They all think that way," he said laughing. "I have the same kind of record for bowling since 1968. I was an amateur body builder for awhile and had all kinds of charts to monitor my progress. I'm kind of a numbers guy."
Kovacs, who has a handicap index of 8.5, compiles the information in a three-ring binder that is five-inches thick. He also has transferred the data to spreadsheets.
It all began that fateful Fourth of July in '71 when he was living in an apartment in suburban Cleveland and his brother came by and asked him to play golf with him at Ridgewood Golf Course in Parma, Ohio.
"I'd never been on a golf course," he said. "I said, 'yeah, I'll go.' The minute I missed my first shot I fell in love with the game. I kept that card, to see if I could beat my score the next time."
It was the beginning of an obsession that even his wife Barb doesn't fully understand. "She's a golf widow," he said. "She knew that when she married me. She doesn't really ask me about it."
But his obsession has sparked interest outside the home. When he played his 200,000th stroke, his second shot on the 12th hole at Indian Springs, the head pro and director of golf at the course came out and commemorated the feat with champagne.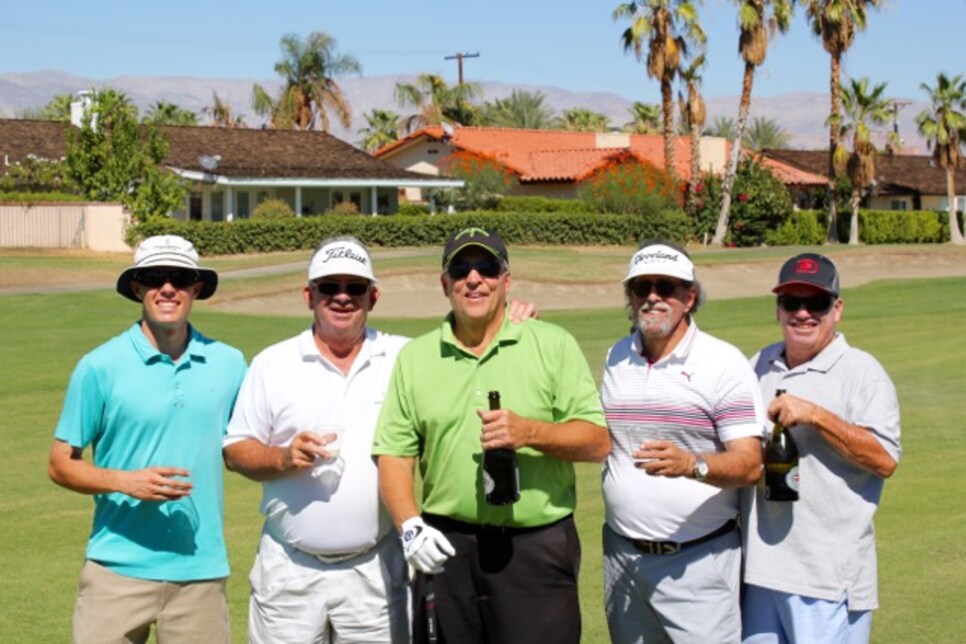 His goal is to have played 1,000 different courses by 2025. He also is looking forward to the opportunity to say he's played a quarter-million shots and figures he can reach that number in four years-plus, he said.
Meanwhile, he has started tracking other minutiae — unusual animals he's seen on golf courses, "stupid things that happened to people on the golf course, for whenever they turn this over to my grandkids before they burn it," he said.