The Loop
The Clutch Scale: What can we expect from the top contenders tomorrow?
Let's play Captain Obvious for a second: The final round of a major championship is not like an ordinary round of golf. Pressure affects the performance of the players in contention, and often leads to mistakes that decide the outcome.
Really insightful, huh? But it happens to be true, and by looking at history, it's possible to guess how the leading contenders might perform on Monday. So let's turn to the Clutch Scale—a thing I just invented—and try to prognosticate how they'll fare over the final 18 holes at St. Andrews.
We'll start at the bottom.
1.0 — Dustin Johnson (-7)
He's barely even in contention anymore, so this might not apply, but man, his 75 on Sunday was rough. It wasn't as brutal as Chambers Bay or Whistling Straits, but it was heartbreaking in its own way because of how inexplicable it looked from the outside. How does the guy who was tearing up a rather easy course throw down the second-worst round of the day in the best conditions he's seen so far? I very much doubt we'll see him make a run on Monday, but I guess the bright side is that he's got his devastation out of the way.
1.5 — Jordan Niebrugge (-9), Eddie Pepperell (-8)
I like Willett, but he got incredibly loose with his driver on the back nine, at the exact moment when he seemed to have a real shot at establishing a lead. His -12 fell to -9 very quickly, and the way he handled being at the top doesn't bode well for tomorrow.
Leishman hasn't responded well in the past when he's led at majors (in 2013, he led at Augusta after Thursday, and finished with 73-72-72), and he doesn't have enough experience to expect much more on Monday.
I got a lot of pushback on Twitter when I publicly doubted Day, but what other reaction makes sense? He's had many, many chances at majors already in his young career, and he's never looked very solid in the final round. Sure, maybe he's learned from those days. Then again, maybe he's only learned to be afraid. Until proven otherwise, the logical assumption is that he'll come up short again.
I know this is crazy, and I know he's an amateur. But the way he finished Sunday's round was incredibly impressive, and if a few putts had gone down, his 66 would have been even better. There's something about him I like. But with a gun to my head, I just can't see an amateur coming from out of nowhere and winning a major. The last time that happened? Johnny Goodman, 1933.
He'd be the second-oldest winner in major history, even beating out Nicklaus' amazing run at the '86 Masters. In other words, it's probably not happening. But this is the clutch scale, and the Goose is a two-time U.S. Open champ. He's got the mental game.
He's a Masters champion, and I'm giving him the benefit of the doubt, because aside from that impressive weekend at Augusta, his major career has been a disappointment. On the other hand, he's been so close to winning the claret jug before, and I think he's at a point in his career when he'll understand how to pursue it smartly. He wants this more than anyone in the field.
Just like Scott in almost every way, but I trust him slightly more.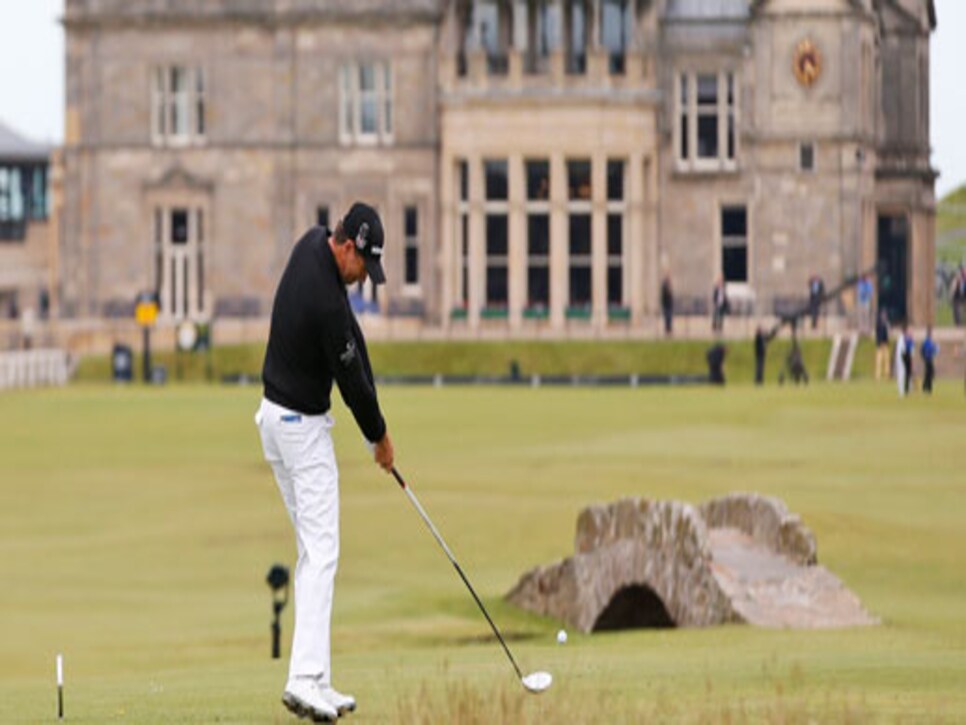 8.0 — Padraig Harrington (-10)
Paddy is one of those guys: When he gets close, he usually wins. Whether his game is up to one last charge, I don't know. But I guarantee his nerves will hold up.
9.0 — Louis Oosthuizen (-12)
Let's keep this one simple: He's the only contender who has won a British Open at St. Andrews. He also played a terrific final round at Chambers Bay, and has shown in other majors that he has what it takes to win—particularly at Augusta, where only Bubba's miracle kept him out of a green jacket.
10.0 — Jordan Spieth (-11)