News
The clubs Dustin Johnson used to win The Northern Trust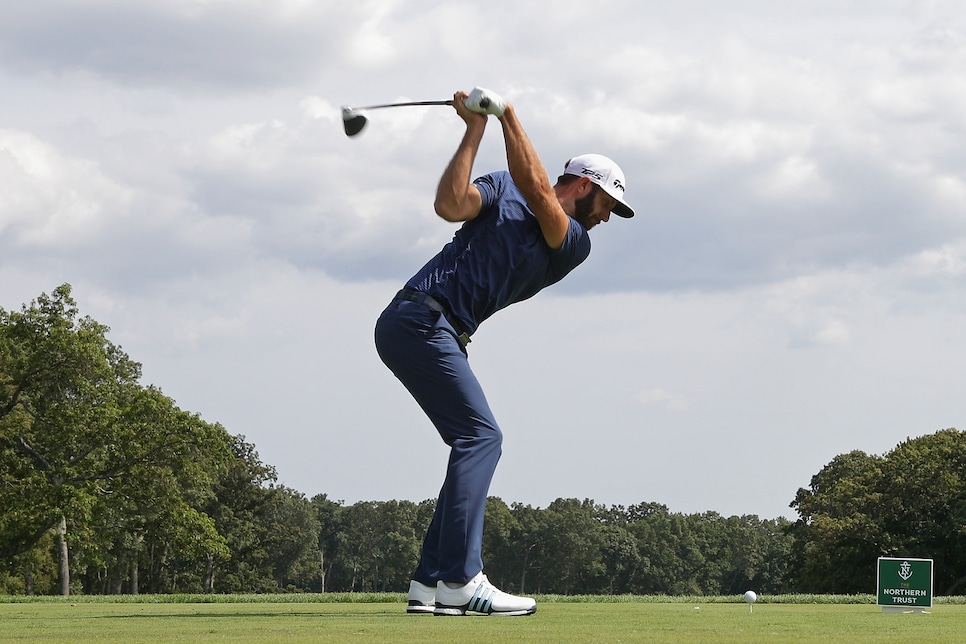 Dustin Johnson could nominate a lot of clubs as being the one that proved key to his victory in The Northern Trust. The new TaylorMade TP Juno putter that he put in the bag this week and converted a must-make 19-footer for par at the last to force overtime with Jordan Spieth would be a good call. Or his venerable TaylorMade Tour Preferred MB 14 irons that helped him hit 77.78 percent of his greens in regulation (only Spieth hit more). Or the TaylorMade Milled Grind 60-degree wedge that stopped a couple of feet from the hole on the first extra hole, leading to a tap-in birdie for the win.
But, as it normally is with Johnson, it was the driver that played the key role. Johnson hauled out his TaylorMade M1 2017 driver with 10.5 degrees of loft (but an actual loft of 11 degrees) on the first playoff hole (Glen Oaks C.C.'s 18th) and took dead aim over the water, cutting the corner on the dogleg left with a mammoth blast that carried 310 yards in the air and traveled 341 yards overall before settling at the end of the fairway, setting up the wedge shot and the winning putt. Johnson also puts the movable weight out on the toe to assist with his preferred shot shape, which is a fade.
Earlier this year Johnson authored an article for Golf Digest titled, "Make Your Tee Shots Count." In it, he said, "Now I don't waste those great tee shots. I spent a ton of time dialing in my short-iron distances and now go into every tournament with three stock yardages for each club from 9-iron to lob wedge. The result is that I'm hitting my approaches a lot closer."
That combination of hitting great tee shots and not wasting them was on display in overtime and it led to a big win.
Dustin Johnson's winning bag
Driver: TaylorMade M1 2017 (Fujikura Speeder 661x Tour Spec 2.0), 10.5 degrees
3-wood: TaylorMade M2 2017, 16.5 degrees
5-wood: TaylorMaDe M2, 18 degrees
Irons (3-PW): TaylorMade Tour Preferred MB 14
Wedges: TaylorMade Milled Grind (52, 60 degrees)
Putter: TaylorMade TP Juno