The Loop
The career paths of 65-year-old birthday boys Tom Kite and Lanny Wadkins were strikingly similar
On the surface, Tom Kite and Lanny Wadkins were quite different in swing and style. But with both celebrating a 65th birthday within the last week, a closer look shows they covered plenty of similar ground on their way to the World Golf Hall of Fame.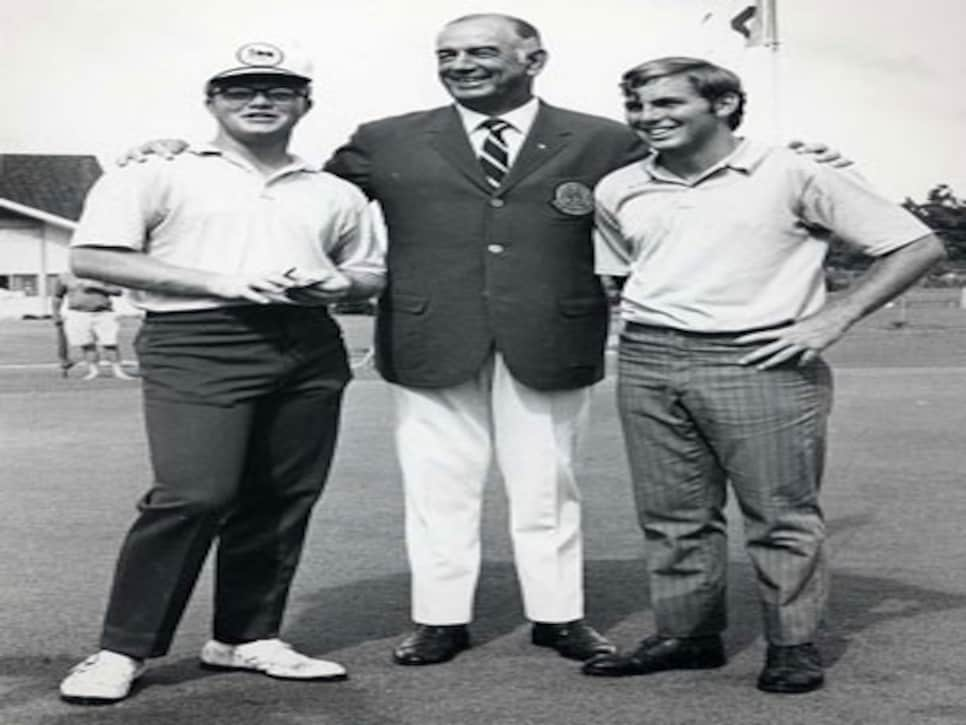 Wadkins, born Dec. 5, 1949, in Richmond, Va., was a quick and decisive player who fired at flags with a bold strategy; Kite, born Dec. 9, 1949, in McKinney, Texas, approached the game analytically with a more measured pace and swing. They also contrast with their present focus; Wadkins has been a TV commentator for the last 12 years while Kite has stuck it out through a Champions Tour career, where he's won 10 times against Wadkins' one win. Kite beat Wadkins to the Hall of Fame by five years, being inducted in 2004.
From there, however, several similarities pile up: Walker Cup teammates in 1971 (never paired together, but each went 2-0 in singles); Rookie of the Year (Wadkins 1972, Kite 1973); six shared Ryder Cup teams (1979, 1983, 1985, 1987, 1989 and 1993, but never teamed as a twosome); each was a losing Ryder Cup captain (Kite in 1997 and Wadkins in 1995); similar PGA Tour victory totals (Wadkins with 21, Kite 19); each has a Players Championship title (Wadkins in 1979, Kite 1989); each was Player of the Year (Kite in 1981 and 1989, Wadkins 1985) and, amazingly, the one major each won took place in dramatic style at Pebble Beach. Wadkins won the first major ever to be decided in sudden death when he won over Gene Littler at the 1977 PGA. Kite won the 1992 U.S. Open, surviving a final-round wind of 40 miles per hour, helped by a birdie chip-in on the par-3 seventh.
Each contributed instructionally to Golf Digest and each had a golf legend influence their careers. Wadkins went to Wake Forest, the golf domain of Arnold Palmer, on a Palmer scholarship, and Kite learned under the guidance of teaching legend Harvey Penick and attended the University of Texas. Wadkins' big amateur moment, winning the 1970 U.S. Amateur, came at Kite's expense as Tom finished a shot behind in second. Kite won the 1972 NCAA individual title, sharing it with Longhorn teammate Ben Crenshaw.
Heck, they have similar body stock, listing themselves as 5-foot-9 and 170 to 175 pounds.
In the end, however, they did have at least two major difference: their nicknames and how they fit their golf persona.
Wadkins, born Jerry Lanston Wadkins, was Lanny, a gunslinger of a name befitting his quick-draw nature, which made him very productive in the match-play drama at the Ryder Cup. Kite, though, was Mr. Consistency, speaking to his workaholic nature that produced steady performance throughout his career, which allowed him to pile up money. He overtook Tom Watson as the career money leader and was the first to hit $6 million, $7 million, $8 million and $9 million before Tiger Woods eventually swept past. Kite finished with $11,041,042 in PGA earnings, while Wadkins had $6,355,681.