The Loop
The buzzkill that ended the otherwise incredibly exciting NCAA Women's Championship
BRADENTON, FLA. -- For as energizing as the final 40 minutes of the NCAA Women's Championship played out Wednesday at The Concession G.C., it was the last 10 seconds that were the most stunning.
All that excitement replaced with chilling silence.
No one -- players, spectators, officials, Golf Channel commentators -- knew exactly how to react when Hayley Davis, the senior leader of the Baylor women's golf program and arguably its all-time best player, missed her five-foot par putt on the 19th hole of what turned out to be the deciding match of the championship. When her ball slid right of the hole, it allowed Stanford junior Mariah Stackhouse, already in with a par, to win her third straight hole and complete a comeback from 2 down with two holes to play to give the Cardinal and coach Anne Walker their first NCAA women's golf title.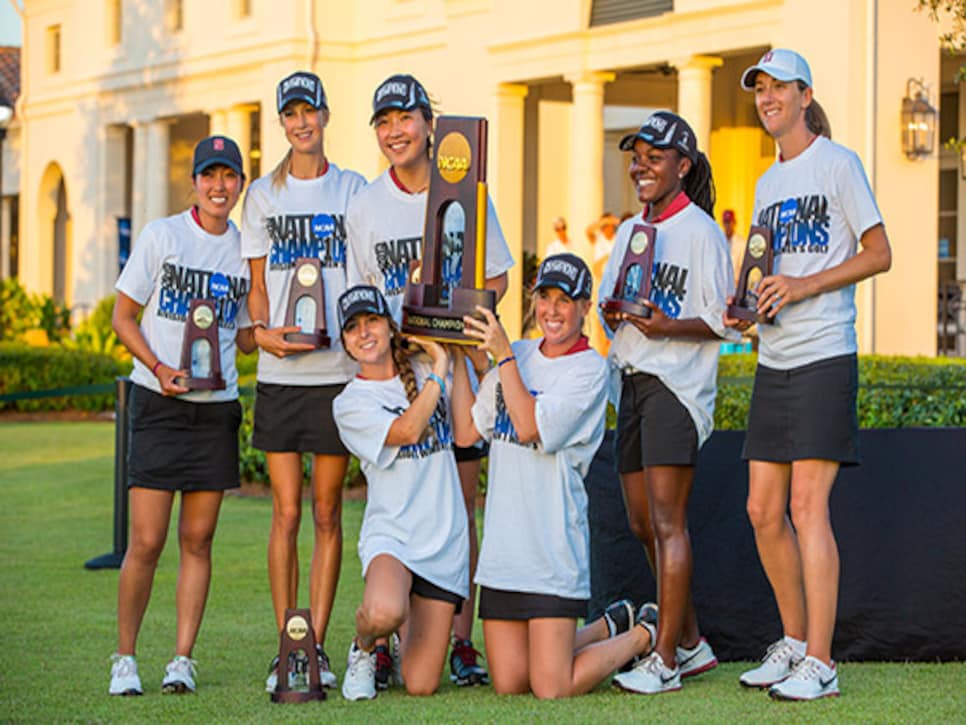 *Mariah Stackhouse (second from right) won the deciding match to give Stanford
its first NCAA women's golf title.*
Such a thrilling finish -- the final three holes in regulation were won with exceptional shots that set up birdies -- wasn't supposed to end with such a painful miscue.
"I looked back at the team like, 'Do we celebrate? What happens now?' " Stackhouse said.
It goes without saying that the much publicized change in format to include match play to crown a team winner brought with it the drama and thrills that everyone had hoped. But along with it came an unintended -- or at least unfortunate -- consequence: heartbreak.
"It was tough because I know all of my teammates . . . I kept hearing they're playing for you," said Davis, a 22-year-old from Wimborne, England, her tear-soaked face making her disappointment obvious. "That was the hard thing.They gave me the chance to win it for them and I wasn't able to make it happen."
The missed putt sadly dampened the incredible shot Davis pulled off on the 16th hole to seeming take control of the match and put Baylor in position to win the program's first national title -- after having finished no better than T-16 in two previous NCAA appearances. Standing 1 up on the tee and knowing that their match would decide which program walked off with the title (the four proceeding matches had been split 2-2), Davis hit her tee shot into a hazard. The good news was that the ball was playable, coming to rest on a patch of muddy dirt. The bad news, was the glob of the mud stuck to the ball.
Undaunted, Davis pulled out an 8-iron and nearly holed her 134-yard approach, leaving herself a four-foot birdie try that she converted to win the hole. "That was the thing," Davis said, "when I got up there, just to see that it was playable, I was excited, like I've been given a chance, like I'm going to make the most of it, and it paid off."
"That shot on 16, under the conditions, might have been the best shot I've ever seen," said Baylor coach Jay Goble. "I can't say that I walked up to her and had a warm and fuzzy feelings that she was going to hit it up there four or five feet away. But if anybody can do it, Hayley Davis can do it."
Given such a stunning change in momentum, with Stackhouse now dormie, the Stanford All-American and 2014 U.S. Curtis Cup player could easily have folded. Instead, she responded with inspired shots of her own. On the par-5 17th, she hit the green in two with a 3-hybrid from 209 feet, setting up a birdie to win the hole.
"That shot, as soon as it came off the clubface, I was just like, 'This is money,' and it felt really good," Stackhouse said.
Then on the par-4 18th, she hit her approach to eight feet and made another birdie putt to extend the match, the large crowd now following this everything-on-the-line match abuzz with a "can you believe what we're seeing?!?" astonishment
"I think I kind of had the easier hand because I had to go for it versus protect [a lead]," Stackhouse said. "I've never been more excited about a couple of finishing holes. I was like, we've worked hard for this all year. It's do or die. There are two holes left. You've got to get through to even have an opportunity to win the championship. That's the kind of stuff you dream for as a golfer."
While Stackhouse played at a higher level as the match wore on, overall the play on Wednesday was a little ragged, a byproduct likely of the seven straight days of practice or competition for the two teams in the finals.
"This is all adrenaline," Stackhouse said. "At this point, it's the last match. You're not going to get tired because it matters too much."
So much will be forgotten in the aftermath of Davis' miss. For instance Stanford sophomore Casey Danielson winning the final two holes of Match No. 1 against Baylor's Laura Lonardi, to make Stackhouse's match matter in the first place. And Cardinal freshman Shannon Aubert winning her third match of the week in Match No. 2, beating Lauren Whyte, 4 and 3.
What will also be forgotten -- or maybe just go unnoticed -- is how Davis reacted in the aftermath of arguably her worst moment in golf. Five minutes after her miss, the tears were still coming down her cheeks. Yet Davis walked back on the green where her opponents were celebrated, and proceeded to give each one a congratulatory hug.
"I don't know, forever," Davis said when asked how long it might take to get over what happened. "It's a five-foot putt. I've made probably thousands of those putts in my life. And that one didn't go in."
Davis paused, still sad, but composed.
"I mean it's tough, but I know I tried."