News
The biggest storylines when the PGA Tour returns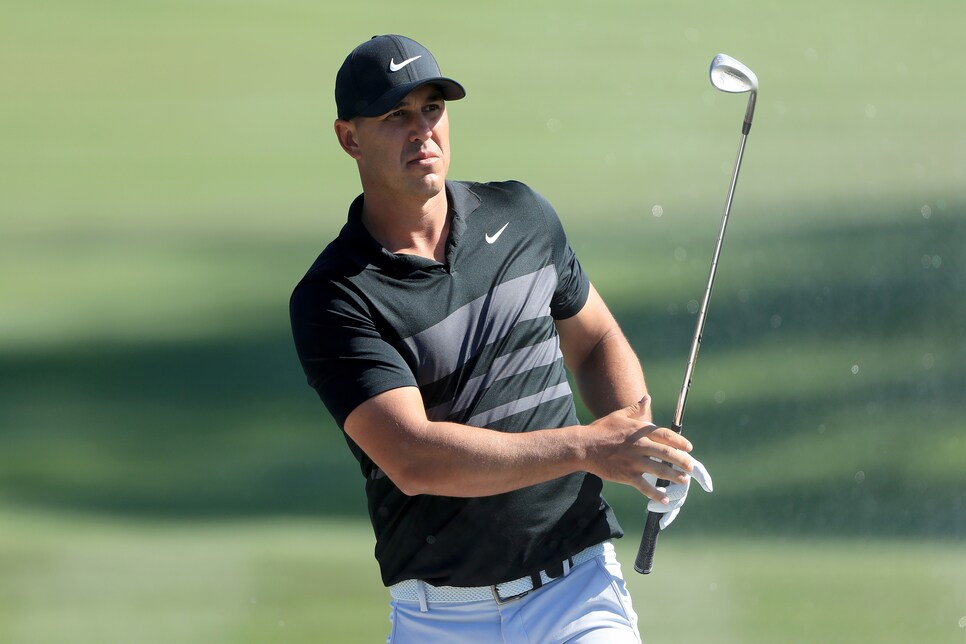 The PGA Tour resumes play on June 11 at Colonial Country Club in Fort Worth, beginning a stretch of 25 straight weeks of tournament golf. Some of the creature comforts of summer are gone—fans won't attend at least the first four events, the Open Championship has been postponed until 2021 and there will be no spectacle of those fighting to keep a tour card. Yet the sport will not be short on drama. Here are nine storylines to watch when the PGA Tour returns.
This is not so much a storyline as it is the cloud that hovers over the return. Unlike other proposed restarts from American professional sports leagues, the PGA Tour's operations will not be in a one- or two-city hub, and the logistics involved in weekly travel bring inherent risks. Moreover, there's not a true "bubble," as players and caddies will be on different planes—some with the general public—and will be allowed to seek lodging away from tournament-designated hotels. There are stringent monitoring protocols for players and caddies, yet there will be roughly 700 people on tournament sites who won't be tested for COVID-19. Even with all the safety measures in place, it would be a statistical oddity if all players and caddies made it through the season without registering a positive test.
What remains unclear is what happens if it happens. Andy Levinson, senior vice president of tournament administration, has already said one positive test will not cancel an event, and further remarked he didn't have a specific number in mind that would trigger a suspension of play. But that number does exist. And given the isolation procedures following a positive test—10 days with no subsequent symptoms, or two negative test results at least 24 hours apart—it is likely an event's cancellation could spur a domino effect on the schedule. Keeping its constituents safe as possible, and preventing that chain reaction, will be the tour's chief concern.
This question is an annual guesswork, as it's easier to get Area 51 security clearance than a definitive picture of Woods' schedule. Let's start with the obvious: So long as he's healthy, Woods will play in the PGA Championship (Aug. 6-9), U.S. Open (Sept. 17-20) and the Masters (Nov. 12-15). On the non-major front, Woods is a safe bet for the Memorial (July 16-19), which he has won five times, and the playoff-opening Northern Trust (Aug. 20-23). Should the Ryder Cup (Sept. 25-27) be played, it's hard to envision Woods—even with the biennial event coming the week after the U.S. Open—not competing for the American squad. There's also Woods' charity event, the Hero World Challenge, set for the first week of December.
That could be it for Woods in 2020.
Tiger is a man of habit, which does not bode well for the first four tournaments back—the Charles Schwab Challenge, RBC Heritage, Travelers Championship, Rocket Mortgage Classic. Woods has made a total of two appearances in these events, none in this century. The Memorial is sixth on the docket, followed by the 3M Open, a tournament Woods skipped in its debut last summer. Despite the no-cut, playoff/OWGR points grab of the WGC-FedEx St. Jude Invitational, it is risky for Woods to play in steamy Memphis before heading to the cooler confines of San Francisco for the PGA. His performance and standing at the Northern Trust will dictate if he plays in the BMW Championship and season-finale Tour Championship.
The other possible toss-up is Woods' defense of the Zozo Championship (Oct. 22-25) in Japan. The overseas travel, and the physical burdens that come with it, may come too close to Augusta's November date to chance the trip. Conversely, if he skips Tokyo, Woods would essentially have a two-month sabbatical between the Ryder Cup and Masters.
Revenge of the pea shooters
It's been well established the long ball reigns on tour, but the venues hosting the aforementioned first four events are outliers where strategy and precision still matter. Here are the winners of those tournaments last season and their rank last season in driving distance in parentheses:
Charles Schwab Challenge: Kevin Na (132nd)
RBC Heritage: CT Pan (167th)
Travelers Championship: Chez Reavie (158th)
Rocket Mortgage Classic: Nate Lashley (132nd)
Because these tournaments historically are sprinkled throughout the schedule, the tour's (relatively) shorter hitters can't achieve the consistency of their bomber brethren. With these smaller, tighter ballparks grouped together, those short on power are afforded a launching pad, an ability to turn a streak into something special. Which leads us to …
Golf journalism bylaws dictate a requisite "Can Jordan Spieth turn it around?" mention. But here's the thing: Those four tournaments listed above? Spieth has won two of them.
Things weren't pretty when we left the three-time major winner: 195th in strokes gained/off-the-tee, 198th in approach, 90th in putting so far in the 2019-'29 season. Yet the general consensus in the sport remains that a revival is a matter of if, not when. Considering his past success at these tracks, the revamped calendar may be the dynamo Spieth fiercely seeks.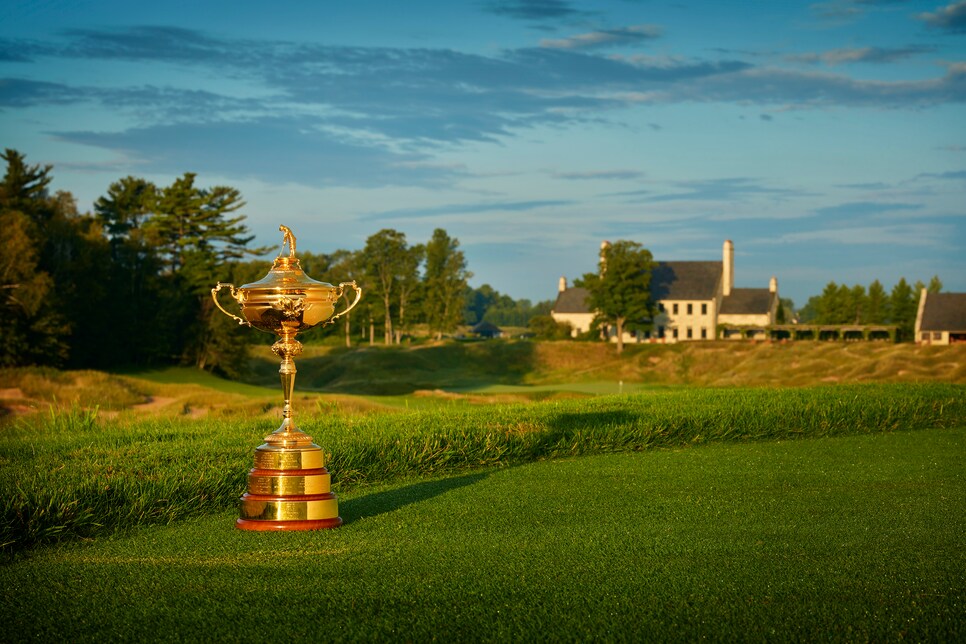 Brooks Koepka and Rory McIlroy have bristled at the prospect of a spectator-less Ryder Cup, both advocating the matches be postponed until fans can attend. Unfortunately, the European Tour may not have that economic latitude. The circuit, like so many businesses, has felt the financial strain of the pandemic, and is not inclined to delay one of its primary revenue drivers. It's not so much losing money from Whistling Straits falling back to 2021 (the Euro Tour's take when the match is played in the U.S. isn't great), but seeing the hoped-for windfall of Italy hosting the event in 2023 rather than 2022, as presently budgeted, that's the issue. (Perhaps that explains why Euro captain Padraig Harrington made a public about-face on playing without a crowd). It will be a joint decision with the PGA of America, but expect the Euro contingent to push for the Ryder Cup, even in a scaled-down version, to go on.
Should the Ryder Cup remain on the schedule, it's likely both teams will alter, if not toss out, their qualifying criteria and current standings. Harrington has already campaigned for all 12 selections to be captain's picks. How he and American captain Steve Stricker construct their teams will be fascinating. Do players have a three-month window to make their case? Or will Harrington and Stricker, deeming the schedule too volatile, rely on veteran, proven picks rather than breakouts or hot hands?
Also of intrigue: How late will the teams be announced? If you thought Billy Horschel missing the 2014 Ryder Cup after finishing the postseason T-2, win, win was a tough swallow, imagine a U.S. or European player winning the U.S. Open but, because rosters have finalized, watching the Whistling Straits showdown from home. If that comes to pass, empty the bank account on Horschel at Winged Foot.
When last we left the tour, Sungjae Im appeared to be the best ball-striker the game has seen since Ben Hogan (OK, a bit of an exaggeration, but you get our drift). Howwever, has the sabbatical zapped the South Korean's superpower, reducing him, tragically, to the best ball-striker since Johnny Miller?
Im begins the restart atop the FedEx Cup rankings. Don't expect him to fall too far down the list as the season gears up for the playoffs.
Look, we're well aware of the pitfalls induced by slighting, or appearing to slight, Kopeka. So do not mistake this as a Brandel Chamblee-esque shot or ranking-a-horse-ahead-of-him shade. This is merely an observation: Koepka hasn't been right since a knee procedure following the 2019 Tour Championship.
His best finish since East Lake is a T-43 at Riviera, and is outside the FedEx Cup top 200. It's a standing that's ostensibly worrisome, especially in wake of a 14-month heater that was downright Woodsian (three wins, six top fours in seven major starts). That Koepka has occasionally added fuel to the fire in the heat of the moment—"I don't know if my knee will ever be 100 percent," he said in February—hasn't helped.
However—and we're writing as much to readers as we are to Brooks; again, please don't put us on any sort of list—he hasn't lost his pop off the tee, averaging more than 307 yards in five starts. Digging into his analytics, his touch has simply been off, ranking 217th in greens in regulation and 208th in strokes gained/putting. Hey, even machines need fine-tuning. And any beliefs that his injury woes are lingering should be silenced with Koepka returning to the tour's restart at Colonial. Besides, Koepka cares about majors and majors alone; the rest of the year is merely an artifice for those four, er, three weeks.
In short, don't sound the alarm if Brooks looks rusty in Texas; he's operating with a different return date in mind.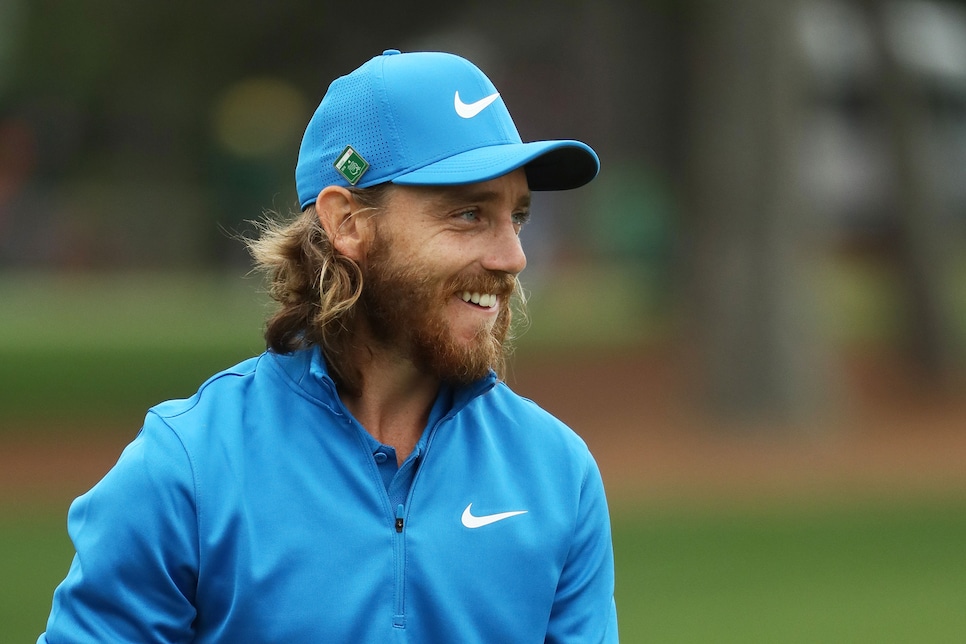 Jamie Squire/Getty Images
The U.S. Homeland Security made an exemption last week allowing professional athletes, including golfers and caddies, living outside of America to enter the country. However, each individual faces a quarantine once they arrive, and most will face similar isolation upon returning to their home country. This could result in a significant amount of international players skipping most, if not the rest, of 2020.
Adam Scott has already announced he will sit out the first two months back due to coronavirus returns. Lee Westwood and Eddie Pepperell remarked they intend to stay in the United Kingdom rather than travel for the PGA Championship. Tommy Fleetwood sounds on the fence. "It isn't impossible for me to play," Fleetwood told Golf Digest. "Far from it. But two weeks of quarantine at both ends of a trip across the Atlantic is a huge issue. That factor really made my decision for me. To go over and play in the three events scheduled for June would eat up seven weeks of my life. That's more than double what a trip like that would normally take. I wouldn't want to be away from my wife and kids for that long."
Granted, most upper echelon European players have a form of U.S.-based accommodations. Nevertheless, there are two significant reasons that influenced the PGA Tour to extend its membership to 2021: Players that were unable to play due to positive COVID-19 sickness or COVID-19 concerns, and those unable to play due to travel restrictions. It's nice these players won't lose their spots next season, but given the amount of chest-thumping the sport does about being a global game, the absence of stars from around the world will be felt.
Can Rory, Rahm and Thomas keep up torrid pace
Anyone who has remotely followed the tour understands the blitzkrieg McIlroy has been on, following up his 2019 Player of the Year campaign with six top-five finishes in six starts this season. Lost in Rory's shine has been the work of Jon Rahm and Justin Thomas. Since the U.S. Open, Rahm has 10 top threes and 14 top 10s in 18 starts. And in Thomas' last 11 outings, the budding golf analyst owns eight top 10s, including three wins. It's not unusual for someone to strike paydirt for an extended stretch. It is, however, rare that three would simultaneously be in "He's on FIRE" mode.
Their performances are more than streaks, but rather sustained consistency that seem impervious to droughts, at least those of long variety. In that same breath, the ebbs and flows of golf command one, if not all three, will cool off.
But golf is a star-driven vehicle, and there's more than one wheel for the taking. Should McIlroy, Rahm and Thomas continue where they left off, the next six months will be an epic ride.