Equipment
The best drivers of 2019—this is the year of the driver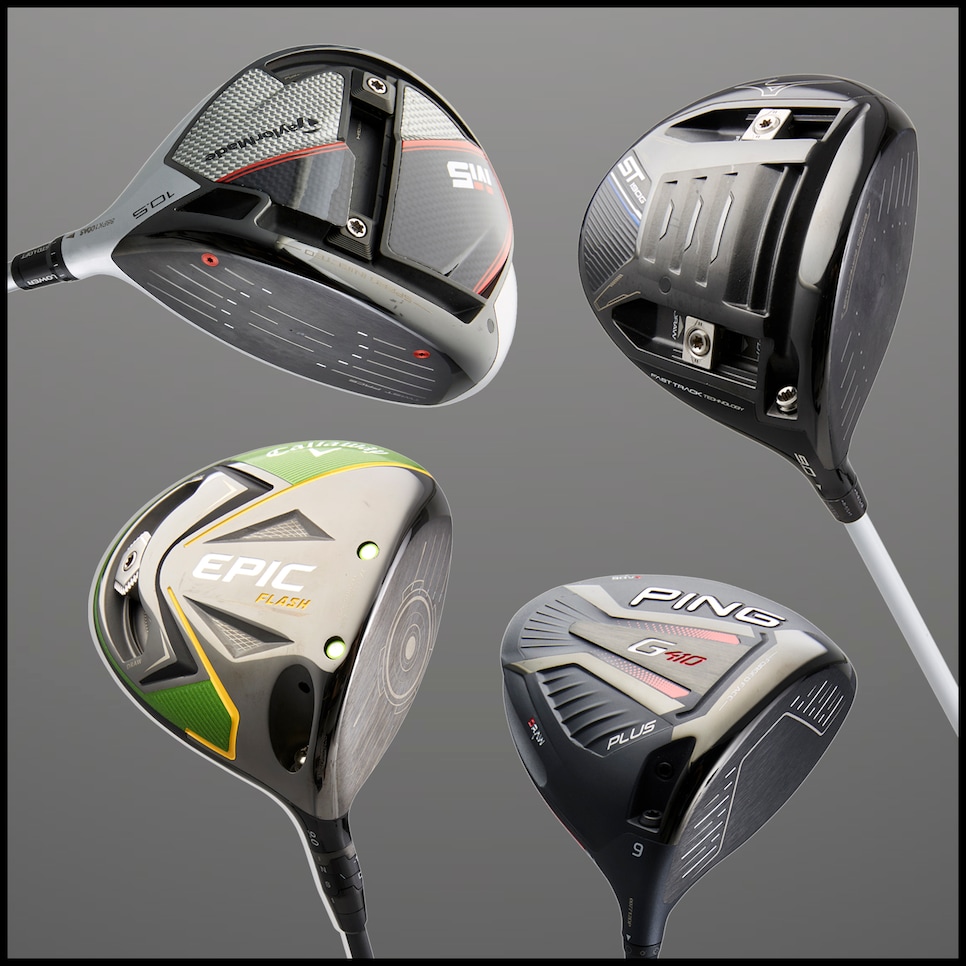 No club in golf has been more regulated than the driver, and all of those rules have been geared to rein in its performance and presumably dull our enthusiasm for making an upgrade to the most powerful club in our bag. Given the rules that govern equipment performance, the commonly held wisdom is that faces can't get any hotter, misses can't get any straighter and your chances of finding a little more distance since your last driver purchase five or more years ago are, well, over.
Like a renegade mustang bursting through a split rail fence, the crop of 2019 drivers represent the most exciting moment in driver technology since Pittsburgh met Persimmon and Big met Bertha. Thanks to leaps in manufacturing tolerances combined with materials once reserved for rocket ships, faces are flexing closer and closer to the limits imposed by the rules in ways that weren't possible before. Instead of conservative designs, we're seeing more companies pursue thinner faces that break new ground when it comes to how much they flex at impact. Sure, the rules still put a limit on them, but drivers that even approached that limit used to do so in the tiniest, millimeter-sized areas that only the best players could take advantage of. Now that section of the face with maximum heat has in some cases doubled in size, allowing more impacts to blast the ball off the face like it's late to catch a plane.
But that's not the whole story. New, lighter structures and materials give designers more freedom to add the kind of bonus features to a driver design that cater to any personal performance desire you might have. You want mishits to still retain most of the power of a center-face bomb? Yup, more drivers are more stable than ever today—all without feeling like you're swinging a mailbox. You want lots of adjustability to tweak ball flight and direction? No problem—weights in some cases move in infinite degrees front and back, left and right, up and down. You say your slice is so bad that bananas give you the willies? With heaps of extra mass stashed in the heel, it'll be welcome to Main Street in Straight City.
Not sure the new drivers will make that much difference? We get it. But we don't buy it. Take that old driver of yours to a great fitter with a launch monitor and get totally dialed in. Find out what you've been missing: Shorter shots into the green.
Story: The original Epic blew our minds with its "jailbreak" technology in which two titanium bars connect the sole and crown to maximize flexing in the face. The Epic Flash has this technology, plus a face designed using artificial intelligence: Thousands of virtual prototypes—impossible to conceive with traditional methods—created a face whose back (under magnification) is rippled like an Olympics moguls run. The benefit is more ball speed across the meat of the face. The head is also extra stable on off-center hits, and there's a sliding weight track in the rear to adjust flight.
Loft: Epic Flash (9, 10.5 and 12); Epic Flash Sub Zero (9, 10.5). All with eight-way adjustable hosel (+2/-1 degrees)
Story: The problem with an aerodynamic shape is, well, the shape. Sure, it helps the club slide through the air, but it often places too much weight high in the clubhead, resulting in increased ball spin and less distance. Cobra's design here keeps the smooth edges for aerodynamic efficiency. However, instead of compromising on spin, Cobra stretched its lightweight carbon-composite crown around the edges. Light material on top means more heavy material low and deep, including a 14-gram weight in the sole that can be switched from back to front to lower spin even more.
Loft: 9, 10.5 and 12 degrees (each adjustable by +/- 1.5 degrees)
Story: For Mizuno, it wasn't enough to incorporate a high-strength beta titanium alloy in a complex variable-thickness face with a carbon-fiber crown to help lower the center of gravity. The company's engineers also designed "waves" on the sole to improve forgiveness and boost the size of the hottest part of the face as much as 50 percent. The ST190 features a steel weight deep in the sole to improve launch and stability on mis-hits. The lower-spinning ST190G has parallel sliding weight tracks to better control spin and ball flight.
Loft: ST190: 9.5, 10.5; ST190G: 9 (both models adjustable by +/- 2 degrees)
PXG 0811 X GEN2/0811 XF GEN2
Story: Driver designers love carbon-fiber crowns. The lightweight material allows a low center of gravity and more stability on off-center hits. But the team at PXG wanted more, so it selectively raised and thickened its carbon-fiber crown. The goal is to stiffen the structure and redirect energy back to the flexing face for distance. There are two options: The adjustable and compact 0811 X has nine sole weights to optimize trajectory. It also emphasizes low spin and high speed for better players. The larger 0811 XF is designed for high launch and forgiveness that nears the USGA limit.
Loft: 0811 X: 9, 10.5, 12; 0811 XF: 9, 10.5, 12, 14 (both adjustable +/- 1.5 degrees)
Story: Even though Ping's new family of drivers has a model with an adjustable center of gravity (G410 Plus), the line retains its extreme stability. This means your mis-hits will be nearly indistinguishable from your center strikes. One key feature is a weight-saving, super-thin crown designed with narrow support veins like those on a dragonfly's wings. This allows the Plus model to have a 16-gram weight that seamlessly fits into draw, neutral and fade positions in the rear perimeter. On the lighter, slice-fighting SFT model, extra mass moves to the heel to help you square the face at impact.
Loft: G410 Plus: 9, 10.5, 12; G410 SFT: 10, 12 (both adjustable +/- 1.5 degrees)
Story: When you're in search of ball speed, it helps to have the exclusive use of a super-strong titanium alloy. This strength allows the face to be designed thinner so it can flex more for maximum ball speed. Both models here feature a cupface design in which the face extends around the crown and sole. That construction creates more thin areas on the perimeter to increase flexing. The Z 785 has an adjustable hosel and is geared for better players. The Z 585 features more forgiveness and produces a higher launch angle. Both have a lightweight carbon-fiber crown.
Loft: Z 785: 9.5, 10.5 (adjustable +/- 1 degree); Z 585: 9.5/10.5 (not adjustable)
Story: The premise is wickedly simple: To make a faster-flexing face, why not make it illegal to start? Then, before the head is finished, tune it back to being legal. The execution isn't so simple, of course. The heads are injected with a precise amount of resin (through those blood-orange ports) to make them as close to the conforming limit as possible. TaylorMade says it has increased the area of the face at the USGA limit to nearly the size of a quarter. Also, two 10-gram weights in a T-shape track on the sole control ball flight in thousands of possible settings.
Loft: M5: 9, 10.5, 12; M5 Tour: 9, 10.5 (both adjustable +/- 2 degrees)
Story: Instead of extra adjustability, some of us just want maximum forgiveness. In place of sliding weights, large panels of carbon composite fill the sole. They flank a weighted center section, allowing mass to be placed low and deep on the standard model. There's also a D-Type with 46 grams in the heel area to beat back a slice. And the face? Like the M5, the twisted-face shape helps minimize mis-hits. TaylorMade also starts with an extra-fast (nonconforming) face. Then, the head is injected with resin to bring the speed back under the limit. This intense manufacturing process aims to push every TaylorMade face closer to the edge than the norm.
Loft: 9, 10.5, 12 (both adjustable +/- 2 degrees)
Story: These two distinctly different drivers share a foundation. It starts with a new face design and a thinner-than-ever titanium crown. Together those features help produce higher ball speeds and lower spin than in past models. (Titleist also ensures quality control by inspecting every head for maximum spring-like effect.) The weight saved from the 20-percent-thinner crown is redistributed low and deep to help increase the off-center-hit stability of the larger-profile TS2. On the more classic-shape TS3, a sole weight can be adjusted for a fade or draw.
Loft: TS2: 8,5, 9,5, 10,5, 11.5; TS3: 8.5, 9.5, 10.5 (both adjustable)
Story: Average golfers fight two problems with their drivers. They hit the ball too low, and they battle a slice. Bridgestone addresses those issues with this driver's structure and weighting. First, a thinned-out crown gives at impact, allowing the face to flex like a spring against a sole made extra firm by a structure featuring internal and external ribs. That helps provide a higher flight. Second, loads of weight in the heel (25 grams internally and a 10-gram weight in the sole) make it easier to square the face. A special milling pattern on the face—double the depth of its predecessor—also helps reduce spin on those high-launching shots for better distance.
Story: The Exotics line is known as Tour Edge's high-tech luxury brand, but the EXS costs more than $200 less than comparable models. Still, the EXS checks off an admirable technology roster: a weight-saving carbon-composite crown and sole panel that push mass low and deep for forgiveness, low spin and high launch. There's also a variable-thickness face to enhance ball speed on mis-hits. Finally, movable sole weights and an adjustable hosel let you manage spin and direction among 16 settings.
Loft: 9.5, 10.5 (adjustable +/- 2 degrees)
Story: The D7 is about 30 grams lighter than the typical driver, but the way the weight is distributed helps boost distance. The grip, shaft and head are lighter than standard, so you can swing the club faster. That speed boost also benefits from a more efficient head design. Using a carbon-composite Kevlar crown and eliminating the adjustable hosel saves nearly 20 grams. The saved weight is redistributed differently based on loft: For players seeking low spin with low-lofted drivers, the weight is low, forward and neutral. Those who play high lofts get a club with the weight back and toward the heel for improved carry and draw bias.
Loft: 9, 10.5, 13 (non-adjustable)