The Loop
The Bear Trap bites, Tiger comes out of hibernation, Stephen Curry's ridiculous week, and Oscars dress-up
Welcome to another edition of The Grind, where we hope you weren't playing a Honda Classic drinking game that involved the phrase "Bear Trap" over the weekend. To be fair, all the talk was warranted as the tough stretch took a bite out of everyone, including the eventual winner. Either way, we'll keep the lights dim and the noise to a minimum as we run down all that happened in golf during a busy week.
__Adam Scott: __ No anchoring on the greens? No Stevie on the bag? No problem. The former World No. 1 topped a tough course at a tough track to pick up his 12th career PGA Tour title – the most of any current player under 40.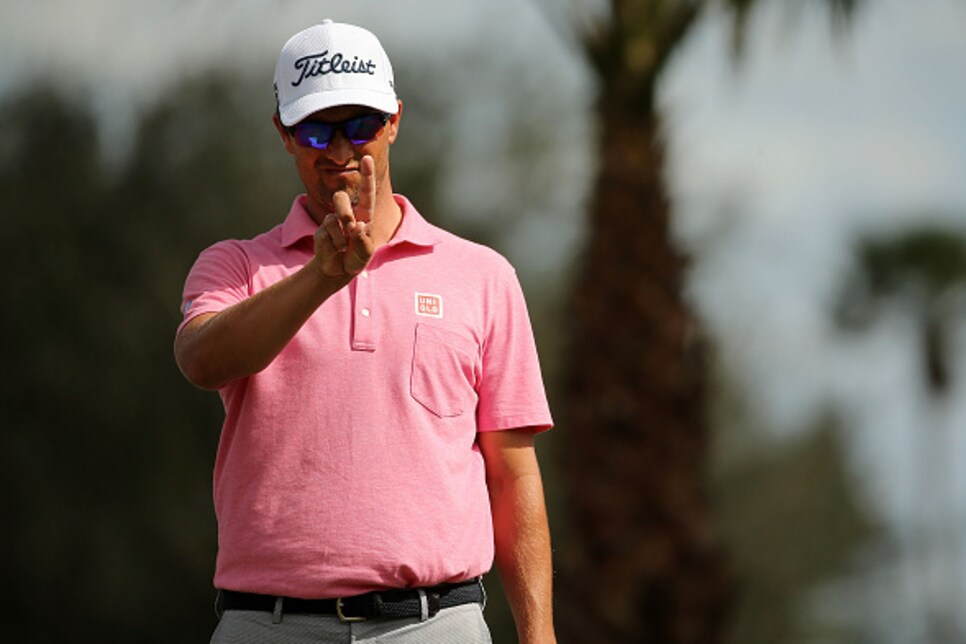 Wait, what was that? Did we hear someone say, "BIG FIVE"?!!!
Lexi Thompson: Speaking of figuring it out with the putter, Thompson cruised to a six-shot win in Thailand to move to No. 3 in the Rolex Ranking and become golf's highest-ranked American female. Uh-oh, it might be time to start some BIG THREE chatter on the LPGA Tour.
Tiger Woods: All it took was two words ("Progressing nicely.") and one swing on a simulator to remind everyone who the top guy is when it comes to grabbing golf headlines. Woods also made a couple other appearances to let everyone know he's not dead. And he took his own group out to dinner and picked up the bill!
OK, so it was at his own restaurant. But still, he could have made everyone pay. The man's got a lot of overhead costs to cover.
Stephen Curry: The sharpshooter made an NBA-record 22 3-pointers in a two-game span, including this absurd game-winner from near half court:
But that wasn't even his most impressive 3. No, we're going with the birdie he made on the opening hole at Augusta National. Stephen Curry. So hot right now.
__ Sergio Garcia with 54-hole leads: __ The Spaniard didn't play that badly on Sunday, but we can't overlook that he's now a dismal 3-of-13 (.231) when it comes to closing out 54-hole leads/co-leads on the PGA Tour. That's not even a decent batting average.
__The Ryder Cup party's impact: __ A bunch of Ryder Cup hopefuls (John Huh? Really?) gathered at Jack Nicklaus' house for a team-bonding experience. Ain't no party like a Nick-laus party, 'cause a Nick-laus party don't stop.
Except it did. At around 10 p.m. Although it still looked fun, we don't see this mattering come the fall – other than possibly clinching Jack Nicklaus ice cream as the official dessert of Team USA.
Having a heart attack on the course: What a scary moment for Jason Bohn, who was rushed to a hospital following his round on Friday. Originally believed to be a minor heart attack, it turns out he had a 99-percent blockage in one of his main arteries. Thankfully, Bohn is doing better.
Jimmy Fowler/Walker's weekend: Walker walked onto the first tee at PGA National on Saturday in the final group and just one shot off the lead. Then this happened:
Walker appeared to handle being called "Jimmy Fowler" well, but then played so poorly he needed a birdie on 18 just to break 80. Great, now Team Europe has a surefire way to get into Walker's head at the Ryder Cup.
The PGA Tour heads to Miami and Trump National Doral for the WGC-Cadillac Championship. Despite being in the heat of a Presidential race, the Donald is expected to be in attendance. This has to be the first time ever a PGA Tour event doubled as a campaign ad.
Random tournament fact: This is the greatest golf site in all of Florida. Trump said it, so it must be true.
RANDOM PROP BETS OF THE WEEK
-- Doral's first-tee announcer will get Jordan Spieth's name wrong: 1 MILLION-to-1 odds
-- Donald Trump will land his plane (not his helicopter, his PLANE) on the 18th fairway: 10-to-1 odds
-- Donald Trump will say something preposterous during the trophy presentation: LOCK
Add photobombing to the long list of "What will Phil do next?"
Introducing college senior Velten Meyer, who came up with a creative way to hole a "bunker" shot.
What will these kids come up with next? I still can't even juggle a golf ball. Or routinely get out of the sand.
ARCHIVE VIRAL VIDEO OF THE WEEK
A dad promises a puppy for his 11-year-old daughter if she makes a hole-in-one. Spoiler alert: She does.
"I can't imagine how them coming over to have dinner at an old man's house is going to help any." – Jack Nicklaus. OK, so it's not just us.
THIS WEEK IN NATALIE GULBIS MAKING US FEEL BAD WITH HER TRAINING
"Seven years a gymnast" sounds like a movie with serious Oscar promise.
__THIS WEEK IN DUSTIN JOHNSON-PAULINA GRETZKY AUSTIN JOHNSON-SAM MADDOX PUBLIC DISPLAYS OF AFFECTION __
__THIS WEEK IN BRANDEL CHAMBLEE-BAILEY MOSIER PUBLIC DISPLAYS OF AFFECTION __
Who are you wearing, Brandel?! Looking good, guys, but we also could have called this part, "This week in golf couples taking the Oscars wayyyy too seriously.
A Canadian golfer at La Costa tackled a man on the course who was fleeing the police and held him until the authorities arrived. Sounds like someone my New York Giants could use. . . . Baltimore Orioles pitcher Brian Matusz now has made righty AND lefty holes-in-one. Must be nice. . . . Augusta National reportedly might pay $27 million just so they can add 50 yards to the 13th hole. Isn't anything sacred anymore?! And finally, I noticed something unusual during my first trip to the range in 2016. See that thing about 25 yards out from the hitting bays?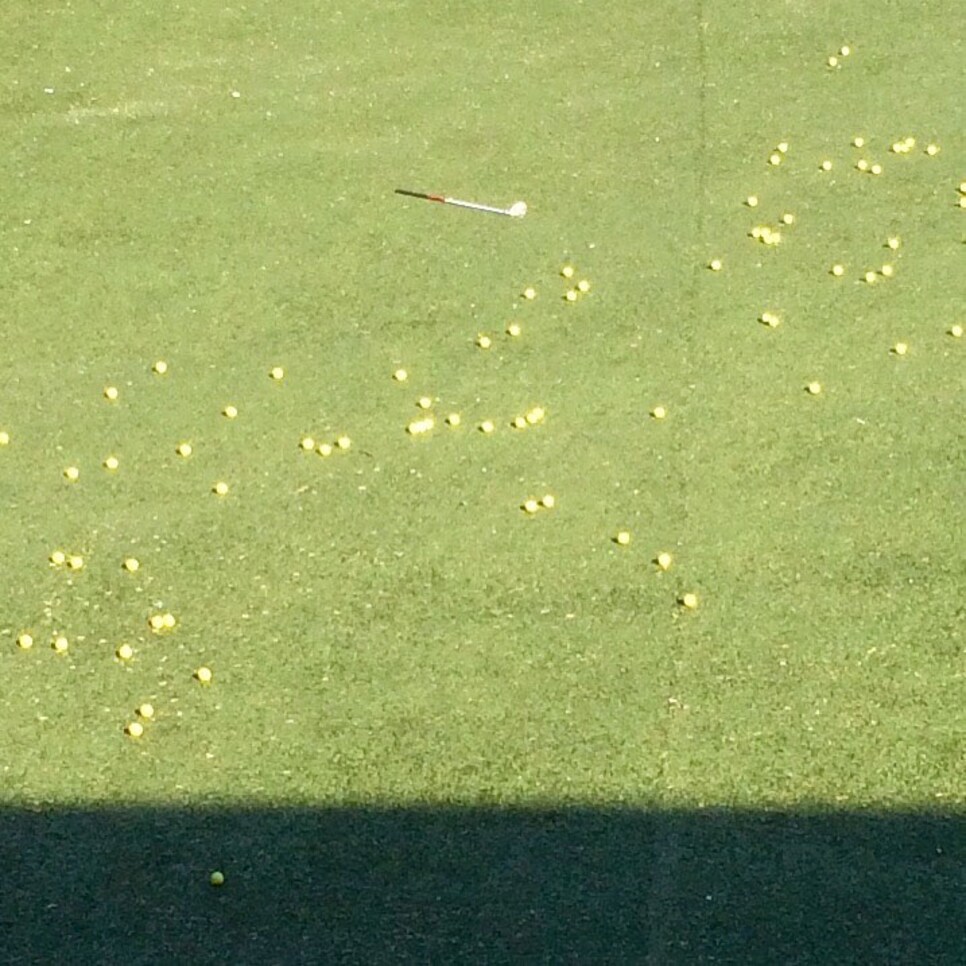 That's a golf club. Looks like someone is in for a rougher season than me.
RANDOM QUESTIONS TO PONDER
What did Stephen Curry shoot at Augusta National?
How was the kid from "Room" not nominated for an Oscar?
Can Chris Rock host the Golf Writers Awards Dinner?