The Loop
The art of the spray: How the LPGA Tour celebrates in style
If you've watched the LPGA Tour at all, you've probably seen it happen. Odds are, you'll see it again this Sunday.
"It" refers to how LPGA pros treat their winners and it might be what separates the women from the men in golf more than anything. The women shower their victors with praise. Literally.
Win an LPGA Tour event and there's a great chance you're going to walk off the 18th green soaking wet. Lose one, and there's still a good chance you'll be part of the spraying celebration.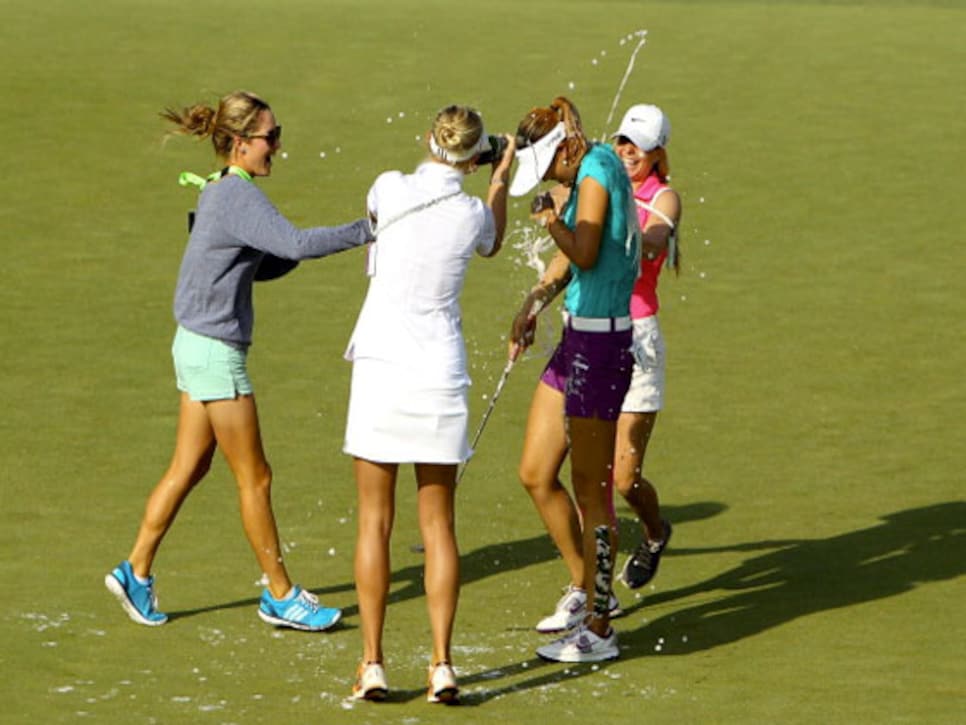 "It's a small little-knit group out here. . . . Somebody's going to always be there for you and it's nice to see everyone come together and root for each other," Brittany Lincicome said. "Any chance I get, if it's a friend and I'm still there, you'll definitely see me out on the green."
"I think you've got to give to receive. That's always what I live by," Sandra Gal added. "We're always happy for our friends when they win and that shows the spirit of our tour."
LPGA Senior Director of Social Media Tina Barnes-Budd agreed.
"[LPGA Commissioner] Mike Whan's big mantra is 'Hugs, not handshakes.' He wants it to be very fun for the fans," she said. "They all seem to get into it."
Barnes-Budd wasn't sure when the tradition started, but remembered players doing it with beer at the Michelob Ultra Open at Kingsmill, which began in 2003. The oldest photo we could find of that was Cristie Kerr getting doused by Natalie Gulbis and her then boyfriend and now husband Erik Stevens in 2005.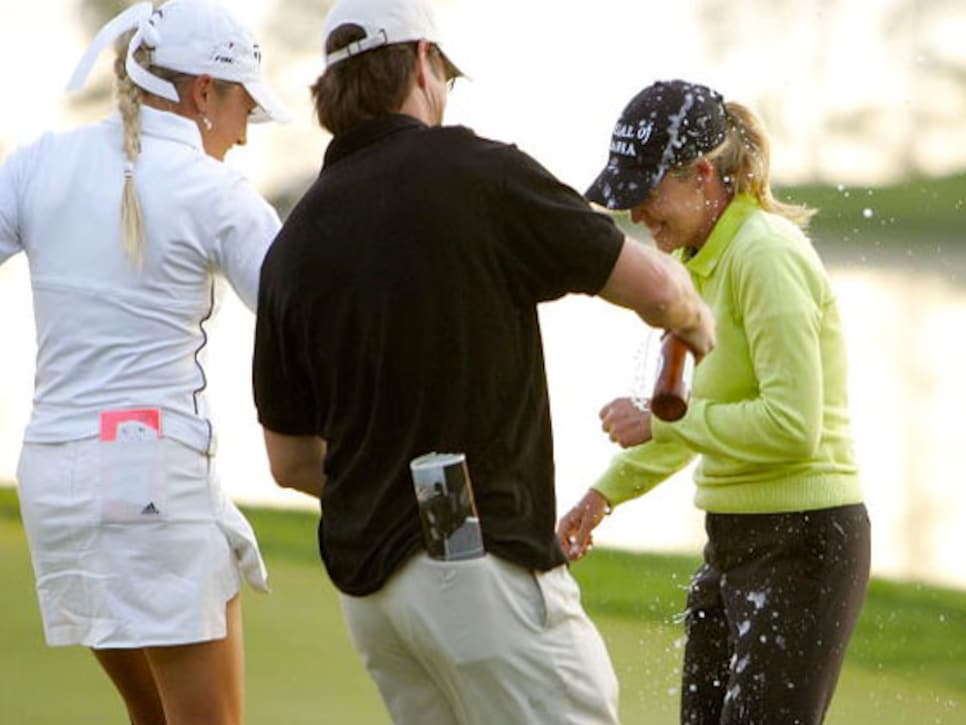 And here's Se Ri Pak in 2004 at Kingsmill with a trophy full of beer.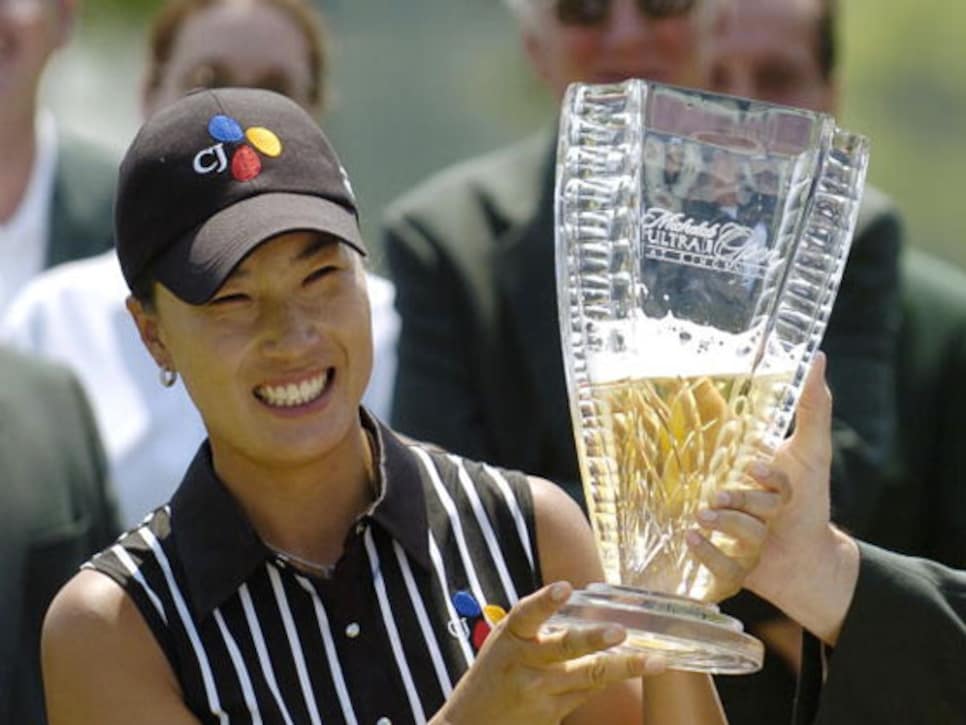 And here's Pak with an empty trophy.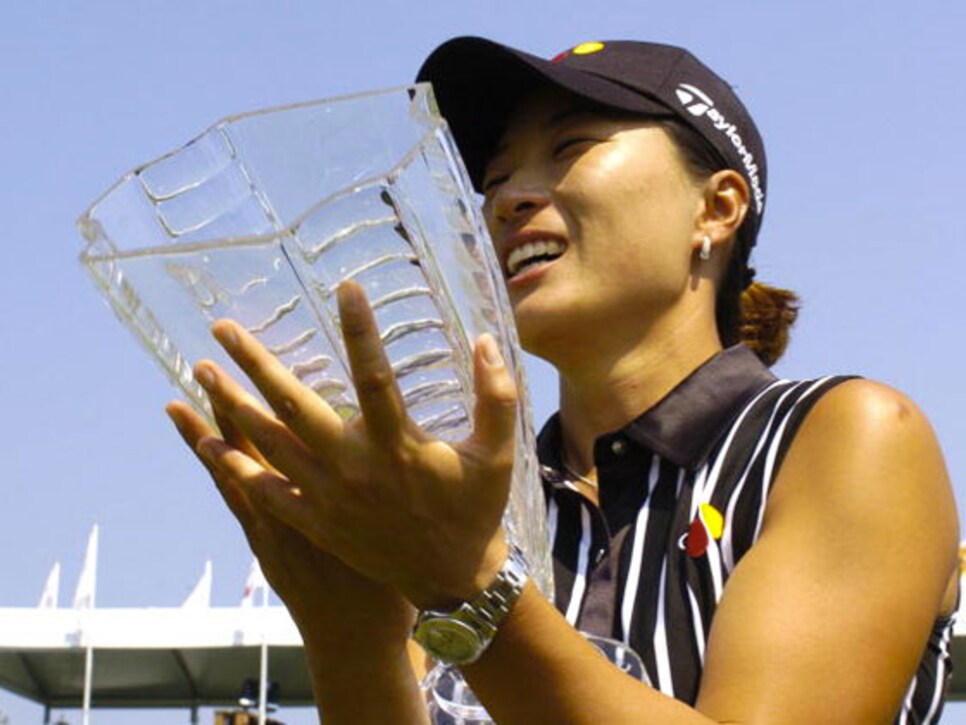 Wait, did she drink that whole thing?!
But back to the spraying, while no one could give an exact answer as to how it began, most agreed Christina Kim has long been one of the ring leaders of the practice. Here she is drenching Karrie Webb with bubbly at the 2006 Kraft Nabisco. Observe her good form. The precision. The power. Now that's talent.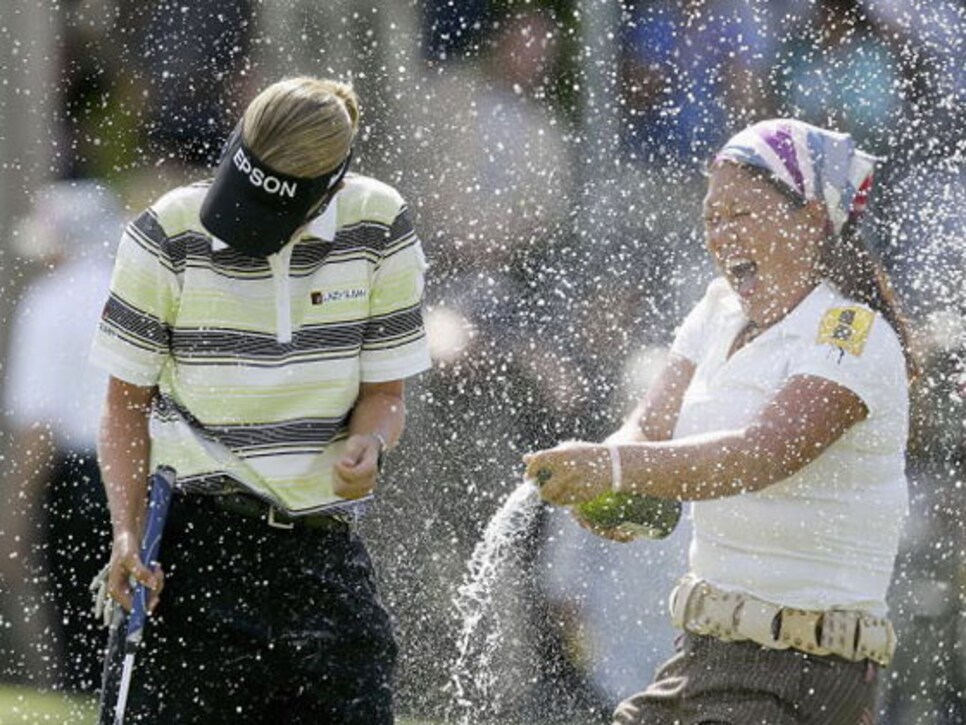 Kim says she vaguely remembers seeing LPGA players spraying winners growing up, but couldn't pinpoint a specific event. In other words, she's not the Spraymother as many believe. But as a participant, Kim is somewhat of a purist, only doing it if champagne is involved -- and if the win has special significance.
"Every win is important, but I'm not going to shell out 100 bucks a week just to spray, like, 'Hey, Inbee [Park], this is your 49th win,'" Kim said. "We're going to pitch in for the good stuff. We're not going to spray water."
"Whatever's available," Gal said. "Obviously, you want it to be champagne. Sometimes it's beer, which is not very good. If everything fails, then water."
"I remember after my first win I did not get sprayed and I was so bummed," Brittany Lincicome said. "And then every time after that, I've been sprayed. I'd take anything. I love it. We even used shaving cream in the Bahamas."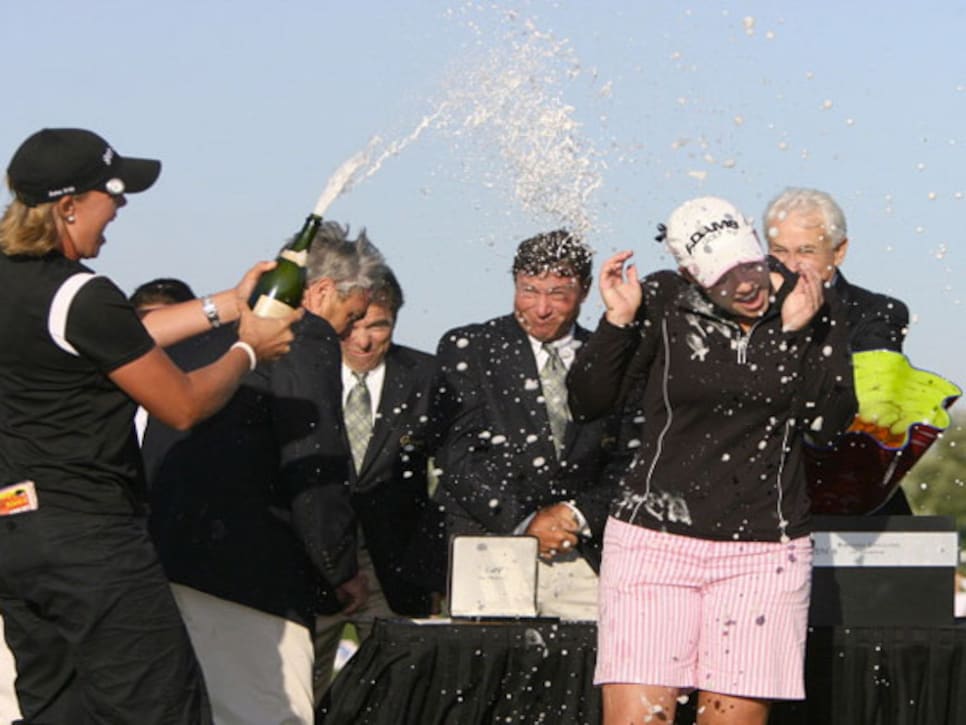 Gal went as far to take the tradition to the guys last year when countryman Martin Kaymer won the U.S. Open at Pinehurst, where the U.S. Women's Open was contested the following week.
"It was just an impromptu thing," Gal said. "I never thought twice when I went on the green to spray Martin. And then I realized, 'Oh, the guys don't do it. Oops, sorry!' and I apologized to him, but I was just so excited."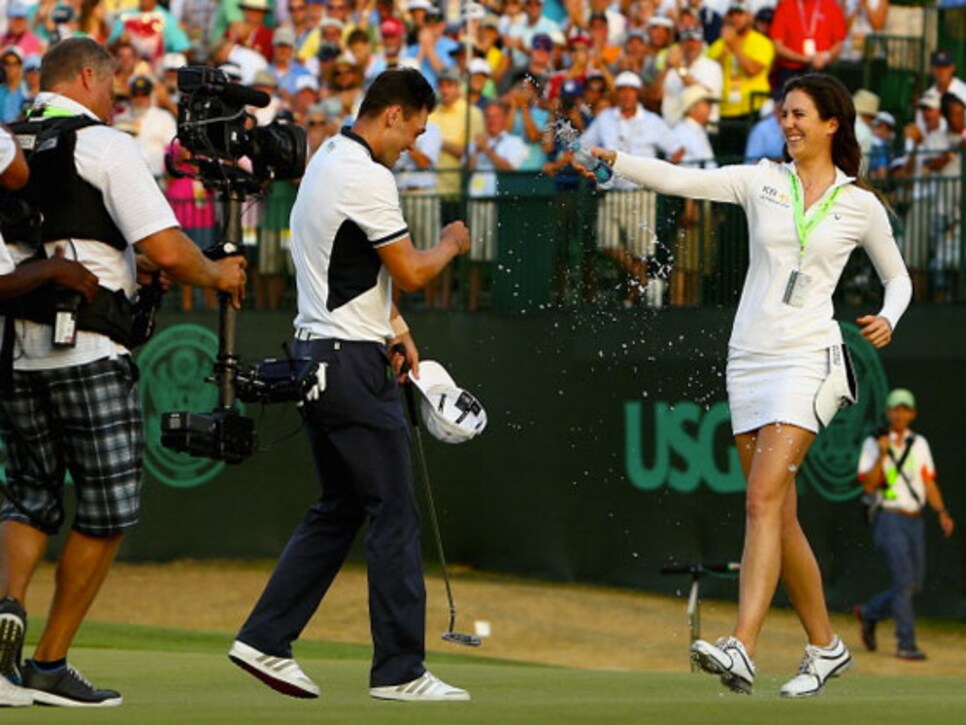 Unfortunately, it hasn't caught on yet on the PGA Tour.
Inbee Park combined two traditions after winning the ANA Inspiration in 2013. Park made the winner's leap into Poppy's Pond, but because her father couldn't be at the tournament, she bottled up some of that water and dumped it on him when she saw him next. Hope she gave him fair warning.
Gal and others thought the Koreans on tour might have started the spray, and considering how much they've won in recent years, that's an easy conclusion to come draw. But Park doesn't think so.
"It was already there when I got on tour so I just thought that's how it's always been," Park said. "It's just a fun way to congratulate each other. When you get something like that, you try to wait for your friend and you do it for them as well. It builds good friendships."
But what if a minor like Lydia Ko is involved?
"We probably should use water," Lincicome laughed.
Kim added, "At the CME, Octagon brought a case out. I said, 'That better be sparkling cider, because [Lydia Ko] can't drink yet.'"
"But we kept it neck down." And the photos seem to back that up. Again, Kim has mastered this art over the past decade.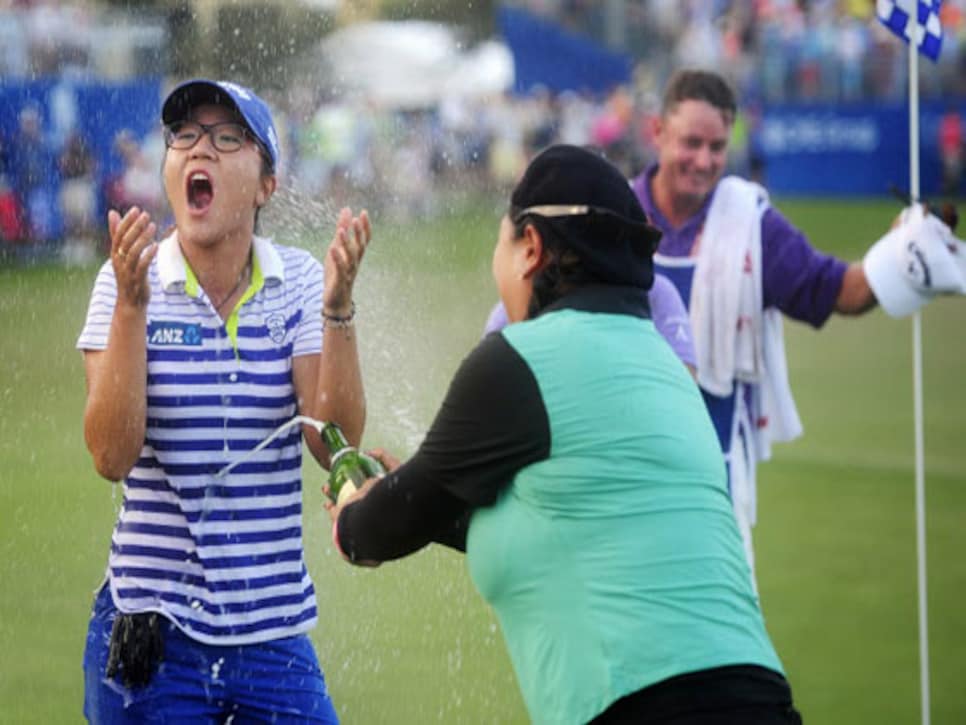 Not that Ko, despite her initial surprised reaction, seemed to mind the champagne shower.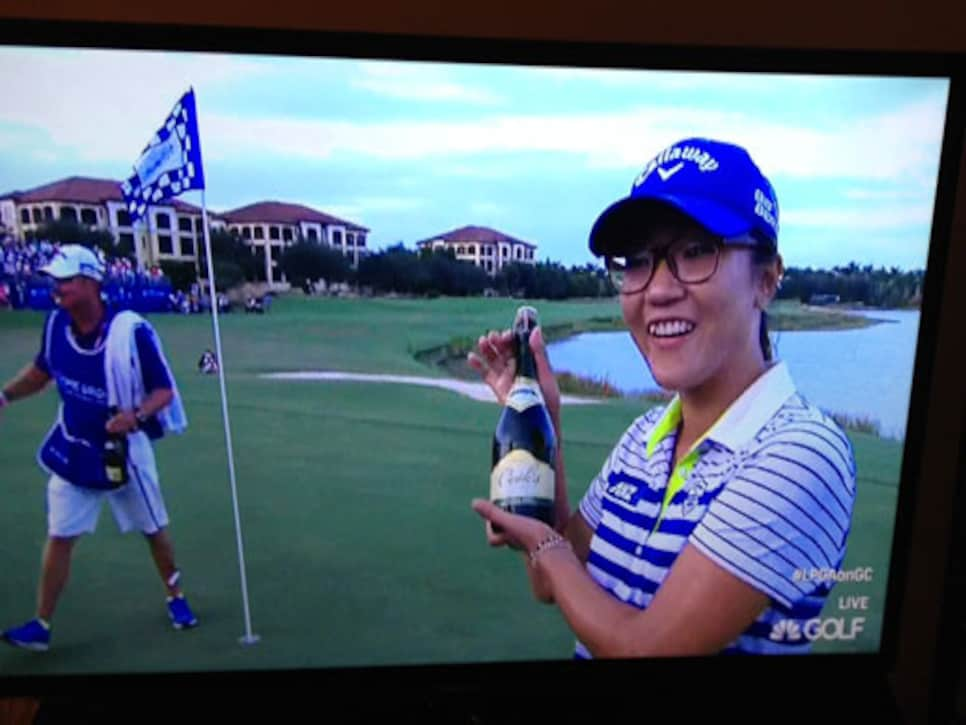 "It was definitely a special moment and I was so glad to share that moment with amazing girls," Ko said. We hope she shared that bottle too. . .
So how does one round up a spray crew at the end of a tournament?
"It's just 'Hey, champagne!' And we've got to go find some somewhere," Kim said.
Sounds like a plan. No glasses necessary.