CHASKA, Minn. — At the end of a lopsided Ryder Cup, as the matches near completion, I like to indulge in a game of conjecture: Which match, I ask myself, gazing at leaderboards and listening to the hyper-poetic BBC voices in my ear piece, will officially seal the victory? For a journalist on the course, that location is the place you want to be, because the first and best party of the aftermath always goes down near the victory green. In 2014, the fatal blow came on the 15th hole, when Jamie Donaldson dropped a dart from the fairway to take down Keegan Bradley 5&3 and push the European point total from the tantalizing 13.5 to the definitive 14.5. That's where expensive champagne is sprayed, and flags are draped over the shoulder like capes, and chants are chanted and songs are sung and tears are cried and the winners dance while the losers must bear the indignity of sincere condolences before sulking away. You want to be at the epicenter of the earthquake, to drink in the tiny details and get bumped around in the huddle and step into the alcoholic crossfire in the hope of becoming a civilian casualty.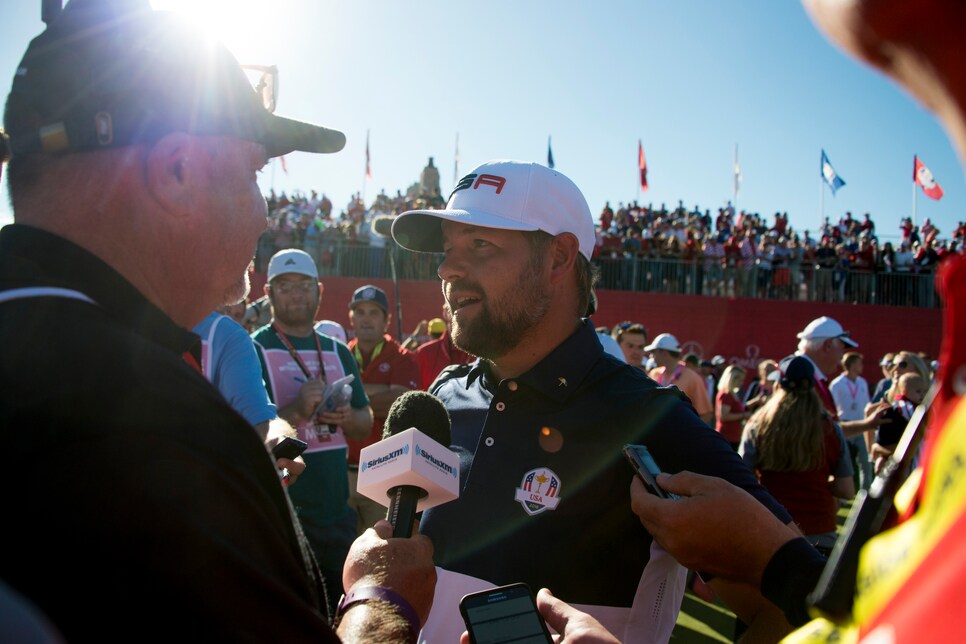 I played the game on Sunday at Hazeltine starting around 3:30 pm, scrupulously studying the electronic leader boards and making my initial calculations as the U.S. surged closer to the 14.5 point threshold with early wins by Patrick Reed and Rickie Fowler. Would it be Ryan Moore, who had just won a hole from Lee Westwood just below where I stood on the hillock overlooking the 16th green, and was now heading to the 17th one-down and trying to salvage a half? Would it be Phil, trying to earn a full point against Sergio, or would he be finished too early? It couldn't be Koepka, who was annihilating poor Danny Willett and putting him out of his weekend-long misery somewhere far away, dormie with five to play and destined never to reach my perch, but it could be Snedeker, or Dustin Johnson. I tracked the pieces of the jigsaw puzzle as they assumed definite shape and fell into place, my brain working in an unchecked stream of consciousness—Koepka closes out Willett to push the lead to 12.5 points, no surprise, and wow, Moore takes 17 to move to all square, he could actually win that match and of course he's facing Westwood who is very capable of blowing it, and now DJ could win on 16 and God, Phil made his birdie on 18, but so did Sergio to halve, there's 13 points, 1.5 left, Snedeker could get it on 17, and sure enough he's close to clinching on on the green, but no, shit, DJ just lost the 16th somehow, and there's Snedeker winning his match, it's at 14 points now, and yes, this is what I was afraid of, it's going to be Moore on 18, way up the huge $@#$ hill because it couldn't be easy, could it, so now I have to choose whether to jog the whole way up as the sun bakes down, since they're already on the green, and of course I do it because I haven't been out here for five hours bouncing from match to match to miss the #$#@ party.
I arrived breathless at 4:10 p.m., just as Moore rolled his birdie putt close enough to earn the concession and the Ryder Cup itself. It didn't take long before I realized it was a pointless act, other than the trace benefits to my cardiovascular health which I would soon heroically overcome with the help of so-so cupcakes in the media dining room. The celebration I witnessed had a definite taste of anticlimax. The players hugged each other, Davis Love III wiped a tear from his face, and Bubba Watson crept up behind Moore while he was being interviewed on TV and kissed him on the cheek. The entire scene was muted, just like the roar from the stadium seats on 18 was muted, just like the behavior of the fans—crass enough on Saturday afternoon to merit an official warning from the PGA of America—was muted.
The entire day was an anticlimax—replete with variations on the main theme almost from beginning to end—but it was one the Americans had earned. They had planned for two years, endured second-guessing and various minor indignities, for the right to a boring Sunday. It only seemed proper that they enjoyed it, on the 18th green, in a boring manner.
The one piece of true Sunday drama came early, in the opening match between Patrick Reed and Rory McIlroy. For the first eight holes, it seemed as though it might be one of the greatest Ryder Cup matches ever. They exchanged body blows, went a combined nine under in one four-hole stretch, and engaged in such theatrical celebrations after made putts that it began to seem like something between a scripted wrestling match and Kabuki theater. They barely waited two holes before stealing each other's signature moves—Rory shushed the crowd, Reed bowed. They wagged their fingers at each other, they screamed, they pumped their fists, and gradually both became to seem like professional hype men who were forced, once in an unpleasant, to take very skillful golf shots. It was wonderful.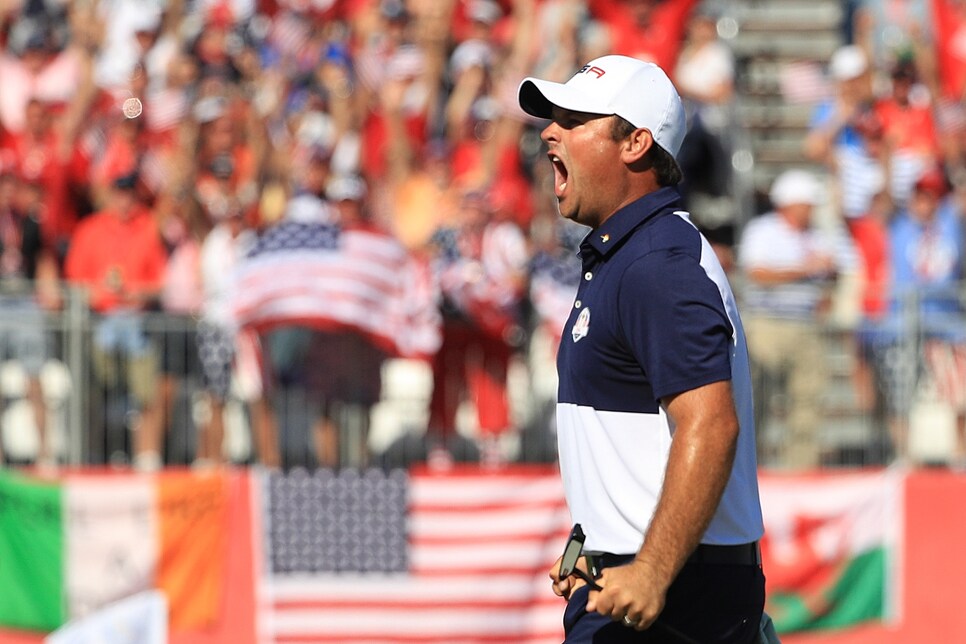 PGA of America via Getty Images
They also existed in their own contradictory mental spaces. On the first hole, Reed did everything he could to rile the crowd, waving his arms and exhorting them to great volume, after holing his par putt. Then he realized that Rory still had a par putt of his own, and immediately began ask for exactly the opposite. When they didn't immediately reply, he practically lectured them with a disgusted look, and I had the thought that perhaps he was communicating in mixed messages. As in, don't agitate the zoo animals and then expect them to stop clamoring at a snap of the fingers. Rory was guilty too—when he made his intercontinental ballistic missile of a putt on the 8th hole, he put his hand to his ear like a street mime in the midst of a dumb show, and began shouting, "I can't hear you!" The problem was, the Sunday crowd was significantly more polite than the one he had encountered a day earlier—an arrow to the sternum for the cultural theorists, myself included, who posited that a recent rise in ugly U.S. nationalism explained the impolitic behavior—and his righteous anger was directed at a group of well-meaning people who were applauding him with total appreciation.
It will sound like the worst kind of cliche to say that I felt lucky to be in the presence of that kind of greatness, but so what: I felt lucky to be in the presence of that kind of greatness. I grinned stupidly at everyone.
Watching that match, for those first eight holes, felt like being allowed to document a miracle. It will sound like the worst kind of cliche to say that I felt lucky to be in the presence of that kind of greatness, but so what: I felt lucky to be in the presence of that kind of greatness. I grinned stupidly at everyone.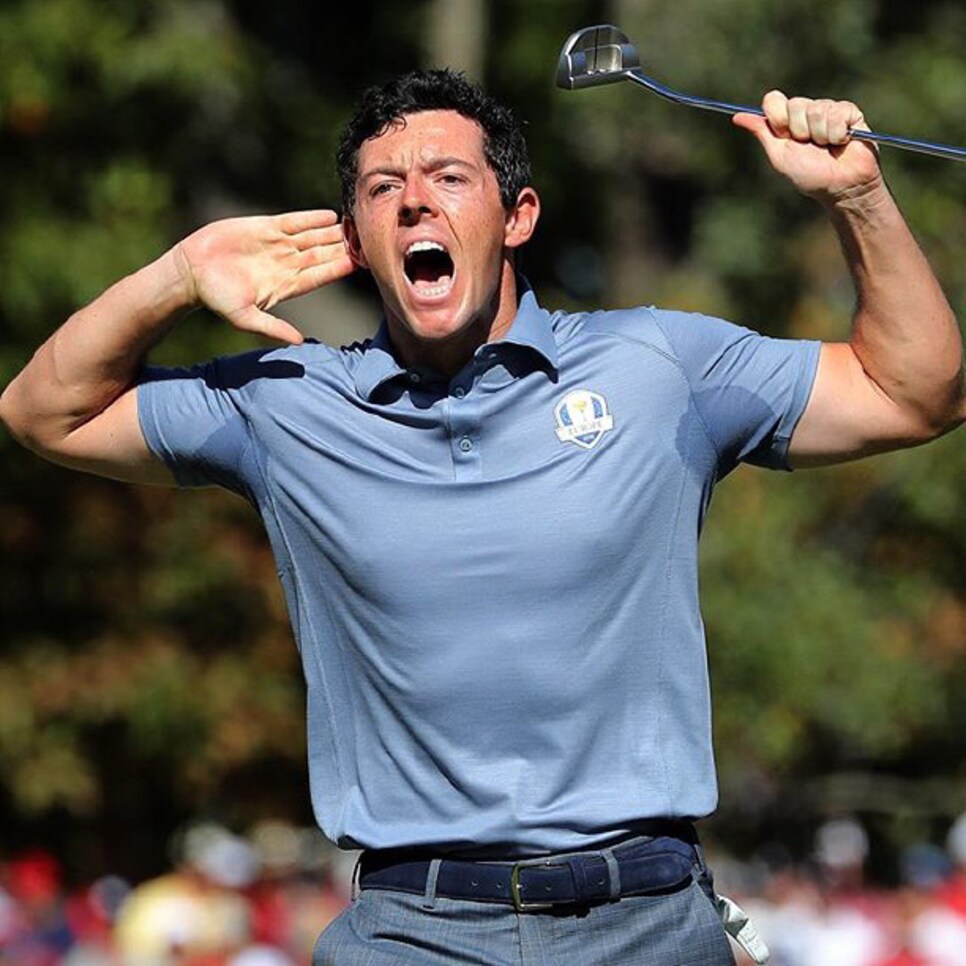 But like everything else on Sunday, they were just setting us up for the anti-climax. Rory began missing short putt after short putt, and while many concluded that Reed's rapid response to his birdie on eight broke him in some way, I think that misses the mark—it's just that his week-long tactic of defying the crowd, and escalating the animus, took a mental toll that he couldn't quite pay. In other words, he plain wore out, and it had nothing to do with the eighth hole. The players walked off that green with their arms around each other, as though in tacit agreement that the prospect of maintaining the confrontational stance of the opening nine was impossible, and that de-escalation was a must, if only for their own sanity. It just so happened that one player—Patrick Reed, perhaps the best match play golfer on the planet—had the will and ability and pure raw cutthroat screw-you energy to finish the job. And one didn't.
A dirty secret of the golf media is that many American journalists—I would say a majority, but I haven't commissioned an official poll—prefer the personalities of the European golfers to their own countrymen. Maybe I'm painting with a broad brush, but compared to the Americans, the Euros generally seem to be very well-rounded, witu a clear-eyed perspective on life beyond the golf course and excellent senses of humor. (The exception, always, is Phil Mickelson, who couldn't be boring if he tried.) It doesn't mean that the American scribes are rooting against our country at events like the Ryder Cup; only that in your average press conference, we tend to be a bit more excited when it's a European at the dais. That held true in the aftermath of the day's competition, during the losing team's press conference. Even after suffering a 17-11 demolition, they weren't afraid to laugh at themselves. It started when someone questioned Lee Westwood on the outspoken American fans.
"On a good point," he said, "I got called a turd yesterday, which is the first time since I was about 12 years old. So it made me feel young again."
Sergio Garcia, answering the same question, paused while considering his reply.
"I definitely know I haven't won a major," he said.
And Danny Willett, asked to describe his first Ryder experience— from his brother's anti-American screed to his 0-3 record—summed it up with a single word:
It brought the house down, and actually earned applause from his teammates. When the noise died, he continued:
"Sorry, would you like me to elaborate? Really shit."
Meanwhile, Rory McIlroy held court from the center of the scrum with his usual intelligence and insight, though it's plain that the hurt of losing to Reed, and marring his undefeated Ryder Cup singles record, will dog him for some time.
The Americans followed, and even in a slightly intoxicated state, they were mostly just dull. Flat answer followed flat answer, a chorus of meaningless cliches that almost put me to sleep. None of it was remarkable—that's just the way it always goes, win or lose.
But this year, it was an emphatic win for the Americans, who have learned that even with superior talent, it takes a system to win the Ryder Cup. Everything they've done since the disaster at Gleneagles has been capital-J Justified, from the public cries for change by Phil Mickelson to the task force to the choice of Davis Love III as captain, to his four picks, to his near-flawless strategy—always a step ahead of Darren Clarke. American superiority was evident from the start, and even as European pride kept the visitors from folding completely on Friday and Saturday, there was never a question of mounting a real threat.
The human truth is that we, I, you, almost everyone, craves drama. The Americans were the exception—there has been enough drama, and enough dramatic losing, for a handful of professional lifetimes. Attach whatever adjective you'd prefer to their Sunday experience—dull, anticlimactic—but adjectives are for storytelling. The winner of the Ryder Cup is measured by a score, and achieving those 14.5 points has been harder, and more prone to dysfunction, than we could ever guess. They worked like dogs for two years, and fought with purpose this weekend, for the right to experience the glorious boredom we witnessed on the final afternoon. The excitement will return—the Europeans will be spoiling for a fight in Paris—but for now, the stars and stripes wave sensibly in a moderate wind, and an act of comprehensive dominance has allowed the rejuvenated Yanks to revel in the paradise of the mundane.