Takeaways
A rookie stays focused, Jon Rahm sounds uber confident and two other Day 1 takeaways from Amex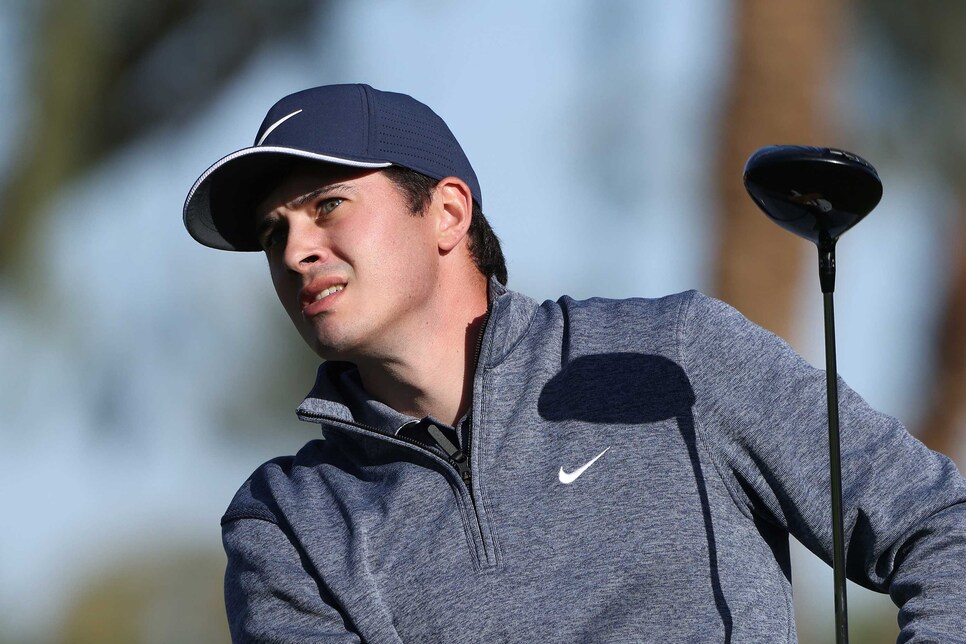 In just his seventh start as a full, card-carrying member of the PGA Tour, Davis Thompson was putting together the kind of opening round at The American Express that most veterans hope for their entire careers. The 23-year-old was seven under through six holes thanks to incredible back-to-back eagles on the fifth and sixth holes at La Quinta Country Club. He cooled down with a couple of pars then birdied the ninth hole to make the turn in eight-under 28.
The juices were flowing by this point, just like the rest of us when we have a good round going.
Could I shoot my best round ever (to this point a 63 on the PGA Tour)? Will I win this tournament? But wait, what if I screw up? Oh, please don't screw up.
It's only natural for such thoughts to start entering your head. The difference between a PGA Tour player like Thompson and the rest of us is that he knows the drill, and not even the allure of shooting 59 can distract him.
"My biggest challenge today was staying present minded and trying to put one foot in front of the other," Thompson said after finishing his round. "Your mind definitely starts to wander a little bit. But I played enough rounds to where I try to teach myself over and over you can't get ahead of yourself."
Alas, a sub-60 round wasn't to be. A couple of birdies and no bogeys on the back was good enough for merely a 10-under 62. But that was good enough for a two-shot edge on his five nearest competitors, the second time in his young career that he's been the Day 1 leader.
Along with Thompson's impressive start, here are three other takeaways from the first round in the California desert.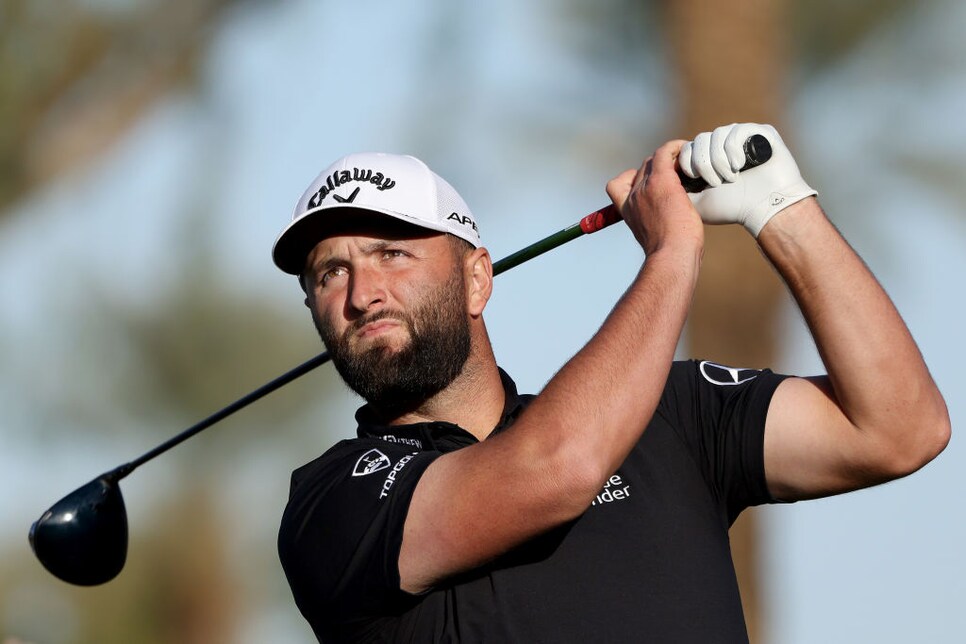 Among those chasing Thompson is Jon Rahm, who opened with a 64 on the same course to put him, alongside Sam Burns, in the crowded pack at T-2.
Outside of Rory McIlroy, Rahm, winner two weeks ago at the Sentry Tournament of Champions, may be the best player in golf today. He'll surely be trying to prove that this week, even if the Official World Golf Ranking seems to be conspiring against him. Rahm is one of those players best when he's got a fire lit under him. And this week, he sounds like a man who's been given a spark.
"Really badly," he said in response to a question about how much he wants to capture another win here (he was the Amex champion in 2018, the second of his eight career PGA Tour wins). "What gives me more confidence is I never finished outside the top 14 in this tournament. I've been consistent every single time and I've given myself a chance."
Let's just call this what it is: A warning shot to the rest of the field.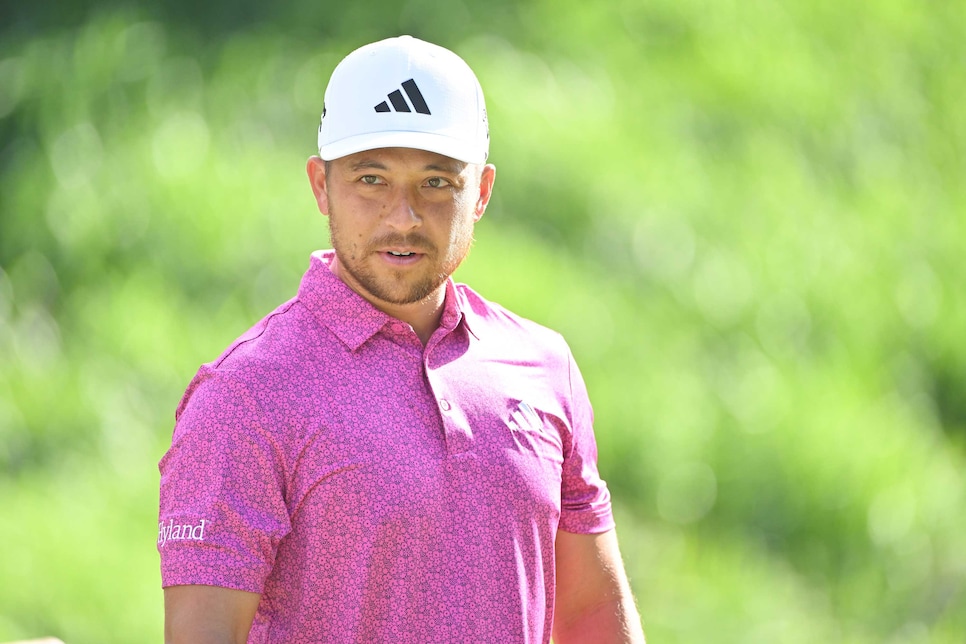 It's reasonable to says that 2023 feels like a big season for the Xander Schauffele. In 2020 and 2021, the 29-year-old California native combined for four major top-10s but zero tour wins (OK, he did grab an Olympic gold medal in that time). Then last season he won three times only to claim zero major top-10s in exchange.
Predicting what's ahead for Schauffele would have been challenge enough before he had to WD from the Sentry Tournament of Champions two weeks ago with a back injury. He returned to play this week, posting an impressive opening-round 65 at La Quinta that hints the pain he was feeling in Hawaii might be a short-term issue.
"Yeah, it's a little sore," Schauffele said on Wednesday. "Trying to be as patient as possible to take things as slow as possible in terms of getting too many reps in and I guess being stupid in that sense. But I'm known to try to practice too much at times. I'm trying to take this one slow so I don't hurt it again or do something of that nature."
Schauffele feels like one of those players whose gift and curse is seemingly always having the potential to do more. His opening round leaves him inside the top 10 thought 18 holes. His performance this week won't define his season; far from it. But these early West Coast swing events may provide a clue for what's ahead of Schauffele. Will this be the year he truly, and fully, ascends?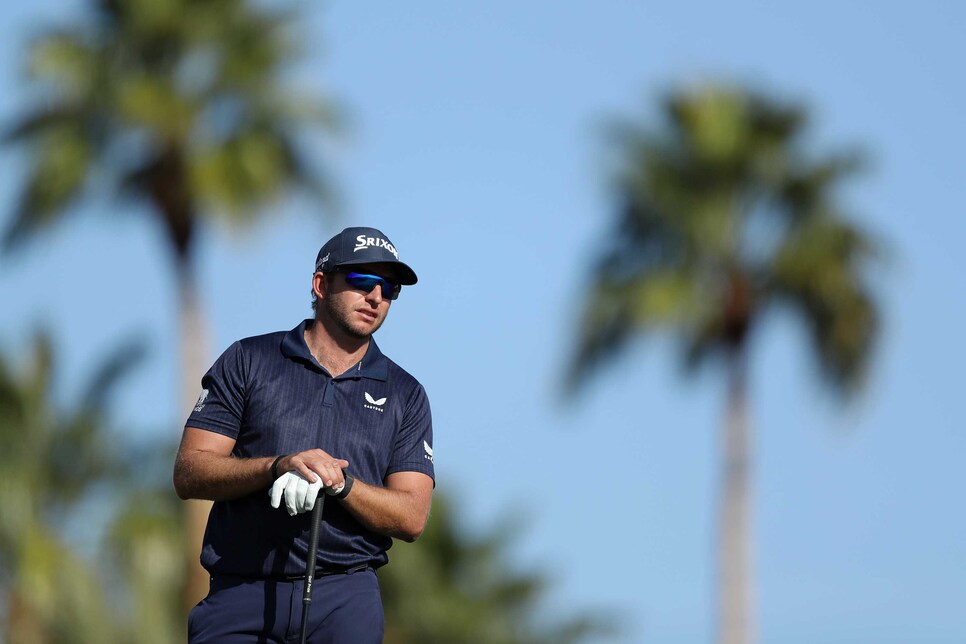 Finally, a special shoutout to Dean Burmester, who joins Schauffele at T-7. Like Xander, Burmester is playing hurt, although the 33-year-old South African's injury comes with an unusual backstory. After a routine power outage at his home, Burmester was playing the role of handyman husband—only to have it backfire.
"Our solar power kind of tripped," he said. "I was on my way to fix it. My wife was in the shower. I was on my way trying to be the valiant knight, I was trying to be the man to the rescue. And I ran into a chair and broke my baby toe," he says.
It's causing him to hang back on his right foot through the ball, Burmester says, rather than transfer weight over to his lead side. He's also not swinging as hard as he usually would. So far, however, his score doesn't show any sign of injury.