The Loop
The all-time biggest Tiger Woods snubs
AUGUSTA, Ga. -- Ian Poulter's candid remarks about Tiger Woods' slim chances this week might sound like golf blasphemy, but it's actually just the latest in a growing line of snubs directed at golf's biggest star. Some have been subtle. Some have been blunt. But they're all occasions when players felt emboldened to call Woods out. Overall, it hasn't worked out well for them.
Below is a look back at some memorable disses at Woods over the years.
Colin Montgomerie, 1997 Masters
__ The snub:__ In Woods' debut major as a professional, he took a three-shot lead into Saturday, where Montgomerie suggested the impressionable young star might succumb to the pressure of having the lead in a major.
The result: Woods shot 65 on Saturday. Montgomerie shot 74. "There is no chance," a contrite Monty said about the field catching Woods on Sunday. "We're all human beings here. There's no chance humanly possible."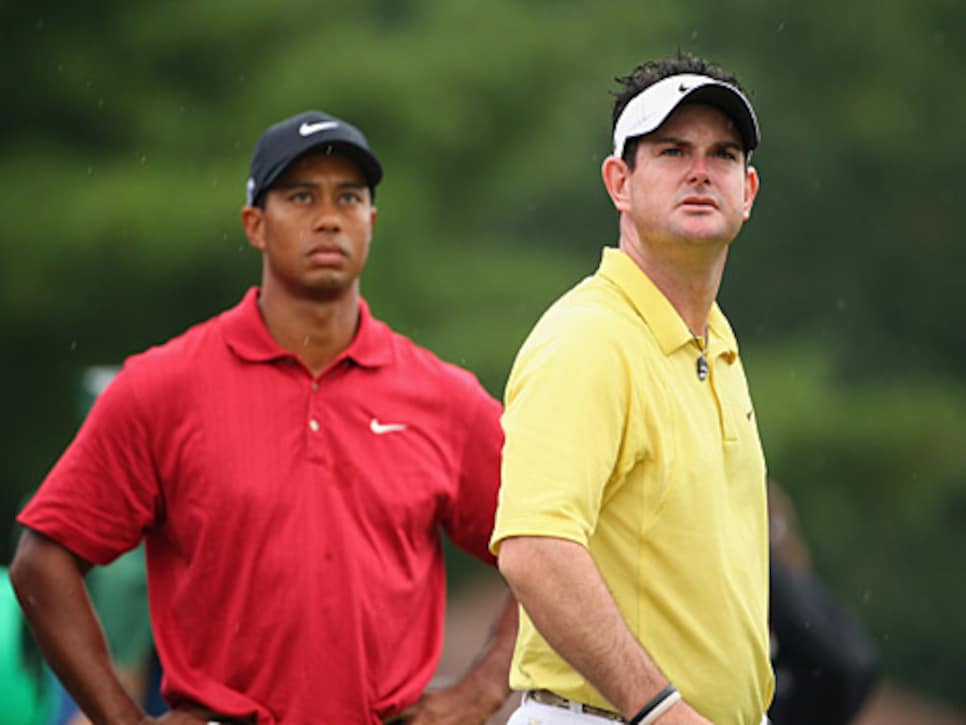 Rory Sabbatini is part of an exclusive club of tour players who have criticized Tiger Woods. Photo by Getty Images
Paul Tesori, 2000 Presidents Cup
The snub: Woods had just won the last three major championships, but when Tesori's man, Vijay Singh, drew the world No. 1 in a Sunday singles match, the veteran caddie couldn't resist stoking the fire. He showed up for the match wearing a hat with the words, "Tiger Who?" stitched on the back.
The result: Woods won 2 and 1, and the U.S. recaptured the Presidents Cup. "It probably just pumped Tiger up to play better," Tesori said.
Sergio Garcia, 2002 U.S. Open
The snub: A day earlier, Garcia implied that Woods got favorable treatment by the tournament committee when Garcia's half of the field was subjected to borderline-unplayable weather while Woods was safe in the clubhouse. Then on Saturday, after shooting a 67 to earn a spot in the final pairing with Woods, Garcia shrugged off any Woods intimidation factor. "I'm respectful of his game and his persona. But we're just two human beings trying to put a little ball in the hole," he said.
The result: Woods shot 72 to capture his second straight major. Garcia shot 74 and finished fourth.
Phil Mickelson, 2003 Buick Invitational
The snub: In a magazine interview, Mickelson said he and Woods had an amicable-enough relationship, but there was one source of tension between them. "He hates that I can fly it past him now," Mickelson said. "He has a faster swing speed than I do, but he has inferior equipment."
__The result:__Paired together a week later in the final round at Torrey Pines, Woods edged Mickelson to win in his season debut. ''It was an area that I just never should have gone,'' Mickelson said of his equipment remark.
Stephen Ames, 2006 Accenture Match Play Championship
The snub: Prior to facing Woods in the first round of the Match Play, the outspoken Ames said Woods' errant ball-striking could play to the underdog's advantage. "Anything can happen," Ames said, "especially where he's hitting the ball."
The result: Woods rolled over Ames 9 and 8 in the first round. Asked if he heard Ames' comments, Woods nodded and said yes. Asked for his reaction, Woods simply said, "9 and 8."
Luke Donald, 2006 PGA Championship
The snub: Tied with Woods at 14 under heading into the final round, Donald arrived at the first tee for their final-round pairing in a red shirt, a color Woods notoriously favors on Sunday.
The result: By the sixth hole, Donald was four down, and Woods never looked back. Asked his reaction to Donald's red shirt, Woods cracked, "I thought it was kind of weird to have a blue belt with it."
Rory Sabbatini, 2007 Wachovia Championship
The snub: After Woods shot 69 against Sabbatini's 74 in the final round at Quail Hollow, Sabbatini insisted Woods was more a beneficiary of good luck than anything else. "The funny thing is, after watching him play last Sunday, I think he's more beatable than ever," Sabbatini said. "I think there's a few fortuitous occasions out there that really changed the round for him at Wachovia."
The result: The two didn't cross paths again until three months later at the Bridgestone Invitational, but Woods made use of the opportunity nonetheless. Paired with Sabbatini in the final round, Woods shot 65 to win. Sabbatini again shot 74.
Rory McIlroy, 2010 Ryder Cup
The snub: With Woods going winless for the first time in his professional career, the young McIlroy said he welcomed a chance to face the star in the Ryder Cup in Wales. "I would love to face him," McIlroy said in an interview with the BBC in August. "Unless his game rapidly improves in the next month or so, I think anyone in the European team would fancy his chances against him."
The result: The two never faced each other at Celtic Manor, and the Europeans were indeed able to regain the Ryder Cup. But it wasn't because of Woods. The former No. 1 went 3-1 for the U.S., while McIlroy went a pedestrian 1-1-2.