The Loop
The Adam Scott-Steve Williams partnership is done. Here are the duo's 5 most memorable moments
On Wednesday, Adam Scott and Steve Williams announced the end of their "partnership" as player and caddie -- citing scheduling differences as the main reason for the split. It was a relatively short, but mostly successful run that saw Scott claim his first major and rise to No. 1 in the Official World Golf Ranking. Here's a look back at their five most memorable moments together.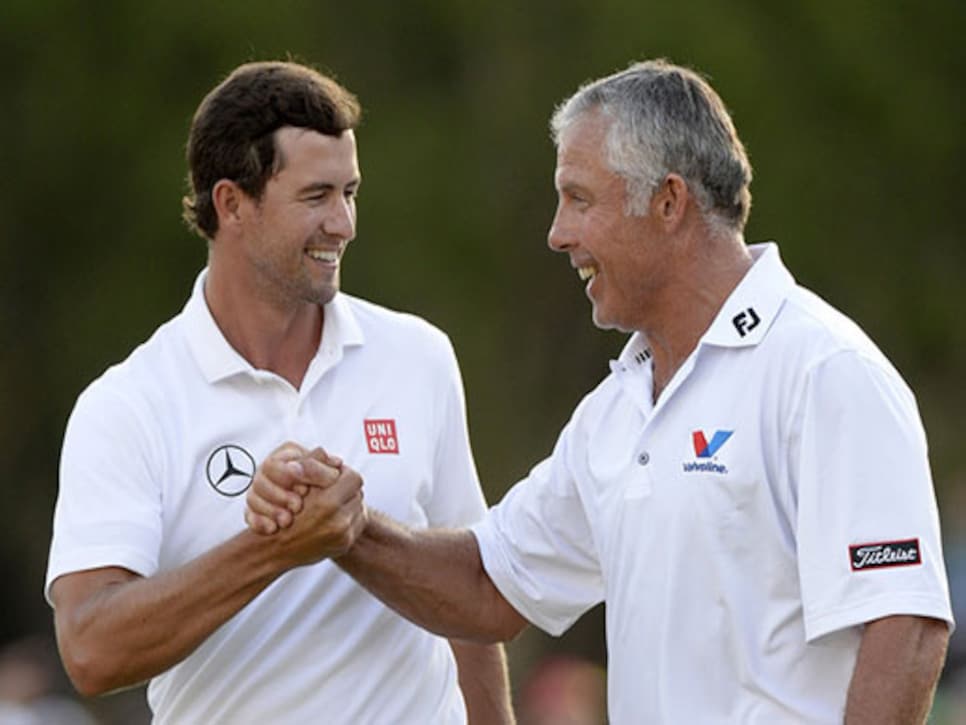 1. 2013 Masters: Scott finally broke through at a major by beating Angel Cabrera in a playoff and Williams played a big role in the victory. On the winning putt, Scott consulted with Williams. "I could hardly see the green, he was my eyes on the putt," Scott said. "The winning putt might be the highlight of my career, because he asked me to read it," Williams told The Associated Press. That was a great putt to end an incredible tournament.
2. 2011 Bridgestone Invitational: This will forever be remembered as the WGC event that Steve Williams won. At least, it seemed that way when Williams was interviewed immediately following Scott's first win with him on the bag following his split with Tiger Woods. "I have been caddieing for more than 30 years now. I have won 145 times and that is the best win of my life," Williams said afterwards. "A lot has been said this week and it is great to back it up. I back myself as a frontrunner as a caddie and I have won again." Williams said. Somewhere, Woods scowled. Or laughed.
__3. 2012 British Open:__It wasn't all good for this "partnership." At Royal Lytham & St. Annes, Scott seemed headed for a first career major championship, but then disaster struck. Scott bogeyed the last four holes, capped by a questionable decision to hit 3-wood off the 18th tee that put him in a pot bunker. Coupled with a rally by Ernie Els, Scott's stunning finish left him with the most heartbreaking loss of his career.
4. 2013 British Open: A year after Scott's close call at St. Annes, he suffered a similar fate at Muirfield. After grabbing the lead on the back nine on Sunday, Scott again made four straight bogeys. Once he and Williams righted the ship it was too late to catch Phil Mickelson, who claimed his first claret jug.__
____5. 2011 Presidents Cup:__Never has there been more buildup to a golfer crossing paths with a caddie than there was for Williams caddying against his former boss, Woods, in a Thursday four-ball match in Melbourne. Williams and Woods got their brief handshake over with on the first tee and then Williams got the last laugh as Scott and K.J. Choi trounced Woods and Steve Stricker, 7 and 6.