Courses
The 9 Michigan Courses You Should Play at Least Once
When a state has almost 800 golf courses, picking the best one can be like choosing a favorite child. Luckily, you don't have to make either of those tough decisions. Here are nine Michigan public-access courses that will get you started on a bucket list. They cover the entire state, and range from the high-end resort splendor of Bay Harbor to the old-world charm of Belvedere Country Club.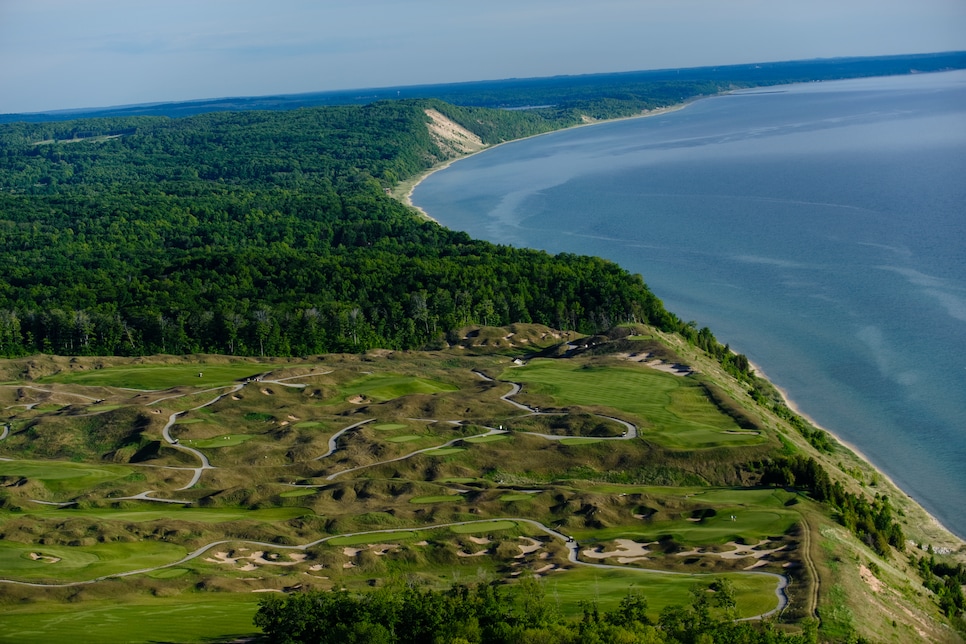 Photo by Dom Furore/Golf Digest
1) Arcadia Bluffs, Arcadia
The panoramic lake view from the picture window at Arcadia Bluffs' clubhouse might be the best in golf, but that's not where the feast for your senses ends. The Warren Henderson design features two distinct nines that take remarkable advantage of their real estate at the top of the 200-foot bluffs facing Lake Michigan. Framed by fescue and swept by lakeshore breezes, The Bluffs is a links course where you can spend dollars instead of pounds. A highly-anticipated sister layout, The South Course, opens for limited play in late summer 2018.
2) Bay Harbor Golf Club, Petoskey
To make your way through the three lakeside nines at Bay Harbor is to marvel at what's possible with heavy machinery and a gigantic budget. The former home of a cement factory and quarry, the site has been transformed from an eyesore to one of Northern Michigan's most prestigious resort addresses. Each Arthur Hills-designed nine provides a wildly different experience—from the Quarry's journey between and around raw rock facings to the Links' position directly on rocky Lake Michigan beach to the mature hardwoods lining the Preserve's fairways.
Evan Schiller Photography
3) The Bear at Grand Traverse Resort & Spa, Acme
Some of Jack Nicklaus' resort designs can be downright accommodating, with plenty of buffer for even the most dedicated slicer. The Bear is not one them. The legendarily-difficult design has been a monster since the day it opened, in 1985, and has been the traditional proving ground for state's best at the Michigan Open. If you like to bring your approach shots in along the ground, get ready for a long day. Mounds, fescue and deep bunkers around the green take away what little benefit you might get from some room off the tee. If you're looking for a test, this is where you sign up.
4) Tom Fazio Premier at Treetops, Gaylord
The only Tom Fazio design in Michigan has all of the quintessential Fazio traits—harmonious routing, multiple angles of attack for players of various skill levels and impeccable conditioning. To steal the name from one of Treetops' other courses, Fazio's greens are 18 individual masterpieces, vexing you with tiers and undulations that turn a 10-footer for birdie into a three-putt. And if your friendly wagers are all square after 18, you can settle things at what may be the best par-3 course in the world—the adjacent Threetops.
5) Tullymore Golf Club, Stanwood
Northern Michigan (rightfully) gets plenty of attention for its array of wonderful courses, but the central tier of the state shouldn't be left out. For half the drive from Detroit to Traverse City, you can get every bit of the same quality at the Tullymore Golf Resort, in Stanwood. The Tullymore course is newer and more highly rated than its older sibling, St. Ives—but both are fantastic tests and screaming bargains. The Jim Engh-designed Tullymore was named America's Best New Resort Course in 2002, and it sprawls out through more than 800 acres of forest and wetlands.
6) Stoatin Brae Golf Club, Augusta
A course located in Augusta has a lot to live up to, even if we're talking about a town in Southwest Michigan instead of Northeast Georgia. The newest course at the Gull Lake View Resort, Stoatin Brae, can certainly handle the attention. With the wide-open, 360-degree views cascading down from the highest point in the county, you'd never know you were on a former apple orchard. Designed by a team of associates who work under Tom Doak at Renaissance Golf Design, it's a worthy member of the extended Doak family.
7) Eagle Eye Golf Course, Bath
Southeast Michigan isn't known for its rolling terrain, which makes what Chris Lutzke and Pete Dye were able to do at Eagle Eye even more impressive. Giant, fescue-covered mounds serve as sentries around many of the greens—and just when you've gotten tired hacking out of the tall grass, you have to contend with the island green at the par-3 17th. Tipping out a 7,380 yards, Eagle Eye is ready for whatever big-headed driver you plan to bring with you.
8) The Loop at Forest Dunes, Roscommon
It's not often you can say that a Top 100 course can be overshadowed by its new sibling, but that's the current state of affairs at Forest Dunes—where the original Tom Weiskopf design has been joined by Tom Doak's exciting new Loop. Named the nation's best new course by both Golf Digest and Golf Magazine, The Loop is designed to be reversible—playable in either clockwise "Black" or counterclockwise "Red" directions. It is truly a throwback, with undefined teeing areas and a robust caddie program to accompany its walking-only policy.
Photo by Dom Furore/Golf Digest
9) Belvedere Golf Club, Charlevoix
Michigan's golf boom picked up in the 1990s, but by then, Belvedere Golf Club had already blown well past its 50th anniversary. Built in 1927 as a getaway for the Chicago and Detroit swells summering at the tip of Michigan's Lower Peninsula, the William Watson design was ahead of its time with its large scale and almost 7,000 yards of length. Even in the heart of peak season, you can ride 18 for less than $100 and play the same fairways as Walter Hagen, Sam Snead and Tom Watson—who considered Belvedere his summer home course during his family's annual visits throughout his teenage years.