The Loop
The 6 most notable equipment storylines playing out at Pinehurst
PINEHURST, N.C. -- One of the U.S. Open's charms is that it's held at a different venue each year, and this year's championship at Pinehurst is unusual in that even those who played when the Open was last here in 2005 are finding a completely different course thanks to the Bill Coore/Ben Crenshaw redesign. As such, players are tweaking their bags perhaps even a little more than usual for the national championship. Here are six of the more notable equipment storylines as we gear up for Thursday's opening round.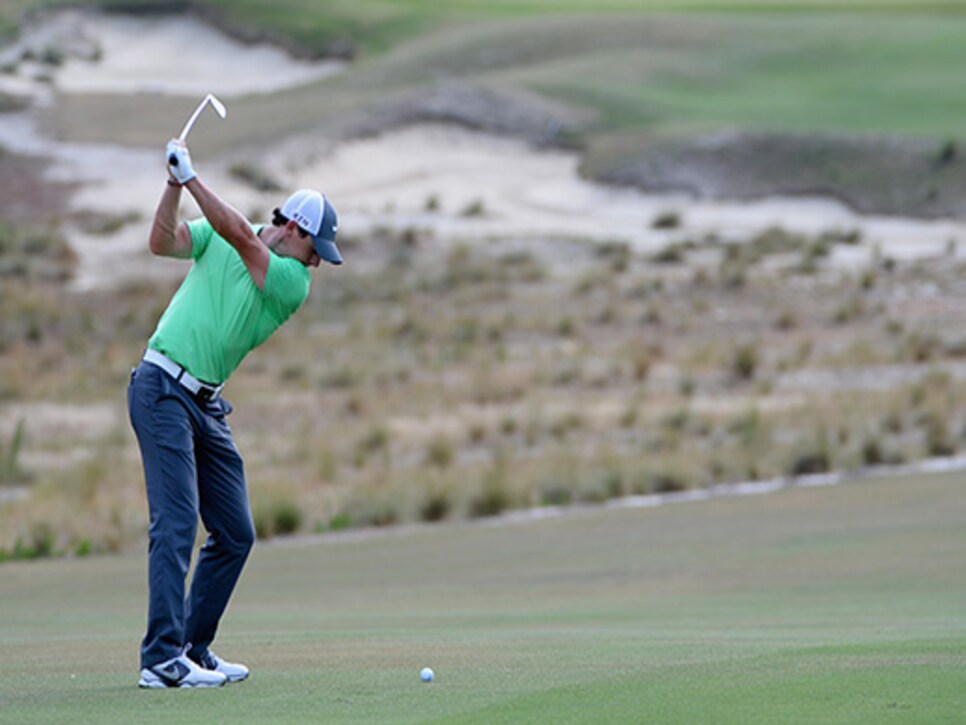 __Some of the biggest names in the game are altering their set makeup by adding long irons -- the feeling being they can be helpful not only for second shots into par 5s but off the tee to keep the ball in the fairway and out of the sandy areas and wiregrass. Rickie Fowler will add a Cobra AMP 3-iron (which he may even use off the first tee), and defending champ Justin Rose will have a TaylorMade Tour Preferred MC 2-iron. Rory McIlroy (above) also is adding a long iron (Nike VR Pro Blade) and is altering his set makeup for the week. Normally McIlroy plays a PW plus 52-, 56- and 59-degree wedges, but this week will drop the 52 and 56 and just have a 54-degree Nike VR Forged. Said McIlroy, "They're only three wedge shots a round so I don't need all four wedges."
__When one of the best putters in the game makes a club change, it's news. When he does it at the U.S. Open, it's big news. Brandt Snedeker has ranked in the top 10 in strokes gained/putting in four of the last five years, including fourth last year and first in 2012. But Sneds is 56th this season, prompting him to do what many everyday players do when experiencing grief on the greens -- change putters.
For Snedeker, this is a major switch. He has used his Odyssey Rossie for nearly a decade and once went four years without regripping it. Needless to say, change comes slow for Sneds. For the Open he'll play a Bridgestone True Balance TD-02, a mallet similar in head shape but with grooves on the face. The club is 34 inches long with a hefty E4 swing weight. Snedeker said one of the reasons for the switch is that he has been "fanning" his putts and the club's weighting helps eliminate that. Snedeker has had the putter since tinkering with it at a photo shoot in December at Bridgestone's Covington, Ga., headquarters.
Putter Dilemma for Golf's Most Interesting Man
__Miguel Angel Jimenez has had a solid year using Ping's Pickemup model but has been trying new putters leading into Pinehurst. Early in the week it appeared that Jimenez would go into the Open using a center-shafted Ping Ketsch mallet (his Pickemup also was center-shaft). However, after additional testing the man from Malaga settled on a different look: the blade-style Ping Karsten TR Pal. Of course, the possibility exists he might change his mind again prior to his 7:51 a.m. tee time Thursday.
You Can't Tell the Players by Their Staff Bags
__Casual golf fans have always been able to figure out who's who by their names embroidered on their staff bags, but that won't be the case this week with members of TaylorMade's staff. Those players are celebrating Father's Day weekend by carrying staff bags with the names of either their dad or kids or other person they wish to pay homage.
For example, Sergio Garcia's bag panel will say "Victor Garcia" for his dad. Jason Day's bag reads "Dash Day" for his son, and Scott Langley is getting a jump on parenthood by having "Kennedy Caroline Langley" (his soon-to-be-born daughter) on his bag.
Wedges a Work in Progress
__Wedges are a club in flux at Pinehurst. Whether it is players such as McIlroy or Fowler taking one out to accommodate a longer club or players adding a degree or two of bounce to handle the Bermuda grass, wedgemakers have been busy.
"It's been almost non-stop," says Titleist designer Bob Vokey. "It seems like everyone wants to try something this week."
Among players doing just that is Matt Every, who has used Calalway's Mack Daddy 2 60-degree with a standard sole that had a little heel relief. That wedge was not working as well for Every at Pinehurst, so he requested a new wedge, a Mack Daddy 2 60-degree with 14 degrees bounce and a C-Grind sole. Callaway techs had to reduce width of the sole to grind in more bounce. After the grinding was done the new wedge had a very thin sole with 16 degrees bounce but it will not play like it has that much bounce because of the thin sole.
Most Likely to Duplicate Payne Stewart's Putt
__Payne Stewart's 18-foot par putt to win the Open in 1999 may be the most iconic putt in the tournament's history. So it was only natural to see who might be the best candidate to hole such a putt this time around. Interestingly, the leader on tour from 15 to 20 feet isn't Steve Stricker or Zach Johnson, but Bubba Watson.
Watson's putter is as unique as Bubba himself. A Ping Anser Milled 1 with a rainbow finish. It's 34 inches long with nine wraps of tape under the grip. It also has some tiny plugs of tungsten in the bottom just to make it a little heavier at 365 grams (standard is 345 to 350 grams). Because he has so much weight in the grip with the tape, he needs to counterbalance it. Watson is converting more than 35 percent of his putts from 15 to 20 feet with the putter. That's nearly double the tour average from that distance.