The Loop
The 5 reasons Tiger lost contact with Rory
HOYLAKE, England - After a bogey-bogey start Thursday, Tiger Woods fought his way to a three-under-par 69 and went into Friday just three strokes off the lead at the British Open. He seemed to be positioned perfectly for a weekend run at that elusive 15th major championship.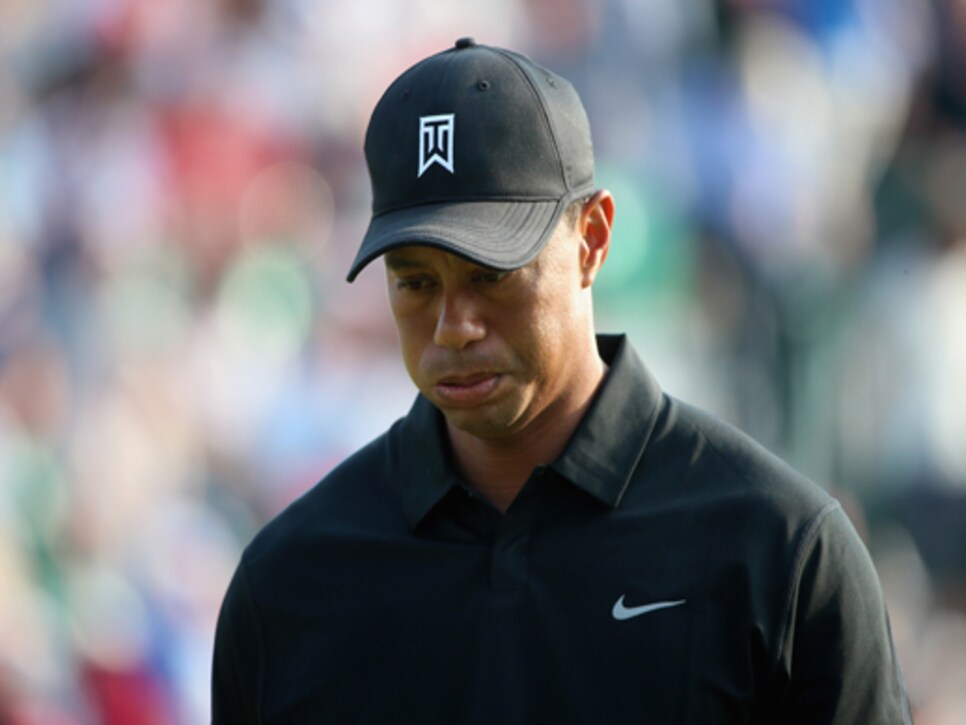 But his second-round 77 at Royal Liverpool was a reminder that this is a 38-year-old man coming off back surgery and not the 24-year-old who in 2000 won the U.S. Open by 15 strokes and the British Open by eight to complete the career Grand Slam.
With a double bogey/bogey start Friday and a disastrous triple-bogey 7 after driving out-of-bounds on No. 17, Woods slipped from contender to just another distant speck in the rearview mirror of Rory McIlory, whose second straight 66 left him 14 strokes ahead of Woods.
Here are five reasons he lost contact with McIlroy.
1. The Driver: Woods won here in 2006 by using the driver only once in 72 holes. But Royal Liverpool is not as bouncy this year. He reached for driver on each of the first two holes Friday and the results were not pretty. He missed the first fairway 50 yards to the left and missed the next one wide right. And then there was the OB ball on No. 17. Tiger seemed to be shin deep in the weeds all day. Oh, and on the same 17th hole, McIlroy drove it 396 and in the fairway.
2. The Putter: The flat stick has always been the Great Eraser for Woods. No player of his caliber ever made as many 12-foot par putts. That's why he could attack the course. If he missed the green, he could still save par. But Friday he missed a bogey putt from seven feet on No. 1 and a par try from 12 feet on No. 2. Never did he make the sort of momentum putt that could jumpstart a round. On Thursday, he made five birdies in six holes on the back nine. On Friday, his only birdie was a six-footer on the last hole.
3. The Par 5s: When Woods won the 1997 Masters by 12 strokes, he played the par-5 holes 13 under par. He was two under par on them Thursday. But Friday, when he needed to rally on the back nine, where there are three par-5 holes, he immediately struggled on the first of them, scratching out a par on No. 10, and played them only one under par. Not the domination were are used to.
4. The Conditions: Woods played in near-perfect scoring conditions Thursday. In fact, the 69 he shot was pretty much an even-par round as 48 players went below the par 72 on the scorecard. Royal Liverpool was much more challenging Friday, and that revealed the flaws in Tiger's game. The wind, though it did back off during the afternoon was still blowing pretty good when Woods began his round shortly after 2 p.m. He was no match for it.
5. The Magic: The ability to will things to happen was just not there for Woods in the second round. You kept waiting for him to hit the kind of wondrous shot that would remind us that he once played the game on a level very few had ever achieved. But that magic moment never happened. Instead of fire in his eyes there was resignation and weariness. Like Godot, that magic moment never arrived for Woods Friday. In fact, it's been more than six years late.