News
Our 5 favorite takeaways from the Payne's Valley Cup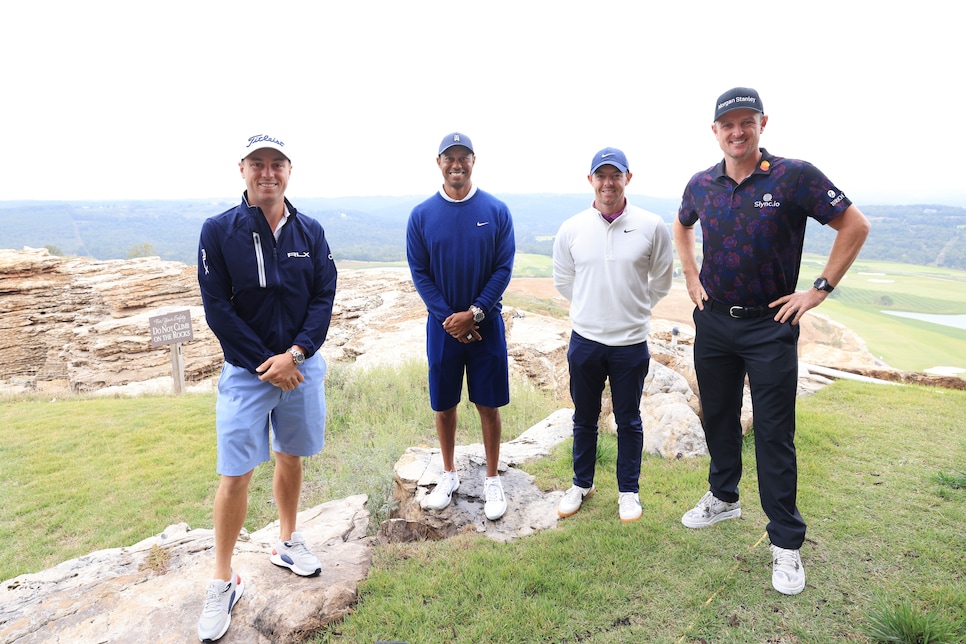 Justin Thomas, Tiger Woods, Rory McIlroy and Justin Rose pose for a photo prior to the Payne's Valley Cup on Tuesday.
Tom Pennington
Two days after the world's most strenuous golf tournament wrapped up, a much lighter affair played out in the Missouri mountains.
The Payne's Valley Cup was the anti-U.S. Open in so many ways. Instead of a grind on a 99-year-old course, this was a stroll on a brand new one. On the week that was originally slated for the Ryder Cup, Americans Tiger Woods and Justin Thomas "beat" Europeans Rory McIlroy and Justin Rose thanks to a closest-to-the-pin challenge. But the result was always secondary—the chief mission of this exhibition was to showcase Payne's Valley Golf Club, the first public-access golf course designed by Tiger Woods' TGR Design firm, and raise money for the Payne Family Foundation.
Here are five highlights from a delightfully low-key day.
Payne's Valley is stunningly beautiful
Nestled among the Ozark mountain range, Payne's Valley hosted its first-ever foursome on Tuesday, and it was ready for its close up. The course sits on a rather dramatic piece of property, with expansive views of its surroundings, striking limestone cliffs and a 19th hole that's straight out a video game. The fairways are generous, the greens large, the condition pristine, the scale impressive. If Winged Foot gave viewers nightmares of what they might shoot there, this offered a much gentler visual. It was quite the debut for the fifth course on the Big Cedar Lodge property, and there are certainly more than a few golfers planning a trip to Missouri.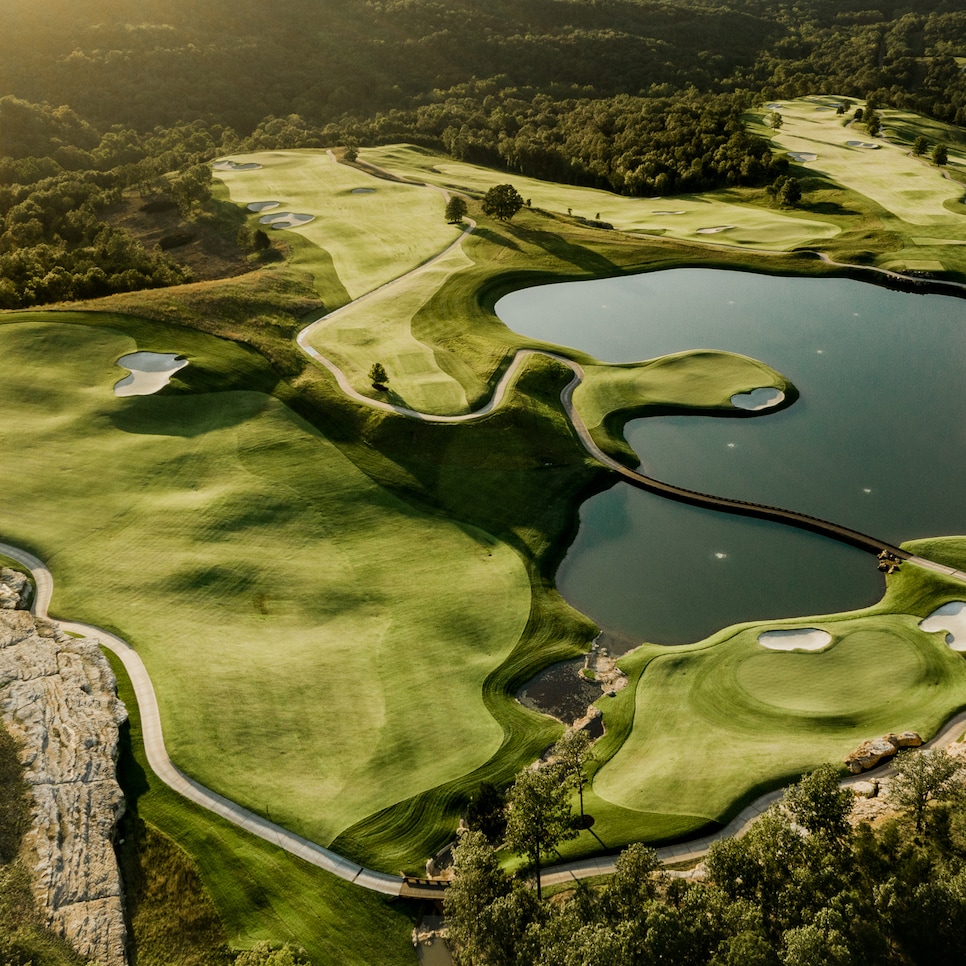 The fourth, fifth and sixth holes at Payne's Valley Golf Club.
Super inside-baseball talk between the players
It started on the very first hole, when Woods and Rose had a conversation about shaft flexs and the top of the backswing that no one at home could understand. No matter—one of the better parts of these exhibitions is getting to hear the Xs and Os talk between the world's best players. Thomas talking about a chip riding up the face. McIlroy telling Thomas how he picks a spot six inches in front of him to putt over. McIlroy explaining to Rose and Thomas how this new hybrid spins less than the other ones he tried. Woods and Gary Player, who along with Jack Nicklaus were also on hand for the opening, discussing how they like to let the toe release on putts. Tiger suggesting he tries to incorporate some Australian sandbelt elements into his course designs. These are the kinds of conversations we don't get to hear during normal tour events, and they're a treat every time.
Justin Thomas is a Hall-of-Fame trash talker
For all of Woods' greatness, he was a clear second-best among the foursome when it comes to trash talking. JT, simply put, has perfected the art of needling. He strikes the perfect balance of funny and cutting without quite crossing the line into mean … but he gets real close, which is why he's so good. Plus, his smallish frame seems to add to his whole affect. And he doesn't force it. There really wasn't any of the forced, cookie-cutter trash talk that can be so cringeworthy.
On the drivable par-4 third, Justin Rose—who struggled all day—set up for a high cut. He hit a violent pull hook straight into the junk. Thomas immediately let him have it with a simple yet spicy "that has to be 150 yards off line!" Which, if you've played golf, you know is the last thing you want to hear after a double-cross. But Thomas says it with just enough of a laugh that you can't get mad, or you're the bad guy. Masterful.
And then, on 14, McIlroy's birdie putt caught the left lip but wouldn't fall. Not two seconds after, with McIlroy still crouched over his putter, Thomas comes up to him and says, "You hate to see it." Thomas then drops his putt for the win, and says "I felt like karma wasn't going to allow me to make that putt." Which is something you only say after you've made the putt. Chef's kiss.
McIlroy did get him back, though. Walking up 18, Rory remarked that he was supposed to give JT a lift home, but if he kept on talking, that might change. A lift home on his private jet, that is. JT cracked a sheepish smile.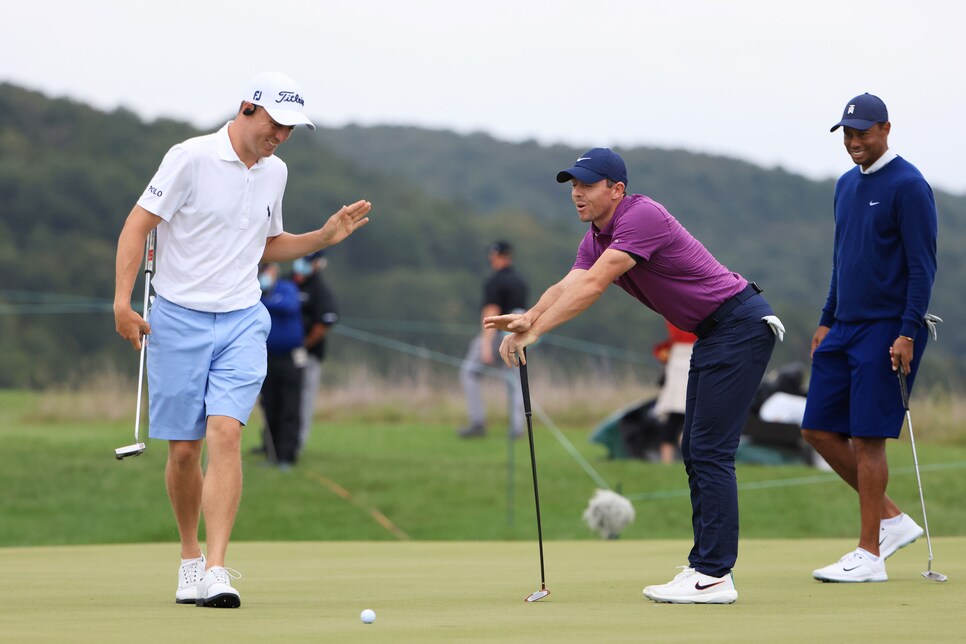 Justin Thomas jokes with Rory McIlroy on the 14th green after McIlroy misses a makeable putt.
Tom Pennington
It was all jokes over the first six holes, when they played four-balls, and in the middle six, when it was alternate shot. But by the time the match got to singles, the atmosphere changed considerably. Of course, it wasn't exactly serious, but these guys can't help themselves—when you tell them they're playing against another world-class golfer, mano-y-mano, something clicks inside them. Thomas wanted to beat McIlroy, just like he did in Paris at the Ryder Cup two years ago. And Rose wanted to beat Tiger, because who doesn't want to beat Tiger? All four guys started to go through their full pre-shot routines, picked more specific lines and read their putts with a little more attention. No matter the setting, no matter the stakes, it's always a joy to watch the world's best play match play.
In the end, Thomas got the better of McIlroy and Rose bested Woods.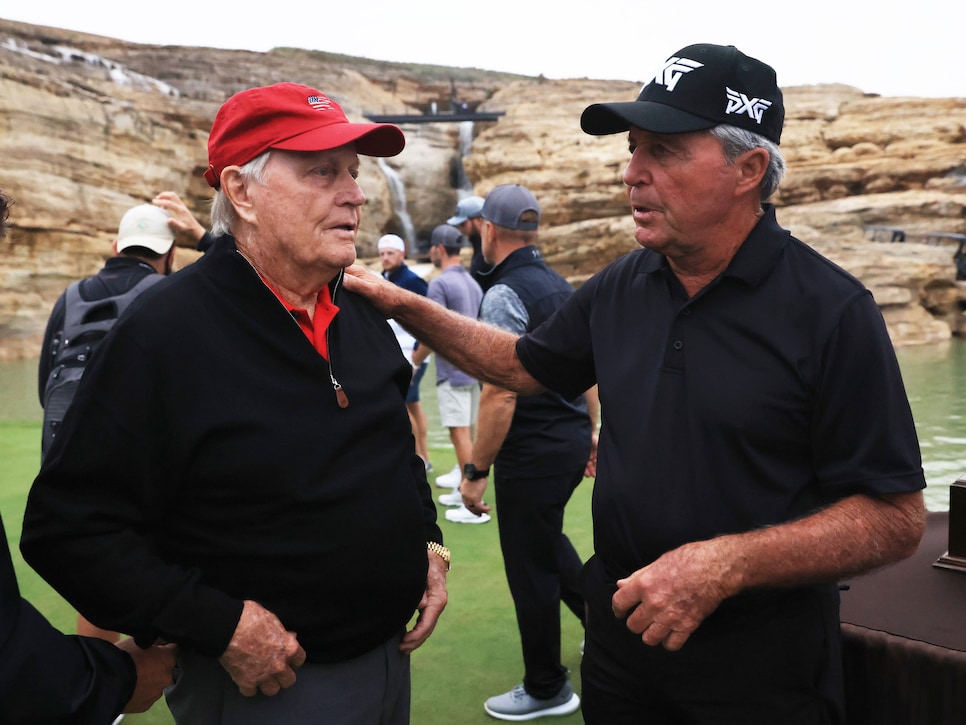 Jack Nicklaus and Gary Player talk on the 19th green after the Payne's Valley Cup.
Tom Pennington
Jack Nicklaus and Gary Player on the 19th hole
Jack is 80, and Gary in 84, so you'd be forgiven for worrying how they'd fare on the 19th hole—a surreal, 123-yard island-green par 3 with water everywhere. Nicklaus played first and fired one right at the flag, albeit about 40 feet short. Player went next and tugged his a bit, but it also found the putting surface perfectly pin high. Both two-putted without incident. Those are two men who have shot their age quite a few times.