Courses
Payne's Valley: Tiger Woods explains what we should expect from his first public design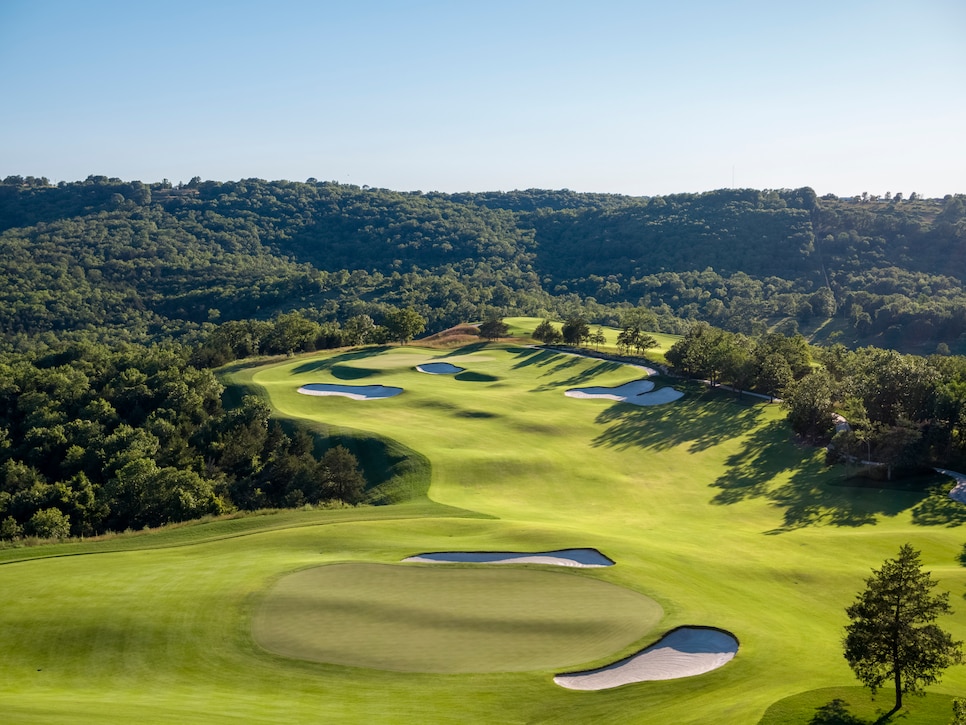 Photo courtesy of Big Cedlar Lodge (Evan Schillfer)
It's been a long time coming. That's not a reference to the three-and-a-half-years of construction and grow-in for Payne's Valley, the newest resort course at Big Cedar Lodge near Branson, Mo. Rather, it has been 14 years since public golfers began waiting to play a course designed by Tiger Woods.
Woods founded his design company, TGR Design, in 2006. But because of his schedule, the desire to be selective of the few projects he signs onto and a devastating financial crisis, only two TGR courses have been completed—the El Cardonal course at Diamante Cabo San Lucas in Mexico, and Bluejack National, a private course in Texas. Payne's Valley, which opens to non-resort guests in late September ($225), presents to the largest audience to date the architectural principles he most values. And it will be viewed for the first time by many in the Payne's Valley Cup, airing at 3 p.m.-7 p.m. (eastern) on Sept. 22.
"My goal when starting TGR Design was to create courses that are fun and playable for golfers of all abilities," Woods told Golf Digest. "This was particularly important at Payne's Valley, my first public golf course."
Woods has always been at his best on the biggest stages, and Payne's Valley, named for the late Payne Stewart, who grew up in nearby Springfield, is unquestionably big. The course plays atop a broad, starburst arrangement of low bluffs in the southwest Missouri Ozarks, where ancient peaks and ridgetops have been scrubbed and worn by time. (Parts of the property were formerly nine holes of the defunct Murder Rock golf course; the other nine became parts of Ozarks National, Golf Digest's Best New Public Course in 2019.) Yet Payne's Valley manages to effect an impression of height by pushing the holes, particularly on the first nine, out to the edges of the extended fingers of land that tumble down into wooded ravines, giving rise to cross-valley vistas. "While shaping the golf course, we spent a lot of time thinking about the views that we wanted to capture from various greens, fairways and tee boxes," Woods says.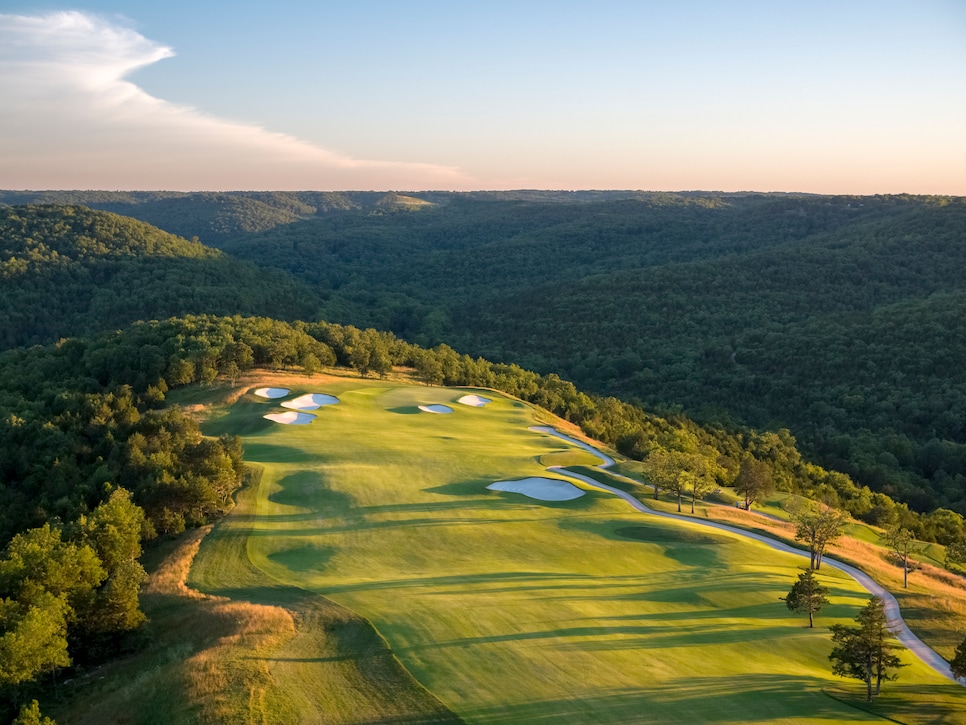 Photo courtesy of Big Cedlar Lodge (Evan Schiller)
To this point, he and Johnny Morris, founder of Big Cedar Lodge and Bass Pro Shops retailers, made several in-the-field adjustments to maximize the down-valley sightlines, including reconceptualizing two of the closing holes into the downhill par-3 16th and the par-4 17th, a classic Bottle hole with a strand of bunkers breaking high and low sections of fairway. (Fitting a drive into the upper fairway is more risky, but it provides a straight look into the angled green.) Woods and Beau Welling, senior design consultant for TGR Design, filled the bare, blufftop panoramas with vast wall-to-wall fairways (the course has a considerable 116 acres of maintained turf), sprawling bunkers and expansive greens with false edges that slip off into smooth, low-cut chipping zones. Zeon zoysia green collars and approaches, which can be cut lower than other zoysia grasses, encourage shots along the ground.
"The green complexes at Payne's Valley are a lot of fun," Woods says. "The tightly mowed green surrounds promote creativity for the lower-handicap players and provide a variety of recovery options for the higher-handicap players. And the greens are simply contoured, allowing for firm-and-fast conditions."
The design achieves spectacle and playability, but balancing the two was complicated by the site's ubiquitous limestone rock that had to be blasted out before any features could be built. However, it also provided a strong visual motif, the various forms of exposed rock serving as guide-posts along the routing.
A large limestone wall right of the green at the par-5 fourth leads the eye toward the slope of the green and then to a large, reflective water hazard. A recirculating brook cascading down a series of broken-stone steps at the drop-shot 10th might trigger a desire to break out a line and lure. That would be just fine for Morris, who grew up in the area and has done everything possible to draw attention to his beloved part of the world through grand displays of sensory stimulation. Welling, who calls Morris a "choreographer of experience," says he was even involved in routing cartpaths to take players on out-of-the-way rendezvous to highlight particularly beautiful landscapes.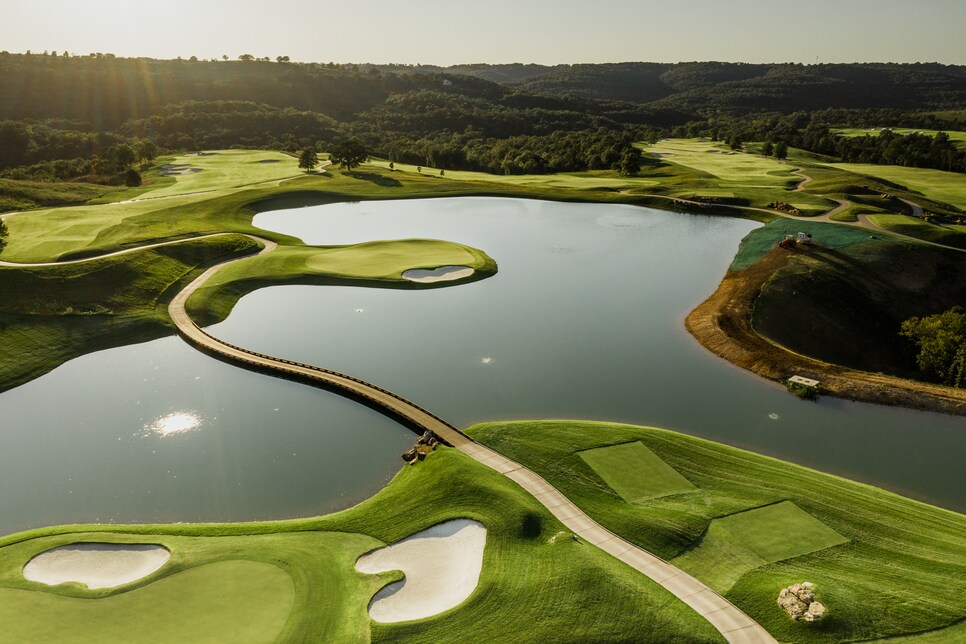 Photo couirtesy of Big Cedlar Lodge (William Watt)
The most impressive scene is saved for last, where the 18th green sits adjacent to a tranquil pond at the bottom of a 250-foot limestone outcropping. A cartpath cuts back and forth across the terraced layers up to the clubhouse overlook, ducking in and out of caverns and touching a cascading waterfall, all of it peering down over the course, miles of Ozarks and a bonus 136-yard dual hole nestled below in a stone amphitheater.
Expect anything different from two of golf 's greatest showmen?