The 44 Funniest Moments In Golf History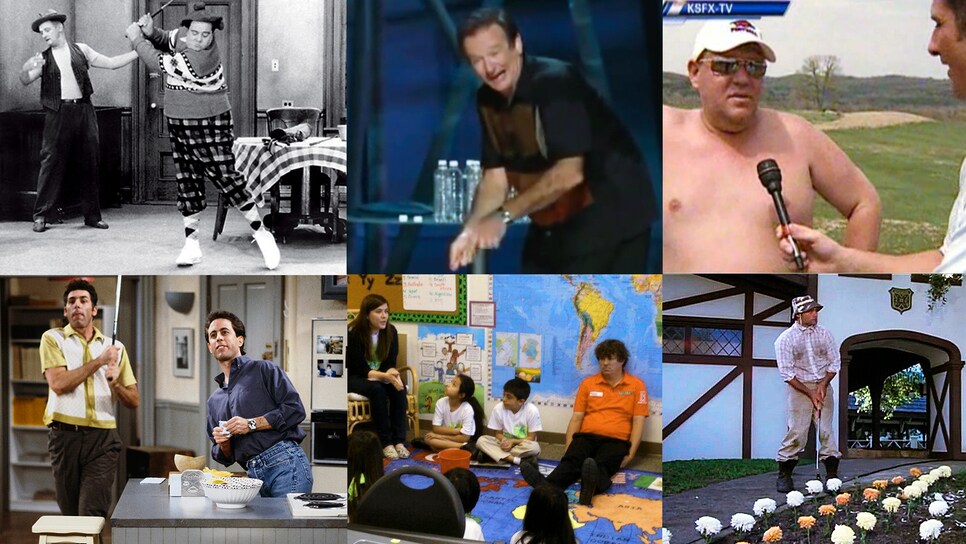 E.B. White wrote, "Analyzing humor is like dissecting a frog. Few people are interested, and the frog dies of it." So it would stand to reason that ranking it would be equally devaluing. But logic wasn't going to stop us. Our goal was to archive the farcical history of our dear game, and to do it right we spent many hard, taxing days in our climate-controlled offices searching YouTube and laughing our faces off. If you disagree with the order or feel a great moment has been omitted, relax. Put down the scalpel.
A month after winning the 2008 U.S. Open at Torrey Pines on a broken leg, Tiger Woods understandably wasn't present to accept his ESPY for Best Male Athlete. Not to worry: Will Ferrell graces the stage posing as an utterly immodest Tiger: "Clearly I am the best golfer alive today." He then thanks his sponsors: "Little Debbie Snack Cakes, Tab--yes they still make it, but only for me--Ticonderoga pencils numbers 2 and 3, but not 4; those are ridiculous." Deadpan poise from host Justin Timberlake as Ferrell rambles on for almost three minutes.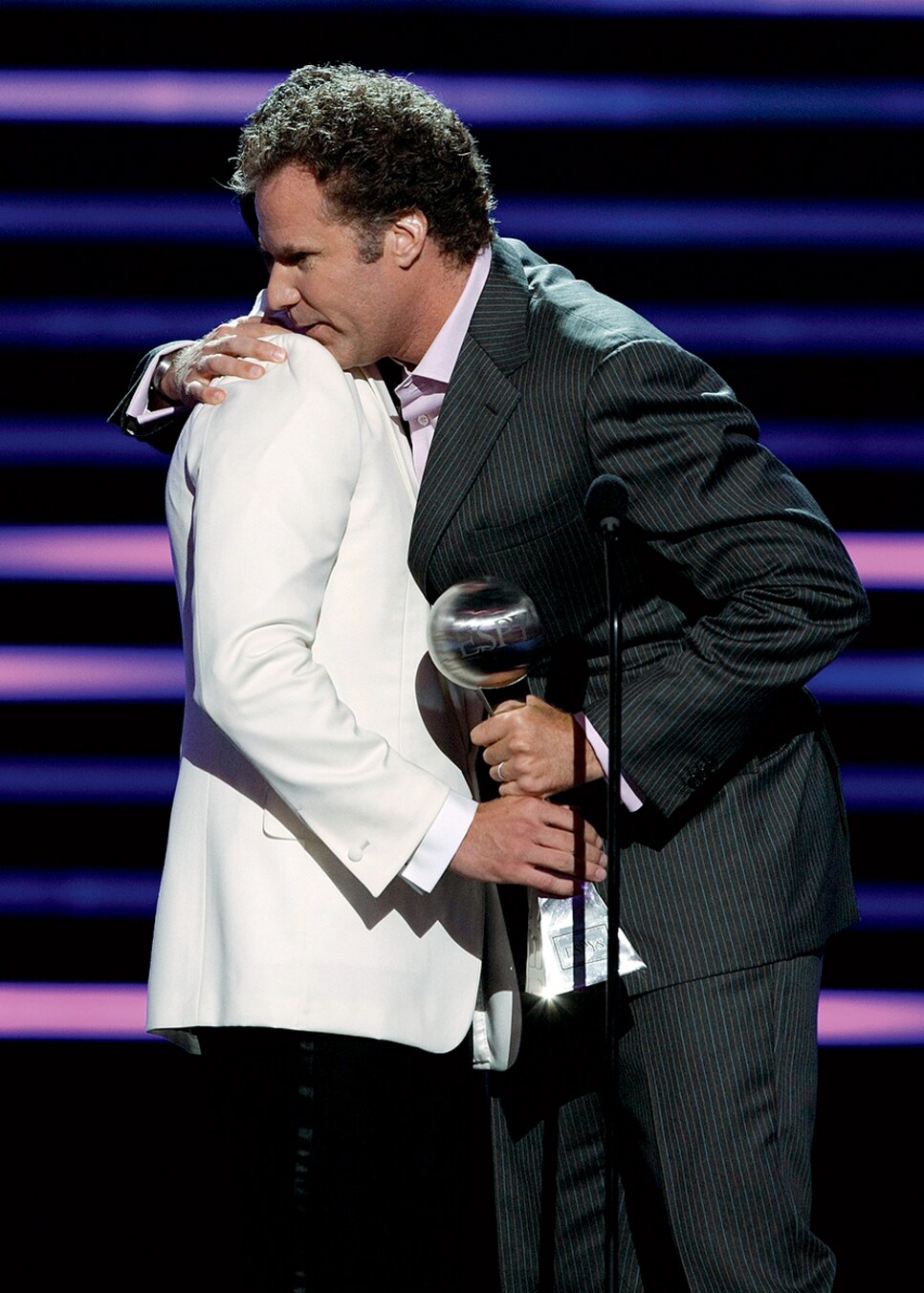 Courtside tantrums get heated and occasionally scary, but greenside tantrums rarely rise above hilarious. To whomever released the expletive-filled outtakes from basketball legend Bobby Knight's 1980s instructional video series, "Golf Your Way," we tip our caps.
The joy of streaking is the surprise factor, but the young man who cavorted onto the 72nd green during the 1985 Open Championship at Royal St. George's got the shocker in the end. Peter Jacobsen recalls executing a perfect tackle: "I jump up, and I'm holding my fingers just a couple of inches apart, telling everybody that, you know, he had a tap-in."
A couples golf date? What could possibly go wrong? After taking a screamer to the shin and holding up play in the 2009 comedy "I Love You, Man," Jason Segel's character declares "This is my nightmare!" Half-heartedly, he mutters these parting words to his lady: "Please don't go."
When Seve Ballesteros won his second Masters, in 1983, seemingly sage then-Augusta National chairman Hord Hardin was charged with asking the first question in the Butler Cabin: "Seve, let me ask you, a lot of people have asked me... How tall are you?" There are bad questions that sometimes get good answers, and bad questions that live on simply for their epic badness.
If the prank happened to you, you'd be pissed. But when you're watching Johnny Knoxville and crew in "Jackass: The Movie" hide in the bushes and airhorn-blast other unsuspecting golfers in their backswings, it's hysterical. Kudos to the victim who settles the score by calmly teeing a ball at the cameramen.
Besides maybe Ian Woosnam, there's no more famous diminutive golfer than Dorf, played by Tim Conway in the 1987 instructional movie "Dorf on Golf." With a bad hairpiece and worse Swedish accent, Conway plays the part standing in a hole and wearing golf shoes on his knees to appear four feet tall.
The 1930 short film "The Golf Specialist" stars W.C. Fields as a con man in a hotel who purports to be teaching the house detective's wife to play golf. "Hijinks ensue" -- not a cliché when it might have been used for the first time with this movie.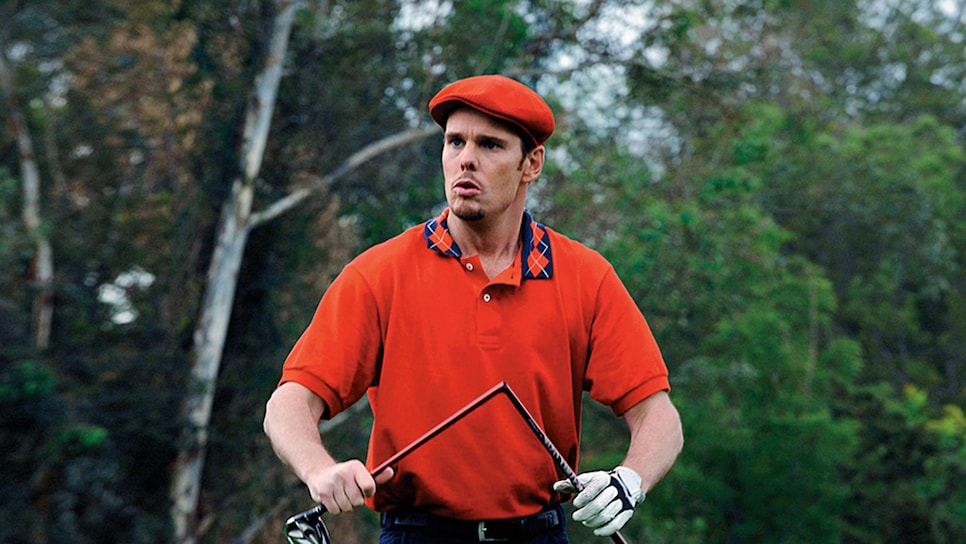 Most "Entourage" fans can't relate to Vince, the dashing, insouciant Hollywood megastar who fends off women's advances at every turn.
But his half-brother, Johnny Drama (played by Kevin Dillon), speaks our language, especially on the course. There's Johnny getting grief about his 15-handicap and not being able to play to it. There's Johnny betting more than he has, then doubling down even as he's fighting the hooks. There's Johnny taking the club Tom Brady lent him and snapping it in two. Well, at least most of it's relatable. (Watch the video)
After winning the 1982 Players Championship, Jerry Pate throws course designer Pete Dye and PGA Tour commissioner Deane Beman into the water before diving in after them. "Everybody was all mad at Deane," Pate said. "Everything was wrong about the Players Club, in the players' minds." After birdieing the final hole, "I saw Deane, and I walked over and told him, 'You better give Judy [Beman] your wallet--I'm going to throw your ass in the lake.' Pete didn't know it was coming."
In the 139th episode of "The Simpsons," aired in 1995, Bart hides disappointment at receiving the video game "Lee Carvallo's Putting Challenge" for Christmas instead of the much more violent "Bonestorm." As the credits roll, Bart attempts to squeeze as much excitement as he can from the game by selecting driver from the green.
The 2004 dramedy "Sideways" posits two friends dealing with midlife crises on a road trip in wine country. Of course, there's a golf scene. "I know you're frustrated with your life right now, but you can choose to be less hostile," says Jack, played by Thomas Haden Church, to Miles, played by Paul Giamatti. Just when it looks like a slow-play skirmish will boil into a full-on brawl, Jack growls, twirls his driver over his head and sneers like a lunatic, "This is going to be fun."
In a four-minute skit on "The Honeymooners," Art Carney as Norton teaches Ralph, a bus driver from Brooklyn played by Jackie Gleason, how to play golf from an instruction book. "What do they mean by 'address the ball?' " Ralph asks, which leads to Norton taking his stance and intoning, "Hello, ball!" The episode premiered in 1955 and remains a cult classic.
The infamously sour former Augusta National chairman Clifford Roberts was once tricked into being a punch line at a members' event. The club's Frank Christian Jr. had filmed Roberts holding a rubber duck and explaining why there were no ducks in the ponds. But Christian sped up the film and dubbed audio of a child singing the bath-time refrain, "Rubber Ducky." "You could look around the room and see tears coming down the members' cheeks as they tried to keep from laughing," Christian said. "Mr. Roberts didn't take it too well."
Punk-rock group Devo made its reputation on dadaistic lyrics full of non sequiturs. Hall of Famer Chi Chi Rodriguez entertained with elaborate celebrations and colorful clothing--in some ways a parody of a pro golfer. Because incongruity is funny, Devo chose an image of Chi Chi as the cover of its 1978 album, "Are We Not Men?" Rodriguez didn't get the connection, but he got $400.
Bubba Watson, Rickie Fowler, Hunter Mahan and Ben Crane showed skin and proved they could sing and dance (sort of) in 2011 when The Golf Boys debuted the hit single "Oh Oh Oh." They followed that jam with "2.Oh" in 2013.
"Space Jam" is not only the highest-grossing basketball movie of all time, it boasts a golf scene of heavy hitters. Bill Murray marks himself and Larry Bird for birdies after the Looney Tunes kidnapping of Michael Jordan through the cup. His rationalization? "We weren't in any emotional state to putt."
Late actor Jack Lemmon missed the cut in all 25 of the AT&T Pebble Beach National Pro-Ams he played, but not for a lack of trying. His hard-luck story was best exemplified in 1987 when he attempted a dangerous cliff-side shot at Cypress Point. To keep him from falling, playing partners Clint Eastwood, Peter Jacobsen, Greg Norman (and Norman's caddie, Pete Bender) formed a human anchor by holding onto one another's belts. Lemmon swung and put the ball back in the fairway, but, as was his custom, shanked the next one into the ocean.
The swift and vicious downturn of Tiger's personal life in 2009 was easy fodder, especially with all the innuendo golf naturally provides. Striking just the right notes was Tina Fey on "Saturday Night Live" with her character, former mistress Ashlyn St. Cloud. Alongside an uneasy Jim Nantz (Jason Sudeikis) and a perplexed Nick Faldo (Bill Hader), St. Cloud offers her unorthodox reads on the former World No. 1.
Drinking, eating, gambling, getting arrested: John Daly's Bacchanalian career provides us with memories fun and not so fun. His 2008 shirtless interview with a Springfield, Mo., reporter is superlative for the fact Long John is being himself while totally in control. After a pleasant, articulate promotion of his Murder Rock Golf Club, Daly adds: "Don't underestimate the fat man."
Ben Hogan was a perfectionist down to the extra spike in his shoes. To emulate him was first and foremost to get the details right. In the 1951 movie "Follow The Sun," Glenn Ford, a fine Hollywood leading man but a chop on the golf course, got everything earnestly wrong. Ford's deferential manner was the opposite of Hogan's commanding coldness. The iconic white cap was clownishly big. When the actor was holding a club, let alone swinging it, we groaned. Now enough time has passed that we can laugh.
In the 1953 classic "The Caddy," Jerry Lewis plays Harvey, the son of a famous golf pro who wants him to be a tournament player. But Harvey is afraid of crowds and becomes a teaching pro. His best student, played by Dean Martin, gets good enough to join the tour, with Harvey as his caddie. The two have a fight during a tournament so uproarious that they're advised to get into show business, whereupon they meet another comedy team known as Martin and Lewis. Ben Hogan, Sam Snead and Byron Nelson star as themselves.
In one episode of the 1960s sitcom "The Munsters," the Frankenstein-like character Herman causes mayhem on a golf course, including making doormat-size divots (flown past the camera using primitive Hollywood trickery). Says son Eddie about Herman's opening drive: "It's in the rough, on the third hole, 1,500 yards away."
The award-winning 1996 flick "Swingers" launched the careers of Vince Vaughn, Jon Favreau and Ron Livingston. A long and intimate fairway dialogue about personal problems is as messy as the golf. When Favreau and Livingston finally hole out, they air-count the strokes. "What'd you get?" "I had an 8 or a 9." "I'll give you an 8." "What'd you get?" "I got an 8."
Rarely do we see tour pros exhibit genuine, childlike exuberance. Boo Weekley mounting his driver like a horse before cantering off the first tee on the final day is a classic image of the 2008 Ryder Cup. A down-to-earth country boy from the swamps of Florida helps the U.S. team secure victory by horsing around.
Dan Jenkins wrote the book Dead Solid Perfect, and he and his wife, June, also had a scene in the movie. Janie (Corinne Bohrer) strides naked down a hotel hallway. "As Janie glides by," Jenkins says, "my startled wife says, 'Who is that?' I shrug and say, 'Somebody's daughter.' " The lines were cut, but the visual remained: "Corinne met every requirement of a Shapely Adorable," Jenkins says, "which might have been a reason the scene was shot three times."
A golfer losing his head can be sad, but also entertaining. Legendary steamer Tommy Bolt flung his driver into a lake in the first round at the 1960 U.S. Open, claiming that the sound of fish jumping caused him to hook back-to-back tee shots into the drink. Claude Harmon had to duck out of the way. A kid in the gallery swam out and returned the driver to its owner.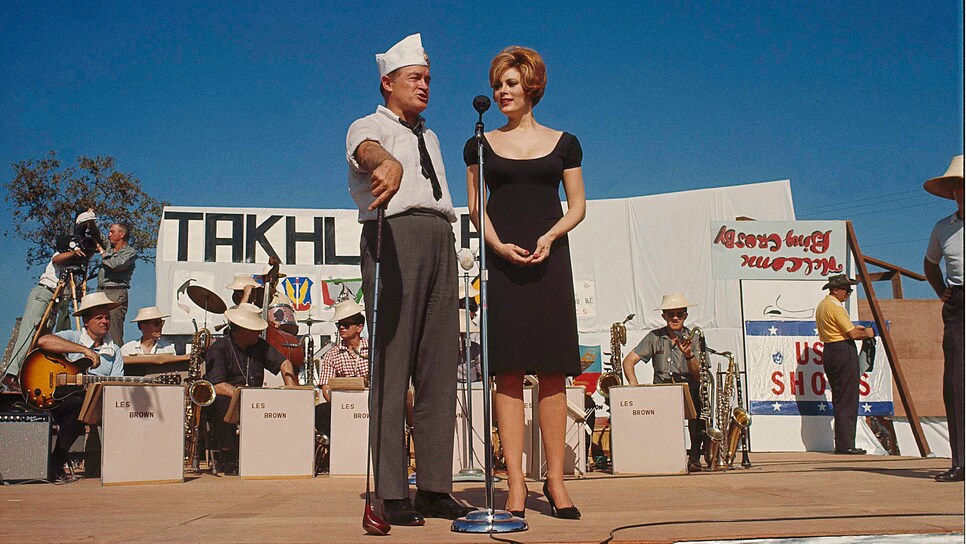 "I'd give up golf if I didn't have so many sweaters. ... Arnold Palmer told me how to knock eight strokes off my scores--skip a par 3. ... I've been playing the game so long, my handicap is in Roman numerals." Bob Hope had a million of them, fueled by a love of golf and a commitment to America's servicemen and women. For nearly six decades of Christmases, Hope entertained the troops, always with a golf club in hand.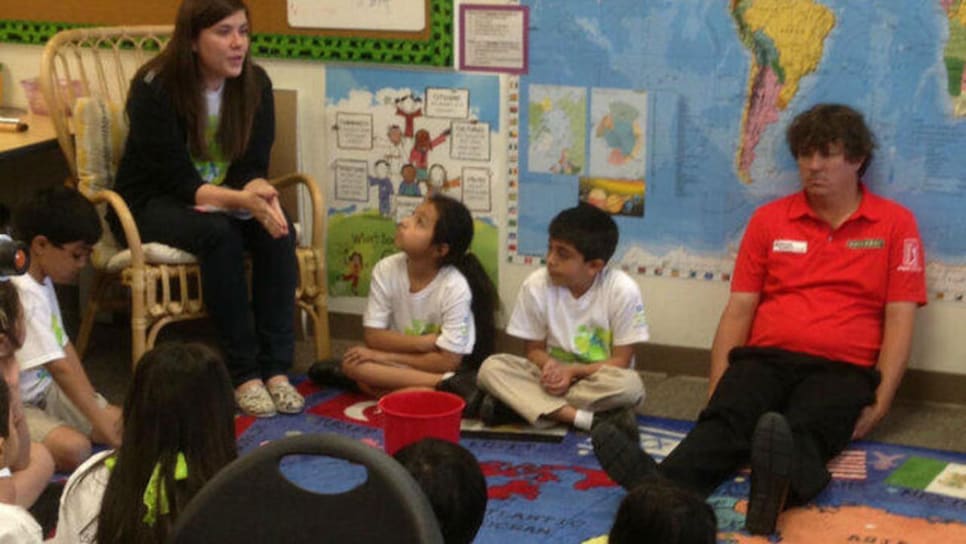 What are you doing when you sit on your hands, stick out your gut and appear entirely uninterested? Jason Dufner attended a youth center for a charity event in 2013 and was photographed spacing out. Keegan Bradley was among those who noticed the candid image and immediately tweeted it. Within 24 hours, Dufnering became a verb, and the man whose pulse seemingly never wavers became a sensation.
Formerly known as that angry dude who bent a putter around his head, Woody Austin changed his image forever at the 2007 Presidents Cup when he faced a precarious stance that ended with a face-first splash into a water hazard. Embracing the joke, he donned diver goggles in his singles match and became forever known as "Aquaman."
So many memorable quips in "Tin Cup," but our favorite moment is the understated portrait of the struggling pro. After Roy McAvoy (Kevin Costner) tells psychiatrist Dr. Molly Griswold (Rene Russo) he doesn't need the full 30-minute session because he's "not that f---ed up," he plops on the couch to reveal golf shoes with the spikes removed.
Just another note for the file of Bill Murray can do no wrong in golf. In the 1993 Pebble Beach National Pro-Am, he pulls a kindly old lady from the stands to give her a twirl, flings her onto her backside in a bunker, and ends up with laughs and a classic highlight. He got a slap on the wrist. Anyone else ends up with a misdemeanor.
When Bing Crosby was hospitalized during his Crosby pro-am in 1974, his friend Phil Harris, the singer with a penchant for liquor, pinch-hit in the TV booth, with predictable results. After Chris Schenkel observed that Johnny Miller had hit a shot with a smooth touch, Harris replied, "Yeah, as smooth as a man lifting a breast out of an evening gown." Said Crosby: "I was under such heavy sedation that week I hardly remember anything about watching the tournament on TV. But that remark from Phil woke me up."
Erma Bombeck wrote: "There is a thin line that separates laughter and pain, comedy and tragedy, humor and hurt." The 72nd-hole triple bogey made by Jean Van de Velde at the 1999 British Open would crush most mortals, but the spirited Frenchman found a way to keep on the right side of that line.
In 2007, the golf world largely believed Tiger Woods' dominance had made the game more accessible to African Americans. So Chris Rock drove a golf cart through Harlem to test the theory. His first interviewee mistakes Rock as Tiger. Rock then asks a young boy on the street: "Who do you like better, Tiger Woods or Michael Jordan? Tiger Woods or O.J.?" In both cases the boy answers the latter. Much of the stunt is slapstick, but Rock shrewdly shines a light on more serious issues.
In the 1978 canonic comedy "Animal House," upon seeing rival Neidermeyer taking one of their pledges to task, Otter and Boon of Delta House smack the pompous jerk upside the head (and his horse in the rump) with two stiffed shots. So what if Otter's stroke is closer to a hockey slapshot than a golf swing? His sagacious outlook ("Don't think of it as work; the whole point is just to enjoy yourself") is as good as it gets in practice instruction.
Many golf storylines drive the plot of "The 5-Wood" episode of "Curb Your Enthusiasm," but the richest dialogue is Larry David and wife Cheryl pretending to be WASPs to gain admission into a new club. Upon arrival, Larry casually slips into conversation that he drives a Hummer. "I'm not too worried about the global warming. People like it a little warmer, don't they?" Several uproarious lies follow, each delivered with perfect jaw-clenching gentility. Watch the video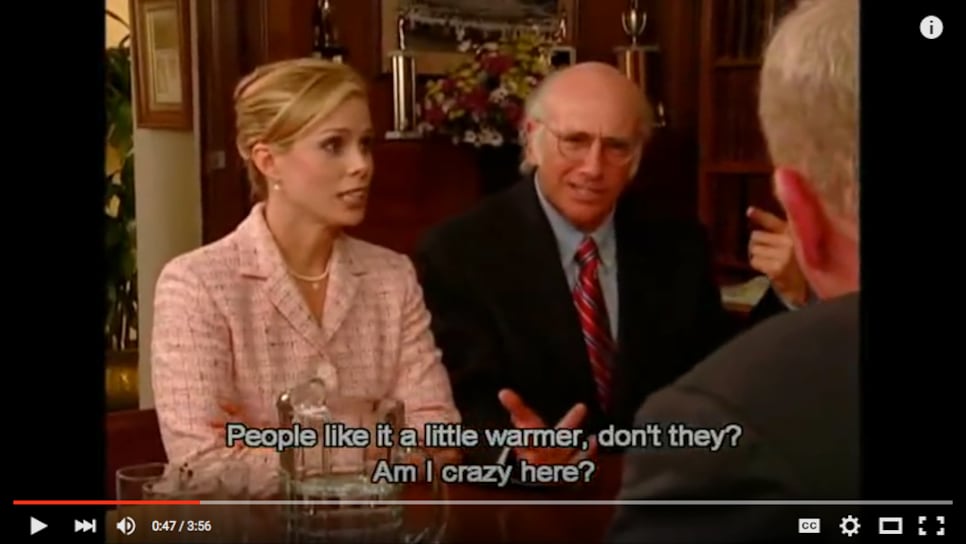 Note: Strong language/NSFW |||
How high did Phil Mickelson jump when he sank the birdie putt for his first major win, at the 2004 Masters? So high you could have fit a dictionary under his feet. Well, not an Oxford, but maybe an abridged Merriam-Webster's. Phil slipping to his keister on the rocks in 2013 at Pebble Beach, though a rivaling display of athleticism, was not as grand a moment.
In 2002, Robin Williams performed what The New Yorker called "probably the funniest, and the most profane, peroration on the sport that anybody has ever delivered." His send-up of a ribald Scotsman explaining golf delights lovers and haters of the game equally. A somewhat sanitized version: "Here's my idea for a sport. I knock a ball into a gopher hole. 'Oh, you mean like pool?' No, forget pool, not with a straight stick. With a little broken stick, I knock a ball into a gopher hole. 'Oh, you mean like croquet?' No, not croquet--that's a pussy sport. Put the hole hundreds of yards away. 'Oh, kind of like a bowling alley?' No way. I put shit in the way like trees and bushes. So you whack the ball, and you keep whacking away until you feel like you're going to have a stroke. That's what we'll call it, because every time you hit it, you think you're going to die. And right near the end, I'll put a nice flat piece with a tiny flag to give you hope. In front I'll put a pool and a sand box to grab your ball. 'You do this one time?' Oh, no, 18 damn times."
Humor, said Sid Caesar, is truth with little curlicues. In the "Caddyshack" Cinderella scene, Bill Murray understood with a comic's intuition how in our sports fantasies, everyone secretly and grandiosely self-narrates in an announcer's voice. In an inspired moment on a chaotic set, he channeled his genius for the freewheeling and bravely personal into 186 words that earned a rightful place on the American Film Institute's "100 Greatest Movie Quotes of All Time." In 2014, Murray said, "You have to remind yourself that you can do the very best you can when you're very, very relaxed." Murray's reverie of the "former greenskeeper about to become Masters champion," like his Dalai Lama soliloquy ("Big hitter, the Lama. Long."), was completely improvised. The scene's only stage direction: "Carl cuts off the tops of flowers with a grass whip." But after director Harold Ramis mused on the play-by-play device, Murray shot back, "Say no more." His curlicues--"tears in his eyes, I guess... this normally reserved Augusta crowd"--are slightly off in a way that is ineffably dead-on, so that a daydream becomes the most golf-authentic moment in the film (and the way Carl Spackler self-consciously lowers his voice around two Bushwood members is among the most authentically human). Spackler's concluding words, "It's in the hole!" sum up a perfect performance.
Text by Max Adler, Joel Beall, Jaime Diaz, Stephen Hennessey, Ron Kaspriske, Keely Levins, Ashley Mayo, Peter Morrice, Mike O'Malley, Jerry Tarde, Sam Weinman