The Loop
The 17th At Doral: Not Every Hole Has To Have Water!
When Golf World editor Jaime Diaz played the Blue Monster with Donald Trump while researching last week's fantastic cover story, they reached the 17th green only to have the developer explain how he already plans to redesign the hole. That's right, a WGC-Cadillac Championship has yet to be played over the Blue Monster, the reviews have been largely outstanding, and The Donald wants to blow up one of the most elegant holes on the property already?
The reason, apparently, has to do with the lack of water in play. Even though the hole has been rebuilt as a classic Dick Wilson-Joe Lee par 4, touched up with more intricate bunkering by Gil Hanse and Jim Wagner, The Donald wants to have water in play on all four finishing holes.
The lack of water is exactly what makes the 17th appealing.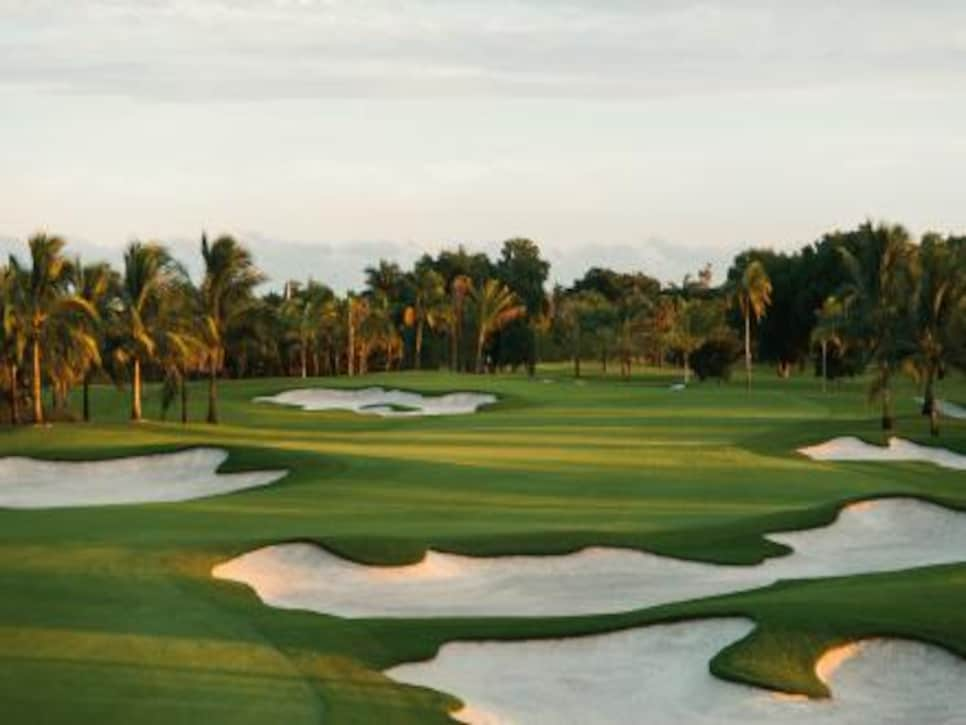 The approach to the green on the par-4 17th.
(Photo by Trump National Resort)
Currently, the 430-yard hole's tee shot calls for a left-to-right shaped play, probably a 3-wood for most players. That is followed by a distinctly opposite-shaped approach shot. It's a Wilson-Lee trademark, and this subtle mix of rewarding different shot shapes within the same hole appeals to both players and those looking to test all facets of their games. In renovating the Blue Monster, Hanse and Wagner could have brought a pond in play but chose not to, figuring the other finishing holes provided enough water.
Like a great album, Doral has up-tempo songs, some mid-tempo numbers and a ballad here or there. No one wants a steady stream of rockers. The ear just can't handle it.
Golf courses are no different. Ebb and flow is a good thing. The eye, the senses and the brain appreciate variety and only heighten the drama on the rockers.
Here's the funny part: the 17th is sneaky tough. The green is enormously deep (40 yards) and a miss-judged approach will likely induce an untimely three-putt this week. Which to a tour player, is far more infuriating than hitting a ball into just another silly old lake.