The 10 Coolest Jobs in Golf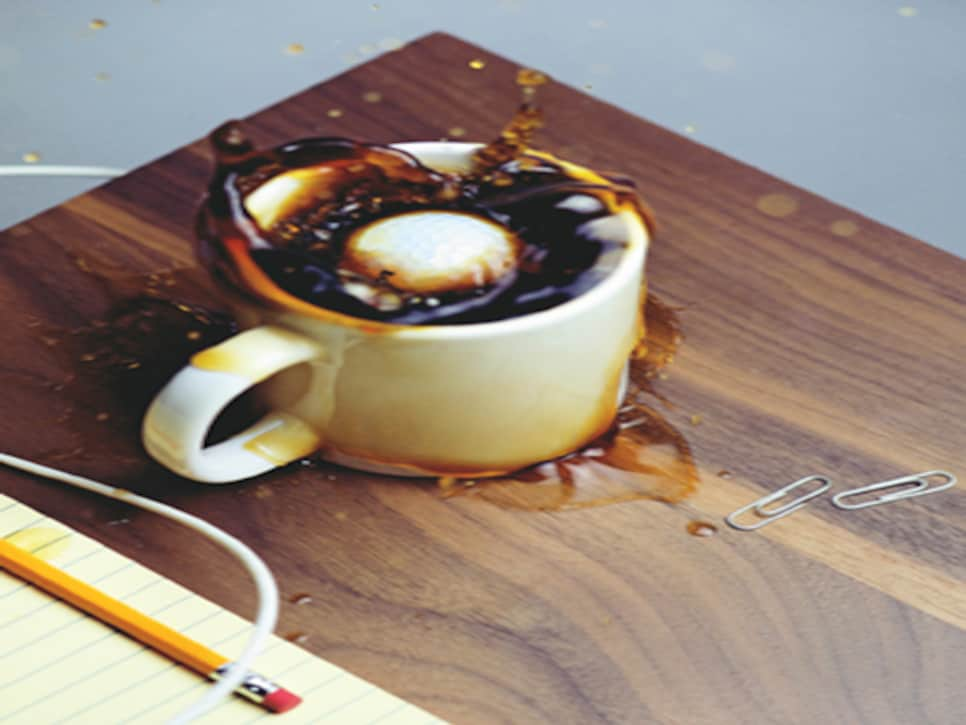 A lot of golfers have to hide their obsession at work.
They surreptitiously check GolfDigest.com on their phones in meetings, sneak air swings during conference calls, or even keep a secret tab on their web browser for live-streaming the PGA Tour. Most are ashamed of these habits, unless maybe they're one of the two million Americans who blissfully call golf their "job."
The golf industry generates $55 billion in annual wages. Not all golf jobs, however, are created equal. Some allow more access to fun things a lot of us would pay to do, no less get paid. We identified 10 young people with the coolest gigs (removing myself and my peers at the magazine from consideration). Everyone on our list is under 35 years old, which means they're looking ahead to golf-tastic lives.
26 / social-media manager
Six hundred thousand—that's how many people Chad Coleman chats with every day from Callaway Golf's social-media handles. "Since April 2012, there have been maybe five Callaway tweets that have been posted by someone else," Coleman says, "and that's because it was my wedding day." The self-described perfectionist carefully crafts the messages that are published on Callaway's Facebook, Twitter, Instagram, Vine and Tumblr accounts.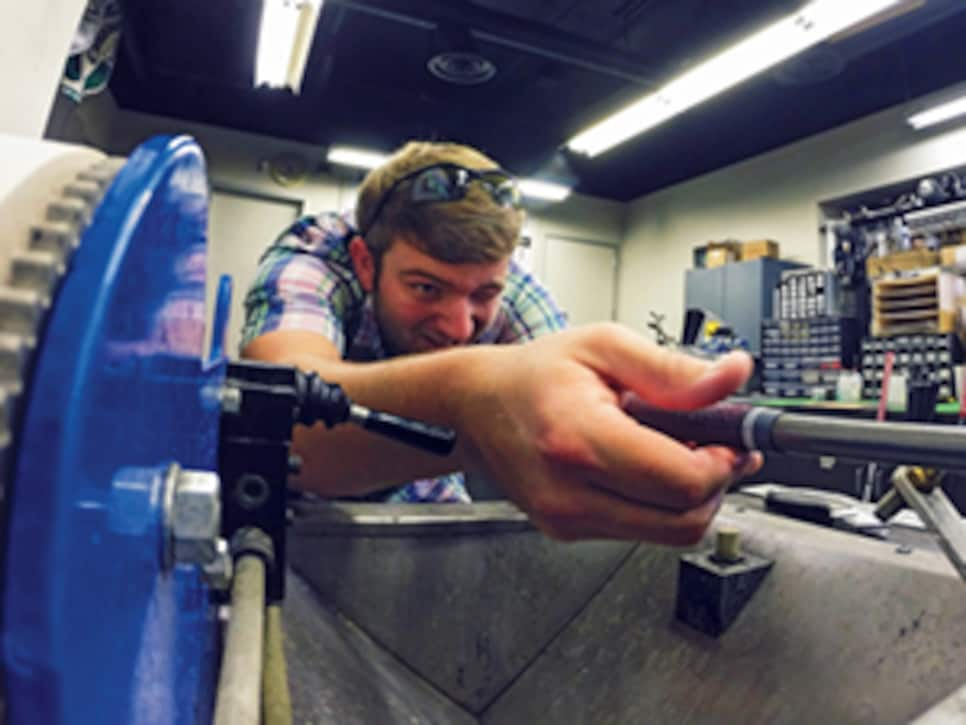 "The quality of the content we post is high, and it's unique," Coleman says. "Whether that's putting a bunch of GoPro cameras on Ryo Ishikawa and asking him to hit trick shots or prying information from our engineers, I showcase the talents of our staff."
Coleman graduated in 2011 with a journalism degree and first worked at Rockfish Interactive, a digital-advertising company. While at Rockfish, Coleman used Twitter to network with influential people in the golf industry, pinging them with thoughts and comments. This persistent social-media networking earned him an interview with Callaway.
"I don't have a normal life," Coleman says. He has two iPhones and often drains both batteries and an external battery pack before the day is done. "I'm literally always on," he says, "but who cares?"
29 / head pro at Pacific Dunes
To experience Bandon Dunes Golf Resort once in a lifetime is something most golfers only dream about; to call it your office is ludicrous. Michael Chupka is the head pro at Pacific Dunes, ranked second on Golf Digest's list of America's 100 Greatest Public Courses, and he's surrounded by three other courses in the top 15.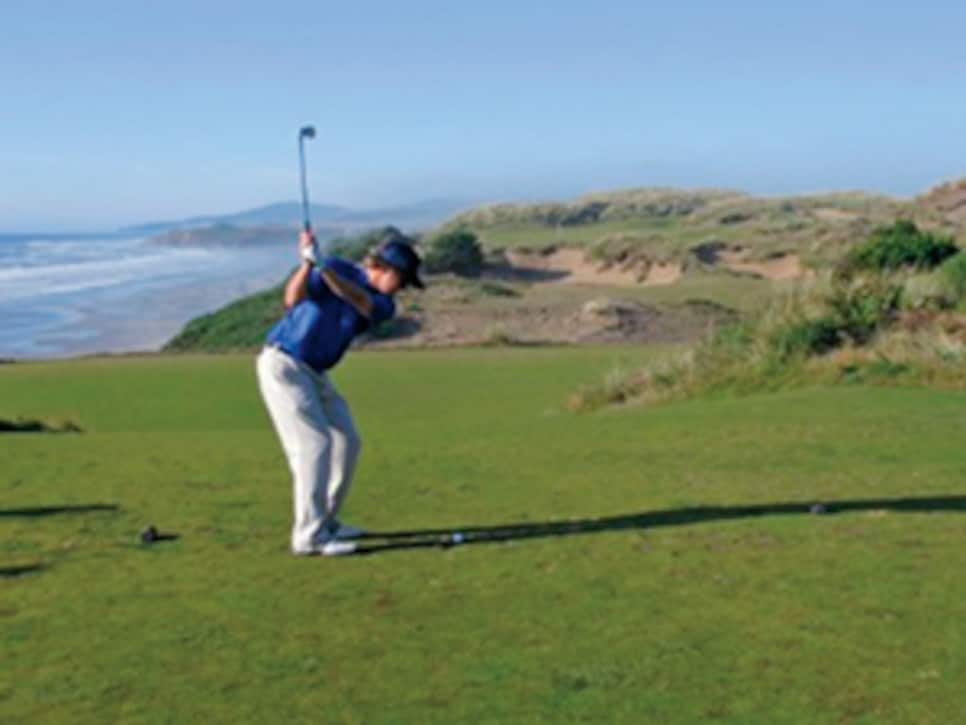 "I get to avoid a desk job and play amazing golf," says Chupka, a native of Richmond, Va., who played for James Madison University. He spent one summer as a counselor at a junior golf camp connected to KemperLesnik, the Chicago-based firm that is the management company for Bandon Dunes, so when the resort was looking for interns, Chupka came highly recommended. He rotated as an intern at each of Bandon Dunes' courses before becoming an assistant at Pacific Dunes. "I became a head pro less than four years after starting as an intern," he says. "I pinch myself all the time."
Chupka tees it up about twice a week. "My game has certainly changed from playing lots of links golf. I have a better understanding of how to play. Being a perfectionist is not what golf, or life, is about."
Even if you have a perfect life.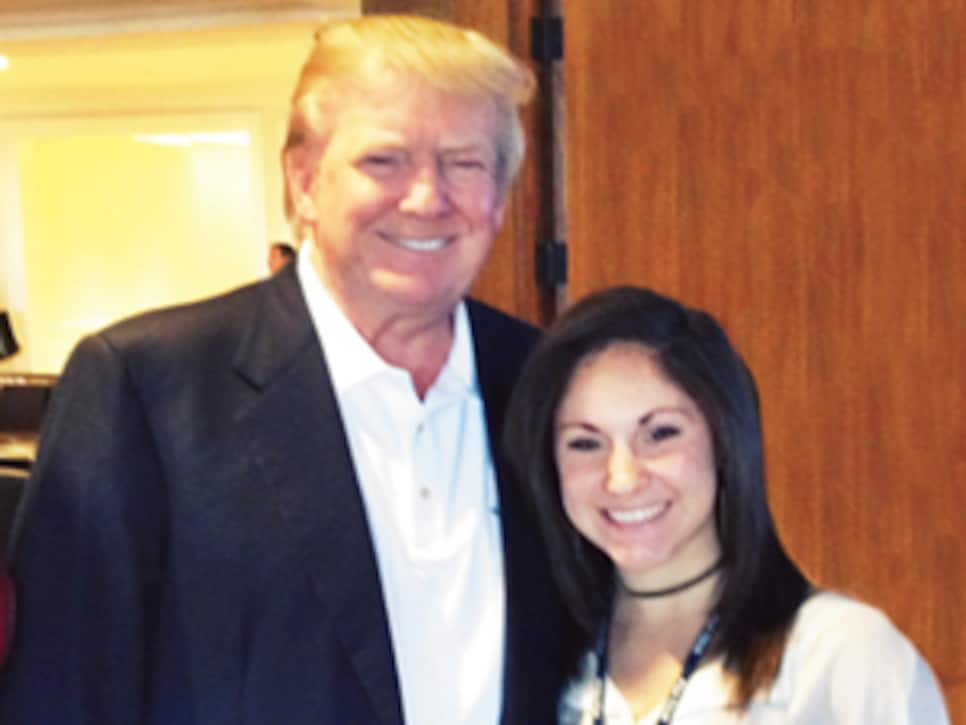 20 / buying & marketing assistant
Vogue, GQ, WWD, Golf Fashion Weekly and Style.com—that's Brooke Emory's required reading material. "I'm an artist, and a big part of my job is to keep up with the latest fashion trends and up-and-coming brands," she says.
When Emory sees something she likes, she alerts her boss, Adrienne Cass, the co-founder of TrendyGolf. Deciding which labels will be donned by James Driscoll, TrendyGolf's sponsored player on the PGA Tour, is a big change from Emory's first career as a professional hip-hop dancer, but the young woman with only a high school diploma is happy for the stability. "I always had a passion for fashion," she says, "and I was a part-time stylist when I was a dancer."
Emory started in TrendyGolf's customer-service department but quickly became Cass' first assistant, traveling to tour events and internationally to help style fashion shoots. Emory also helped Cass launch TrendySports, a website that highlights trends in skiing, tennis, gym and running clothes. "Golf is a little step behind the fashion industry," Emory says, "but we stay ahead to bring fashion to golfers."
So don't worry, there's a shopper whose job is to save you from your bad decisions.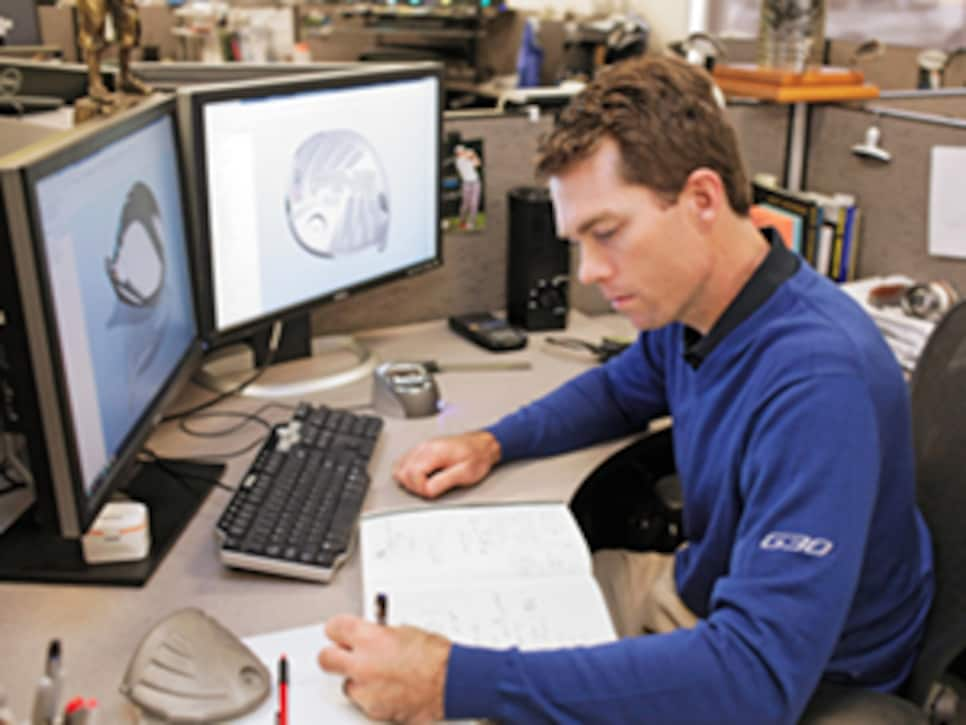 likely use in competition.
34 / director of product development
"My job is a unique blend of what I'm good at doing and what I like to do," says Marty Jertson, who designs and develops Ping golf clubs within two years of their market debut. (Other designers focus on longer-term, more exploratory projects.)
What makes Jertson's job extra cool is that his company encourages him to play competitively. He has played in the PGA Professional National Championship four times, has Monday-qualified for two PGA Tour events and competed in the 2011 and 2012 PGA Championships.
After graduating with a degree in mechanical engineering, he tried mini-tours for a year and a half. "I had aspirations of playing on the PGA Tour," he says, "but as a realist and a mathematician, I knew my probability of making it wasn't very good." That's when Jertson began working at Ping and studying under senior designers. He designed his first product, the Rapture hybrid, in 2005. "The first time you see your own product in stores and see people looking at it on the rack is a very proud moment."
A typical day can mean researching new designs or discussing product strategy, or hitting prototype clubs on the range outside his office. Tour players like Billy Horschel, Lee Westwood and Miguel Angel Jimenez might show up. "We ask them about problems they're trying to solve instead of asking them what they want," Jertson says. "In that way, we try to take the Apple approach: People can't verbalize what they need until they see it."
Teeing it up in major championships with clubs you designed yourself? Pretty cool.
"Besides being a PGA Tour player, I've got the best job in golf," Steve Lohmeyer says. "Nothing else could compare—the competitiveness, the exercise, the ability to see the world."
In 2014, Lohmeyer was on the bag for 29 events in which Brendon Todd earned $3,396,747 (18th on the money list). "I have a lucrative career now," says Lohmeyer, who prefers not to disclose the specifics of his pay structure, though a base of $1,500 per week plus 8 percent of prize money isn't uncommon. Lohmeyer never planned on being a caddie. He played golf at Kent State University, and soon after he graduated he accepted a four-month internship at Ping Golf. That internship led to a job as a product specialist, but his position was eliminated in a 2008 round of cuts.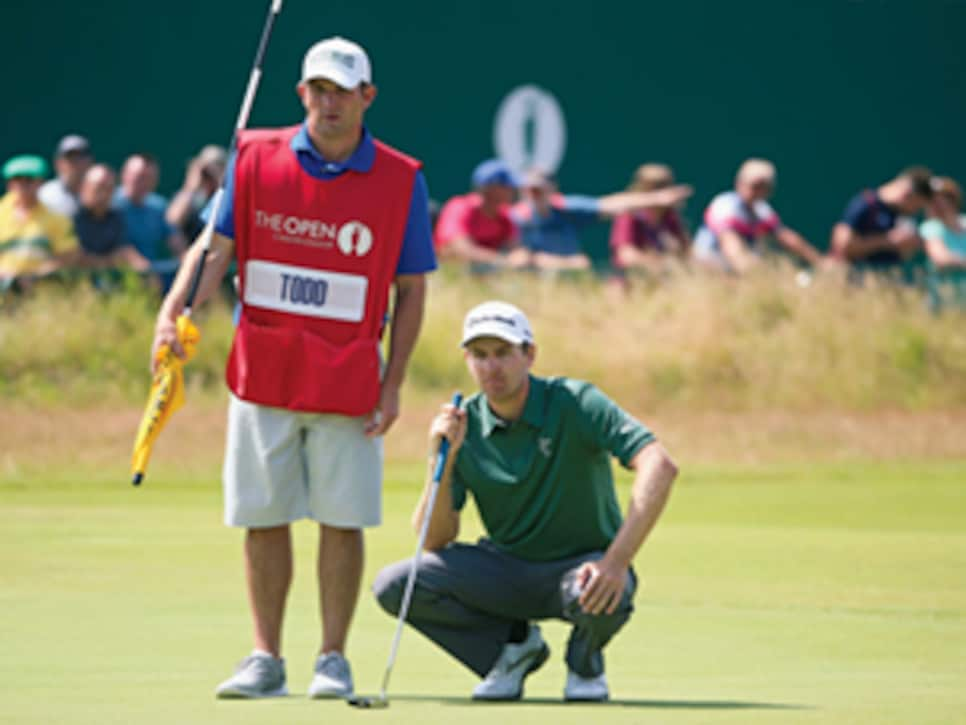 blessing in disguise" for Lohmeyer.
Andrew Redington/Getty Images
"It was a blessing in disguise," Lohmeyer says. That's when PGA Tour player Michael Sim, an acquaintance he met through college golf, asked Lohmeyer if he'd caddie for him. "I had no idea what I was doing. I'd never even used a yardage book." Sim showed Lohmeyer exactly how he needed to get better. Eventually Lohmeyer began working for Scott Langley, and then Todd. "[Todd] asked if I wanted to work with him for just one week, at Reno [in 2013], and he said he'd keep me around if he liked me. By Tuesday of that week, he asked me to book the rest of my year. He loved my positivity."
Competing again is what Lohmeyer loves most. "I'm not the one pulling the trigger, but I gotta be the rock. I gotta be the one who doesn't show much emotion and make sure he stays level. In what other sport can someone say, 'Hey, I was right there with that player'? There's nobody else who gets right in there as much as caddies do."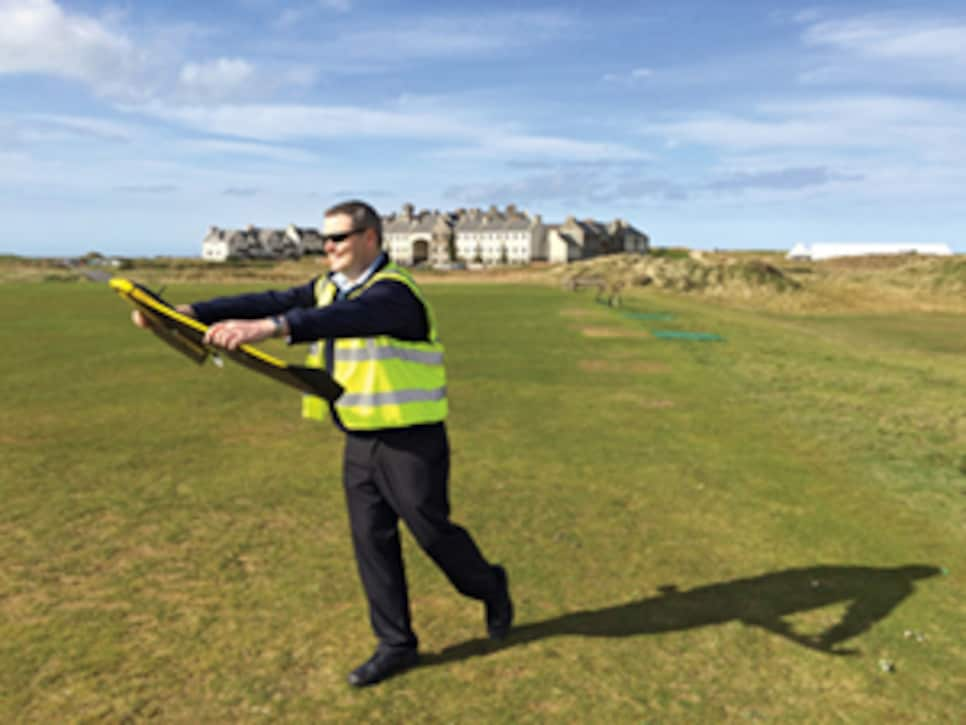 International Golf Links in Scotland.
The global recession hit Aidan O'Connor hard. In 2011, his job as a construction-site manager was axed.
A civil engineer, he decided to tap into the growing use of unmanned aerial vehicles (UAVs). He taught himself how to fly drones and then founded ASM Ireland, a company that specializes in aerial surveying.
"We map all types of terrain, from quarries and mines to coastal erosion, but as keen golfers, we most enjoy mapping golf courses," O'Connor says. These maps, which are used for 3-D flyovers in television broadcasts, for course redevelopment and for golf-course apps and yardage books, use hundreds of high-resolution photographs stitched together. The resolution is 300 times greater than a Google Earth image. "Footprints in the sand are visible if someone hasn't raked the bunker," O'Connor says.
ASM Ireland helped to map Muirfield and Royal Liverpool for the broadcasts of the 2013 and 2014 Open Championships, but O'Connor says the most interesting project was Trump International Golf Links in County Clare, Ireland. "We surveyed the course just after it had suffered enormous hurricane damage. Entire holes had been washed away overnight. Our map ended up being used by a large variety of different engineering consultancies."
O'Connor plans to continue to travel the world with UAVs, especially in the United States, capturing images of the greatest golf courses and playing as many as he can.<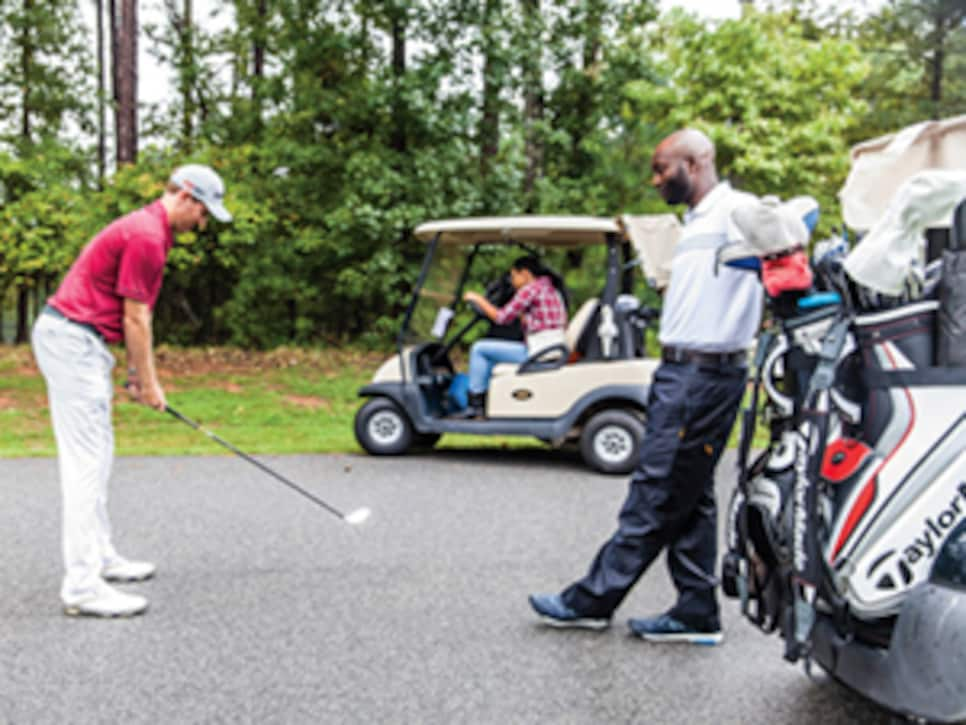 a photo shoot with TaylorMade tour staff.
29 / project leader / athlete activator
"Anytime we need an athlete to do something other than play golf, I'm the guy," Kenneth Patterson says. "Everybody knows I love people, so when TaylorMade created this role in January 2013, they knew I wouldn't do anything that would jeopardize the relationships we have with our athletes."
When Patterson is at a PGA Tour event (he went to 20 in 2014, including three majors), TaylorMade-sponsored players know he's their main contact.
"Dustin Johnson will see me wearing a special flat-brimmed hat or a pair of shoes he likes and ask for them. All our tour staffers are just normal guys, and if they need a club or a question answered, they come straight to me."
Managing player logistics sometimes spills over to playing golf and dining with superstars. One evening last year at Augusta National, it was just Patterson, Johnson and a few others watching the NCAA Division I basketball championship game. But Patterson is a testament to the Gary Player quote, "The harder you work, the luckier you get." A First Tee and Jackie Robinson Foundation scholar, he graduated with a degree in mass communications and then started a nine-month internship at TaylorMade that turned into a sports-marketing job after six months. For five years, he tended to TaylorMade's staff of more than 3,000 club professionals. He likes working with elite athletes but also wants to identify up-and-coming stars.
"I want to get more involved in the contract process. I want to have a say in who we sign, whether they're professional golfers or celebrities."
Who says pro hobnobbers don't face tough decisions?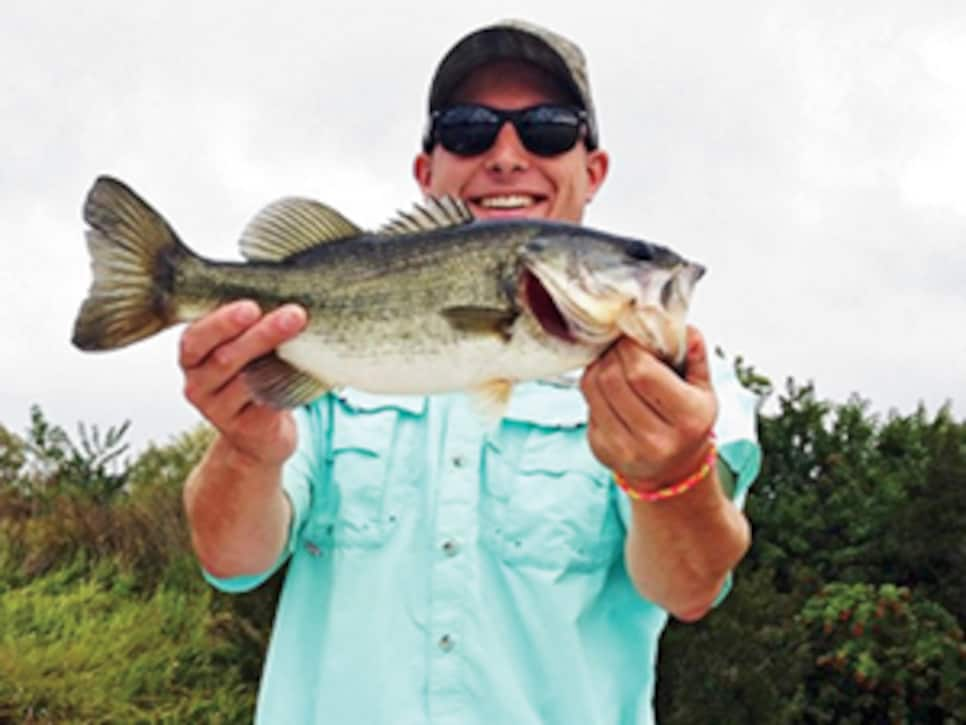 A bad day for Tyler Ramsdell is when he doesn't catch a fish, but Streamsong's recreation manager hasn't had many bad days. He supervises nongolf activities for guests, so a typical day might start with guiding a bass-fishing excursion on one of the property's freshwater streams or lakes, and then after lunch taking a group to the sporting-clays course.
When the resort opened in 2012, there were dozens of applicants for the position, and after three rounds of interviews, executives chose Ramsdell. In addition to being energetic and personable, his résumé seemed just about perfect. At 17, the New Hampshire native revamped the recreation program at the high-end Mountain View Grand Resort, and in college he majored in hospitality and tourism. He has also competed in professional bass-fishing tournaments. "I recently fished with Justin Rose," Ramsdell says. "One of the most laid-back guys I've ever met. If you didn't know who he was, you'd never guess he was a professional golfer."
This past year Ramsdell also had a great time giving Paul Azinger a tour of the property. "We have guests from all over the world, and it's just awesome to hear their stories." Though his job is to help guests take their minds off golf, he's allowed to play Streamsong's Red and Blue courses whenever he likes, just as long as the tee sheet isn't full. "I've often gone fishing, clay shooting and played golf in the same day." And if it was payday, even cashed a check, too.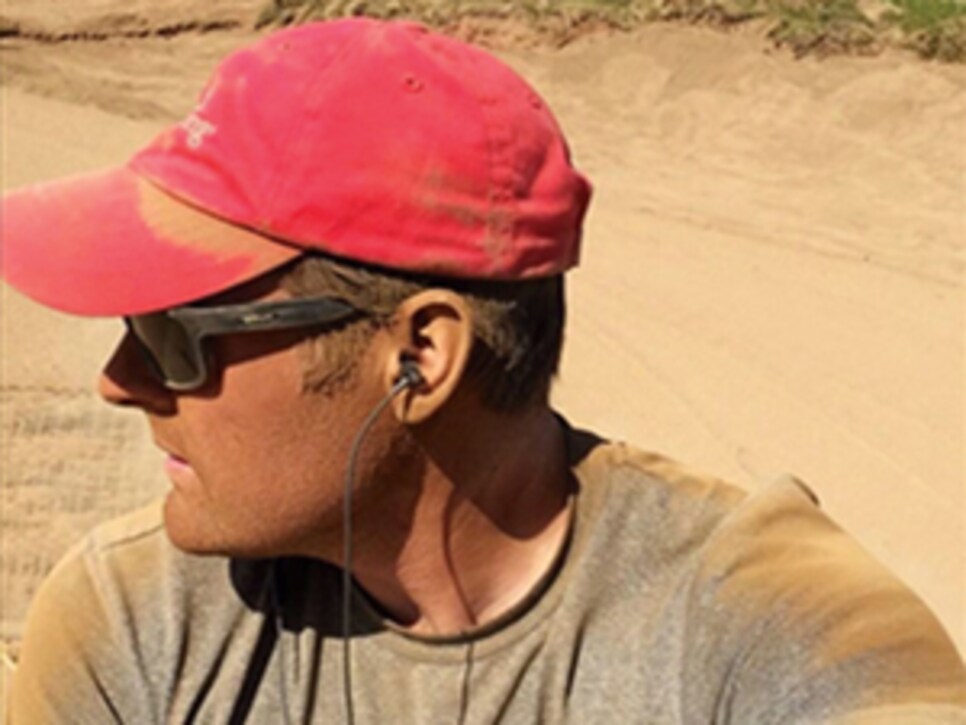 "School was a challenge," Keith Rhebb says. "People told me I'd never be successful in life." He intended to get a college degree in landscape architecture, but a year and a half in, ditched school to work at Landscapes Unlimited, a golf-course construction company based in his hometown of Lincoln, Neb.
"I worked on projects with a variety of architects and design philosophies," he says. "The training exceeded what I could've picked up in a classroom."
Rhebb worked on two Bill Coore-Ben Crenshaw projects during his time at Landscapes Unlimited and impressed the architects so much they hired him. "His raw talent and work ethic stood out," Coore says. Since then, Rhebb has anchored chunks of his life in places such as Florida (Streamsong Red), North Carolina (Dormie Club), Canada (Cabot Cliffs), Australia (Lost Farm) and now Japan (Yokohama Country Club). He operates dozers and excavators and even finer tools like rakes and shovels to shape fairways, greens and bunkers.
"I typically work for 20 days and then have 10 days off," he says. "During those 20 days, I live where the project is located. International jobs are different. When I was in Australia, I came home twice in one and a half years. My wife flew back and forth to me."
Beyond adhering to Coore & Crenshaw's chosen course routing, Rhebb is encouraged to be creative. "My typical day on-site begins with looking at what I worked on the day before in the morning light. If I feel stuck, I'll move to a different hole and come back when I can trust myself not to overthink it."
Rhebb will continue shaping courses but also aspires to design and photograph them.
Building relationships with young PGA Tour stars isn't what Shane Ryan planned on doing. After college, he moved to New York City to become a novelist, working as an office assistant to make ends meet. Like any aspiring male author, he started a sports blog. "Deadspin linked to one of my first stories," he says, "so I got this big audience really quickly." That's when he decided to enroll at the University of North Carolina's School of Journalism, and during his first year there he wrote a controversial blog post about the dull, uninspiring relationship the media had with college basketball players and coaches.
"It was scary," he says. "People were like, 'You just screwed up your career; you'll never work in journalism because you've pissed everybody off.' "
But several prominent sportswriters, including Bill Simmons, admired Ryan's unique and courageous take. Simmons, who was launching Grantland, a sports and pop-culture blog associated with ESPN, hired Ryan to write the morning-after recap of everything that happened in sports the night before.
He parlayed that assignment into longer stories about college basketball and, eventually, golf.
"I'm not really a golfer," Ryan says, "but I've always been a golf fan." At the 2012 Ryder Cup, he wrote an astute, measured feature called "Poulter's Cup." The piece earned him access to more PGA Tour events. "I discovered early that it's really tough to get interviews with the big players. You just have to be there all the time to slowly build relationships to eventually get some one-on-ones over time."
In 2013, a literary agent approached Ryan, pitching a book about today's young golf superstars. He used the advance to finance travel to 31 tournaments in 2014. The book is scheduled to be in stores this May. The fiction can wait.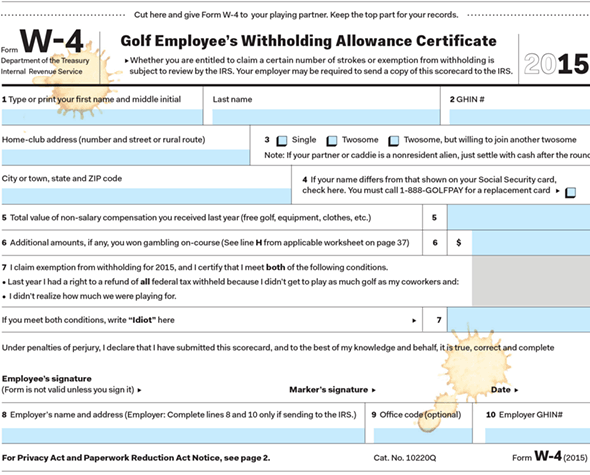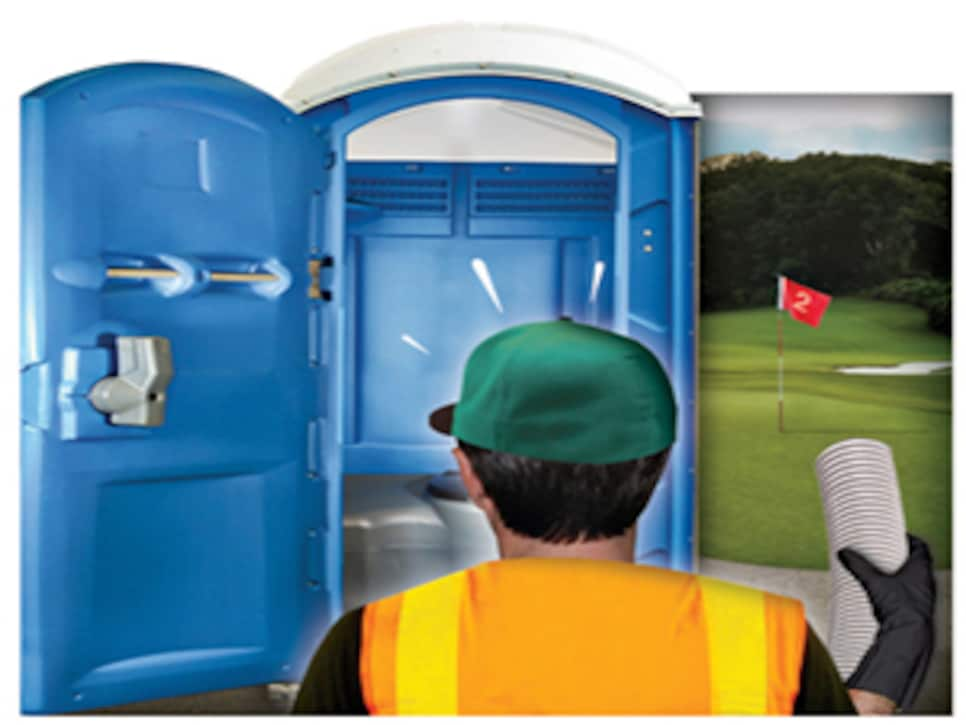 THE 5 WORST JOBS IN GOLF?
Cart girl: You're constantly deflecting advances from random strangers while depending on them for tips.
Port-O-Let cleaner: About 45,000 people visited Pinehurst each day of the 2014 U.S. Open. One cleaner will tend up to 60 portable toilets daily.
Squeegee pusher: When there's standing water on the greens, slap on your raingear and get ready to sweat Sisyphus-style.
Janitor at Casino Golf Club: The half-casino, half-golf club in Australia was recently broken into six times in four weeks. The night janitor answered the latest attempt by locking himself in a closet.
__Caddie at Kabul Golf Club:__Patrons of the Afghanistan course have become used to being blown to the ground by nearby explosions. The UN instituted a land-mine-sweeping program there in 2004.* —Luke Kerr-Dineen*