The Loop
Thanks to a late classification, the PGA Tour's Rookie of the Year race is WIDE open
Wednesday is an odd time for something to happen that alters the landscape of a pro golf award. But before a single shot was hit this week, the race for PGA Tour Rookie of the Year changed drastically.
Up until Wednesday, it seemed like a lock that either Emiliano Grillo or Smylie Kaufman would win the honor. Then the golf world found out that Si Woo Kim had been given rookie status -- and things became a bit more blurry.
The PGA Tour announced that Kim would be considered a first-year player (the decision was actually made last month) with just two FedEx Cup Playoff events remaining before the 2015-16 season wraps up. Confused, Smylie?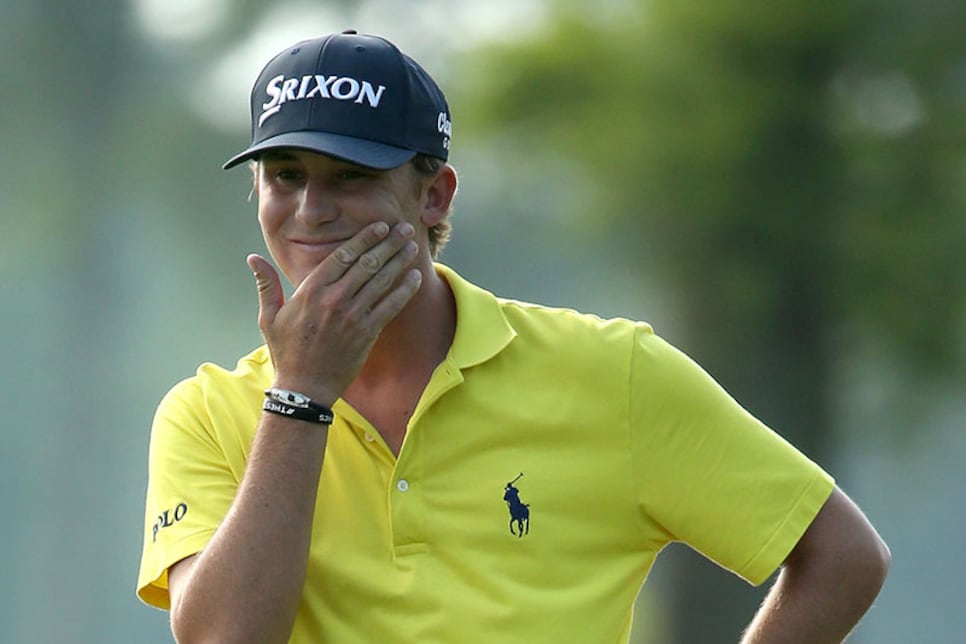 Don't worry, we were too.
Essentially, Kim, who became the youngest golfer ever (17) to earn a PGA Tour card in 2012, is still considered a rookie because he only played in seven events in 2013 (and withdrew from an eighth, which counted). PGA Tour rules say, "a player's rookie season is defined as the season in which he becomes a PGA TOUR member (including Special Temporary Members) and plays in 10 or more events as a member or finishes in the Top 125 on the Official FedExCup Points List, the Top 125 on the Official PGA TOUR Money List or qualifies as a Top 125 Non-member, whichever occurs first." It seems Kim slipped through the cracks when the tour released its list of rookies at the beginning of this season (Easy to do when considering the number of players, the rule and the three-year time gap), but following his win at the Wyndham Championship, questions about Kim's rookie eligibility began popping up. The tour looked into it and decided to deem him a rookie. And now there's a three-man race between Kim, Grillo, and Kaufman.
So who has the edge? Probably Kim, although all three have won this season. In addition to a five-shot victory in Greensboro, Kim has 14 top 25s, four top 10s, and a runner-up in 32 starts.
Grillo has just nine top 25s and two top 10s (one of which was a playoff win at the Frys.com Open), but he's only played in 23 events. He also had the third-best cumulative score of the 14 players who made the cut in all four majors in 2016.
In 27 starts, Kaufman has four top 10s and 10 top 25s, including his win at the Shriners Hospitals for Children Open. He also was named the unofficial MVP of #SB2K16, but we're not sure how much that will affect the voting.
Both Kim and Grillo have already wrapped up spots in the Tour Championship, making this the first year that multiple rookies have qualified for the 30-man event. And at No. 33 in the FedEx Cup standings currently, Kaufman could join them as well with a strong performance at this week's BMW Championship.
So the Rookie of the Year Award could come down to what this trio does at the season finale at East Lake. Provided, of course, no other candidates are discovered between now and then.